Social media platforms like Instagram, Facebook, TikTok and video streaming apps like YouTube are now open to more and more content from their users.
The one that has specifically caught eyeballs are Instagram Reels. Reels are short length videos of 15 seconds on Instagram. The video feature is available in the United States and 50 other countries.
There is a wide variety of content that Reels can be created by. Any kind of short video related to original performances, Lip sync performances, entertainment, comedy, dance, pranks, food/cooking, DIY, hacks, travel, news, etc can be made into reels.
MORE FROM US ON THE TOPIC:
Find out what are Instagram reels all about in the blog.
What are Instagram Reels?
Instagram Reels are short length, fun and engaging video content. Specifically designed for the platform, they are 15 to 60 second video clips set with music, visual and sound effects. 
Reels invites you to create fun videos to share with your friends or anyone on Instagram. They include a wide range of video editing tools, AR effects (filters), speed controls, etc.
It also gives you the option to combine multiple videos, aligning and trimming to create seamless transitions.
Instead of just seeing Reels only from the accounts you follow, you can scroll down to find more from popular and trending accounts on Instagram. You can find reels on the new Reels tab and on the Explore page as well.
The videos can be shared on the Stories, Explore Feed, and the Reels tab on a user's profile.
See this : 10 Instagram story ideas to boost your growth
Why should you create/use Instagram Reels?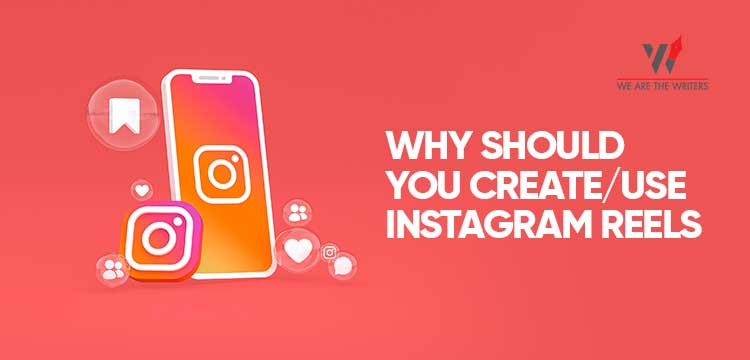 The audience is looking for short and good content. Something that is fun to watch and yet less time consuming. Instagram Reels provide you with an opportunity to be creative while being relevant and brief. It's a quick and convenient way to engage your audience and deliver your message.
Some major benefits of Instagram Reels are –
Better Discoverability – A public Reels video appears in the Explore tab, distributing your content to many users outside your followers. And the videos also appear on the pages dedicated to the audios, the hashtags or the camera effects added in the video.
Better Visibility – Instagram Reels provide another way to reach your target audience apart from IGTV, Live and Stories.
Better Shareability – Reels, unlike Stories, stay on the account. They don't vanish after 24 hours. Users will be able to view and share them for a longer time, unless they are removed.
Know how to create content : How to create quality Instagram content in 2022
Creation of Instagram Reels
Creating Instagram reels requires you to do it creatively. Select 'Reels' at the bottom of the Instagram camera. You'll see a variety of creative editing tools on the left side of your screen to help create your reel, including:
Audio: You can create reels with your audio by selecting "Use Audio" from your reel.
AR Effects: Select one of the many effects in our effect gallery, created both by Instagram and creators all over the world.
Timer and Countdown: Set the timer to record any of your clips hands-free.
Align: Align the objects from your previous clip before recording your next to help create smooth transitions.
Speed: Choose to speed up or slow down part of the video or audio you selected.
Reels can be recorded in a few manners, a series of clips (one at a time), all at once, or using video uploads from your gallery.
For New recordings
Record the first clip by pressing and holding the capture button. You'll see a progress indicator at the top of the screen as you record. Stop recording to end each clip.
For existing videos
If you wish to turn an existing video in your phone into a reel, here is what to do:
Open up Instagram and swipe right to open the camera and tap Reels at the bottom of the screen. Then, swipe up to access your camera roll and choose the video you want to use. Trim it if needed before tapping Upload.
Best Practices for Creating Instagram Reels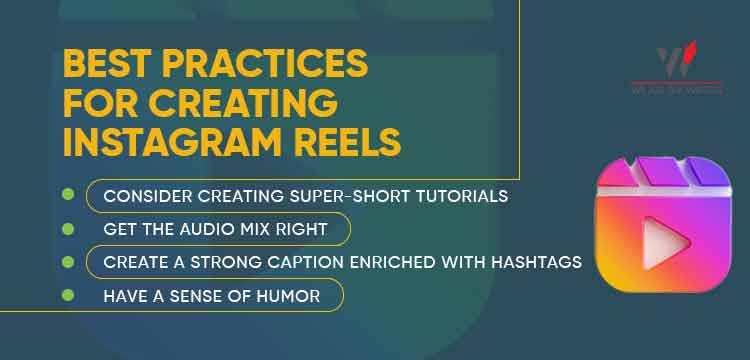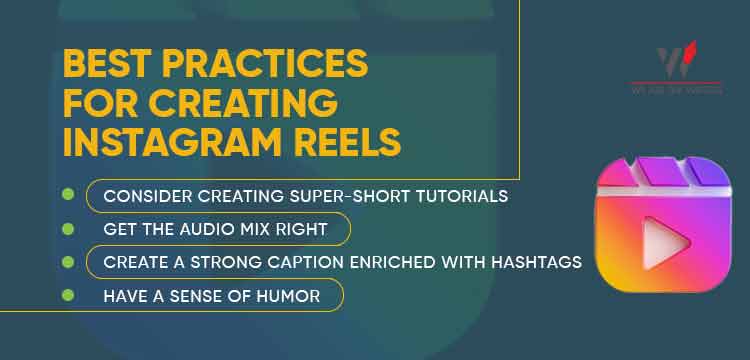 You may already be well versed with the process of creating reels , there are a few best practices that you can use to make the biggest impact with this content.
These include the following:
Consider creating super-short tutorials
Fast paced tutorial videos paired with a complementary soundtrack can go extremely well on Reels. You can show people how to make a great sketch or a dish or even give answers to simple questions or explain a way to do a process.
Get the audio mix right
Create a voiceover that goes well with the video. Audio can make or break your visual content.
Make sure the background music doesn't drown it out. Use the "Mix" feature to choose the audio levels as per the background narration and your music.
Create a strong caption enriched with hashtags
Start strong to please the algorithm by putting in plenty of relevant hashtags. It also increases your potential visibility. Remember that only the first few words will be displayed as Reels caption without users clicking on the "show more" tab, so choose wisely.
Have a sense of humor
Right now, humor and comedy can take you a long way on Reels, especially since it's the most common approach to content creation. You don't need to go over the top, but try out some relatable funny anecdotes and see how it works for you if it aligns with your brand voice.
Suggested Blog : TOP CONTENT CREATION IDEAS IN 2021
Sharing of Instagram Reels
Reels can be shared with your followers and can be discovered by a huge, diverse Instagram community on Explore.
If you have a Public Account
You can share your reel to a dedicated space in Explore. You can also share your reel with your followers by posting it to your Feed. When you share reels featuring certain songs, hashtags, or effects, your reel may also appear on dedicated pages when someone clicks on that song, hashtag, or effect, where all the reels of the same audio, effect or hashtags are already present.
If you have a Private Account
Reels cater to your privacy settings on Instagram. You can share to Feed so only your followers can see your reel. However, it will keep people from using the audio from your reels and sharing your reels with others who don't follow you.
After you share your reel, it will live on a separate Reels tab on your profile, where people can find the reels you've shared. If you also share to your Feed, your reel will appear on your main profile grid, though you have the option to remove it.
Watching Instagram Reels
Reels in Explore showcases the best of trending culture on Instagram. Discover an entertaining selection of reels made by anyone on Instagram, in a vertical feed customized for you. If you love a reel, you can easily like, comment or share it with your friends.
You'll also see some reels with a "Featured" label. If your reel is featured in Explore, you'll receive a notification. Featured reels are a selection of public reels chosen by Instagram to help you discover original content we hope will entertain and inspire you.
Reels give people new ways to express themselves, discover more of what they love on Instagram, and help anyone with the ambition of becoming a digital creator.
Instagram Reels Editing Tools
Instagram Reels offers a few different video editing tools you can use to create engaging and interesting short-form videos.
Audio
Similar to Instagram Stories, you can use Instagram's audio library to find songs and sounds to use in your Reels.
You can even get a specific segment of the audio clip and use it on a single clip or across multiple clips.
Needless to say, you always have the option to create your own audio when you record your Reels. The audio will be attributed to you and, if you have a public Instagram account, other users will be able to use your original audio in their Reels.
Effects
You can add different camera filters and effects to your Reels in the same manner as you can Instagram Stories.
Timer
The timer tool makes it easy to record video for a certain amount of time up to 15 seconds without holding down the camera button. You just need to set the timer, tap the record button, once you press record, you'll see a 3-2-1 countdown, before recording begins.
Align
Aligning helps you create seamless transitions by lining up objects from your videos. This will help you duplicate those kinds of videos where the creator changes their outfit mid-clip.
Speed
Instagram Reels lets you speed up or slow down your video and audio clips so you can keep everything synced to beat.
Tools which might help : 26 Best Graphic Design Software | 31 Best Free Photo Editing Apps in 2021
How to use Instagram Reels to Leverage Your Existing Instagram Audience ?
Instagram launched its Stories feature in 2016 and only had about 150 million users. By 2020 Instagram Stories have more than 500 million daily active users.
Given the maturity of Instagram's platform and its extensive user base, it's likely that Instagram influencers and brands that already have a large following on the platform are going to embrace this new feature.
Wrapping up – Instagram Reels
As of now, Instagram Reels has exploded and is wide open for creating, watching and sharing. It can offer anyone the chance to become a creator on Instagram and reach new audiences on a global stage.
This brings an excellent opportunity for brands and influencers on the platform that want to expand their reach beyond their current audience, get new followers, and build a community using this different method of creating, sharing and consuming social media content.