Google is the answer key to everyone everywhere. It has become the solution for every problem, small or big. It has become the answer to all questions, whether absurd or genuine. It has become the people's home. It has become the place that everyone turns to, no matter the kind of challenges they are dealing with. Thus, google has become everyone's master and everyone has become its slave. It judges quality content for ranking in order to provide best for us.
No more do we know routes and directions. No more does finding the way and getting lost have a thrill to it. Google maps does all the work for us. All we have to do is follow it obediently. There is no more fear. There is only more exploration. A bad dream? A superstition? A mathematical doubt? A new movie? Latest songs? It has it all in store whenever and wherever you are. Google has led to hassle free, worry-free lives.
With something as easy and friendly as Google at our back and call, the laziness to think. The laziness to do. The laziness to actually work for it only increases from generation to generation. After all, we all have the same device spoiling us into a technology led, artificial intelligence funded world. Where there is a scary theory that we may end up being the slaves of the masters of technology and artificial intelligence.
Read about AI In Marketing 2022: Broadening Fields: AI In Marketing 2022
But for all of this to come up and for Google to have become what it is and remain as what it is, is for it to always remain with its content, up to date and everything. Google's hope for its standing entirely relies on the content that goes on it. Which is what seems to be the reason for increasing search engine optimization and the stress on keywords.
Read about Key SEO Benefits for Business: 4 KEY SEO benefits for business | How to write SEO Friendly content
All about Google content
In today's world, everyone wants to be on top. Everybody wants to be the best. The world thrives on competition and the principle of the survival of the fittest. Being on the top search or being one among the top content in a search engine such as Google is the dream for any and every organization, enterprise and business. In a popular demand search engine such as Google which receives on an estimate a total of two trillion searches per year, being one among the top is the dream.
But none of it is easy. It is never easy to reach the top or remain there. It is all a journey. Sometimes it is a race. In a world that builds itself on competition, everything is a race. It is a race and a dream that lays its foundation on hard work, determination and a deal of no compromising on quality and quantity. It is also about the constant effort and never giving up attitude of the individual and mainly each community that contributes and wishes to give the topmost quality and end up as the number one search in a space such as Google.
SEO Headline tools you need to know: 7 SEO Friendly Headline Tools
But to ensure that one lands up in the place that one wishes to be, there is always a path that one must follow without deterrence. Here, it sets up the path for you by giving out a bunch of guidelines in order to help create as well as enhance high quality as well as relevant content that proves useful and beneficial to its users.
Google guidelines and Google quality of value laden content
To land up in the best position on a search engine space like Google, it is necessary and important to follow particular guidelines or tactics for the best results possible. The first step is to index your page in order to appear on the search results of Google. But indexing your page alone is not enough. You must have beneficial as well as the required amount of content that proves that your page is indeed the best result that it has to provide.
Google will not simply give you any sort of standing in its search result page. The quality and quantity of the content stands as a landmark to your page obtaining a ranking in it's search engine results. For this, it is the most basic strategies that one can think of that comes in handy.
First is the matter of the content. Understandably as well as for the most obvious reasons, the content that goes up should be trustworthy, factual and of a high level of expertise. While writing content, our main source is from other external references. One should take utmost care that these references should be from notable, reliable and trustworthy websites. It should be obvious that the content is easy to understand, well researched as well as properly understood.
Read about Miraculous effects of Brainstorming your Content: The Miraculous effects of Brainstorming your Content
Most content creators now focus on SEO techniques which are basically the repeated use of certain keywords and key contents which when researched shows up better and as one of the top sites in search engines, especially Google. For one's content to be good enough to appear on search engines like Google or for the content to have enough value to appear on Google, the content should be entirely research based.
That is it should focus on information searches which mainly focus on keywords. Then navigational searches who semi focus on keywords, both primary and secondary. The last kind is transactional searches which are based on specific keywords.
Google's solution to quality content for ranking
Google by itself tries to provide us with help to increase quality content and help standards increase enough to rise to the top of search engine results. For this to truly happen, let us try to understand what solutions it has to offer us.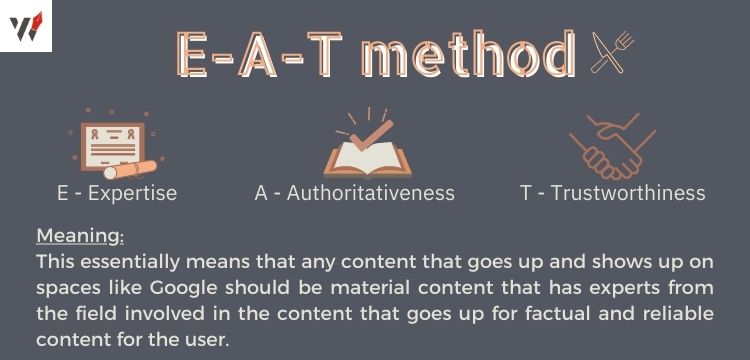 It talks about the E-A-T method. The E-A-T method essentially stands for and talks about Expertise, Authoritativeness as well as Trustworthiness. This essentially means that any content that goes up and shows up on spaces like Google should be material content that has experts from the field involved in the content that goes up for factual and reliable content for the user.
It also means that the content should have authoritative value which means that the content should have indicators that point to the website and its content. Trustworthiness as we all can understand is about making the user feel safe while also serving good, reliable and honest content.
Read about Domain Authority: What is Domain authority? How to Boost Domain Authority effectively?
Change in quality content over the years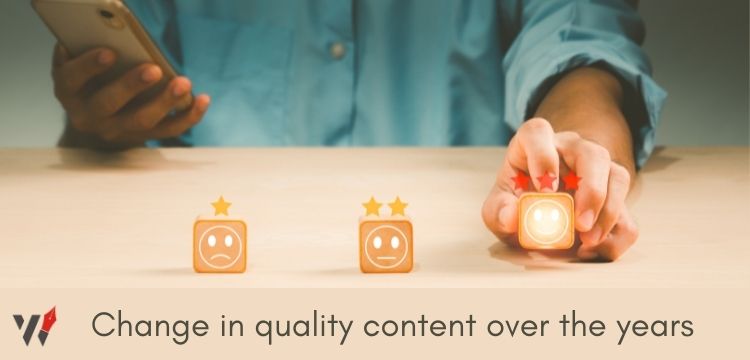 The Search Engine Optimization method that came up helped increase as well as change the marketing strategy of the kind of quality content that goes up on search engines such as Google. This focused on keyword maximization where the relevant use of certain keywords maximized the reach of online platforms and websites. These keywords seem to have become a successful method of using the same set of repeated words that help expand the reach of the website as well as alter the website standing and ranking on search engine sites.
But this change of content marketing was not only taken away by Google and other search engines. Social media too is a major player in this arena. Social media plays a big role in content creation and content marketing. But the kind of content that was popularized by social media seems to be quite different in comparison to that of the content that seems to have high rankings on search engines like Google.
Videos, trends and other such globally colloquial pop-culture setup arose which further took a step in quality content production. Now, reels are a very popular as well as recognized and in demand method of content creation. Since visual content is always most appealing, video content seems to be ruling today's generation of content creation and content marketing. According to statistics and sources, video creation will continue to be the most popular method of content creation. But with the rise in technology, there will definitely be another driving in demand change in the future of quality and value content.
Conclusion
Today's day and age is all about the internet and social media. It is about the trends and everything that has a 'viral' effect in the global spectrum. Search engines such as Google continue to be the ruling space other than social media for content creation of quality as well as value. In the world of today that is consumed by competition and greed, to be on top is always of utmost importance.
Thus, it is the aim of every website and every network page to be on the top of every related search. Therefore, the popularity and need for search engine optimisation as well as keyword strategies are all the more the need of the hour and the focus of the individual as well as the content creator.
FAQ's
What is the defining factor of search results on search engines such as Google?
Google and all other search engines are set up on the basis of algorithms. These algorithms are strict and adhere to stern guidelines which focus on giving out the most relevant and useful results in the google ranking system.
What does low quality content essentially mean?
Low quality content is basically the kind of content that spreads misinformation and does not fulfill the wishes of the user. Such kind of content does not meet the needs, requirements and intentions of the user.

What kind of features are required for good functioning of SEO?
Some of the steps that can be followed for quality SEO are checking the hierarchy of the page, checking the domain of the site. Fixing errors. Checking internal links. Reviewing images as well as rechecking the structural data usage.
References
How Search algorithms work
2. HOW GOOGLE RECOGNIZES & REWARDS QUALITY CONTENT By Rachel Tinker
4. The Evolution of Content Marketing: How It's Changed and Where It's Going in the Next Decade Written by Caroline Forsey