Good content which is maximized in the ranks isn't content which is optimized through SEO only. It should be always kept in mind that it caters through the needs of the reader and gives the user what it wants through the relevant keywords. Algorithms change all the time and so do the user's needs. So it is very important to keep the content up to the current SEO.
It is always a good point to adapt to the changing algorithms, understand the audience and NEVER ever go slow on the quality. Some SEO content tips might level up your content.
You need to be using SEO content
In a 2021 study, most well known websites were found to be using organic methods for their relevance on the search engines. If you're not taking advantage of the SEO tools, you'll be falling behind the times. The sales methods which were taught a decade ago are not relevant anymore. 
Read about How to Write SEO Friendly Content: 4 KEY SEO benefits for business | How to write SEO Friendly content
What are the various kinds of SEO content?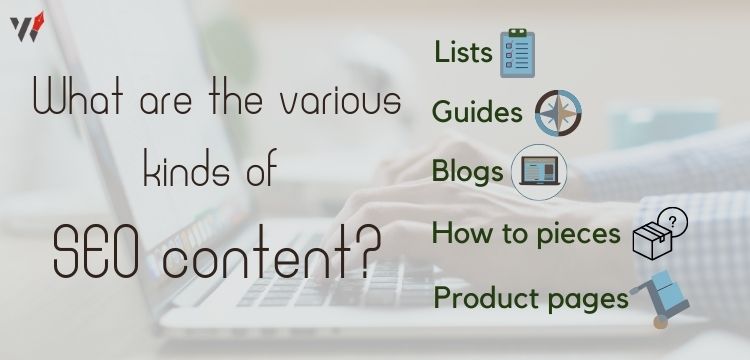 Here's a list of SEO kind of content –
Lists -" 56 ways of enjoying your summer vacation at home ".
Guides – "How to use SEO to its full advantages ".
Blogs – A question which your target audience has and your answer to that through relevant keywords.
How to pieces – "How to give editing access on Google docs ".
Product pages – Display of products through sales.
How to become a good SEO content writer? | SEO Content Tips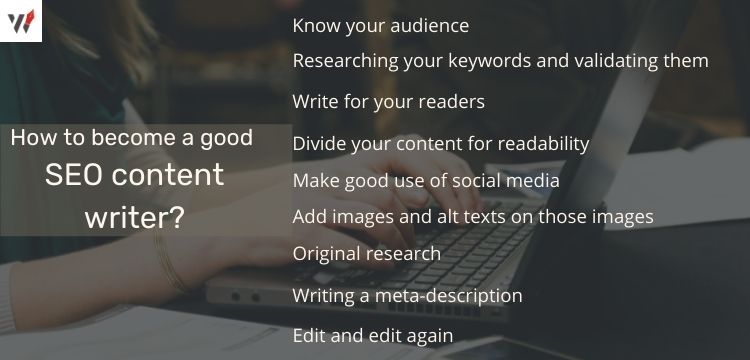 Know your audience
For successful content marketing you should be understanding your audience very well. Identification of the target audience and knowing what exactly are their pain points and writing your content according to that is always liked by Google and various search engines. Your audience is what makes your company come into existence and helps it to thrive. So when you're writing it's advised to write your content as if you're the reader, pandering into the relevant audience.
Researching your keywords and validating them
Your audience research will tell you that your audience is full of keywords and phrases and questions. You should be starting from there. You can use paid SEO tools such as Semrush which adds keywords to your content and makes your content more visible. Once your keywords are ready, roll your sleeves up because the real work starts now.
Read about Best Keyword Research Tools: BEST KEYWORD RESEARCH TOOLS
Write for your readers
Stuffing your content with just keywords will be a waste because your reader wants quality not quantity. If you just stuff your essay with keywords it sounds very robotic so it's better to add your keywords naturally. You should not focus solely on the keywords. According to Google algorithms, quality is always preferred. It will take practice to naturally put keywords into your content but you will get to it!
Suggested Blog: Why are reading skills your fuel to good content writing in 2022?
Divide your content for readability
Visual satisfaction plays a big role in optimization of your content. Long paragraphs are often not liked by the audience. Because it tends to be very boring. Dividing your content into heading and then subheading makes your content more readable. This helps the reader to stay on the page for a longer time.
Make good use of social media
Facebook, Instagram, YouTube are big giants on the internet as social media and you can take these to your advantage. Many content creators use social media to promote their content online and it has become necessary as well. Since 90% of your audience will be present on such social networking sites. That is a way through which you can connect your consumer on their level.
Add images and alt texts on those images
Images are always attractive to the consumer. Also adding a little alt text to those images describing what is there in those images will do better. Alt text content is easily accessible and convenient for Google to understand them. And thus increase the rank.
Original research
Readers are tired of visiting a few websites and finding copies and copies of writings. It's not advised to take your inspiration from one website only. One thing which can be done is googling your relevant keywords and reading through all the websites which come on the first page of Google. When you will be well versed on the topic it'll be easy for you to write on it. Using original research for your writing isn't that hard for your SEO writing.
Also Read: The Miraculous effects of Brainstorming your Content
Writing a meta-description
Giving your content a keyword fulfilling meta-description to make your audience read your content through the search results increases the chances of your audience to click on the website to read the entire content.
Usage of verbal words such as "Dig in" "Dive in" will let your audience click on your link.
Edit and edit again
One thing which most people forget to do is to edit the piece. So grammatical mistakes and such and such become a big possibility.
What you can do is, after writing the piece, take a break and then sit and read through your content. There can be a chance where you can see through your mistakes like for example, you have missed a coma in a sentence. Mistakes like that are a bore and make your writing unreadable.
Again take a break and edit your piece again. Grammatical errors can ruin the entire piece so you can never take the chance of missing out on anything.
Getting a second pair of eyes won't hurt would it?
Conclusion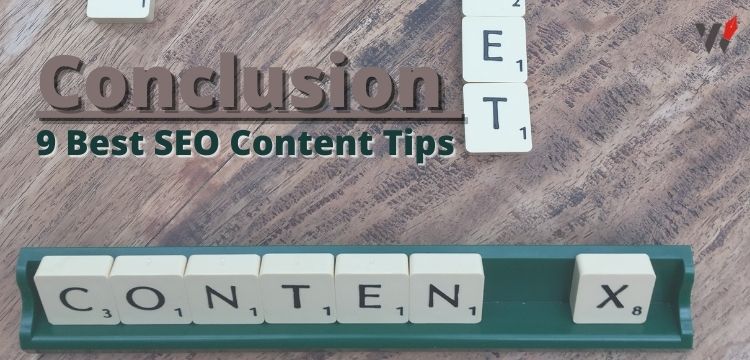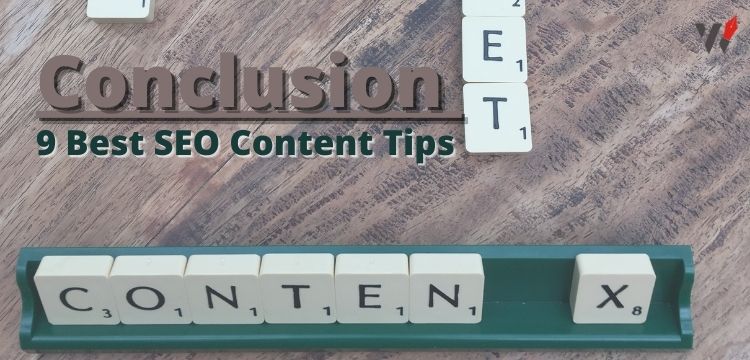 There's no way you can make excuses now.
If you want your business to reach sky level, hard work and dedication are two necessary things. With proper care, you can go far.
Once your content ranks better, you won't have to do the hard work. People will be drawn to your content automatically.
With that we have reached the end. Here's hoping to increase your ranks with what you have learnt today.
FAQ's
Isn't paying for ads the same thing? – No it's not. Buying links will be worth it only if they're "dofollow" links. "Dofollow" links is a way of passing authority over to a website which is conveniently identified by Google.
Why is SEO writing so important? – Without quality content there's no hope of ranks on Google's search pages.
Examples of Google SEO tools – Google Search Console, Google Analytics etc.
SEO tools for content writing – Yoast, Semrush, Wordstream etc.
References