Are you looking to use social media for business? It may be certainly tricky, but not if you have a few tricks of your own up your sleeves!
Social media is an ever evolving space that has seen leaps and bounds in its usage. What started out primarily as a way to keep in touch with friends and families is now a bustling platform for business owners. With a steep rise in active social media users, these platforms are no less than a sea full of opportunities. But to fish for a particular opportunity of your choice, it is important to your job as a business owner that you are adept in navigating the stormy seas of social media.
According to Oberlo.com, the latest figures show that there are 3.78 billion social media users worldwide in 2021—a five percent increase from a year ago. The average annual growth rate from 2022 to 2025 is forecast at 3.9 percent. It is quite apparent from these statistics that the influence of social media for business on consumers is far and wide reaching. This, in turn, creates infinite possibilities for online marketing opportunities for e commerce businesses worldwide. (Source: Oberlo)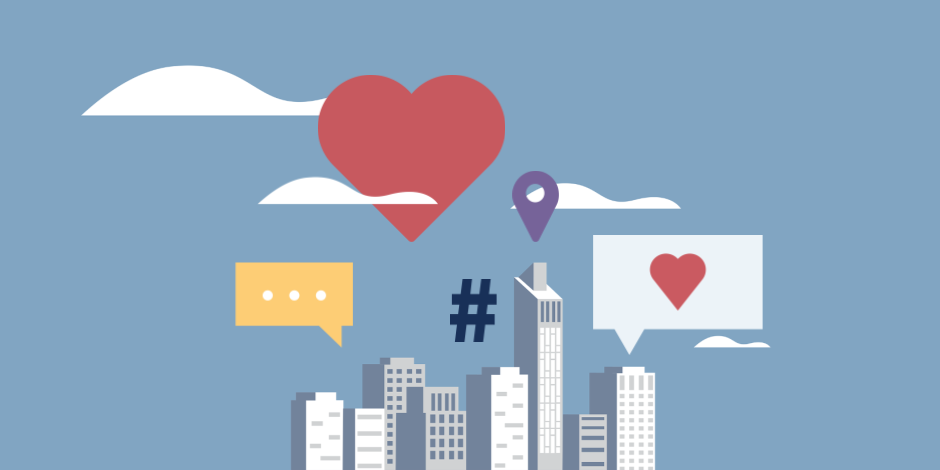 But on the other hand, you also see an increase in competition. Therefore, it just isn't enough to promote your business through a mere couple of posts. You have to learn to use your platform smartly. In this article, we will take you through some useful tips to help you get started on how to use social media for business. Whether it's to build a solid social media presence, increase engagement with your consumers, view competition or develop a brand voice, they would certainly help you understand some basic online marketing skills to start using social media for business.
Why Do You Need Social Media For Business?
According to Oberlo.com, 73% of marketers believe in the effectiveness of using social media to promote their businesses. In 2018, Global Web Index also revealed that 54% of social media users check out a product or services on social media before patronizing such goods or services. Hence, as a business owner who's actively looking out for online consumers, it is crucial that you make social media a vital part of your business strategy. (Source: Global Web Index)
In case you already have an established brand, a social media presence could ensure a definite growth for your business. Those who are unaware may come across your posts and may even engage with it, if you have created them interestingly enough. While those who are looking to start from the scratch, building your base from social media for business would be a smart decision on your part.
How to get started on social media for business?
Just like any other plan that involves starting or expanding a part of your business, it is essential that your strategy for social for business is also treated with a careful and well planned consideration. As mentioned earlier, it isn't just enough to start posting and hoping for customers to automatically roll in. It takes time, effort and even some money. Therefore, before everything else, you need to lay out a plan that lists out all your goals and the steps it would require to reach them. Also, if you do not set a target goal, then it would be impossible for you to measure your progress.
To get you started, here are some essential tips to lay out your plan to help you use social media for business:
Creating a system for feedback is quite beneficial if you want to measure your progress. It tells you where you stand and how much of an improvement you need on a particular area. You can do that by asking existing followers what they want to see more of so that you can curate your posts accordingly.
A basic in time management training is the usage of the SMART framework. For a substantial impact on your business, you can set your objectives to follow this framework. Make sure that your goals are Specific, Measurable, Attainable, Relevant and Time Bound.
The competition is considerably tougher in social media than the real world, so it is the imperative that you study your competitors. Learn their ways, how they create contents, how they deal with consumers, how active they are. But remember that learning and copying are two very different things. You can get creative on your own and researching your competitors is only to help you get started on the right path and avoid some common mistakes.
Learning should not be only limited to your competitors. You can also take inspiration from other businesses as well. You can find success stories in almost every aspect of any industry. Research those case studies and note down whatever feels essential to running your own business.
There is a time and place for everything and it applies to your social media posts too. To boost maximum engagement, you can schedule your postings around specific timings so that they are visible to your target audience at their peak hours. Try using a social media content calendar for that.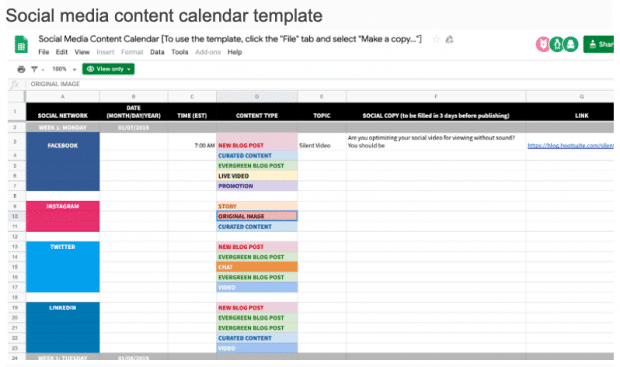 Another use for a social media content calendar can be to help you plan varied contents to maintain maximum audience engagement. If you are too consistent with the contents of your posts, your followers may lose interest. To keep their attention, you can opt for a blend in your feed that has something other than brand promotion. (Source: Hootsuit)
How To Use Social Media For Business
The idea of getting started with social media for business may sound daunting. But with these 4 easy tips, you can easily promote your business to reach new markets, build brand awareness and drive sales.
To use social for business, all you need to do is follow these basic rules:
Consumer Engagement
Sharing Persuasive Visuals
Building Brand Awareness Around Your Target Audience
Using Keywords and Relevant Hashtags
How to use social media for business?
CONSUMER ENGAGEMENT – Building good relationships with your customers is essential to establishing a strong foundation for any business. It is as much important to respond to your followers as it is to create an online buzz. Along with forming loyal followings, it can also rope in potential customers. It doesn't take more than engaging back to raise curiosity and even nurture a level of trust that can develop into sales over time. This may prompt them to share your contents and as a consequence, you gain traffic on your website and rise in the social algorithms. So basically you get free exposure.
Other than followers, you can also build relationships with other entrepreneurs and influencers in your niche. Expanding your business circle helps you in establishing brand trust and it is mutually profitable for both parties.
Practicing "social listening" is another aspect of consumer engagement in social media for business. You can keep an eye out online for conversations happening about your business. This can serve as a form of feedback for your business and you can even respond where appropriate, to clarify doubts. (smile.io)
How to use social media for business
SHARING PERSUASIVE VISUALS – Visuals can serve as a great tool to engage viewers with your posts. In fact, studies have shown that the most recent fashion buys for more than half of millennial and Gen Z internet users were based on images they saw on social media. And even those algorithms have evolved to prefer video content increasingly. It is expected of any social media post that is advertising a particular product to include at least one visual element.
Therefore, you should avoid limiting your posts simply to text and images. To keep your audience engaged and growing, it is essential that you make use of any related visual content. This could even potentially drive action in the real world.
Social media platforms like Instagram, Pinterest, and Snapchat are visual-first networks. If your visual content doesn't immediately catch the eye, potential customers may move on to the next best thing. Therefore, the more creative they are, the better engagement your posts get. (Source: Neil Patel)
Even if you think that your brand doesn't lend itself to great visuals, you can always tell its story through photos and videos. This is brand storytelling in social media for business and it helps not only in engagements but it also differentiate your brand from your competitors. Because regardless of any advancement in the social media space, human nature would always be a constant. They are naturally drawn to stories they can relate to and brands they can deeply connect with. And so it is up to you to work that in your favor.
How to use social media for business
BUILDING BRAND AWARENESS AROUND YOUR TARGET AUDIENCE – One of the basic steps to set up your presence when you do social media for business is to know your target audience. A large audience doesn't necessarily mean large engagements. To attract consumers, you must target those who are specifically interested in whatever you are advertising.
For this, research is the key. Ranging from existing customers to potential customers, it is a good practice to collect feedback and data from them. Social media analytics tools may also give you an objective view of your posts, so that you can tweak your strategy accordingly and reach out to a wider audience. Once you have a solid picture of everything, it then becomes easy to model your posts and contents according to their interests and needs. You can also use that insight to drive new creative concepts for your social media for business. (Source: Adroll)
To facilitate an even greater interest, you can also collaborate or hire a social media influencer to market your products. Influencer marketing has been on the rise lately due to their cost-effective way of obtaining new customers. They are more relatable than celebrities, which makes them a more trustworthy source to obtain the latest products.
How to use social media for business
USING KEYWORDS AND RELEVANT HASHTAGS – Keywords and hashtags are pretty influential in attracting your target audience. You may not necessarily have to go find them. Instead they will come to you. Or more specifically, to the keyword or hashtag that you used in your posts. Your posts have more chance at visibility if you use the relevant terms or the trending hashtags associated with your products.
Therefore, the matter at hand is to find those relevant terms, to determine the correct keywords. It is important that you focus on using keywords that are related to your business. You can even use words that are trending on Google. Through researching those terms, you can gain a much clearer picture of how to create and caption your posts effectively. It also helps in better understanding of user intent through which you can determine relevant points of engagement and gauge market interest. (Source: WordStream)
However, note that an overuse of hashtags in social media for business may result in spamming, which you would want to avoid at all costs!
Conclusion
As a business owner, the main issue you may face with social media for business usually lies with HOW to take advantage of it. You may already have a personal account of your own, where you may or may not post actively. But running a business account is vastly different. Your postings should not be dependent on whenever you feel like it. Rather it should be determined by your followers and your target audiences.
It is easy to become overwhelmed with all the tips that are available online. But remember that there isn't one particular foolproof formula for success in a business, online or otherwise. The basic fact remains – review, experiment and act accordingly. Whether it's your consumers, competitors or the market, it should all be a learning curve until you find what works out best for your brand.