Students frequently worry about how to write a statement of purpose effectively. But worry no more since this article will assist you in resolving this issue. So be quick and give it a read to avoid unnecessary stress. A student is more than their grades. A strong Statement Of Purpose is the best way to prove that. 
It helps to give the school a glimpse of the student's personalities. It also conveys their passion for studying in the school. A statement of purpose for research is a tool when students want to enroll in universities abroad. This application reflects the persona that one wants to portray to the admission committee. It must contain a candidate's educational qualifications, goals, and achievements.
It makes a student stand out. It does so by helping in grabbing the attention of members towards their extra-curricular activities. Students get to be creative and fun to flatter their writing skills. An effective statement of purpose has some golden rules. Candidates must bear in mind to steer it clear from plagiarism. Plagiarism is a crime in the education sector. Students must always express their writing in their own words.
Avoid copying from different sites, and never use any general templates. They must also ensure that they don't let others write it for them. Individual writing gives a clear picture. It makes one more confident when the school approaches them. Also, always follow the guidelines and use proper grammar. Several schools provide instruction for length, spacing, and formatting of Statement Of Purpose.
Hence, students must read everything closely. They should also look at the statement of purpose example for clarifications.
Use our "Statement of Purpose" Writing Services to ensure your admission in your favorite college/university.
---
Statement of Purpose Template
Students often misconceive writing a letter of intent as boring. It turns out monotonous that the committee will push in the NO pit zone. Sometimes students don't have the right resources to help them in writing. Here, a good statement of purpose template comes into action. It allows students to help in their writing skills. These templates have a specific set of features for SOP to become interesting.
The rules a clear statement of purpose template follows are given to take note from. 
Accomplishments and Interest
In this section, students need to write about their goals in life post-completion of the program. Mention the relevant skills and interests that will help you achieve those life goals. Mention of goals and interests helps keep the discussion flowing. It helps in your expectation while pursuing the program. 
Viability
Viability signifies your stand on why you think you are the perfect fit for the program. Come up with a convincing reason why schools should choose you among other candidates. Give solid reasons that are appropriate to your line of study.
Writing Skills
Students must use attention-grabbing words and produce an interesting essay. It may not necessarily help you to write a good SOP sometimes. But it will come in handy in your thesis work later on. A committee member will be the judge for that. Therefore, consider it as a prelude for the screening and give it your best.
Mistakes to Avoid
There may be no proper format for writing an SOP. But the horrors of committing a mistake are grave. Hence, it is always best to avoid mistakes so that you don't stress after.
Students need to understand that a strong SOP needs time and dedication. Therefore, never treat it as a task for the eleventh hour. Start brainstorming for a month before sending in the applications. Prepare as many rough drafts as you need. Leave no room for doubts and improvements. Always remembers a strong Statement Of Purpose is a result of careful planning and dedication.
A weak introduction and conclusion are the perfect duo for a mood breaker. Write introductions to impress and grab their full attention. Start with a phrase or quote that serves the purpose of your writing. Likewise, ending your SOP skillfully also matters. So wrap it up carefully. Don't hesitate to write down your expectation from the school. Also, mention how you have planned to contribute your bit to the university. 
Informal tone and slangs are a big no while writing. Be professional and ensure that the tone is friendly yet polite. Scholars and highly sought-out academicians judge your SOP. They make take offense to informal language. Also, it is best to avoid abbreviations. Never style your writing with words you are not familiar with.
If your GPA does not satisfy you, keep it to yourself. Mention them in grave situations like serious health issues. Dwelling too much on this appears poor. If you decide to mention it, never try to justify it or make poor attempts to excuse it. Thus highlight all the strengths and skills and keep them positive throughout the writing. A positive statement speaks volumes about your personality. The statement of purpose template is short.
Keep it short and elaborate only when the school has given instructions. Also, swimming in your talent may help you in the applications. But if the school gives you the freedom to write, don't exaggerate your accomplishments. Draft it within a specific number of words. Try to speak less on additional activities that are not appropriate in your field. Students should avoid irrelevant information since they miss out on essential details.
Read our blog on "9 Efficient Ways To Write A Student SOP".
---
Statement of Purpose for Masters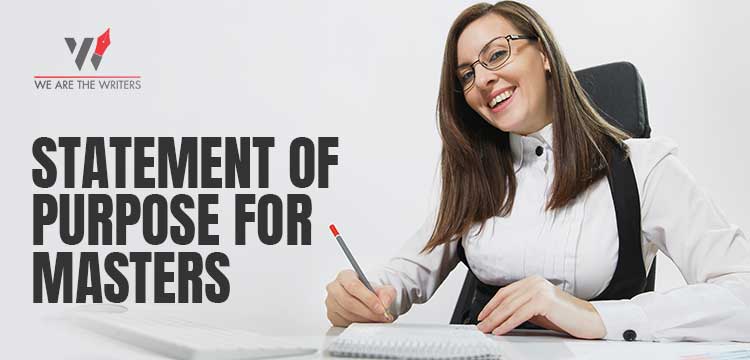 A grad school is a big no for slackers. It takes sheer focus, patience, and enthusiasm to pursue a post-graduation degree. Academic records, research interests with a strong statement of purpose for masters speak directly to the admission committee. It helps the panel determine if you are the perfect match for their school. Therefore, give it all you got and write a good one.
Time for Brainstorming
There are a few things to remember while structuring a winning statement of purpose for masters. It may seem like a vague concept at first. But paying close attention to what the school wants is essential. After a quick analysis and review, you would come up with what to write. 
A student should reveal their interest in the research work. They should be passionate since it is one of their goals to enter grad school. You should explain to them why a particular research topic came to interest you. Another statement of purpose example is students must convince the panels. Students must persuade them that they are in for a long haul. The essay should be around 500 to 1000 words.
Students must remember to leave whitespace lines. Double-space them if these instructions are not present in the grad school guideline. An effective statement of purpose for masters must include an introduction, accomplishments, and a proper conclusion. It gives the students a chance to speak directly to the school panels. Think about everything which makes you different and start writing.
Ask questions from yourself. Then think about the responses. A strong Statement of Purpose Example is to give a vivid description of your skills. These skills must be related to your academic discipline. If possible, you should mention your earlier research experiences from undergrads. If you have participated in seminars and field works, it is always worth mentioning. Don't be bland while writing and illustrate with examples wherever possible.
It will interest the committee members. They will also take a look at your writing. Besides, the students should also mention their project titles and their focus area. Always remember to be confident to discuss the challenges you faced during your research. It shows resilience and authenticity. These are the qualities pannels look for in the student. You should also mention your work or internship experience if it is related to the field.
Merely mentioning the project title is no good. Explain to your faculty that you are aware of your scope of research. Describe you are competent and how this program is beneficial for you. Besides, some programs ask about specific scholars that interest you. Students must align their research interests with their interests. So, mention them and craft your Statement Of Purpose for Masters accordingly.
Also, never center your essay merely on the academic front. Add details outside the program like access to the library and other resources. Your futuristic goals are worth writing. Hence, don't shy away from writing. Your writing in the essay must be unique. So always try to be selective about the details you include. SOP is a formal essay. But making it overly formal will make it dull.
Always prepare a draft first. Offer insights on the driving force behind your interest and your goals. Keep check of the crowd, but do not leave yourself in the process. Communicate about your perspective since it helps add value to your program.
Feedback
Students should never be afraid of feedback and rejection. Make sure to ask for it, preferably your teachers who are writing your recommendations. A proofread from someone makes you more confident. A new pair of eyes will point out errors you may have overlooked. 
---
Statement of Purpose Example
A winning SOP will have the well-thought articulation of interests. Be descriptive but precise. Also, create a list of intriguing phrases that you may use while writing. Your writing can be long and straightforward. On the other hand, it can also be short and fun, but every essay is professional since it honestly speaks to the panels.
---
Statement of Purpose for Research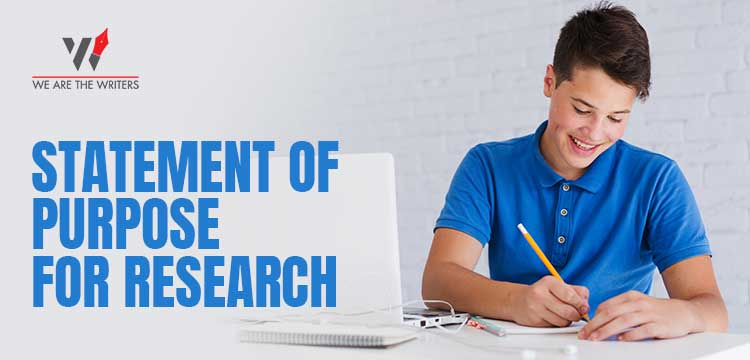 A statement of purpose for research is the most intricate part while applying for a program. But you are certainly not alone, so check out some tips that will help you in your way. The basic structure remains the same. But there are certainly some things a research scholar should do differently.
Your Intellectual Curiosity
A research student must be intellectually curious. While writing your SOP, make extensive use of sentences that shows your intellectual curiosity. Illustrate your point by giving illustrations. You may have questions and views regarding your chosen subject. Put your interests to work. The results will be in your favor this way.
Teaching is not the main Goal
Many students live with the idea of teaching while doing research works. It hampers your independent research. Thus, it is best to remove attention from teaching. Instead, use it in your training.
Deliberately focusing your attention on your interest in teaching can prove to be detrimental. It is true that post research, students plan to make teaching their primary objective. It may or may not be the prime objective for your research program.
Blank Spaces
Students may have blank pages in their records. For instance, poor health, grades may result in a student leaving a program in the middle. Therefore, it is necessary to address these issues directly. No school is going to react well if you are hiding these blank marks of your academic career. It will also help to show how you have bounced back on your feet. Moreover, your setbacks don't define you. 
Career Goals
Mentioning your career goals in the statement of purpose for research is vital. Students must mention their short-term and long-term plans. A clear career goal means that the student has their mind on something. It also reveals that you are not joining the school for the mere sake of it. Separate your paragraphs so that it is easily readable.
Letter of Motivation
Occasionally, a research scholar may need a letter of motivation. They have a slightly different format from a statement of purpose. You address it directly to the mentor under whom you want to work This letter of interest may be compulsory depending on the grad school you are applying for.
---
Conclusion
Statement of purpose is one of the most challenging texts to write. And it is because you need to write about yourself. Maintain a balance between your personal and professional world. Leave no room for your dream school to reject you. Don't overgeneralize and right an alarming piece of information. It is the bridge between your past achievements, present studies, and future endeavors. Hence, students need to write effectively.