Are you on the verge of taking big decisions about your brand building? Or are you going through all of the possible procedures to build your brand? You have landed a blog that will make the process easier for you. 
The 3rd decade of the 21st century has started with the Internet as a massively powerful technology. And one of the most important elements of the internet is Social media. So why not use the biggest technology at your disposal and the most important element of it for building a brand. 
Social media is a latent gem for budding as well as established business. Out of the 4.5 billion internet users across the globe, about 3.8 billion people use this technology. When so many people are on a dedicated platform that enables social communication, imagine the reception a product will get there if it piques interest. Although there is no guarantee, a strong presence on these platforms surely will help in one of your many goals of a large audience.
Related blogs:
Branding
Branding has outgrown its definition of being just about the logo and reached the products, perspective and the people of the brand as well. Branding aims to provide perspective to the audience now, it works to give an experience with the product or service. 
Good branding can leave its mark on the minds of the audience, there is no need for persistent marketing every now and then.
What does Social media do in building a brand?
Social media has become a platform where everyone can have a voice. The brand as well as the audience. The audience and the consumers can make a connection with each other in a little time. Your brand grows when this connection with its audience establishes and eventually strengthens. Social media platforms expose the brand to a number of possibilities, it gives your brand an exposure that is hard to achieve otherwise via other methods. 
It develops an audience that is loyal and dedicated. The presence of the brands on those platforms give the audience a chance to interact on a personal level. Such connection, powered by call-to-actions reinforces a much deeper bond.
Importance of Social media in brand building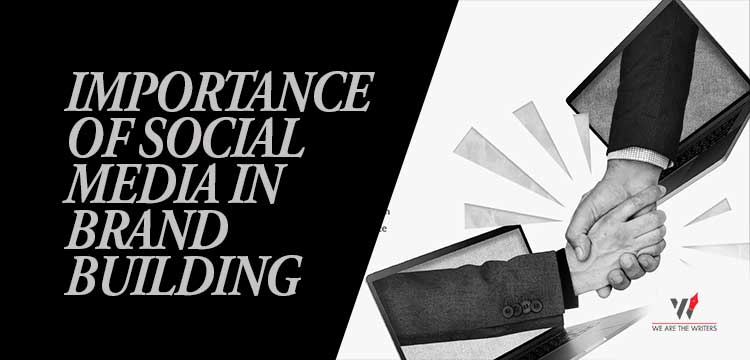 Social media is considered important because irrespective of the size of your brand, you can access all of its tools and techniques to build your brand. Every brand gets the same start from these platforms, what makes the difference is how well you incorporate the brand voice and your hard work into your goal of brand building. Reports have shown that Social media branding is a must have strategy in the process of building a brand. 
Search Engines love Social Media. Marketing via such platforms works remarkably well for an SEO strategy. Social media's raw and natural attributes qualify it for a legitimate search engine as well. The audience searches for keywords and the search intent is extremely varied and deep due to which these platforms witness equal, if not more search queries.
Brand Goals
As a brand you must have some goals that you want to achieve. The brand goals define what the trajectory of your brand is going to be. To build a successful brand, you must know what your path is going to be.
Your brand goals include:
Building a powerful brand identity
Even if your brand is working on a pre-existing product or service, you still need to work on creating a powerful identity. See what you can do differently that hasn't been already done. Because the entity might be the same but you have to present it according to your brand perspective and in such a manner that it makes a cut and resonates with your audience.
Generating or stimulating business via new leads
These platforms are a great place to meet new people who are potential customers. Your audience can be generated into a new customer if you do the branding process right on the platform. Having this in your mind as an immediate as well as long term goal can be beneficial for the brand.
Increasing sales
The goal of increasing sales is a multifold process, the consumption of your content can be increased with the use of social media, as a result of increased engagement and interaction which will eventually increase sales.
Customer loyalty
Thanks to the personalised approach provided by these communication technologies, the audience that the brand has garnered over the time becomes loyal and dedicated to the content and the brand as a content creator. Your goal of having a dedicated audience can be targeted with these platforms in a much easier way.
Providing a higher standard of customer service
Since the social platforms are easily accessible and are available to nearly everyone, customer service has become very smooth. Your brand's aim of providing the customers with the best service can be worked out via the use of these platforms. Giving real time responses while the customer is active and the connection is fresh perceives yours as an authoritative brand that will help you earn brownie points in the customer service sector.
Suggested Blogs:
Social Media Branding Strategy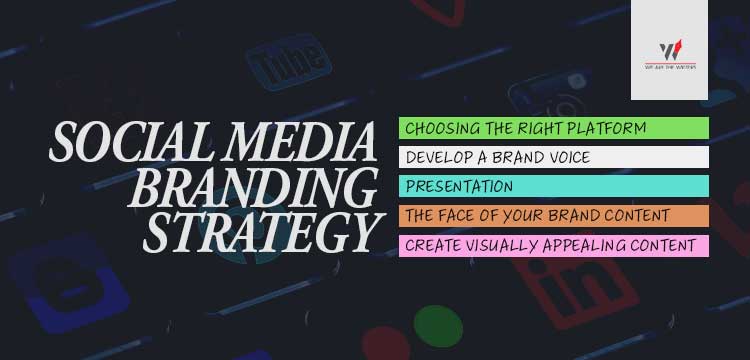 The branding strategy on social media's different platforms, works on the practise of optimising the use of social platforms for the promotion and advertising of the brand. There are steps to optimize for brand building like, choosing the correct platform, being friendly with the working of that particular platform and especially, being able to present yourself as a brand on the platform. Let's discuss these points in detail :
Choosing the right platform
It's not guaranteed that your brand will be able to master every platform there is for social interaction. You can use every brand but it would be better optimised when the interface of the platform and the key demographic who is most active on the platform is synced with what your brand has to offer.
Switch platforms and work on one that actually gives you results. For example, making short informative videos for Pinterest will not be as fruitful as it would be on Instagram. Similarly, if you like to communicate your brand voice via short written content, Twitter will give you the most optimised results.
Develop a Brand Voice
Brand voice is the USP of your product or service. The unique selling point could be anything that can be used to attract potential customers to buy what the brand is selling. A brand voice can be very well presented through media platforms. It can be done through showcasing your company culture, beliefs and values in the posts or other forms of media display.
Presentation
Posting on your media handles is the way you can communicate your content to the audience. You should post your content regularly and strategically in order to get noticed by the audience. You need to show your audience that you have plenty of varied information which they can go through and suit themselves with your content.
The face of your brand content
The topic of branding through socially interactive media platforms can not go any further without talking about the Influencers. Influencers have a strong hold on the working of these platforms. They know how to work the content and make it more engaging, into the mediums that generally get more audience interaction and feedback.
Create visually appealing content
Social media content, in general, is very aesthetic. The audience looks for content that is aesthetically appealing and is eye catchy. If you want to build your brand on Instagram or Pinterest, you will surely need to have such content, but if you are looking forward to working through Twitter, your written content will be of prime importance. But, the content on instagram will have more chances of getting viewed because it caters to more than one channel of communication. 
Create a unique hashtag. It offers another way for people to find and share your work. Do your research and create a totally original hashtag.
Suggested Blogs:
Some more tips to make it big on your Social handles.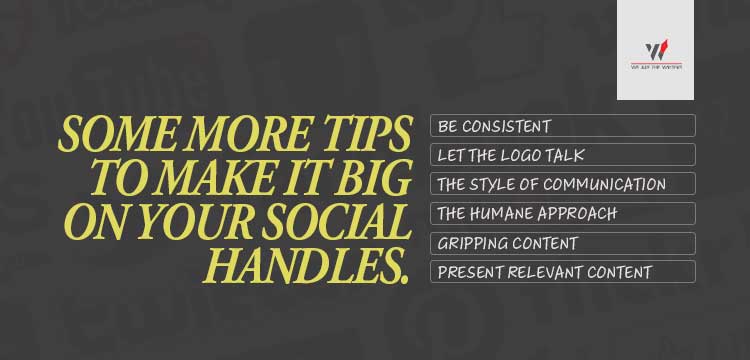 A social account of a brand is very different from a personal account. There is an audience that waits for the brand's content. You need to take care of a few things like what you feed your audience, your post frequency, your visibility, presentation skills, etc. here are the things that you can do under the table that strengthens your content.
Be Consistent
Irrespective of what social media platform you are on, whatever you post on the platforms that mark your online presence, make sure all of it is synced with what your brand identity is.
Let the Logo talk
A logo is the identity of your brand. Make your logo represent what your brand stands for. It's always interesting to see a story behind a logo that goes back to what the company stands for.
The Style of Communication
The style in which you communicate, via verbal or written methods is crucial. It is so because it helps you identify your target audience. If you make the conversations in a rather informal, funny manner, your target audience will not be from the working class, middle age group. Communicate with your target audience in mind.
The Humane Approach
The world is now looking for humane experiences on these virtually created social interaction technologies. An automated or robot-like interaction fails to establish real and meaningful connections. Do not go for a corporate dialogue, rather, make it in a more conversational approach.
Gripping Content
The content that you post should be compelling and catchy. The audience shouldnt go away from your content very easily. The information should be etched into the audience's minds.
Present Relevant content
Post content that holds some significance, don't post just to maintain a streak of content. Monotonous content is a reason enough to make the audience unlike and eventually unfollow your brand. .
Wrapping Up
Social media proves to be a great tool to solidify your online presence, as it does for everyone else. This can lead to a stiff competition on those platforms as well, in terms of user engagement, follower count and verifications.
Focus more on creating content that highlights the brand perspective and experiment your way to try and stand out on the web.  
Reference Links :