We have heard about marketing through different platforms like Instagram, Facebook, LinkedIn, etc. You must also have heard about Pinterest marketing but often wondered what is Pinterest, what is Pinterest used for and how it works?
This social media platform is often overlooked. However, using Pinterest for business is actually a valuable idea for growth.
Looking forward to know more about what is Pinterest? You are just about right !
The blog covers everything you know about Pinterest, its use in business and marketing. Without any further delay, let's get on an informative ride and learn from scratch.
Suggested Reads:
What is Pinterest?
Began in 2010, Pinterest is a social networking site that allows users to organize, gather, discuss, and share ideas, share interests, and route traffic to company portals and blogs. Think of the name Pinterest as an amalgamation of Pin and Interest. You can Pin the content that you find aligned to your interests and worth saving for future use.
Pinterest differs from the rest in some manners. Here creatives are praised for their concepts, praised for their effort, and rewarded for finishing tasks.
One of the features that Pinterest offers to its users is that they can organize images and videos aesthetically into personalized collections known as boards.
What are pins on Pinterest?
Pins are the units of Pinterest. Pins are used to save stuff you like. You can search for Pins, save the items you prefer, and learn more about them by clicking on them. They contain images or videos.
What can you do on Pinterest ?
There are probably billions of Pins on Pinterest, which means you'll always find ideas to pique inspiration. When you discover Pins you love, here are the things that you can do to to make sure you have a great time using the platform:
Go through your Home Feed
You will find Pins, people and businesses, based on and synced up by your recent activity in the Home feed section. There will also be the Pins from the people and boards that you follow.
Discover New Ideas
You can use the search bar to discover new ideas, people and trends. There will be a lot of new topics showing. Discover creators, people and brands based on your search by tapping on Profiles on the search page.
And cherry on the top, use your phone camera to find ideas related to your photos you feed in the search bar.
You can save, share and even shop Pins
Pins are are used to save content that you love on Pinterest. Pins can be anything; images, videos or products. You can click through the Pin and visit the website to learn how to create it or where to purchase it. As you discover Pins in the process that you love, click the Save button to save them in your boards.
You also might find a Pin that you think a friend will love. Click the share icon to send Pins directly to a friend or a group in a message to pass it around.
You can also use Pinterest to search for products that you want to buy. You can just as easily find a link to the retailer's website attached in the Pin.
Create Pins
Upload an image from your computer or mobile device to create a Pin . You can also create and save Pins from images you find online . Add different things such as title and description to each Pin you create. You can even link a website with your pins for more information at the audience's disposal.
Pins are extremely flexible as you can edit its information at any time and even move it to any board as you like.
You can create Idea Pins to record videos, add images, lists and custom text in one Pin. Use Idea Pins to create detailed stepwise guide or distribute a cluster of ideas.
Create boards
Boards are the abode for your saved pins. Name your boards and place them on your profile in whatever way that you want to.
Organize your Pins in the way you want to. There is an option of keeping your Pins private. You can disguise your board and make it secret . Only you and anyone who you give access can see your secret boards.
Suggested Blogs:
What is Pinterest used for?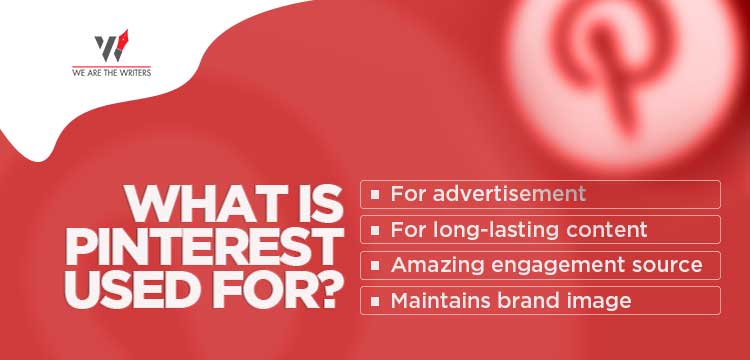 Now that you know what is Pinterest all about, let's have a look at what is Pinterest used for?
Pinterest is a social networking site, also used extensively for image sharing, that provides content catering to your creative interests and passions.
You can use Pinterest for business to build your profile well, increase traffic, make use of Pinterest Ads and create an amazing Pinterest marketing plan.
Still wondering what is Pinterest used for and why you should use it, have a look at the following pointers.
For advertisement
You can advertise your products and services using Pinterest ads and posts.
For long-lasting content
Pins stay with you for the rest of your life. Throughout times, they've looked for, found, and re-pinned.
Amazing engagement source
It allows you to interact with prospective and existing consumers and obtain critical insight into their life, likes, and dislikes.
Maintains brand image
It strengthens and expands your brand's image. It's the ideal place for effectively notifying customers who and what you are and what your brand is about.
Types of content you can post on Pinterest
Each social media has its own dynamics. What works well on Instagram doesn't go well on Twitter. Therefore, before making your Pinterest marketing strategy, you first need to be very clear about the type of content that will help your brand grow.
Tutorials
Pinterest is mostly used by creative people love to experiment with their thoughts. How-to guides and DIYs are the type of content to attract such users. You can also increase the number of pins by providing such types of posts. 
Products or their reviews
One of the key reasons why people use Pinterest so often is to shop and buy items. There's even a section dedicated to shopping and product pins on the platform. 
Recipes
A nice food photograph is adored by all. In the food and beverage industry, this technique works effectively for meal delivery companies, food brands, and other similar enterprises.
Blogs
While creating vertical visuals to complement the marketing of your current blog posts may necessitate some additional conceptual design, it will be well worth it. Since Pinterest is such a strong tool for increasing web traffic, marketing your blog content should be a top priority.
Images
You can attract your audience by posting attractive images with interesting graphics. Who doesn't like to save a good image as wallpaper? 
How to set a Pinterest business account ?
To get your Pinterest Business account, you have to set up a free Pinterest business account to get access your account and run your business or brand-related ads easily.
When you want to use your Pinterest account for your business purpose, then you have to make sure that you have created a Pinterest business account and not used your personal account on Pinterest for business purposes.
A Pinterest business account allows and helps you to brand your-
◾ Company's analytics to monitor your Pinterest marketing strategy.
◾ It helps you to run a wide variety or range of Pinterest ads.
Here, are a few steps to set up a Pinterest Business account of your brand:-
Step 1: Go to Pinterest.com and click sign up for starting your new account
Step 2: Navigate your way to the bottom of the pop-up and click on 'Get started here'.
Step 3: Fill in the asked details and then click create account
Step 4: Fill in the asked details to build your business profile
Step 5: Describe your business, like the description of your business and some other necessary information to attract the customers towards your profile.
Now, your brand's business profile is ready to start pinning and running your business ads.
Suggested Blogs:
How to Use Pinterest for Marketing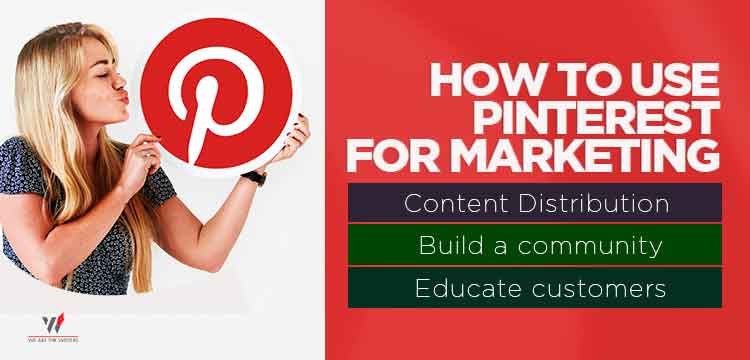 These marketing strategies help a business to represent your business marketing efforts at a greater level. Here are a few benefits to using Pinterest for marketing:-
Content Distribution
Pinterest is a unique and strong place to distribute all types of content, written text, images, videos, etc.
On Pinterest, there are boards where you share content. And these boards help in distributing the content that you have created to your followers. Your company or brand can have as many boards as they want, you can organize them into themes, ideas, plans, or types of inspiration to make it easy for your audience to easily get the type of content they're looking for.
Build a community
Online communities like that of Pinterest bring together like minded, talented people who prove helpful for many businesses of their interest.
With the Pinterest community, your followers and the audience can interact with the boards that you have created, consume your content and can even make their way to your website which will eventually drive traffic to your website.
Educate customers
The variety of content on Pinterest is wide. there are tutorials, infographics, how-to content, and links to further educational and informative content. In terms of visual content, it's a most powerful channel to educate and engage with the customers.
For efficiently informing and educating your audience, be sure to keep their choices & needs in your mind while creating and sharing content for your Pinterest business profile.
These are a few different ways to do it:
Research about your audiences choices and needs to know that what type of content would be most helpful, useful and preferable to them.
You can even include audiences in the content creation process. Do surveys and let your existing followers, audience and customers present their views and opinions on your content.
Analyse your customers from time to time. their strengths, their perspective. you should not make it your aim but let's face it, being aware of your competition is always good for you. Keep looking at what your competitors are doing well to attract the customers, and keeping this in mind your company should wake up with some unique content for your buyers or customers.
Pinterest, allows you to link your company's content to another website — namely, your business official website.
Pinterest is a mighty addition to your business marketing strategy because it has the ability to boost online sales too. A lot of brands and businesses use Pinterest to display product images and share the complementary written content as well.
Marketing Strategies for Pinterest
Sign up for a Business account.
Categorize your content.
Use unique and different images and videos.
Add hashtags too, to your content.
Share your content on other social media platforms too.
Follow, engage, and interact with other accounts.
Use social media best practices.
Analyse your end results after following all these strategies for your business or brand.
Also read our blogs on Pinterest Marketing : Pinterest Marketing: An Ultimate Guide
Wrapping Up !
Internet is the place where you can explore all kinds of information, but it can be difficult and tiring to keep everything you save organized. Most people would find good content but fail to retain and later use that content because they've probably lost it after a point of time.
You can use Pinterest as a sort of digital scrapbook for accumulating the things on the platform you come across.