Plagiarism refers to the unethical way of copying someone else's works and content and then utilizing it for personal profit without giving any attributes or credits to the original owner.
The occurrence and consequences of plagiarism in today's online and scholarly works are common. This is why it's vital to run your content through a reliable plagiarism checker tool. 
Why Is It Important To Avoid Plagiarism?
While owning or running a blog, checking your content's plagiarism becomes mandatory to maintain the SEO ranking. Plagiarized content affects the entire health of your website. Moreover, plagiarism is illegal. Thus, checking plagiarism saves you and your website from unnecessary unforeseen  circumstances.
So, let's have a look through the top 10 plagiarism checker tools which will help you safeguard your content, thereby preventing unknown sources and individuals from gaining profit for your hard work.
Suggested Read:
Top 10 Plagiarism Checker Tools
There are many plagiarism checker tools that can be used to scan duplicity in your content. these are some of the best plagiarism checker tools:
Duplichecker
Duplichecker is a free plagiarism checker that checks the originality of the content on your website by thoroughly scanning the internet for the minute phrases of your content. Moreover, it also displays the external URLs which own some parts or whole of your content.
Pros Of Duplichecker
The pros of using Duplichecker are:
It's absolutely free of cost.
You can upload any type of file. The most commonly accepted forms are .txt, .doc, .docx, .odt, .pdf and .rtf. It's easy to use and gives reliable results within seconds.
Besides plagiarism checker, it also has other tools such as Grammar Checker, which is also free and efficient.
Cons of Duplichecker
The cons of using Duplichecker includes:
You can't check more than 1500 words at one go. This means, if you have a long document to be checked, you have to divide and cut the content into smaller portions and then go for plagiarism checking.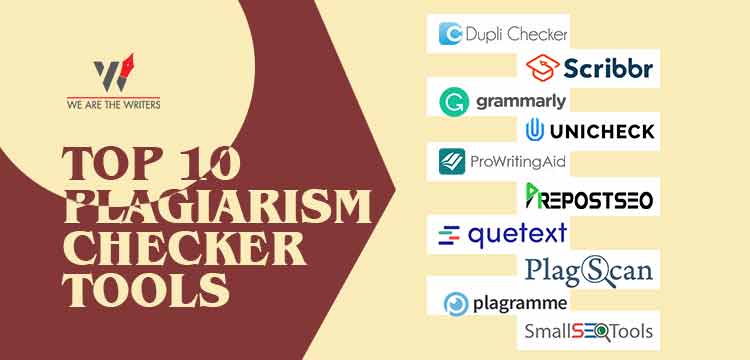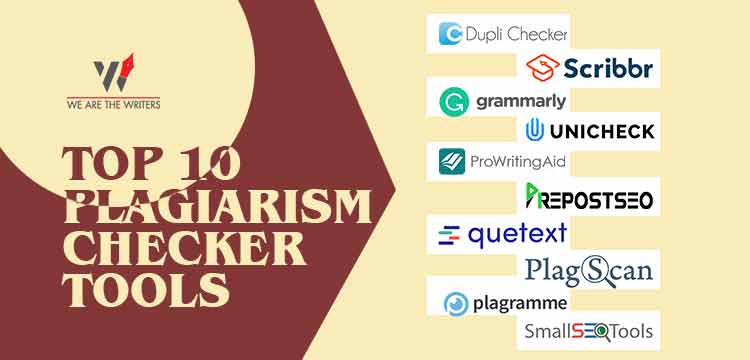 Scribbr
With a large source database, including books and journals, Scribbr plagiarism checker and its reports are some of the most accurate ones. It supports 20 languages and has advanced technology by which it even finds synonyms in the entire document. Scribbr is cloud-based and doesn't store your documents and content after checking.
Pros Of Scribbr
The pros of using Scribbr are:
It has a huge database as it has a partnership with Turnitin, which ensures accurate and reliable reports.
It supports most file types & 20 languages.
Scribbr provides detailed plagiarism reports where one can easily customize their reports and make changes in their text to improve the report.
Cons Of Scribbr
The cons of using Scribbr are:
It doesn't have the feature of the free trial.
Although it has partnerships with Turnitin, it doesn't provide access to its global database.
Suggested Read
Grammarly
Grammarly's plagiarism checker checks for the copies of your content across ProQuest and all other databases over the Internet. It is available both as an app version and as an extension on the browser.
Pros Of Grammarly
The pros of using Grammarly are:
It provides real-time updates while writing.
Besides plagiarism, Grammarly also highlights the grammatical mistakes in the content along with an explanation stating the error in the highlighted portion.
Moreover, Grammarly also detects the tone of the content. Its AI-powered writing assistant offers you downloadable reports.
Grammarly has a free version that one can use forever. The results turn out to be accurate in the free version itself.
Cons Of Grammarly
The cons of using Grammarly are:
Grammarly doesn't function as add-ons on other writing apps and software.
The aggressive advertising of Grammarly can sometimes be very irritating. However, this doesn't override the benefits and acts as a deal-breaker.
Unicheck
Unicheck's plagiarism checker follows an algorithm by which it checks the content for plagiarism across all web pages, internal libraries, and open source repositories. This is much like Google's algorithm of finding missing links between words and synonyms, also known as latent semantic indexing.
Pros Of Unicheck
The pros of using Unicheck are:
Unicheck is cloud-based with SSL encryption which saves you from the hassle of downloading any software, thereby respecting your safety on the internet.
Unicheck doesn't interfere with the formatting of the content.
Checking multiple files of various sizes has now become easy. Moreover, Unicheck supports almost all types of text file formats.
Unicheck also has a Google Docs add on which increases your accessibility and functionality.
The results appear quickly and are reliable. Moreover, the URLs of various sites get displayed in one list.
Cons Of Unicheck
The cons of using Unicheck are:
Sometimes, Unicheck takes time to show results.
ProWritingAid
ProWritingAid provides a variety of tools beyond basic plagiarism checkers. One can use it to check overused vague words, long sentences, tonality, and grammatical correctness of the content. Its word explorer and thesaurus are among the best features. Its plagiarism checker tool is also stronger and efficient.
Pros Of ProWritingAid
The pros of using ProWritingAid are:
It checks the context of writing and gives suggestions to remove the plagiarized part.
It doesn't interfere with the original formatting.
It's a comprehensive tool that can elevate the quality of your content to heights.
It also has integration with other apps and is available as an extension.
Cons Of ProWritingAid
The cons of using ProWritingAid are:
The mobile application for ProWritingAid isn't available.
The free trial is available only for 14 days.
PrePostSEO
PrePostSEO's plagiarism checker highlights the plagiarized content with their respective sources and has a "Make Content Unique " option, which makes it more conventional and easy to get rid of the plagiarized part of the content. 
Pros Of PrePostSEO
The pros of using PrePostSEO are:
The best part of using PrePostSEO is that you can also upload your files from cloud storage such as Google Drive & OneDrive.
PrePostSEO also has the technology for checking paraphrased plagiarism.
It's safe, secure, and has billions of databases.
Cons Of PrePostSEO
The cons of using PrePostSEO are:
PrePostSEO doesn't provide the option of checking plagiarism through URL.
The free version allows you to check only 1000 words at a time.
You can upload your files only in .doc, .docx, .pdf and .txt.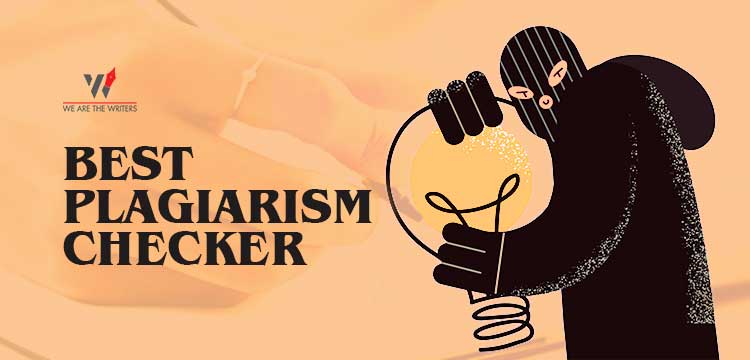 Quetext
Quetext curates its plagiarism reports using DeepSearch algorithms and natural language processing that deeply checks the contextual, word placement, and synonyms placement. Its amazing features include fast and accurate scans, privacy commitment, and interactive snipped texts.
Pros Of Quetext
The pros of using Quetext are:
This plagiarism checker uses DeepSearch technology which is faster and more accurate.
It's the ColorGrade™ Feedback feature by which you can engage with results and make necessary changes.
The free version allows checking of about 2500 words for free.
You can easily upload multiple files for checking. Moreover, you can also exclude URLs for your convenience.
It's cloud-based, SaaS-based, and web-based.
Cons Of Quetext
The cons of using Quetext are:
In the free version, you can search only 3 times. There's no annual plan.
You can't even export reports.
PlagScan
Pagan is a web-based application that comes with LMS integration which checks your content and copies not just for plagiarism but also for copyright infringement. It's perfect for private individuals, educational institutions, and students.
Pros Of PlagScan
The pros of using PlagScan are:
Within a few clicks, you get handed over the plagiarism report of your files. Moreover, it accepts files in all formats.
All your documents & content are safe with PlagScan during & after the check.
Cons Of PlagScan
The cons of using PlagScan are:
PlagScan has neither a free trial nor a free version.
Plagramme
No matter what is the length of your document or content, Plagramme's plagiarism check gives you the results within a fraction of time. It's the only plagiarism checker tool that you can use for free without any restrictions.
Pros Of Plagramme
The pros of using Plagramme are:
Plagramme drives its results after scanning through a huge database which includes 14 trillion articles, periodicals, web pages, and books.
Plagramme identifies all types of plagiarism, such as mosaic plagiarism, copy-paste, etc.
With an advanced scoring system, Plagramme offers which clearly shows the metrics such as plagiarism risk score, paraphrase score, and similarity score.
Its functionality in various languages makes it much more efficient.
Cons Of Plagramme
The cons of using the Plagramme are:
Plagramme can only be accessed through computers because it's a web-based application.
Sometimes, it takes too long to show the results.
SmallSEOTools
SmallSEOTools is a comprehensive website for a blogger with all the tools starting from keyword rank checker to plagiarism checker.
Pros Of SmallSEOTools
The pros of using SmallSEOTools are:
You can easily copy your content and paste it for checks.
The plagiarism report is downloadable.
The results are comprehensive. The free version also shows the portion of plagiarized text.
The word limit per search is 2000.
Cons Of SmallSEOTools
The cons of using SmallSEOTools are:
It takes somewhat more time to generate results.
Final Takeaway
In today's world of "content is the king," it has become highly essential to preserve the uniqueness of your content. AI-powered plagiarism checkers are a big sigh of relief. These checkers are an important tool for bloggers and academic students writing research or thesis papers.
Learn more on Plagiarism checker software in the blog by trustradius : Plagiarism Checker Software