Fighting games are something that the entire gaming universe is crazy about. Best fighting games test your skills, hand-eye coordination. Anime fighting games, Ps4 fighting games are extremely popular. One may ask, why? The reason is that they are fast-paced, one-on-one competitions. Sword fighting games require extreme hand-eye coordination and the ability to read, predict, and outwit your opponent. Some best examples of such games are Tekken 7, Super Smash Brothers, etc. but other fighting games have similar characteristics to some extent.
FIGHTING GAMES
Something thrilling about fighting games apart from their impeccable graphics and motion sensors is the lightning fast controllers, fight sticks. In this blog, we have listed some of the best fighting games, including sword fighting games, ps4 fighting games and anime fighting games. Read more to get inspired.
Suggested Blogs:
BEST FIGHTING GAMES FOR PC | TOP 14 FIGHTING GAMES
The world of PC fighting games has evolved a lot since arcade fighting games. PC gamers are now in possession of the best gaming controllers available in the market. High internet speeds are another necessary factor for playing fighting games smoothly. Here is a list of the best fighting games available right now for you to play.
MORTAL KOMBAT 11
The Mortal Kombat series, now in its eleventh instalment, shows no signs of slowing down. With games like these, gamers are pleased that developers are still making such best fighting games. One has a lot to master in Mortal Kombat 11. As you plunge into the world of vicious 1v1 kombat, you are surrounded by a large selection of fighters to pick from. Each has its own devastating strikes, fatalities, friendship ending abilities, and more. This has the addition of Robocop, Rambo, and Terminator to the mix.
You can even make your own 80s action movie mashup, complete with horribly fantastic gruesome flair. NetherRealm Studios has released Mortal Kombat: Aftermath. It is a story expansion that drives you from the end of the basic game's plot. And it lands you into a brand-new conflict as you recruit the support of some unusual allies and old opponents.
TEKKEN 7
The Tekken series dates back to the original PlayStation, and TEKKEN 7 is the series' first foray onto the PC. Tekken games have always been easy to learn but have a high skill ceiling, and TEKKEN 7 is no exception. It offers a challenging fighting system that combines harsh action with a diverse cast of characters who all play differently. Tekken 7 is a fighting game that will stay on your hard disc for a long time. It has a lot to do and a lot to learn. To understand why Tekken 7 is so fantastic, it's necessary to start from the beginning.
Tekken is mostly a punch-and-kick fighting game. Its control scheme is even designed to resemble the human body, with two punch and kick buttons for each leg. In addition, Tekken 7 enhances the viewing experience significantly. Tekken 7 is quite easy to play even for newbies. But as the levels progress, the opponents are far too difficult, and improving your Tekken 7 ranks becomes a near-impossible feat.
INJUSTICE 2
The original Injustice gave us a dark take on popular DC characters, and Injustice 2 not only improves on that, but also masters it. You'll not only get to experience the tight fighting that NetherRealm Studios is known for, but you'll also get a beautiful storey mode for each character, complete with unrivalled cutscenes. The special strikes in Injustice 2 are also worth mentioning; if you've ever wanted to see The Flash send a foe back in time to smash them into the Sphinx. Then this is the game for you.
Taking the fight to the next level, the Injustice 2 – Legendary Edition includes the base game as well as all downloadable content, featuring 10 new characters and five Premiere Skins! One of the best fighting games, Injustice 2 feels great with faster, deeper action and a tonne of material. Injustice 2 is excellent, just like its cast of heroes. Following Injustice: Gods Among Us in 2013, the fight mechanics have been steered in the proper direction. The new Multiverse mode alone has a lot of hours of gameplay potential.
M.U.G.E.N.
Mugen has everything you can think of. The number of fighters in these kinds of freeware fighting games is in the thousands, if not millions. Mugen's content is generated by the community. So if there's a stage or fighter you'd like to play, chances are someone has already built it. Do you want to see Goku confront the Doom pistol? It's in there somewhere.
Do you want to witness Captain America play Tetris with a brick? That's right: it's possible in Mugen. Mugen offers some absolutely incredible matchups, making it a must-try for anyone looking for something a little different. It's a ridiculous fighting game engine. There isn't much else there. Mugen's unlimited character selections can be interesting at times, resulting in bizarre and exciting "dream" matches. Mugen is, in my opinion, mindless entertainment, and if you don't expect much more from it than that, you'll have a good time.
Suggested Blogs:
ANIME FIGHTING GAMES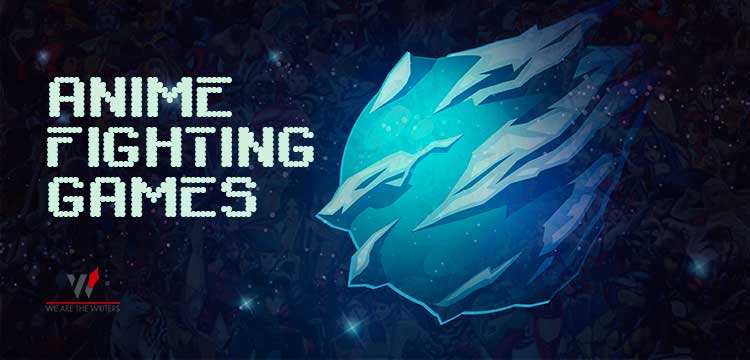 Apart from fighting games like Mortal Kombat, Tekken, and Street Fighter, there are some which are truly incredible. And while all of these games are fantastic, there are a plethora of other fighting games that are equally as impressive. Without these anime fighting games, no list of the best fighting games would be complete. These anime fighting games are divided into two categories: one is a fighting game with an anime art style, and the other is a fighter based on an actual anime. Some games fall under both categories! Whether or not you have played anime fighting games previously, this list is something that you must check out.
NARUTO SHIPPUDEN: ULTIMATE NINJA STORM 3 FULL BURST
Thanks to the Boruto sequel series, fans of the long-running Naruto series have become even more fervent in recent years. Naruto is an anime that has been attempting to be perfected in video game form for a long time. However, there have been a number of disappointing entries that feature clumsy and boring fighting.
Full Burst is essentially a repackaged edition of Ninja Storm 3 that includes all of the anime fighting games downloadable content. More importantly, the game picks up where Ninja Storm 2 left off in terms of story. The Ultimate Ninja Storm series is a joy to play, and while some may prefer Ninja Storm 4, the third instalment is just as good and, on top of everything else, has a better-developed plot. The Full Burst edition includes even more high-definition content.
DRAGON BALL FIGHTERZ
Without a Dragon Ball game, no list of the top anime fighting games would be complete. There are a lot of good ones, but Dragon Ball FighterZ is the greatest of all anime fighting games. It is one that truly captures the essence of the series. In Dragon Ball FighterZ, your fantasy has come true: you can finally feel like you're a part of the anime. Dragon Ball FighterZ has a lot to recommend, from its fantastic battle system to its fantastic story mode, but the best part is simply how it looks. It appears to be flawless in terms of anime fighting games.
Every character, assault, background, and special move from the anime has been faithfully recreated. This is the game for you if you've spent years watching Goku and his friends save the Earth from threat. The Dragon Ball FighterZ – Ultimate Edition includes the main game. FighterZ Season Pass, Anime Music Pack, and Commentator Voice Pack bring your total power to over 9,000. Isn't it truly incredible?!
BLAZBLUE: CROSS TAG BATTLE
BlazBlue: Cross Tag Battle is a bizarre mash-up of numerous distinct fighting game series, as well as Rooster Teeth's animated series RWBY for the first time. Players can choose any two characters from four distinct series and combat opponents in two-on-two battles. This is in order to collect shards of a "Keystone" that will return the characters to their own universes.
Despite having a sizable rooster already, more DLC characters are planned. This includes Neo from RWBY and characters from three more fighting game series. Each character's special moves have been transformed into Astral Finishes in the BlazBlue art style. The game began with 40 characters, 20 in the original game and another 20 as DLC. Any fighting game's true staying power is determined by how much fun it is to compete against other players both locally and online. BlazBlue: Cross Tag Battle excels in this aspect. Online play is standard ArcSys material, complete with an interactive lobby and interesting, unlockable avatars.
JOJO'S BIZARRE ADVENTURE: ALL-STAR BATTLE
JoJo's Bizarre Adventure is one of the most well-known manga and anime series thanks to its distinct aesthetic and unforgettable characters. And the game, All-Star Battle, perfectly encapsulates that essence. There are numerous game modes available, including Story Mode, which allows players to relive their favourite scenes from the series, as well as Campaign and Versus, which allows players to earn Customize Metals and combat their friends with their favourite characters.
This fighting game for the PS3 features over 40 characters from all eight JoJo storey arcs. Each character has one of five Battle Styles, each of which is based on their powers and skills from the series. Characters like Jotaro and Josuke have their Stands, and Dio has the Vampirism Style, which allows him to drain opponents' hits and heal himself. All-Star Battle performs significantly better as anime fighting games than the developer's past efforts. Hirohiko Araki's original artwork's stunning character shapes, signature poses, and passionate facial expressions have been carefully retained. This gives All-Star Battle a genuinely bold, one-of-a-kind style among all other anime fighting games.
PS4 FIGHTING GAMES
These ps4 fighting games were created to allow newcomers to the combat genre to unleash some devastating combo attacks. In this list we have highlighted some of the best ps4 fighting games any hardcore gamer would love. These ps4 fighting games allows players to blend light, medium, and heavy attacks in their combos rather than requiring them to follow a specific order.
Suggested Blogs:
STREET FIGHTER V
Street Fighter V is the fifth main instalment in the Street Fighter brand, and it maintains the same style of gameplay that the IP is known for, with a few minor tweaks. V-Gauge was introduced in this title, and it includes three new techniques: V-Skills, V-Reversals, and V-Triggers. Players can access the three new methods once the V-Gauge has been built up, allowing their character to perform strong blows or evade attacks from their opponent. It is one of the best ps4 fighting games available right now.
BLAZBLUE: CENTRAL FICTION
BlazBlue: Central Fiction was released in arcades in 2015, although it was not released on consoles until 2016. If you've been following the BlazBlue series, you'll know that this game finishes the Azure Saga and is the final game featuring Ragna as the main protagonist. This is also the most recent mainline instalment in the BlazBlue video game franchise. However, it is the first of the ps4 fighting games without an English dub. This is a 2D anime-style fighting game with a lot of different game types to explore.
GUILTY GEAR XRD
The Guilty Gear series has long been recognised for its abundance of cryptic systems, cancellations, and hard combos. But Xrd found an outstanding balance between removing the shell without losing the spirit of the fiercely stylish ps4 fighting games. And hectic action that fans had grown to adore.
Guilty Gear Xrd is a fighter's fighting game, with an immaculate anime art style in the Unreal Engine and a roster that constantly asks you to learn new mechanics and approaches without overwhelming you, and even after five years, it can still rock with the best of them as the crown jewel in developer Arc System Works' diverse fighting-game catalogue. It is not only any fighting game but one of the best fighting games of all time.
SWORD FIGHTING GAMES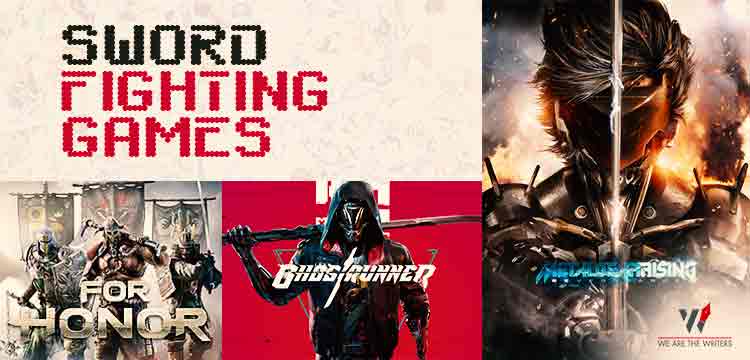 One of the biggest treasures of gaming is hacking and slashing your way through swarms of foes with a huge sword in hand. Sword fighting games can aim for realism in both fighting and scenario. They can also aim for ridiculous power fantasies – there are no hard and fast rules, which adds to the excitement. Skills learned with a sword can be transferred to improvised weapons. Some of the best sword fighting games are listed below.
GHOSTRUNNER
The brutal action in Ghostrunner is a fast-paced, high-octane thrill ride, with your instakill strikes culminating in hilariously over-the-top gore explosions. It's all for the purpose of giving you the ultimate cyberpunk ninja experience, as you effortlessly wall-run, slide, and dance between bullets. The close-quarters combat is kept intentionally simple.
However, performing some impossible parkour and landing a fatal blow is still a huge thrill in sword fighting games like the Ghostrunner. Ghostrunner's combat is impeccably paced and never feels like it's running out of ideas because it rarely dwells on one topic for too long. The amount of versatility each fighting situation provides is the best part. There are frequently several entry points to any one encounter, each with its own set of problems.
METAL GEAR RISING: REVENGEANCE
Metal Gear Rising: Revengeance is a drastic change from its stealthy predecessors since it is a lightning-fast, Platinum-developed action game featuring some of the best hack 'n' slash fighting on the market. As the pouty cyborg Raiden, you'll fight your way through a ridiculous plot and a slew of deadly boss fights while learning the art of the sword. It's a cross between Bayonetta and Devil May Cry. This is in tune with Raiden's ability to halt time & dissect his enemies being a notable (and pretty unpleasant) feature. You may even chop up neighbouring cars into small pieces. This is a lot of fun in one of the best sword fighting games like Metal Gear Rising: Revengeance.
FOR HONOR
For Honor's strength is its highly distinct gaming experience. It is one of the best sword fighting games set in the medieval era with all the While it's easy to get used to the art of fighting, knowing all the complexities of each hero and match ups can take a little longer. This is somewhat similar to what the game director Nicolas Bombray said. For Honor had 12 heroes when it first launched. For Honor foregoes historical accuracy in favour of a Deadliest Warrior method.
For Honor, among other sword fighting games, pits the Samurai, Vikings, knights, and Wu Lin fighters against one another. The results are frequently immensely enjoyable. And while the premise may appear ludicrous to Mordhau or Chivalry gamers, the battle system provides great deal of depth. The various heroes in these kinds of sword fighting games are also inspiring. 
ENDING NOTE
For those of you who are seeking out some action, some adventure and want to test out your skills, you can easily try it out with these fighting games. They are fun, exciting and will increase your concentration along with hand-eye coordination a lot. Sword fighting games, anime fighting games give you a lot of surprising tricks. They may be psychological tricks or problem-solving abilities. So that was our list of the best fighting games. Hopefully we covered your favourite fighting games too!