Haven't you been watching k-drama for the last two years? If not, then trust me you lack good content in your "binge-watch" or "to be watched list". Korean dramas are real addiction and trust me this blog will multiply your obsession with Korean drama 10 times more. You ask why? Because the list you'll come across after scrolling includes top Korean dramas and much more to it.
The top Korean dramas will give you stomach aching laugh, eyes full of tears, some of the best Korean dramas on Netflix will leave your minds thinking, some Korean dramas to watch can literally give butterflies in your stomach. Sounds ecstatic, isn't it? Well, they are more exciting to watch than said.
Even if you've not watched any k-drama even once in your life. This is the best time to start. Moreover, you have landed at the exact place where you can get top Korean dramas to start with.
But first, let me brief you on what Korean drama is, some basic characteristics that will help you make a list of Korean dramas to watch in the upcoming weekend.
What is Korean Drama? | Top Korean dramas to binge-watch!
Korean drama, often known as K-drama, is a type of televised drama produced in South Korea, usually in the form of a miniseries, that has particular qualities that distinguish it from typical Western television shows or telenovelas.
In the 1960s, South Korea began broadcasting television series; in the 1990s, the mini-drama format of 12–24 episodes became popular, merging conventional historical series into this format.
Korean drama series are made in many genres. Mostly romantic or a love story, they also include horror, science fiction, comedy, crime thriller, and so on. Almost all Korean dramas have peculiar plots, but that's part of what makes them so entertaining. All you have to do now is learn to accept the weird and surprising and enjoy the trip.
K-dramas provide their viewers with a taste of what life is like in Korea. Apart from K-pop, Korea has a lot of intriguing things to offer, such as cuisine, culture, clothing, and locations to explore. All of this is accessible through internet viewing of K-dramas and Korean films.
Suggested Blogs:
What makes Korean dramas stand out?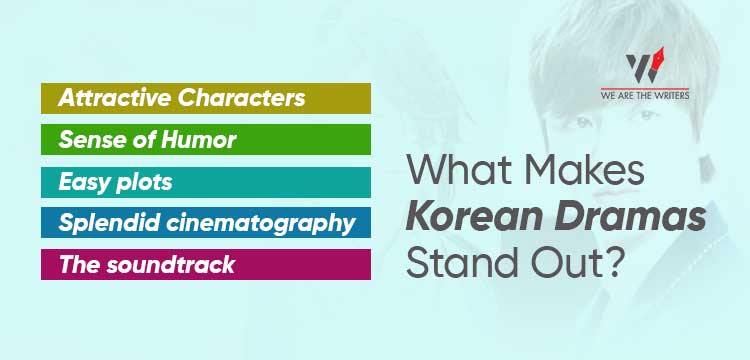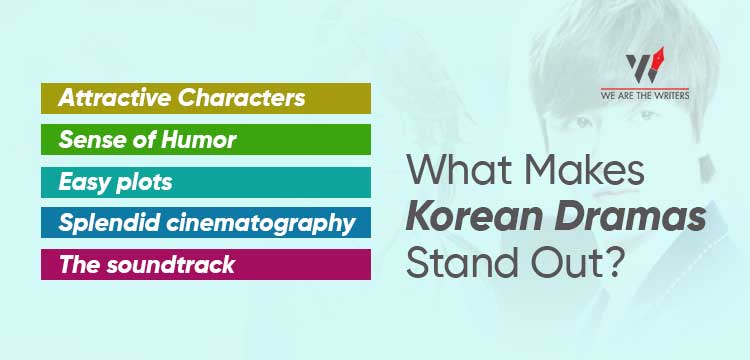 When you watch a Korean drama, you have to put a little effort and turn on the subtitles. However, despite the language barriers why are they so popular these days? Why do your friends, colleagues keep recommending you to watch top Korean dramas? Let's figure out some features that make them stand out and addictive.
Attractive characters
Korean dramas are known for their beautiful actresses and handsome actors. Their mesmerizing face, unique personality makes people stick to k dramas and look for more. Viewers, especially young adults, start obsessing over certain actors and actresses impressed by their good looks. Besides, their fashionable outfits also grab attention is sparkles the viewer's eyes.
Sense of humor
Korean performers have a natural sense of humor, which explains why their rom-com shows are usually big hits. It's all about perfecting the whole package—perfect timing, facial expressions, lines and emotions, gestures, and a dynamic delivery style, as well as the proper combination of romance and comedy. This approach has been adopted by K-Dramas.
Easy plots
K-dramas are easily understandable. K-Dramas are typically 16-20 episodes long, with each episode lasting 30 to 40 minutes or a maximum of an hour. You won't be left with something you couldn't digest about the drama you just finished. They are predictable yet have amazing ends.
Splendid cinematography
This contributes to the glitz and glam of Korean dramas. The photographs and settings are always well-considered. The atmosphere talks a hundred times when the actors don't say anything. When the characters finally deliver their lines, the cinematography wonderfully matches the tone of the scene. This amazing synchronization works well with the viewers.
The soundtrack
Though we don't understand the lyrics, the melodies and the rhythms are peaceful and fantastic to listen to. Be it background tracks or title songs, the soundtrack planned for these drama series is wonderful.
Besides, their kissing scenes, fresh pairings, the script, and many other aspects make you fall in love with k-dramas.
Top Korean dramas to watch in 2022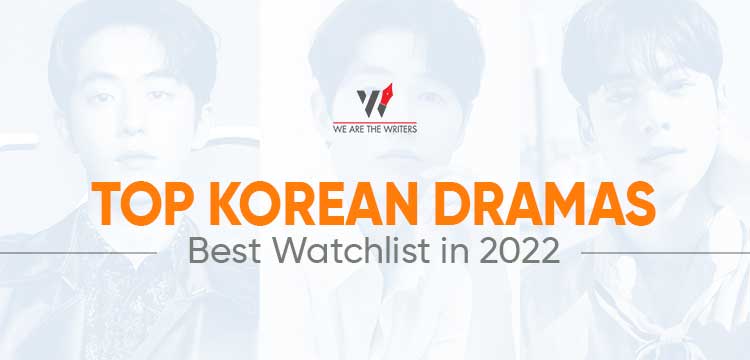 Squid Game
Best K-drama series of 2021. Yes, our claim is true. Squid game has gained an immense level of popularity among netizens. The series has its name on everybody's lips. This popular drama stars Lee Jung-jaePark Hae-soo Wi- Ha-Joon. In 94 countries, the series is ranked No. 1 on Netflix's Top 10 lists. It's the first Korean series to reach No. 1 in the United States on the platform. The story is about hundreds of cash-strapped gamers agreeing to compete in children's games after receiving an unusual offer. There, an enticing reward with lethal heavy investment awaits. A survivor game with a prize pool of 45.6 billion dollars.
Platform- Netflix
See – Squid Game Trailer
Hometown Cha Cha Cha
A romantic comedy, this series is a remake of the 2004 South Korean movie Mr. Handy, Mr.Hing. The makers call it a "healing drama". The 16 episode series have Shin Min-a, Kim Seon-ho, and Lee Sang-Yi as lead actors. This 2021 k-drama is a must-watch if you wish to witness a beautiful love story.
Platform- Netflix
See- Hometown Cha Cha Cha Trailer
Move to Heaven
One of the best Korean drama on Netflix, this drama series stars Lee Je- hoon and Tang Joon-sang. The heartwarming story is based on Kim Sae-non-fiction piece, Things Left Behind, about the first trauma cleaners in South Korea. Geu-Ru (Tang Joon-Sang) is an Asperger's syndrome-affected teenage boy. He is employed by his father's company, "Move To Heaven." Geu-father Ru's passes away one day. Gue-Ru is all alone, but his uncle Sang-Gu (Lee Je-Hoon) emerges unexpectedly next to him. The story then continues to revolve around how they run the company together.
Platform- Netflix
See – Move to Heaven Trailer
Doom at your service
This k -drama is a fantasy series starring Seo In-guk and Park Bo-young. A girl who lost both of her parents when she was young is diagnosed with brain cancer and given less than 100 days to live. As she prays for the world's annihilation, the destruction itself appears himself and spends the next 100 days with her. This 16 episode is a heartwarming series that will bring you tears and a smile on your face simultaneously.
Platform- Rakuten Viki/ Netflix
See – Doom at your Service Trailer
My Roommate is a Gumiho
Adapted from the webtoon My Roommate is a Gumiho, this k-drama is a mix of romantic comedy and fantasy genres. With 16 episodes, this series depicts a unique love story that brews between a 999-year-old-nine-tailed fox who wants to become a human and a university student.
Platform- iQIYI, Rakuten Viki
See – My Roommate is a Gumiho Trailer
Taxi Driver
The storyline of a premium cab driver seeking retribution on behalf of his clients. It's based on Carlos and Lee Jae-webtoon jin's Deluxe Taxi. It is one of the highest-ranking k-dramas of 2021. This drama has an amazing cast including Lee Je-hoon, Esom, and Eui-Sung Kim as leads. A mix of action, comedy, and drama, Taxi driver can be your next weekend plan!
Platform- SBS, Dramacool, Rakuten Viki, Viu
See – Taxi Driver Trailer
The Devil Judge
This 16 episode k-drama is an action, thriller, and drama series. The main leads include- Ji Sung, Kim Min Jung, Jinyoung(GOT7), Park Gyu Young. Kang Yo-han (Ji Sung) is a judge, Jung Sun-A (Kim Min-Jung) is the Social Responsibility Foundation's executive director and also Kang Yo-Han's enemy. Kim Ga-On (Jin Young) is a tyro (newly recruited) judge. Yoon Soo-Hyun (Park Gyu-Young) is a detective and Kang You-han's long-time friend.
Platform – Rakuten Viki, Dramacool, Viu
See – The Devil Judge Trailer
You are My Spring
This drama revolves around a hotel receptionist and a doctor with tragic childhoods building an emotional bond while getting engaged in a confusing murder case. A 16 episode drama that has action, emotions, thriller, crime, suspense. In short, an amazing watch. The plot, the characters, the cinematography will keep you hooked throughout the series.
Platform- Netflix
See – You are My Spring Trailer
My name
With an amazing cast of Han So-hee, Park Hee-soon, Ahn Bo-Hyun, My Name is a 2021 crime thriller series. The plot is basically about a lady who joins an enormous crime syndicate and invades the cops as an undercover officer in order to discover the truth regarding her dad's death.
Platform- Netflix
Trailer- My name Trailer
Hospital Playlist season 2
The hugely popular 2020 K-drama Hospital Playlist returned for its second season in June 2021, bringing around more music, tenderness, and fellowship. The drama depicts the lives of five surgeons who've already known each other since medical school at the busy Yulje Hospital. What distinguishes both seasons of Hospital Playlist from those other medical dramas is how it avoids the genre's hackneyed clichés. The focus of this show is not on hospital politics, but rather on the bond that the five protagonists have with their patients, coworkers, and each other.
Platform- Netflix
Trailer link – Hospital Playlist season 2 Trailer
Top Korean dramas of all times
The Heirs
Year- 2013
Secret Love
Year- 2013
The Mother's Sun
Year- 2013
Fated to Love You
Year- 2014
Healer
Year- 2014-2015
She was pretty
Year- 2015
Kill me, Heal me
Year- 2015
Descendants of the Sun
Year- 2016
Moon Lovers: Scarlet Heart Ryeo
Year- 2016
Legend of the Blue Sea
Year- 2016-2017
Best Korean dramas on Netflix
Netflix has a variety of series and we know it's difficult to decide what to watch and what not to. Wondering what to watch next? Have a look at the list of best Korean dramas on Netflix.
It's Okay Not to Be Okay
Crash Landing On You
Vincenzo
The Uncanny Counter
Hospital Playlist season 1 and 2
Nevertheless
Deserter Pursuit Unit (D.P.)
Sweet Home
Stranger
Startup
Suggested Blogs:
Upcoming Korean drama series in 2022
All of us are Dead
Juvenile Justice
Carter
Remarriage and desires
Sweet Home (Season 2)
Money Heist
The Uncanny Counter (Season 2)
The Mansion
Love (ft. Marriage and Divorce) Season 2
Office Blind Date
And many more…
Conclusion
I am sure you are already excited by the names of the top Korean dramas and the best Korean dramas on Netflix. Moreover, the dramas are more thrilling than their titles. Now you have plenty of names of Korean dramas to watch. Get into the world of the strange yet beautiful world of Korean drama!