Courage, grit, and ambition drove the story of these four young men who wished to create their start-up. The story of Pitchers is not some fairytale and fantasy, it is a very relatable tale of those people who aspire to do something great.
The cast is a remarkable one with all the brilliant and appealing actors who embody the characters that they are playing. The show has received great reviews, especially from TVF pitchers IMDB.
It has been simply amazing to watch such brilliantly crafted characters playing amazing roles and eventually winning at life. The show is a must-watch for all age groups. Here's everything we know about TVF pitchers season 1 and season 2.
Suggested Read
• BHAUKAAL: AN INSPIRING STORY
• MAHABHARAT STAR PLUS | AN EPIC
• TVF Aspirants: Failures, Friendship and Success
---
TVF PITCHERS SEASON 1
PLOT
The story of TVF pitchers season 1 revolves around the life of four friends; Naveen, Jitu, Yogi, and Saurabh who wish to enter the world of start-ups. Naveen faces failure while working in the company and does not get an adequate opportunity. He thus gets drunk and resigns. He, however, is lured by the company to stay and get a transfer to Beijing. He reaches the airport but decides that he is not interested in doing the regular 9 to 5 jobs, he wants a more amusing and challenging job.
In season 1, the four friends later decide to open a start-up. They go on a journey where they discover themselves and get to know what they want for themselves. Pitchers is a web series with a total of 5 episodes. This was launched on the portal.
---
CAST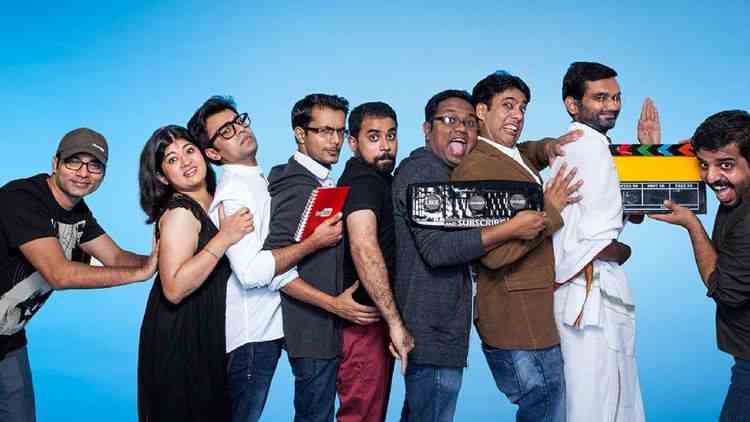 All the actors right from the lead actors to the supporting and character artists have done a fabulous job at re-creating very relatable and memorable roles. Here's a list of TVF pitchers cast members.
Naveen Kasturia as Naveen Bansal, the one who ignites the minds of his friends with a fabulous start-up idea. He earlier worked as the Executive regional manager at MOKART.
Jitendra Kumar as Jitendra "Jitu" Maheshwari, worked as a senior developer and the key ingredient to the start-up plan.
Arunabh Kumar as Yogendra Kumar "Yogi" Pandey, he also worked at the startup.
Abhay Mahajan as Saurabh Mandal handled the business side of the startup.
Akanksha Thakur as Saumya Maheshwari, wife of Jitu
Maanvi Gargoo as Shreya, Naveen's girlfriend.
Jaimini Pathak as Rajat Khanna, the CEO of MOKART.
Rajesh Sharma as Gary Bhujiawala
Biswapati Sarkar as Puneet
Sunil Sinha as Jitu's Father
Sameer Saxena as Ankit Bhardwaj
Abhishek Banerjee as Bhati
---
REVIEWS
Season 1 was well received by the audience. The netizens loved the making of the series. The first episode received 7.7 million views. The young graduated working class of India is often asking the question "tu kya hai?" Or "tu kya kar raha hai?" When they get ready for work. Start-ups have become the new 'it' thing, with people willing to pursue their dreams. It is a blend of brilliant acting and direction. This web series / tvf series is very relatable and comforting at the same time. The heavy bits of humor further adds to the glory and failures of the four friends.
Naveen, Jitu, Yogi, and Saurabh start afresh by quitting their high-paying routine jobs to engage in their 'startup'.
Tvf pitchers season 1 has beautifully shown the mentor-trainee relationship. Bhatti, an entrepreneur who gives brilliant advice like "tu beer hai", "our Teri company bottle", is a gem of a scene. Tvf pitchers season 1 stands out because of its research and intellect. The makers of this series have done a great deal of research. Tvf pitcher season 1 is a light-hearted buddy-comedy tvf web series. Tvf series sticking to its roots develops a beautiful journey of four youngsters.
The OTT platforms and tvf web series especially are known for creating unique, relatable, and extraordinary original content. With this show, the old overhyped shows will soon see the end. The theme is crafted with such organic beauty and honesty. It attracts a viable target audience with its unique theme and premise. The show might not be thorough with the nuances of entrepreneurship but the makers of this series gave the member of the audience a thorough life lesson. It is a pure form of creativity that is far away from the stereotyped characters and melodrama. It is a must-watch for all those who love tvf web series.
---
TVF PITCHERS SEASON 2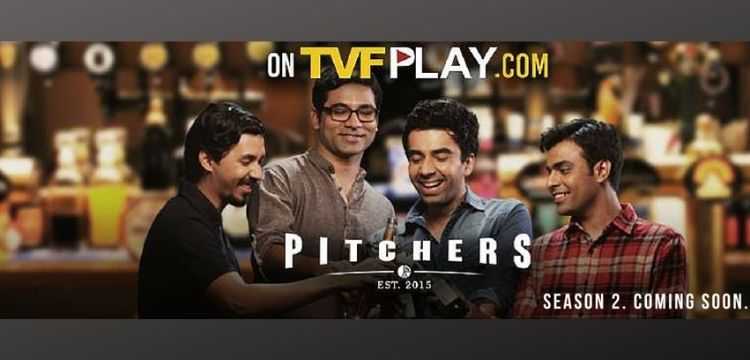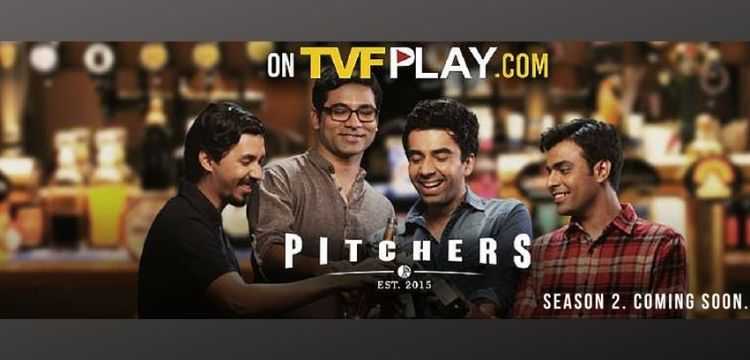 After the booming success of season 1, the makers promised that there will be a TVF Pitchers season 2. Though there was a lot of confusion about whether season 2 will be released or not. While the plot and premise are not released yet, there is still a lot to know.
Season 2 is likely to be launched on Prime video or Sony LIV as the previous two successful shows of TVF have been launched on these platforms. While the first season was available for free on YouTube, it might not be so this time.
---
CAST
The Pitchers cast is likely to be similar to the one in the first season.
Naveen Kasturia as Naveen Bansal
Jitendra Kumar as Jitendra "Jitu" Maheshwari
Arunabh Kumar as Yogendra Kumar "Yogi" Pandey
Abhay Mahajan as Saurabh Mandal
Aakanksha Thakur as Saumya Maheshwari)
Maanvi Gagroo as Shreya
Jaimini Pathak as Rajat Khanna
Rajesh Sharma as Gary Bhujiawala
Biswapati Sarkar as Puneet
Sunil Sinha as Jitu's Father
Sameer Saxena as Ankit Bhardwaj
Abhishek Banerjee as Bhati
Though the date and month are not yet confirmed, season 2 is to be released sometime in the year 2021.
We hope to see more of a constructive struggle and motivating factors of the four friends. Season 2 is much like the first season will hopefully become an audience favorite and will keep the struggle on. TVF Pitchers season 2 is awaited by a large number of people. We have already seen a lot of fan-made videos and trailers for season 2, now we wish to see the official ones.
---
TVF PITCHERS IMDB
The show has garnered a lot of fan following. It is rated 9.1 out of 10 on IMDB, which is great for any mini web series. The show is held popular by this popular site and it thus indicates the huge fandom that awaits the arrival of a season 2.
---
THE FINAL WORD
TVF pitchers is one of the finest shows ever made by Indian filmmakers. The show progresses on a very relatable and regular premise. It may not be the kind of show which supplies the audience with an overdose of drama and thrill but it is surely the one that generates motivation and willpower in people. The show leaves the audience with the sentiment that feels so strongly motivated and energized. The show is not only beautifully directed but is also shot and edited in a manner that transcends us from our reality to Jitu or Naveen's reality. The show deserves all the love and support especially from those who are aspiring to do the same with their lives.
The show undoubtedly has its place. TVF has beautifully developed itself. Starting with Permanent Roommates to TVF flames, there has been a constant evolution of all those involved.
While most of the series, especially in India have been full of melodrama and heavy makeup, Pitchers comes in as a much-needed wave of realism and authenticity.