Hello there binge-watcher, how are you doing? We hope the new year is just as good as you thought it would be. Of course, we know things aren't back to normal yet, but there is so much to look forward to in the year 2021. There were lots of interesting dramas/series to watch. And why wouldn't there be? With big names of the entertainment industry shifting towards the streaming platforms, we know that whether Pandemic or not, we will get served the best of the latest web series. Even Indian web series are not behind when it comes to quality. The latest Hindi web series like SCAM 1992, The Family Man, etc., won the hearts of the people. Owing to the need for quality content, we know you're eager to find out the line-up of new WEB SERIES RELEASING IN FEBRUARY 2021.
There are many Netflix web series, Amazon originals, and series by other OTT platforms lined up for release in February. And like always, we don't want you to miss out on all the fun. And this is why we created a list of upcoming web series that will keep you company throughout the cold February and warm your heart, make you smile, or even be amazed.
Satiate the binge-watcher in you with our list of upcoming WEB SERIES RELEASING IN February 2021 below:
Firefly Lane– New WEB SERIES RELEASING IN FEBRUARY 2021
Bringing the world into the reel dimension has been in trend for ages. Take the new series Firefly Lane as an example. It is an adaptation of the book that goes by the same name written by Kristin Hannah. The book comes to the reel world by Maggie Friedman, which will get streamed on Netflix. The first season of this new web series will get released on 3rd February and consist of 10 episodes.
---
Invisible City– Latest WEB SERIES RELEASING IN FEBRUARY 2021
The series Invisible City comes from Brazil with original drama language as Portuguese. Try this TV series if you are interested in a fantasy-based thriller drama. Eric is an Environmental Police Officer that is dealing with the loss of his wife. But he soon realizes that there is a different world apart from the one he's living in. He is living among the mythical creatures heard of in Brazilian Folklore. What will unfold in the web series directed by Carlos Saldanha when Eric tries to investigate the incidents around him? To know the outcome, tune in to Netflix for its first season on 5th February(Source: Popsugar).
---
Hache- Netflix WEB SERIES RELEASING IN February 2021
Hache is an exciting crime drama that already has a season 1 released in 2019. The second season is awaiting its release on 5th February 2021. The Spanish Tv series set in Barcelona in the 1960s has Adriana Ugarte as the lead character Helena. She gets romantically involved with the leader of an infamous drug-dealing organization. Now, she has to use whatever she can to gain power and status.
---
Crime Scene: The Vanishing at the Cecil Hotel
Netflix never disappoints when it comes to delivering series, even docuseries. Docuseries is a TV documentary series adapted from real-life events. Netflix is coming up with its latest docuseries- Crime Scene: The Vanishing at the Cecil Hotel. An eerie case that left many baffled, some even wondering as to what happened to Elisa Lam. The college student and a tourist were found missing at the Cecil hotel. Her dead body was discovered later in one of the water tanks in the hotel. Go for docuseries if you find investigative genres interesting(Source: IMDb).
---
The Family Man 2- WEB SERIES RELEASING IN February 2021
The Family Man 2 is the second season of the most-watched web series on Amazon Prime Video. Manoj Bajpayee plays the role of Srikant Tiwari, a married man working in the National Intelligence Agency. He works as a senior analyst in the fictional Threat Analysis and Surveillance Cell, a part of NIA. Season one focused on both his private and professional life, how he manages both. To find out what happens next, stay up for the game night of Season 2, which is 12th February 2021 (Source: Indian Express).
---
Nadiya Bakes- WEB SERIES RELEASING IN February 2021
For all the sweet-tooth out there, the Nadiya Bakes is a series sent from heaven! Nadia Hussain, the winner of the Great British Bake Off (6th series), stars in this food-based series that explores the world of baking. From cakes to bread and everything sweet. Nadia will take you to the world of sweetness in this feel-good series with its first season on 12th February (Source: BBC).
---
Live Telecast
You must have heard and seen several movies that revolve around a crew that searches for paranormal activities but gets caught up with the wrong powers and meets their worst fear. The story revolves around Jennifer and her crew that keeps on busting the truth behind paranormal activities, but this particular visit turns out to be different. Kajal Aggarwal, as Jennifer makes her entry into the world of OTT platforms. The Series, written and directed by Venkat Prabhu, will release on Disney+ Hotstar on 12th February. One of the most a awaited WEB SERIES and RELEASING IN February 2021
---
The Crew- Comedy WEB SERIES RELEASING IN February 2021
The crew is an upcoming Netflix web series that comes with a full dose of comedy. The series created by Jeff Lowell revolves around a car chief, his new boss, and the staff working in the NASCAR garage. The cast has promising names in comedy like Kevin James. So, get ready to experience the first season of the series on 15th February.
---
Behind Her Eyes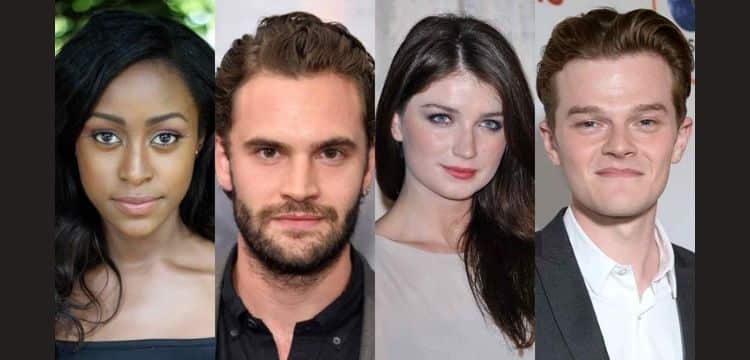 Behind her Eyes is an upcoming web series, more like a 6episode mini-series. The series revolves around a single mother who gets into a love triangle with her boss and his wife. But things start taking a different turn later. The mini-series is a Psychological thriller, originated from the United Kingdom, stars Simona Brown, Eve Hewson, Tom Bateman, and Robert Aramayo. The series will premiere on 17th February 2021.
---
Tribes of Europa
Netflix is coming to captivate us with this German science fiction series. Tribes of Europa is based on the future Europe 2074. The countries are split up into smaller powers and compete to gain a higher status. At times like this, three siblings are up to turn around the fate of Europe. Mark your calendar as this series will get released on 19th February 2021.
---
Ginny & Georgia
Are you fond of dramas that revolve around the bond between a mother and daughter? If you enjoyed Gilmore Girls, then you can give Ginny and Georgia a try. Unlike the former, this is a different take on the mother-daughter relationship. If you are ready to view a dark take on this scandalous romantic teen drama, mark 24th February as its premiere date.
---
The War in the Hills
The War in the valley captures the events that took place in the Indo-China war, 1962. The Mahesh Manjrekar director sings of the glory and depicts the extreme conditions in which the Bravehearts of India protected their territory. They fought with all their might even after being outnumbered by the enemy. The series starring Abhay Deol will premiere on 26th February 2021 on Disney+Hotstar (Source: News18).
---
| | | | |
| --- | --- | --- | --- |
| Title | Release Date | Streaming Platform | Genre |
| Firefly Lane | 3rd Feb 2021 | Netflix | Book-Based TV Drama |
| Invisible City | 5th Feb 2021 | Netflix | Fantasy, Thriller |
| Hache | 5th Feb 2021 | Netflix | Thriller, Crime |
| Crime Scene: The Vanishing at the Cecil Hotel | 10th Feb 2021 | Netflix | Docuseries |
| The Family Man Season2 | 12th Feb 2021 | Amazon Prime Video | Action Thriller |
| Nadia Bakes | 12th Feb 2021 | Netflix | Food |
| Live Telecast | 12th Feb 2021 | Disney+ Hotstar | Horror |
| The Crew | 15th Feb 2021 | Netflix | Comedy |
| Behind Her Eyes | 17th Feb 2021 | Netflix | Psychological Thriller |
| Tribes of Europa | 19th Feb 2021 | Netflix | Science Fiction |
| Ginny & Georgia | 24th Feb 2021 | Netflix | Teen Romance |
| The War in the Hills | 26th Feb 2021 | Disney+Hotstar | War-based drama |
Now that you have the list of the latest web series releasing in February, all you need is to get your chill game on and binge-watch these superb series. Do not forget to mention your favorite out of the lot.
Read More From Us: