In the ongoing competitive scenarios, it is important to maintain reputations of individuals , groups or organizations. The role of personal branding grows prominent here. Personal branding is not only for people who own business. It is essential for anyone who wants to showcase their story and ability to the world.
The intentional creation and influence on public perception is Personal branding. It's the way of showcasing one's uniqueness, selling points and specialties. The way you promote yourself is your personal brand. It provides you with the opportunity to highlight your abilities and passions. It makes people feel they know you better. It also instills them with the trust of knowing you even if they have never met you in person.
Know all about Brand fundamentals: Dive Deep into Brand Identity, Elements, and Guidelines
What is Personal Branding ?
Personal branding refers to people portraying themselves in online world on different social media platforms and increase their visibility in the world and in addition increasing their brand value. Some are travelers, some are foodies, they may be a singer, a dancer, a sports enthusiast or just a routine person. So posting images, videos, reels, podcasts etc. to gain followers and traffic on their posts or brands is main motive of personal branding.
People today have all the opportunities to quickly earn fame, with outburst of the social media apps and platforms. Everyone wishes to become famous and wish to become a brand of their own.
Why Should You Create a Personal Brand? And what is personal branding definition ?
In several ways, your personal brand is what distinguishes you. Your brand's uniqueness is what differentiates you from the millions of other people with similarities. Some of the reasons why it is important to create your personal brand are listed below. Also you might be wondering what exactly is the personal branding definition. Here goes most of the details and obviously the personal branding definition.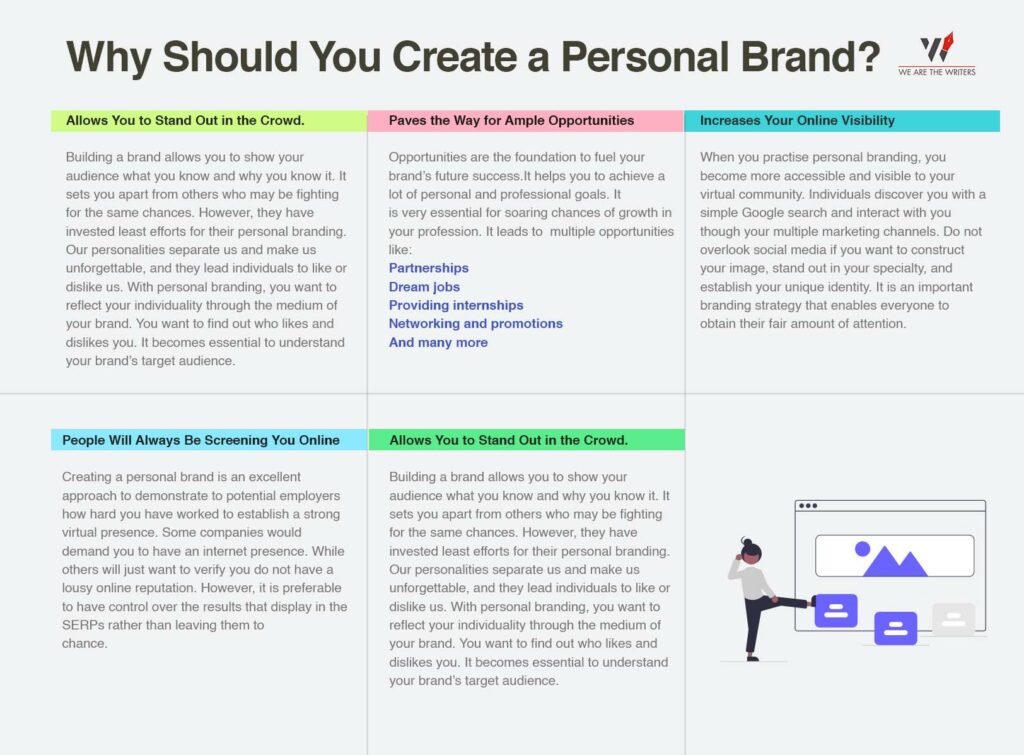 Allows You to Stand Out in the Crowd
Building a brand allows you to show your audience what you know and why you know it. It sets you apart from others who may be fighting for the same chances. However, they have invested least efforts for their personal branding. Our personalities separate us and make us unforgettable, and they lead individuals to like or dislike us. With personal branding, you want to reflect your individuality through the medium of your brand. You want to find out who likes and dislikes you. It becomes essential to understand your brand's target audience.
Paves the Way for Ample Opportunities
Opportunities are the foundation to fuel your brand's future success. It helps you to achieve a lot of personal and professional goals. It is very essential for soaring chances of growth in your profession. It leads to multiple opportunities like:
Partnerships
Dream jobs
Providing internships
Networking and promotions
And many more
Increases Your Online Visibility
When you practise personal branding, you become more accessible and visible to your virtual community. Individuals discover you with a simple Google search and interact with you though your multiple marketing channels. Do not overlook social media if you want to construct your image, stand out in your specialty, and establish your unique identity. It is an important branding strategy that enables everyone to obtain their fair amount of attention.
People Will Always Be Screening You Online
Creating a personal brand is an excellent approach to demonstrate to potential employers how hard you have worked to establish a strong virtual presence. Some companies would demand you to have an internet presence. While others will just want to verify you do not have a lousy online reputation. However, it is preferable to have control over the results that display in the SERPs rather than leaving them to chance.
Audience Relate To You More
We frequently assume a separate persona, especially in professional settings. Personal branding demands display of your true self. So, make every possible effort to be yourself around others. Relatability is not built on a fixed characteristic or charm that cannot be altered. It is a skill that can be honed with time and experience. People are naturally drawn to those who maintain open and honest lines of contact at all times.
Which will be Best for business? Read more to find out: Branding VS Marketing : With Best Examples
Types for Personal Branding
Personal branding is not just a marketing method that may help you succeed. It is about how your target audience views your brand and you as an individual. When building a brand, you should take the process seriously and select the style of branding that is most appropriate to you. There are 6 types of personal branding. These are: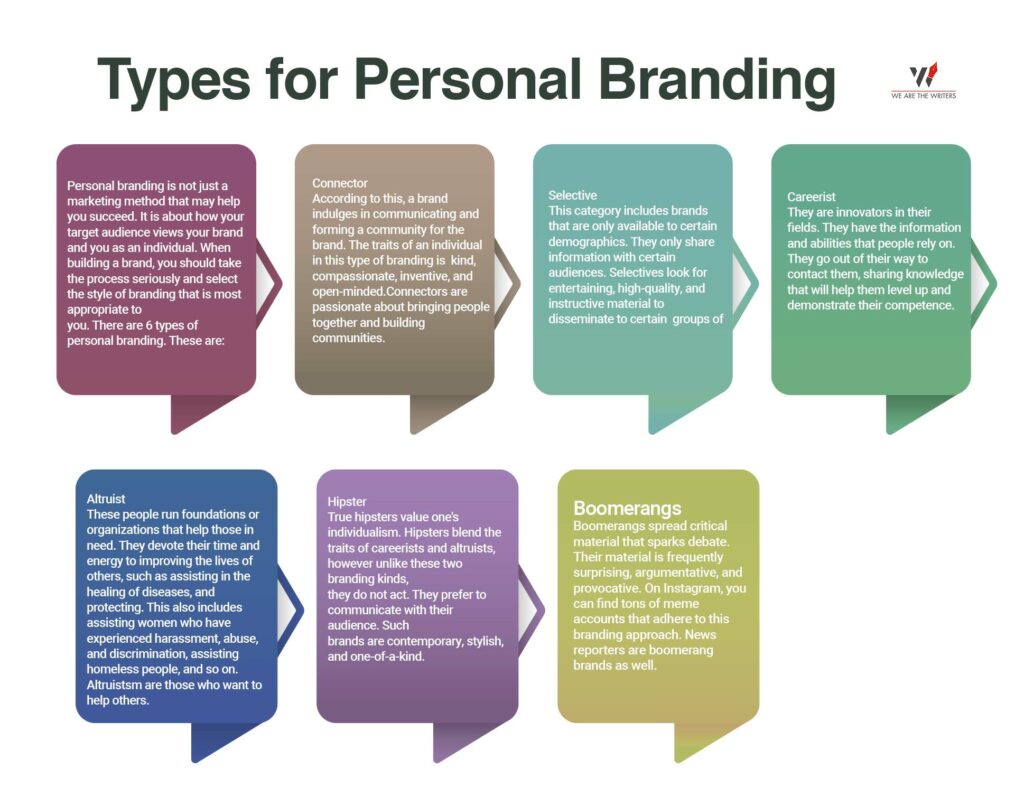 Connector
According to this, a brand indulges in communicating and forming a community for the brand. The traits of an individual in this type of branding is kind, compassionate, inventive, and open-minded. Connectors are passionate about bringing people together and building communities.
Selective
This category includes brands that are only available to certain demographics. They only share information with certain audiences. Selectives look for entertaining, high-quality, and instructive material to disseminate to certain groups of individuals.
Careerist
They are innovators in their fields. They have the information and abilities that people rely on. They go out of their way to contact them, sharing knowledge that will help them level up and demonstrate their competence.
Instagram is currently trending for Personal branding, know how to: Branding in Instagram : 11 Steps to be a Pro
Altruist
These people run foundations or organizations that help those in need. They devote their time and energy to improving the lives of others, such as assisting in the healing of diseases, and protecting. This also includes assisting women who have experienced harassment, abuse, and discrimination, assisting homeless people, and so on. Altruists are those who want to help others.
Hipster
True hipsters value one's individualism. Hipsters blend the traits of careerists and altruists, however unlike these two branding kinds, they do not act. They prefer to communicate with their audience. Such brands are contemporary, stylish, and one-of-a-kind.
Boomerangs
Boomerangs spread critical material that sparks debate. Their material is frequently surprising, argumentative, and provocative. On Instagram, you can find tons of meme accounts that adhere to this branding approach. News reporters are boomerang brands as well.
Brand Promotion Ideas you need to know: Brand Promotion Ideas : 3 Best Brand Promotion Examples
What To Keep In Mind While Personal Branding ?
Brand building might be the most effective weapon in your self-marketing arsenal. It entails identifying your primary assets and expertise. It aids in finding the genuine requirements that you can solve. Further, it helps in continuously expressing your message in a lot of different ways. Some of the strategies to keep improving and building your brand are :
Identifying Yourself
Personal branding is more than simply getting published or seen; it is also about being yourself and controlling how others perceive you. You may begin to construct a true and long-lasting personal brand. You can also have your intended audience by establishing the basics of who you are. When building your brand personality, it is critical to examine who you are, what you stand for, and what value you provide. After this, you need to consider how you want to be regarded by others.
Know how to Create Brand voice through Blogging: How to make money blogging? 4 ways blogging can create brand voice
Nurturing Relationships
Connecting with others is the most effective approach to establish your personal brand and get your name out there. People are more inclined to conduct business with you or hire you or suggest you if they know who you are and what you have to offer. Networking is not essentially about selling; it is also not about speaking. Listening is essential in networking. The finest networkers are those who can create relationships and spend time learning about others.
Do Not Be Scared of Self-Promoting
Once you have established your brand, do not be hesitant to advertise yourself. Having the guts to communicate your personal branding ideas and brand with people without being salesy is the greatest way to build a solid, strong reputation. Making a plan for how you will establish your personal brand is critical to your success. Take the time to learn how to pitch successfully.
For more reach you need Influencer to reach more audience: What will Influencer Marketing look like in 2022 ?
Regular Presence
The key to developing your own brand and reputation is consistency. Investing effort in developing your brand is just half the fight. You must also ensure that you are always watching what people say about you online and in the media so that you can control it.
Some Famous Personal Branding Personalities – Personal Branding Examples
There are so many amazing instances of personal branding that we cannot leave them out. Individuals who are successful, professional, remarkable, and one-of-a-kind build amazing brands. And have earned themselves a good reputation and people's confidence. If you don't have any personal branding ideas yet, look at some of the best personal branding examples.
Kylie Jenner
Kylie Jenner's Kylie Cosmetics made her the world's youngest "self-made" billionaire. The young woman was successful in establishing a cosmetics business named after her. Kylie Jenner, a rich member of the Kardashian family, did not need any other face to promote her new brand. She had the ability to influence the public on her own. She utilized her face to display her product range. This young celebrity's strong social presence yielded fantastic results. Kylie Cosmetics currently has 25.5 million Instagram followers.
Kim Grast
Kim Garst is a marketer noted for her ability to sell using social media. Her business hinges around her personal image, which she is not afraid to flaunt. Her social media platforms have a distinct presence, which adds to the evidence of her social selling skill. She provides regular, relevant information to her audience and always makes it clear that she is available to assist.
Famous Personalities in Instagram India: Top Instagram Influencers in India – 20 Best Influencers
Conclusion
The way you portray yourself and your brand to people is referred to as personal branding. It is your skill, experience, capabilities and personality that you want others to notice about you. Personal branding allows you to demonstrate your talents and qualities to present and future clients. The key to developing a strong personal brand and becoming genuinely successful includes a lot. It is continually showing up and being so good at selling your narrative. So, people have no choice but to do commerce with you.
Common FAQs
Why does personal branding matter?
It is important because it helps you form a likable and confident perspective of yourself in front of a target audience.
How can you improve personal branding ?
It can be improved by regular learning, knowing about your strengths and shortcomings. And by keeping yourself consistent.
How does social media help in personal branding?
It helps you connect with your target audience and allow you to pitch yourself as desired.
How can you start personal branding?
You can start your personal branding by marking your presence on essential social media sites.
References
Geyser, W. (2021, August 17). What is Personal Branding [Free Personal Brand Health Checker]. Retrieved February 28, 2022, from https://influencermarketinghub.com/what-is-personal-branding/#toc-5
What is Personal Branding: Basics – Definition. (2021b, November 22). Retrieved February 28, 2022, from https://sendpulse.com/support/glossary/personal-branding
Pollard, C. (2017, December 7). 5 Personal Branding Strategies Every Entrepreneur Needs to Know. Retrieved February 28, 2022, from https://www.huffpost.com/entry/5-personal-branding-strat_b_7923460