Instead of relying on those [hopefully few] extreme events that are spontaneously shared, smart businesses take an active part in building a presence that highlights their whole worth.
What is Branding on Social Media ?
Branding is an important step for each and every firm that wants to generate long-term profitability. Branding on social media entails adopting the correct tactics to interact with your target audience on digital networking platforms on a constant basis. Social media is fantastic news for businesses and brands, and the greatest thing is that both large and small enterprises may profit.
Social media marketing strategy helps you to grab people's attention and become immediately identifiable to your intended audience, resulting in more engagement, referrals, and sales. One of the most significant opportunities provided by social media is the ability to increase brand awareness and the consumer-brand connection.
Social media enhances the amount of exposure and traffic received by a brand. Social media also aids in the development of devoted followers and the production of leads. A powerful online presence allows a company to build commercial ties, save marketing costs, and enhance revenues. Social media is a crucial resource for brands to interact with their intended population. Brands that engage with their followers and consumers on social media earn more positive feedback about their brand.
Reasons why social media branding is crucial
In order to reach out to your target population more successfully, it is necessary to use channels that are often used by users. Nothing surpasses these social media platforms, which are used by the majority of users who spend a great amount of their time throughout the day and night. These platforms enable you to attract the right customers with relevant information at the right time, as well as showcase your brand or product to prospective customers at the right time. It allows you to make the most of your digital marketing strategy.
The importance of social networking media in brand building cannot be overstated. Here are some vital points why branding on social media is important :
Establishing relationship with audience
A brand that connects the most with its consumers is a brand that thrives and connects tremendously on all levels. And social media offers you this platform. Communication is very essential in all parts of branding. Customers like being recognized and feel more privileged when their service providers give the support they seek as well as a more welcome and easily available contact system where they can submit grievances or understand more about your brand.
Boosts the brand reach
To attract a diverse consumer base, you must develop brand recognition and identity so that your potential buyers are aware and informed of your brand. And the only way to do so is to generate incredibly original and aesthetically attractive content that will catch the attention of all prospective customers and make them more aware of the presence of your business. This is possible through smart social media marketing strategies and content advertising campaigns that will imprint your brand identification on anybody who utilizes any of the social networking sites you choose to employ. This not only boosts interaction on your social media pages, but it also increases the likelihood of potential clients becoming purchasers.
Also read about Brand Promotion Ideas: Brand Promotion Ideas : 3 Best Brand Promotion Examples
Aid you build Personalized audience
As a consequence of social media marketing, many things have grown easier for marketers, and getting data on your customers' behaviors is at the top of the list. Businesses may utilize the numerous tools available on social media platforms to assess how many guests were interested in the content you provided, how many engaged on any call to action, and how many ordered, if any. Statistics like this might help you plan a targeted audience that looked to be interested in your products but quit their carts at the very last minute.
To know and understand about your competitors
With all brand profiles on all social networking sites accessible to the public, this is your opportunity as an entrepreneur to discover more about your competition and the approaches they use to garner their followers. You would be able to study the content they are posting on their social accounts and decide which parts are doing better. Examine how well-informed their consumer is, as well as how informed your consumer is. Based on these analogies, you will be able to respond to these questions more effectively and make yourself and your viewers more aware of things you were previously ignorant of.
Target and increase Audience within budget
Social media marketing appears to be one of the least expensive yet most effective methods of digitally promoting your brand. You may take advantage of this opportunity to market your goods at a reasonable cost because there are so many different advertising possibilities available on these social networking sites. The best and most important part of social media advertising is that you don't have to rely on advertisements or ad solutions to sell and represent your company.
Simply being persistent and creating relevant and relatable information for your intended audience can help you develop and grow as a social media network page. This may be handled through the use of SEO material, in which you leverage the most popular and used keywords to increase your possibilities and boost your ranks.
Things to keep in mind while branding on social media
Social media branding is the process of controlling your company's image, identity, and market position as interpreted by the market across internet platforms. A brand is far more than an icon or a collection of components, and even more than a cover image. It is how you make your clients feel needed and important. And it is established by being consistent in every engagement they have with your brand or content regarding your brand. These tips will assist you in identifying ways for maintaining a consistent brand across numerous social media networks.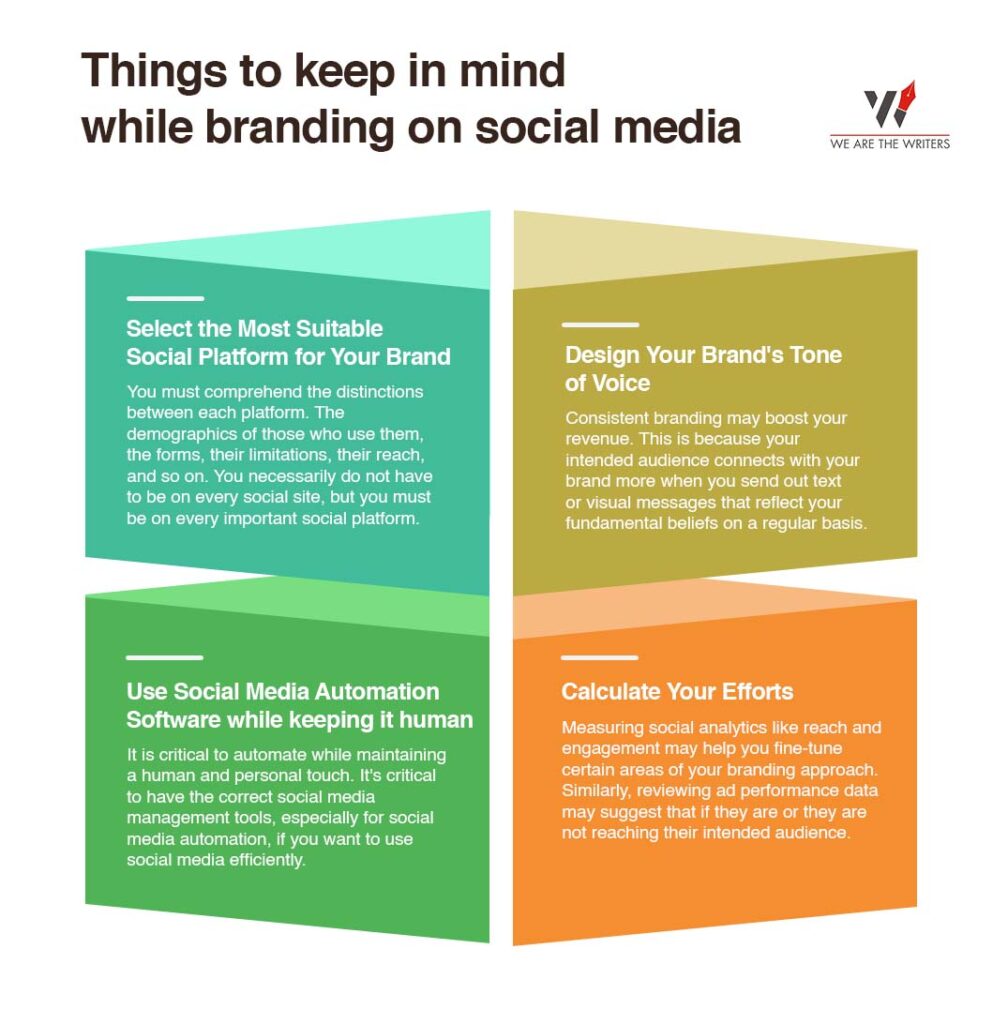 Select the Most Suitable Social Platform for Your Brand
You must comprehend the distinctions between each platform. The demographics of those who use them, the forms, their limitations, their reach, and so on. You necessarily do not have to be on every social site, but you must be on every important social platform. You don't have to spend a lot of time and money on every single social site that exists. Instead, look for alternatives that are most suited to your company's needs. For instance, if you're a B2B firm, LinkedIn is a great place to connect with brand leaders and entrepreneurs. If, on the other hand, your company solely offers coffee or baked goods, visual networks like Instagram or Pinterest are the approach to go.
Design Your Brand's Tone of Voice
Consistent branding may boost your revenue. This is because your intended audience connects with your brand more when you send out text or visual messages that reflect your fundamental beliefs on a regular basis. That text message is the tone of voice, and its duty is to transmit your brand's identity via the use of words. Depending on your brand's personality and setting, the tone might be welcoming, amusing, official, professional, instructive, scientific, and so on.
Use Social Media Automation Software while keeping it human
It is critical to automate while maintaining a human and personal touch. It's critical to have the correct social media management tools, especially for social media automation, if you want to use social media efficiently. A typical error is to utilize these tools to plan and then forget about the content's quality or the engagement it generates. That is a mistake that, if not avoided, may have a detrimental impact on your brand without your knowledge.
The goal of generating and creating content is to get people to interact and engage with it. And if all of your communications are planned and templated, you risk losing relevance, originality, and human sensibility. Interacting directly with your audience is the greatest approach to be human on social media. Respond to their remarks, ask questions, play some games, and simply convey that you value their perspective.
Calculate Your Efforts
Measuring social analytics like reach and engagement may help you fine-tune certain areas of your branding approach. Similarly, reviewing ad performance data may suggest that if they are or they are not reaching their intended audience. It aids you to assess if it's advantageous to change your techniques to increase brand awareness more efficiently by measuring these social approaches manually or with tools and softwares.
Some of the most significant social media sites for brand promotion
Social networking is fantastic news for businesses and brands, and the greatest thing is that both large and small enterprises may profit. When you know the numbers, it's simple to see why corporate and consumer marketers basically universally feel that social media is critical to brand growth.So, when it comes to network branding, it's essential to think about it and put some effort into it.
People will talk about your brand on social media one way or another. You may become a part of that discourse by using social media. We know from seeing numerous corporate errors on social media that businesses cannot control the debate, but they can certainly make their voices, characters, and viewpoints known. Some of the best known platform for branding on social media are :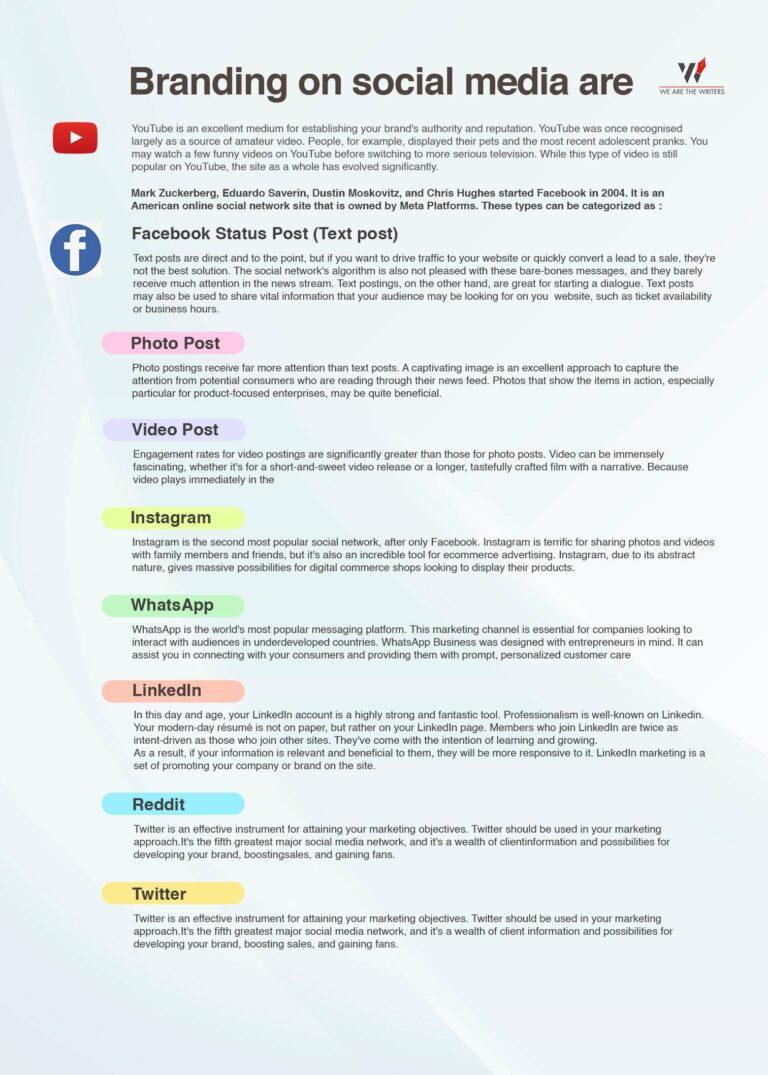 YouTube
YouTube is an excellent medium for establishing your brand's authority and reputation. YouTube was once recognised largely as a source of amateur video. People, for example, displayed their pets and the most recent adolescent pranks. You may watch a few funny videos on YouTube before switching to more serious television. While this type of video is still popular on YouTube, the site as a whole has evolved significantly.
When branding on a YouTube channel, you should focus on five main major elements: regularity, logo, color, typography, and artwork. Everything boils down on converting your brand's fundamental idea and values into graphical and textual elements. YouTube is a critical marketing tool, and several studies demonstrate that videos are the chosen form of media for many people. However, in comparison to other social networks and platforms, developing a brand on YouTube is sometimes neglected.
One of YouTube's most significant advantages is the brand exposure it provides with the ability to reach a worldwide audience. Because Google owns YouTube, your videos on one platform can help you reach a larger portion of your target audience on the other. This also improves your video's long-term visibility, as most social material on other platforms has a limited shelf life of a few hours to a few weeks.
YouTube also provides essential channel diversification, allowing you to reach the widest potential audience across many platforms. This increased visibility leads to higher lead generation since your content reaches a wider audience of prospective clients.
Best Content Ideas for YouTube: 20 Best YouTube Content Ideas
Facebook
Mark Zuckerberg, Eduardo Saverin, Dustin Moskovitz, and Chris Hughes started Facebook in 2004. It is an American online social network site that is owned by Meta Platforms. Facebook is open to use, and the platform's advertisements provide the most of the company's revenue. You can make many sorts of postings on Facebook. Each has advantages and may elicit involvement in different ways. Your brand's social media marketing strategy and goals will most likely influence the type of posts you make. These types can be categorized as :
Related Blog: FACEBOOK MARKETING: AN ESSENTIAL GUIDE
Facebook Status Post (Text post)
Text posts are direct and to the point, but if you want to drive traffic to your website or quickly convert a lead to a sale, they're not the best solution. The social network's algorithm is also not pleased with these bare-bones messages, and they barely receive much attention in the news stream. Text postings, on the other hand, are great for starting a dialogue. Text posts may also be used to share vital information that your audience may be looking for on your website, such as ticket availability or business hours.
Photo Post
Photo postings receive far more attention than text posts. A captivating image is an excellent approach to capture the attention from potential consumers who are reading through their news feed. Photos that show the items in action, especially particular for product-focused enterprises, may be quite beneficial.
Video Post
Engagement rates for video postings are significantly greater than those for photo posts. Video can be immensely fascinating, whether it's for a short-and-sweet video release or a longer, tastefully crafted film with a narrative. Because video plays immediately in the news stream on Facebook, you're almost certain to attract visitors' attention.
Also Read about Branding on Facebook: Branding on Facebook | 10 Easy Steps to use Facebook Branding
Instagram
Instagram is the second most popular social network, after only Facebook. Instagram is terrific for sharing photos and videos with family members and friends, but it's also an incredible tool for ecommerce advertising. Instagram, due to its abstract nature, gives massive possibilities for digital commerce shops looking to display their products.
Tips for Growth in Instagram: 10 Best Tips For Instagram Growth
Millions of Instagram users interact with brand content each month. Instagram allows you to advertise your business and products in a lovely, genuine way, without hard pushing to your customers. Instagram's primary advantage over other social media sites is its visual nature. Instagram is an excellent platform for content promotion if your company gains from the design of your brand or if your offering has a clear end result.
Although videos, photos, and visual effects are all good kinds of content for this social networking site, your marketing strategy will ultimately determine what type of content you generate and how frequently you publish it. Making a strategy before diving into a new social media network, irrespective of how well it works for everybody else's company, will keep you focused on your goals and, more importantly, your viewers.
Also Read:
WhatsApp
WhatsApp is the world's most popular messaging platform. This marketing channel is essential for companies looking to interact with audiences in underdeveloped countries. WhatsApp Business was designed with entrepreneurs in mind. It can assist you in connecting with your consumers and providing them with prompt, personalized customer care.
Since WhatsApp is a free platform, people use it for both commercial and personal agendas. The only expenses you could encounter are data roaming charges. It is reliable. You may use WhatsApp to converse with anyone all around the world as conveniently as possible to wi-fi or cellular internet. It is widely available. WhatsApp members may be counted in 180 different countries. It's not just about texting. WhatsApp may be used to transmit voice messages, conduct calls and texts, and videoconferences, as well as share photos, videos, documents, and your geolocation.
WhatsApp is mostly used as a messaging medium for people, families, and friends to communicate with one another, to discuss personal matters, and to try to persuade that cute someone to go on a couple of dates with you. The very first thing you should think about is how you and your organization can contribute to these talks.
Perhaps you might personalize and adjust your brand image a little more, or develop a virtual person that acts on behalf of the brand. But, whatever you do, because you're attempting to connect to your (possible) consumers in an environment where they're used to casual discussions, you'll need to establish an engaging brand presence for them to interact with.
Also Read about Branding on WhatsApp: Branding on WhatsApp : 13 Creative Steps
LinkedIn
In this day and age, your LinkedIn account is a highly strong and fantastic tool. Professionalism is well-known on Linkedin. Your modern-day résumé is not on paper, but rather on your LinkedIn page. Members who join LinkedIn are twice as intent-driven as those who join other sites. They've come with the intention of learning and growing. As a result, if your information is relevant and beneficial to them, they will be more responsive to it. LinkedIn marketing is a set of promoting your company or brand on the site. It may also be utilized as a marketing tool because it makes it simple to classify your target audience.
LinkedIn users have double the purchasing power of random online traffic, allowing your company to target specialized audiences more effectively. This platform also allows for faster business choices than any other social media site.
Connecting with the correct audience is critical since this is what will get you engagement. It will not lead anywhere if you simply upload and push content to the incorrect audience. Make use of sponsored content. Begin with your content plan once you've determined who your primary target audience is. Take cautious while capitalizing on trends. Your content must be of excellent quality. When possible, use rich media.
Increase your reputation by addressing business-related issues. As a consequence, you may be able to demonstrate your company's or business's experience. You may also join new groups to broaden your network. This method is advantageous since you may persuade people to support your firm. Interact with them and seek their advice. LinkedIn is also ideal for networking. Promoting your brand's message and voice on the website on a regular basis could work wonders. This will improve participation and visibility.
Also Read about Learning 15 Tricks to Boost Branding on Linkedin: Learn 15 tricks to Boost Your Branding on LinkedIn
Reddit
When it comes to advertising and marketing, Reddit might not be your first pick. When done correctly, though, Reddit marketing is an exceptionally efficient strategy to boost website traffic. Redditors are suspicious of commercial material and frequently avoid accounts belonging to advertisers. Marketing on Reddit differs from marketing on Facebook or Twitter.
The first and foremost step is to establish a Reddit profile that portrays you as a genuine user. Start adding significant comments and links on relevant posts if you want to get more trust.
This will help you earn more karma points and establish yourself as an individual who wants to contribute to the Reddit community. It is recommended that you accumulate a considerable amount of karma points before beginning to upload your own material.
The key to effective Reddit marketing techniques is to choose subreddits that are related to your brand and products or services. It is important to keep in mind during Reddit marketing that not all subreddits are equally popular on Reddit. Subreddits with millions of users include r/politics, r/news, and r/sports. In the end, Reddit is a medium for sharing content. Redditors utilize the social media network to discover new, intriguing, and thought-provoking content. To establish a name for yourself using Reddit marketing, you must provide significant and relevant material. Only then will one be able to acquire enough upvotes to make it to Reddit's coveted homepage.
Also Read about Branding on Reddit: Branding on Reddit : 10 Amazing Steps
Twitter
Twitter is an effective instrument for attaining your marketing objectives. Twitter should be used in your marketing approach.It's the fifth greatest major social media network, and it's a wealth of client information and possibilities for developing your brand, boosting sales, and gaining fans. Twitter branding is incredibly effective and quite simple to implement. It's one of the greatest social networks to use for expanding your business and internet visibility, regardless of who you are. You would want to see a good return on your marketing efforts through effective Twitter branding. The more effective your Twitter branding becomes, the greater the return.
You will broaden your audience reach, increase the size of your email list, develop partnerships with company owners, and much more. Twitter is a sea of thoughts and opinions; millions of users are tweeting as you read this. The secret to creating a good tweet is to analyze before you post. What you tweet has a significant impact on personal branding on Twitter. Twitter is an excellent location to strike up a discussion with your peers. Everybody on Twitter is expressing their ideas and opinions.
Also Read about Branding on Twitter: Branding on Twitter : 15 Superb Ways
It matters who you connect with and follow because whenever you like someone's tweet, it is visible in the feed of your followers. Make sure it's not controversial that will make your intended target frown. Aside from that, following the market leaders keeps you up to speed on what's going on in your field. Gradually proceed from watching to engaging them. They may not respond at first, but they may ultimately follow you or, even better, acknowledge you in their tweets. This will aid you reach their audience, who is also your core audience.
People following you on Twitter want to learn about you , your brand and your personality. They attempt to see whether they like the individual. On Twitter, you are developing yourself as a brand; you should advertise yourself, but do it wisely.
Conclusion
It is critical for digital marketers to guarantee that their actions, which range from influencer marketing to diligent social media monitoring, contribute to the establishment of a distinct brand identity. This implies you shouldn't post just for the purpose of gaining shares and followers. Instead, consider how your activities might help your brand's goals and reputation. As you strive to develop a distinct identity that is intriguing to your target group, the shares and followers will come.
Common FAQs
How to establish personal branding on social media?
The simplest way to build branding on social media is to identify your goal and target audience. Based on this opt for the platform most suitable for your brand.
What are some Platforms for branding on social media?
Some of the most common and reliable platforms for online branding are Twitter, Instagram, Facebook, Pinterest etc.
What is the common reason for social media branding?
An online persona as a brand on social platforms such as facebook or Instagram is an incredible strategy to communicate with your customers and connect with them on a personal level.
What are the most common strategies for branding?
The most common strategy for person branding is to stay regular and post relevant and up to date posts to ensure engagement
Reference
S. (2021, March 25). The Ultimate Guide to Social Media Branding for Small Businesses. Retrieved March 1, 2022, from https://www.lyfemarketing.com/blog/social-media-branding/
Henderson, G. (n.d.). The Importance Of Social Media Marketing. Retrieved March 1, 2022, from https://www.digitalmarketing.org/blog/the-importance-of-social-media-marketing
5 Social Media Branding Strategies to Grow Your Business. (2020, May 1). Retrieved March 2, 2022, from https://www.socialbakers.com/blog/social-media-branding
K. (2020, December 9). 15 Social Media Branding Strategies to Capture and Retain Your Target Audience. Retrieved March 2, 2022, from https://keyhole.co/blog/15-social-media-branding-strategies/#monitor