In the game of digital marketing trends, you need to be aware of all the trends going on. Digital Marketing doesn't only include understanding the topic well, but it also focuses on the practical application of that knowledge. There are millions and billions of people available online, but when it comes to digital marketing, you must be aware of your target audience and the current trends and technologies.
We will help you to get familiar with all the digital marketing trends and technologies of 2022. So, keep your eyes glued to this blog and learn the best tactics to expand your business and earn profits. To stay ahead of your competitors, you only need to go through this blog, and you will get all the answers to your doubts. And probably it will help in building your digital marketing strategy while learning about latest digital marketing trends.
Also read about Freelance Digital Marketing Niches: Freelance Digital Marketing |9 Top Digital Marketing Niches
What is Digital Marketing ?
Digital marketing is none other than marketing your business online and promoting your brand with the help of an online presence. The more you are available on the internet, the more beneficial it will be for your business.
In 2021, everyone witnessed the horrific COVID-19 wave. In this year, which is 2022, people are adapting to the new normal. People have now learned how to survive this pandemic. So, do the online businessman and digital marketers.
Digital Marketing ideas for small business: 11 best digital marketing ideas for small businesses
What should be the Digital Marketing Strategy ?
Learn all the up-to-date features of 2022, and enjoy the fruits of your labor. As leaves shed from trees and regrow, in the same way, trends come and go. The only thing which remains is your credibility and loyalty to your customers. Make sure to build a good and strong relationship with your audience. Also, try to analyze the previous digital marketing trends. Analyzing previous year's trends will give you an idea about the upcoming trends of digital marketing.
Digital Marketing Trends in 2022
To get full knowledge of the digital marketing trends of 2022, you need to keep your eyes wide open and don't leave any opportunity to harness the features of social media for your brands. Some of the modern-day trends for digital marketing are given below.
Latest Digital Marketing Trends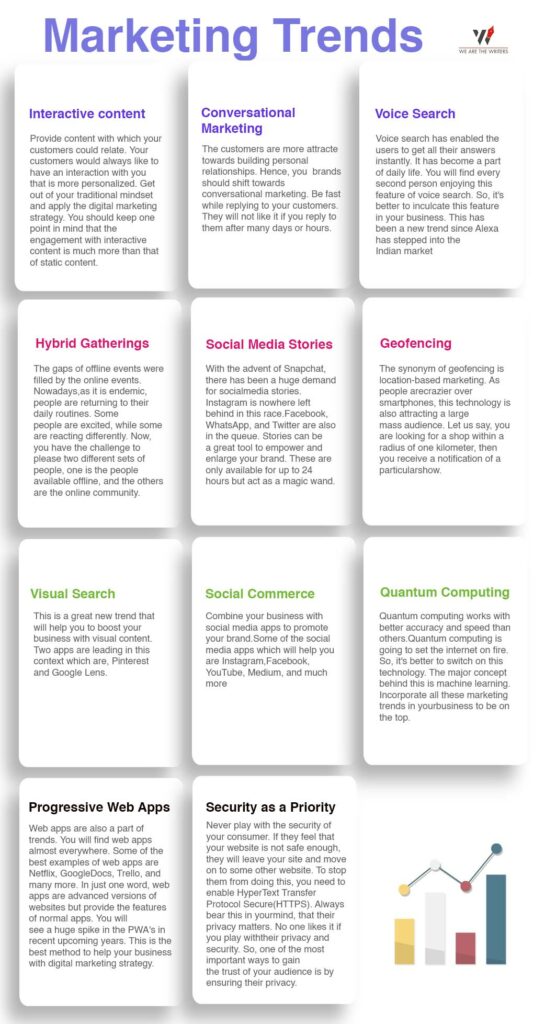 Interactive content
Provide content with which your customers could relate. Your customers would always like to have an interaction with you that is more personalized. Get out of your traditional mindset and apply the digital marketing strategy. You should keep one point in mind that the engagement with interactive content is much more than that of static content. Content plays one of the key roles in your digital marketing strategy. If you don't want to be a part of the rat race and stay ahead of the crowd, then consider your content as the game-changer.
Conversational Marketing
The customers are more attracted towards building personal relationships. Hence, your brands should shift towards conversational marketing. Be fast while replying to your customers. They will not like it if you reply to them after many days or hours. Artificial Intelligence will become your best friend on this journey. You can give a boost to your brand with conversational marketing. Some of the best examples of conversational marketing are.
Exchange personalized emails.
Harness the features of chatbots for your customers.
Engage your audience with different types of media like videos and images.
You can enjoy the features of conversational marketing with any social media platform, and that's what separates it from others. Make sure to use this feature as much as possible and enjoy its benefits.
Voice Search
Have you ever heard of Alexa or Google Voice typing? You must be aware of these applications. Voice search has enabled the users to get all their answers instantly. It has become a part of daily life. You will find every second person enjoying this feature of voice search. So, it's better to inculcate this feature in your business. This has been a new trend since Alexa has stepped into the Indian market. Now, you don't even need to use your fingers. Your voice is your everything in this marketing trend.
According to a journal, people are using voice assistants, and so far 420 million voice assistants have been sold[1].
Hybrid Gatherings
Due to the pandemic, public gatherings were banned. The gaps of offline events were filled by the online events. Nowadays, as it is endemic, people are returning to their daily routines. Some people are excited, while some are reacting differently. Now, you have the challenge to please two different sets of people, one is the people available offline, and the others are the online community.
The solution to this problem is to organize hybrid events. For example, if you are planning any live event, then be ready to provide your online audience with a virtual event. So everything went digital and surely in this scenario digital marketing and digital marketing strategy comes into play.
Social Media Stories
With the advent of Snapchat, there has been a huge demand for social media stories. Instagram is nowhere left behind in this race. Facebook, WhatsApp, and Twitter are also in the queue. Stories can be a great tool to empower and enlarge your brand. These are only available for up to 24 hours but act as a magic wand. Involve stories to provide your audience a glance of what's happening behind the scene and what you are going to do next? Create a sense of curiosity in their mind and urge them to watch out for your stories. And hence helping in digital marketing.
Also read about 10 Instagram Story Ideas for Growth : 10 Instagram story ideas to boost your growth
Geofencing
The synonym of geofencing is location-based marketing. As people are crazier over smartphones, this technology is also attracting a large mass audience. Let us say, you are looking for a shop within a radius of one kilometer, then you receive a notification of a particular show. Do you know how? Geofencing does this. It enables a location-based search, which helps you to get familiar with your local shops. Try this technology for your business.
Visual Search
This is a great new trend that will help you to boost your business with visual content. Digital marketing trends are changing by the day and visual search is one of the latest trends of digital marketing. Two apps are leading in this context which are.
Pinterest
With this, you can browse and find all sorts of interactive and entertaining content.
Google Lens
This helps to search any object with the help of just a picture of that object. If you feel that you are unaware of a specific object, then just scan it, and you will find detailed information about the object.
Social Commerce
Combine your business with social media apps to promote your brand. Some of the social media apps which will help you are Instagram, Facebook, YouTube, Medium, and much more.
Quantum Computing
Quantum computing works with better accuracy and speed than others. Quantum computing is going to set the internet on fire. So, it's better to switch on this technology. The major concept behind this is machine learning. Incorporate all these digital marketing trends in your business to be on the top.
The theory of quantum information and computing puts this significance on a firm footing and has led to some profound and exciting new insights into the natural world[2].
Progressive Web Apps
Web apps are also a part of trends. You will find web apps almost everywhere. Some of the best examples of web apps are Netflix, Google Docs, Trello, and many more. In just one word, web apps are advanced versions of websites but provide the features of normal apps. You will see a huge spike in the PWA's in recent upcoming years. This is the best method to help your business with digital marketing strategy. To stay ahead of the curve, start using this feature for your brand.
Also read Powerful 7 C's of Digital Marketing: Get Into The Circle: The Powerful 7 C Of Digital Marketing
Security as a Priority
Never play with the security of your consumer. If they feel that your website is not safe enough, they will leave your site and move on to some other website. To stop them from doing this, you need to enable HyperText Transfer Protocol Secure(HTTPS). Always bear this in your mind, that their privacy matters. No one likes it if you play with their privacy and security. So, one of the most important ways to gain the trust of your audience is by ensuring their privacy.
Wrap Up
To take your business online and promote your brand, digital marketing is the only solution. And understanding digital marketing trends will obviously help in elevating the digital marketing strategy. There is no hen who lays golden eggs. The hen here in real life is you and your online presence. The golden eggs are a good rapport with your customers. Your customers are the only ones who can help you to win this game of digital marketing. Success will not come in just one day.
You need to keep working hard with consistency and full speed. Anyhow you need to stay updated with the latest digital marketing trends always. Just keep on chanting one mantra throughout your career, and you will never feel alienated. The mantra is "Never ignore the audience". Just be in the right direction and run as fast as you can to achieve your dream.
References
[1] Donepudi, P. K. (2014). Voice Search Technology: An Overview. Engineering International, 2(2), 91-102.
[2] Steane, A. (1998). Quantum computing. Reports on Progress in Physics, 61(2), 117.
Looking for quality content to increase your Digital Marketing traffic? Order Now your content requirements.