Many find writing a cover letter for a job to be a daunting task. Cover letters are often the most underrated part of the whole application process. Hence, one needs a complete understanding of this aspect to gain an edge.
Some companies ask an applicant to send a cover letter along with a resume. A cover letter is sent formally as a part of your resume for a job application. It provides an applicant with an opportunity to highlight their skills and strengths.
The tool helps people explain why they are the perfect candidate for the job. A cover letter is sometimes optional or mandatory. It usually depends on the company. But it is never a bad idea to send one for any application you send a company. Even so, it will help them to stand out from the rest of the competitors. 
People who understand the importance of writing a cover letter for a job market their skills. These skills also give them an edge on landing the role. It helps gain the attention of the hiring manager. Through a well-articulated cover letter, the hiring managers get to see your impeccable writing skills.
It further strengthens the belief that the applicant has strong communication skills since it is an integral aspect of any workplace. Therefore, one needs to write a concise and winning cover letter to demonstrate their capabilities.
WATW offers the best in class "Resume and Cover Letter" services. To avail such other state of the art services visit our website www.wearethewriters.com
---
What to Include in a Cover Letter? | Rules for Writing a Cover Letter for a Job
What to include in a cover letter is a question for many. A person must write a well-thought cover letter if they are serious about the job. Learning the essential aspects helps people to avoid worrying that they might miss out on something. If people are well-informed, writing an attention-grabbing cover letter is a matter of time. Here are some necessary elements for a person to write one winning cover letter. 
Before writing a cover letter for a job, a candidate must research the company. They must also get a brief idea of its structure and workings. Look for forums that tell about the experiences of previous applicants. These things make the job easy for the applicant. One needs understanding regarding what to include in a cover letter. Therefore, start by learning essential points about the company.
Attention on Header
A proper header is a fundamental element of a visually rich cover letter. It must include the personal details of the candidate. There are some mandatory and other optional details one must note down. The necessary information includes the name, email address, and contact number of the person. There are optional details that consist of their professional work title if it is relevant.
Applicants can also share their home addresses. They can also add their LinkedIn address. People looking for jobs must take the header seriously. They must ensure to write it with precision. Also, they must structure it correctly and place it at the topmost portion of the letter. Candidates alternate the font or add colors to it to make it look good. It is best to avoid display pictures in the header section.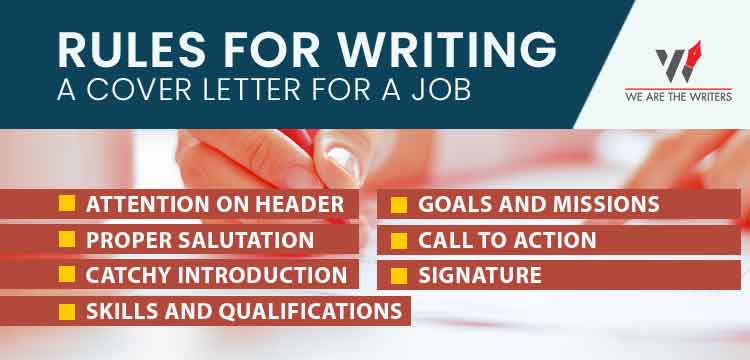 Proper Salutation
A salutation may seem like a simple term. But it has its dos and don'ts. Also, a gender-neutral greeting is a good start. For instance, the dear supervisor does not sound bad. Besides, it is addressed directly to the person one is trying to reach. Therefore, it sets the intention correctly at the start. If the person wants to use the concerned authority's name, one should always mention their titles.
One must address the first name only if they are well-acquainted. Also, check the spelling carefully since it would mean that the candidate is not attentive. Always capitalize the first letter of nouns while writing a cover letter for a job. Besides, one must never leave the salutation section blank. Never make salutations too casual since they leave a poor impression. It might give a wrong idea that the candidate is unaware of proper etiquette.
Catchy Introduction
An introduction also makes up the first paragraph of a cover letter. A good introduction is key to a strong resume. Ensure that it is concise, innovative, and relevant for the job one is applying for. Getting off-topic may result in the cover letter dropping down to the rejected pile. Therefore, one must write an eye-catching first paragraph. It helps to get an immediate call from the company.
A genuine applicant must convey enthusiasm for the company. Also, they must advocate their strong work ethics and motivations to the company. People can also mention newsworthy information about the companies. Companies often get attracted to people who are well-informed about their business. Hence, any company welcomes a little flattery.
Applicants can always highlight a mutual connection. They can do so if an employee from the company has recommended the person. Recommendation work and acts as a catalyst for hiring managers to give the resume another glance. Therefore, people must do it tactfully. They must not shy away from mentioning referrals.
Skills and Qualifications
It makes up the second paragraph of the cover letter. A cover letter for CV is an excellent place for people to show their skills and qualifications. They strengthen the idea of why a specific candidate is qualified for a role. List down some strengths for the prospective employer. This section is mainly to convince HR why the person fits for the job. It also explains what sets them apart from other applicants.
Hence, one must identify the responsibilities a company requires and list down their skills accordingly. One must mention how they are competent in areas the company desires. Use bullet points to keep it short and straightforward. Applicants must reveal their core competencies that reflect their success. People often underrate themselves and decide that they don't qualify for a specific role. But applicants need not be perfect in their job. Instead, they must be fit for it. 
Goals and Missions
This section makes up the third paragraph of the cover letter. This section shows that the applicants have researched well about the company they are applying for. People must convey to the company that they understand their goals, missions, and values. They must show how their skills are mutually beneficial for both the company and the candidate.
Call to Action
Every strong cover letter needs an equally strong call to action. Hence, it must not be bland. One should never underestimate it. Applicants must never rush the ending. They should give it all they have to show interest in the company. A bad call to action can often have a detrimental effect on the cover letter. Hence, applicants may also lose the chance to join the company.
It may leave a poor impression on the recruiter. Therefore, one must never end with similar phrases people have been doing for ages since it sounds robotic. The applicants must make the ending about themselves. Try to highlight how the company is going to benefit if the person gets the role. 
Signature
Adding a signature at the end is proper etiquette while writing a cover letter for CV. It is always appropriate to properly sign off when applicants submit their cover letters. Whether job seekers do it manually or digitally, a signature at the end is a must.
---
What is a cover letter?
What is a cover letter is an important question. It is a formal document an applicant sends along with the resume. People send it conventionally as the front cover. There are hundreds of applicants applying for a specific job. Thus, this piece of document helps the employers in narrowing down the applicant list. The cover letter for CV has different categories.
The category of the applicant must reflect how one is applying for the job. For instance, it determines whether the applicant is applying for the job directly. It also tells if it is the case of referral.
Types Of Cover Letter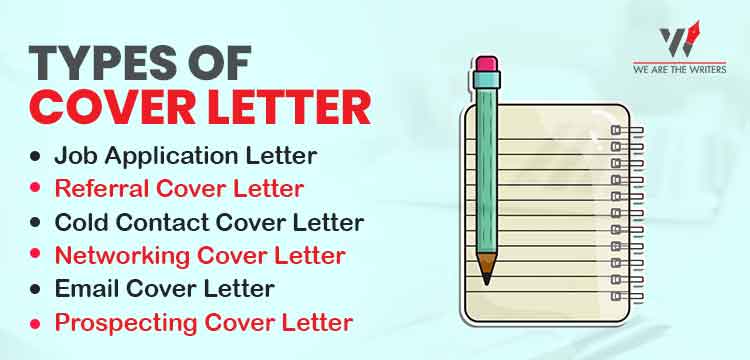 In this section we will see the various Types of Cover Letter. Let us begin.
Job Application Letter
This application letter is the most conventional cover letter. Most people use it while applying for a job. They send it with their CV. Besides, it has all the necessary details about their experiences. They elaborate on the reasons for their interest in the company. They also speak on why they are the perfect candidates for the roles put out by the company. 
Referral Cover Letter
While job hunting, an applicant can use a powerful tool through this referral cover letter. Anyone associated with the hiring company can be a mentor. Besides, a former teacher or mentor can also be a referral. A job applicant can seek their approval and mention their names on the cover letter. An applicant can explain their connection with the referral. They can also brief on why the person has referred them.
Cold Contact Cover Letter
Applicants often use this professional cover letter for CV after researching the potential companies they dream to work for. They send it to the employer of the company associated. One can send this letter to the companies who haven't openly advertised for any position. A cold contact cover letter gives applicants an upper hand since supervisors can have them in their minds for future roles. 
Networking Cover Letter
Job seekers address this cover letter to their personal and professional network. Since a career of built on human relationships, job hunting becomes more effective through networks. This letter helps candidates to connect with their personal and professional contacts. The prime focus remains on requesting their help rather than looking for jobs. A proper cover letter for CV has a friendlier and casual yet professional tone.
Email Cover Letter
This cover letter is a standard letter people attach to the email sent to the hiring company. Applicants use it to inform the hiring company regarding their expertise. It has become an integral part of the modern job market. In this cover letter, an applicant is supposed to be informative but short. People must refrain from going to lengths talking about their accomplishments. They cut it short by mentioning the most relevant information. 
Prospecting Cover Letter
Unlike others, these cover letter for CV are not any direct response to a job posting. A candidate uses a prospecting cover letter to introduce themselves to the company of interest. They also inquire about the open position through this letter.
---
Cover Letter for CV
A job seeker writes a cover letter for CV. Besides, these letters vary due to the range of industries in the professional working environment. There are multiple instances people write a cover letter. A person can write an events CV cover letter or a graduate CV cover letter. They also write a cover letter when applying for a role in the education sector.
But irrespective of the Type of CV, the cover letters must be compelling. Whether the person is fresher or experienced, a professional letter is always a good decision. They write a general cover letter to apply for jobs where they demand precision in writing. There are also professional cover letters to grab the attention of the company of interest.
Writing a cover letter for a job must be creative so that it stands out from the crowd. An applicant must add a tinge of their personality and establish their qualifications. People must use bullet points to highlight the key elements.
---
Conclusion
Besides what is a cover letter, there is another essential question. It is that if we need it or not. The article also says about what to include in a cover letter. So, don't miss out on those points. The answer to this question answer is yes. Many people think the concept of a cover letter is dead today. 
But a cover letter is the bridge that fills the gap between an applicant and a recruiter. A good cover letter for CV allows the recruiter to get a peek at the face behind their resume. Not putting one says that the applicant has put little effort.