Podcasts can also be referred to as the Radio of modern days. People are shifting towards podcasts due to its easy accessibility and availability. It provides a wide range of variety and you can find any suitable podcast of your interest. The major benefit of podcasts is that you don't have to look at the screen again and again.
Entertainment and knowledge are the key factors that can be achieved through podcasts even when you are traveling somewhere. People are attracted towards podcast apps as they are easy to use. Podcasts can also be listened to while doing other work. Here you just have to start listening according to your wish and indulge in a great listening experience.
Read blog on Complete Guide for Podcast: HOW TO START A PODCAST: COMPLETE PODCAST GUIDE
Best podcast app
Pocket Casts
One of the best podcast apps for android is Pocket Casts. Cross platform syncing is an amazing feature of this application. Auto download of episodes and then their cleanup takes place in this. It has a good interface and it is a human curated podcast. Earlier this was a paid app, meaning it required a subscription but now it has become free for all.
It even recommends various podcasts according to your listening style. So it becomes convenient for you to explore your liking topics more easily. Special features like time skips, easy downloading pattern makes it more accessible by the people who do not have much knowledge to use an app specifically.
Spotify
Spotify can be called as the most used podcast application of recent times. We can even say that it has become a trend to use this app among peers. People even love sharing their albums or saved podcasts to everybody on this app. It has such a beautiful and classy interface. It has a dark coloured background and the text is written in white which makes it easier for the user to read. Spotify uses image backgrounds also which attracts the user more.
It has a huge variety of podcasts available and people love to see more and more content. It even has poetry related content as well as sports related too. The only major drawback of this application is its limited playback option.
Otherwise it is an amazing application for IOS and android users and even it can be used on windows too. It has approximately 182 million users who have subscribed for it and 422 millions users who are currently using this app throughout the world.
Google Podcasts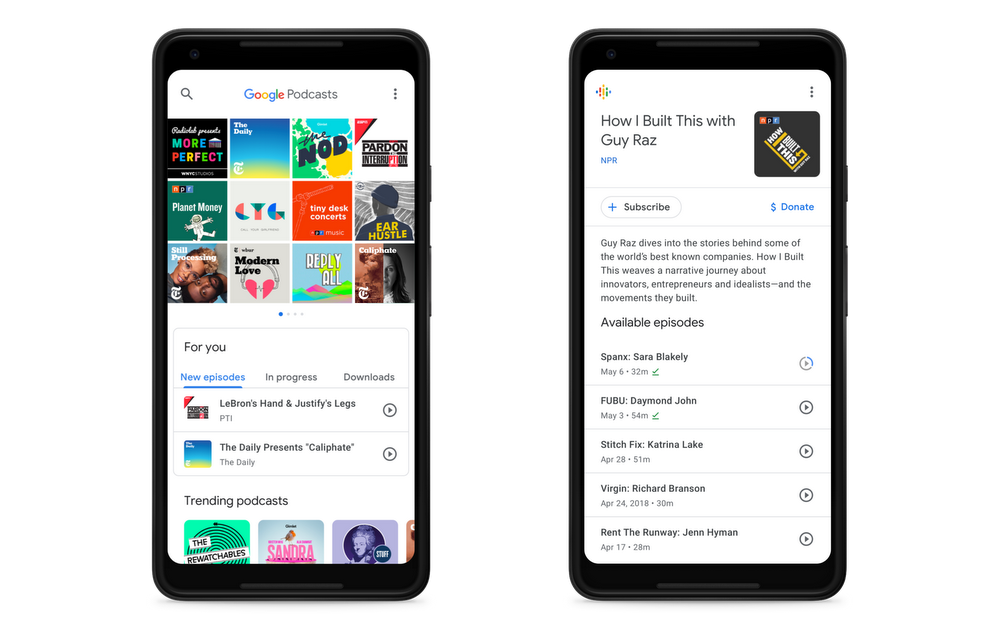 Google is one of the most used search engines with millions of trusted users. Now, Google has launched its own podcast application with numerous podcasts available. So you can listen to any podcast worldwide free from it. Google podcast has lots of features and an uncluttered interface.
It is easily available for android, IOS and window users. Google assistant and Google home are integrated in this Google podcast application. It provides you a feature to listen to your podcast anytime which you left somewhere, exactly from the same point where you left it.
So, overall it's the best free podcast app to use.
Himalaya
Himalaya is another amazing podcast application available. It allows you to download episodes of podcasts free of cost. You can access this app from anywhere whether you are at home or traveling. It can also be used without internet connection which is a great feature.
It provides a wide range of podcasts and topics to make a podcast. Along with listening, you can also create your own podcast and can share it with everyone.
It has a lot of short inspirational and knowledgeable stories on it. It provides a feature that from various other platforms like Google Podcast, Spotify etc, your selections can be imposed. So people really enjoy using this application for podcast streaming.
Read blog about marketing potential of mobile apps: Discover the Marketing Potential of Mobile Apps in 2022
Cast Box
Cast box is a free podcast application. It is available for android, Ios, amazon alexa etc. This application also has a huge variety of content around 90 million volumes.
It does not just contain podcasts, it even produces a lot of podcasts. Due to its simple interface it is easily accessible by the public. In this application any user can sign in through their email account and subscribe to a variety of podcasts.
Streaming through Echo and Chromecast is also available here. You can easily meet up with your favorite talkshow or story even when you are in a hurry. It is very famous for listening to various streaming podcasts and audio contents by the people.
Laughable
As the name suggests it is one of the best podcast applications for the people who love comedy content. It is a completely free platform for IOS users earlier but now available for android users also. Laughter is a gift you get from this podcast application if you listen to its content.
Since it is basically a comedy content oriented application, it has a huge data of various comedians. So you can listen to any of your favorite comedians even when you are traveling to any place.
It has a huge variety of content for the same and some great features like adjusting of playback speed is also there. You can access this application even if you are offline.
You can even set up a timer for sleep. So many exciting features and a huge range of comic variety makes this one famous.
Stitcher
Stitcher is a podcast application with a huge variety of genres along with its own original content. It is very simple to use and is known for its great speed. You can find multiple playlists in the lists with the voices you have not heard yet.
You need not to spend time on finding your last seen podcast or the one you left in between.
This application is intuitively designed so that you can find your leftovers easily.
You can access them anytime and anywhere whether you are at home or traveling. It is available for android, IOS, web and alexa.
Stitchers have great features like the sleep timers and it even skips those episodes that you have completed. It also auto adjusts rewind and fast forward duration. So technically it is an amazing app to listen to various podcasts.
Procast
Procast is a very beautifully designed podcast application. It is very simple to use this app which provides a huge variety of entertainment. It is available for android users and it is free of cost.
This app moves really fast with a great interface. This is the best application for a person who loves to share any dialogues or specific favorite part.
It provides users with an option of sharing with everybody by talking snippets of the audio they love the most or find relatable.
It even updates you about the incoming new episodes of your favorite podcasts. People have great reviews about this app so you must give it a try.
Luminary
Luminary is another amazing podcast application which is very famous. It has many award winning original shows streaming on. You would not be able to get them anywhere else.
It also has a very huge variety of content which fascinates the users. Although it is not a free app, this one requires a subscription.
Its subscription costs around 4.99 dollar per month. But once subscribed it provides you with ad-free services. Also the subscribers get unlimited access to all the existing podcasts.
You can store your favorites in the download list to watch them even without internet connection.
TuneIn Radio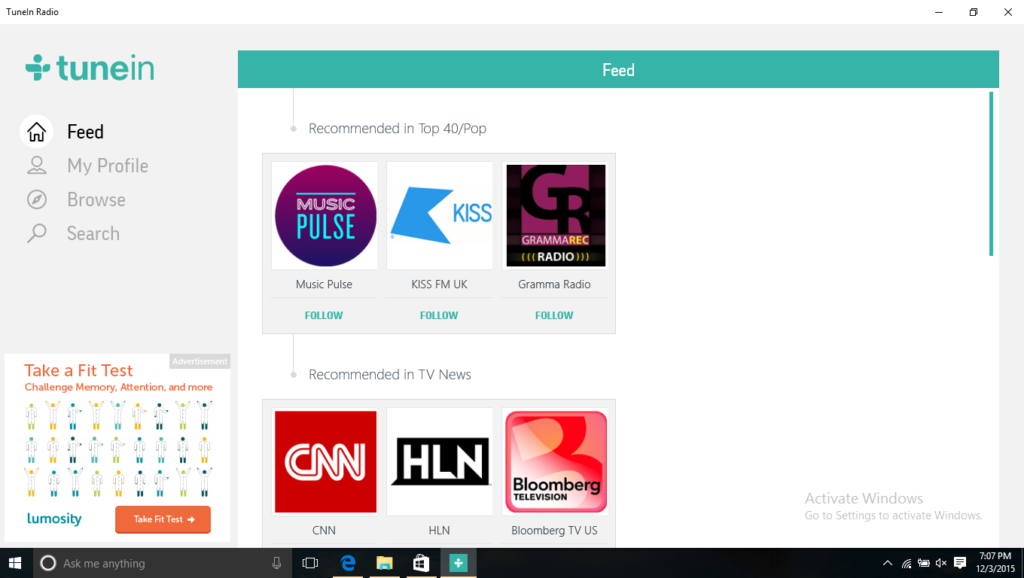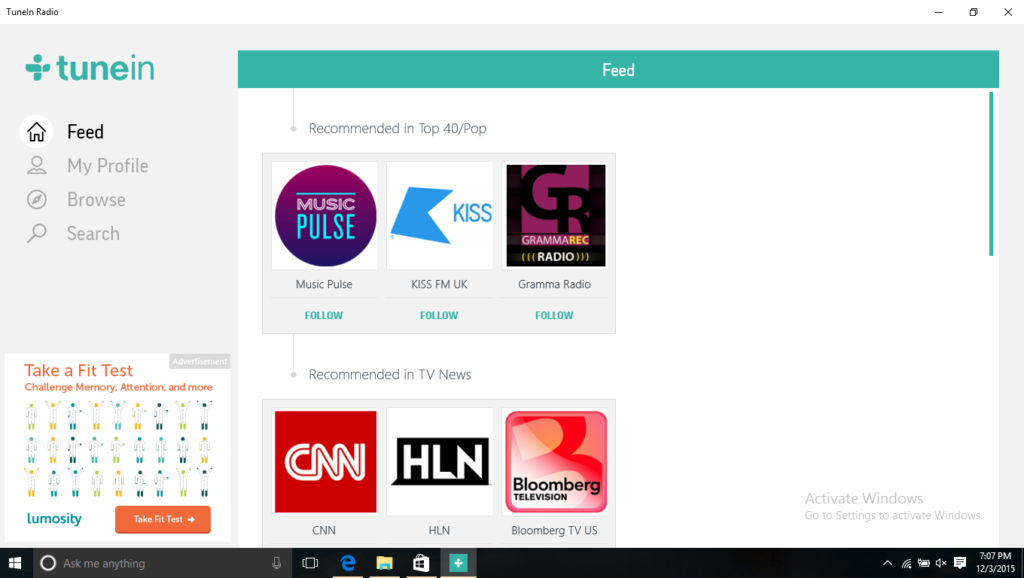 TuneIn Radio is a podcast streaming application used globally. It is a free platform that provides internet radio and podcasts. It also streams live CNN, FOX news
It provides a variety of ranges to the user to explore. It is available in 22 languages.
It has various amazing features like rewinding or fast forwarding options with devices having Alexa enabled. It also provides an option for setting up alarms whenever needed.
Through this application you can have reachability to nearly 1 Lakh live radio stations and around millions of podcasts. So this was another amazing podcast application to venture through the fields of drama, sports, music, news etc.
Read to make Podcast in 4 Short and Easy Steps: HOW TO MAKE A PODCAST IN 4 SHORT AND EASY STEPS
Conclusion
As we have seen that numerous podcast applications are available to use. Some are free of cost while some are paid. They are a great source of entertainment as well as knowledge through audios only. That's why they are also referred to as Radios of today. These podcasts applications provide us with a huge variety of podcasts so that we can choose some of our interests. The major benefit of podcasts is that you don't have to look at the screen again and again. So, If you are a podcast lover or person who wants to explore the same, then you must try out the apps mentioned in the article.
FAQs
What is a podcast application?
Ans: A podcast application is an application used to listen to various podcasts. You also can
download podcasts from these applications.
What is the most popular podcast app?
Ans: According to the statistics found, Spotify can be termed as the most popular podcast
application. As it is readily available to android users and nowadays it is becoming trending.
What are the best podcast apps for Android 2022?
Ans: PocketCasts, Spotify, Google Podcast, Castbox are some of the best podcasts apps for
Android 2022. They all have very wonderful features in them with great accessibility.
What is the best free app for podcasts?
Ans: Various cross platform podcast application like RadioPublics, Public Fm, Pocket Casts,
Castbox etc.are best free apps for podcasts. They are also referred to as the best
podcasts app 2022.
Are podcasts free?
Ans: Many applications provide podcasts for free like Spotify, SoundCloud, Stitchers etc. but some
applications might ask for a paid subscription.
References