In the past so many years, Artificial Intelligence has been used in various fields of life as well as by companies in all sorts of tasks. One of them is companies using AI for creating the company's website blog posts and content and AI-powered SEO to increase the visibility of the website on search engines like Google or social media.
Read about AI Content Writing Tools 2022: Creating With Computerization: The Top AI Content Writing Tools In 2022
The development of AI enables managers of search engines to improve their search optimization algorithms according to the latest hits.
What is Artificial Intelligence (AI)?
AI is a type of technology that tackles problems and finds solutions with the help of machines. It was first used in computers which lent a hand in machine learning. AI is not just used for speech or image recognition or machine translation, it has a wide variety of uses in various fields of technology.
Statistics to show how AI is affecting SEO
30% of AI holders said there's an increase of 6-10% in traffic and revenue after the implementation of technology.
As of 2019 statistics, nearly 37% of organizations are using AI for their web page traffic and visibility.
Does SEO AI help with web page visibility and traffic?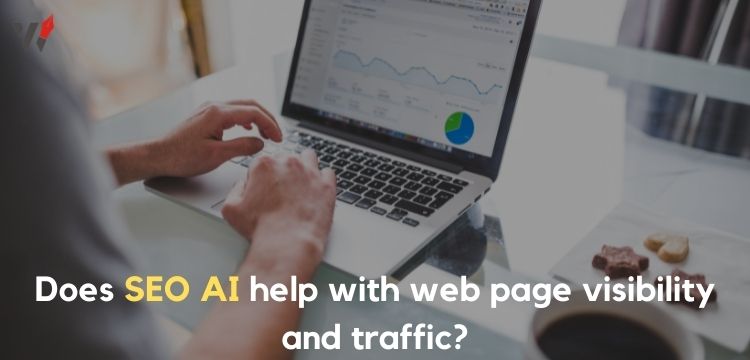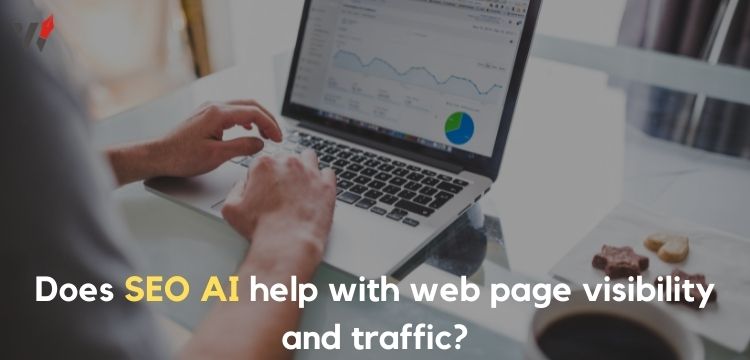 Content creation and analysis
SEO workflows
Acceleration of traffic visibility and growth
Voice recognition and content discovery.
The introduction of AI in the fields of SEO has helped to automatically manage digital marketing activities. This includes automatic keyword searches, content creation, and analysis and also increases the site's traffic, visibility, and overall growth.
Read about Best Keyword Research Tools: BEST KEYWORD RESEARCH TOOLS
The rise of AI has helped digital marketing groups to work efficiently and effectively while increasing the overall productivity of SEO. The ability to quickly solve marketing and optimization issues through technology will help the marketing groups to meet their deadlines efficiently.
Here in this article, we will discuss some killer ways by which marketers are using AI to create super SEO content.
AI-driven content creation
AI-driven content creation is a method of automatically creating texts using artificial intelligence. It helps brands and marketers to personalize their content. It also allows writers to achieve their deadlines fasters.
AI enables the completion of sentences, writing paragraphs, answering questions, creating featured snippets, writing page meta titles, and meta descriptions, and even doing research.
Read about Role of AI in Content Writing: Role Of Artificial Intelligence In Content Writing
How to create content and optimize it faster with AI-powered SEO?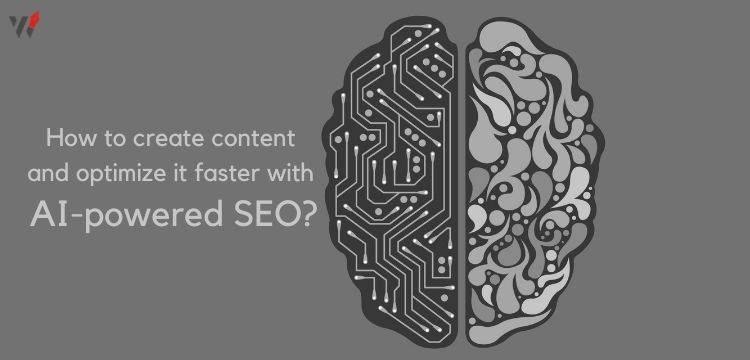 AI has been proved to be useful to the publishing and marketing industries in more than just a few ways. It helps in the creation of content and promoting it for the benefit of both publishers and users the same.
It can be used in the following ways –
Content creation
Sentence correction
Translation from one language to another
Understanding visitor/user intent
Research
Paragraph generation through keywords
Read about 4 Key SEO Benefits for Content: 4 KEY SEO benefits for business | How to write SEO Friendly content
Examples of how AI is killing it in the fields of SEO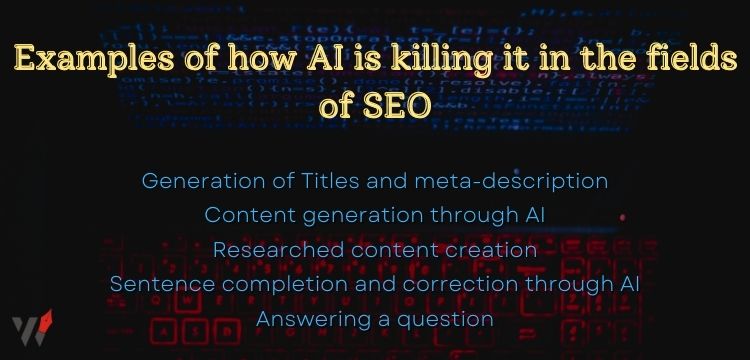 Generation of Titles and meta-description
Let's write some more title ideas for this very article –
The changing face of SEO by AI
How AI is changing SEO for the better
How AI can be used for more organic search engine optimization
Meta-descriptions can also be created using AI technology. One example of it is our meta-description given at the beginning of the article.
Content generation through AI
SEO-driven content headlines should be having keywords, the most used keywords as well as the topics which will be of interest to the user.
In this thing, AI will generate a good content headline but you have to dig a little deeper in your ways.
Examples – Create a five-word headline for Kolkata
Kolkata, is the city of joy in India.
Researched content creation
AI helps you in researching just the way Google does. You just have to type in the research lines in a question format like – What are the top five places to visit in Gujarat? And thus you can ask AI to give you the answer precisely.
Sentence completion and correction through AI
AI is capable of understanding your words and is thus able to complete them. Like you type half of the sentence and then ask AI to complete the sentence for you. Thus you can save time and also there will be no misspelling of words or any grammatical mistakes.
It can be programmed to use translations, natural language processing, and deep learning. This AI indeed makes content creation faster.
Answering a question
Things with AI are fairly new hence it is less clear how AI will proceed with SEO.
Voice search is giving new heights to SEO and giving better visibility results on Google. For example Alexa, she picks up your content since the device is smart enough to identify your words and give you results accordingly.
But if you fail to answer PAA (People Also Ask) questions, your chances of you being visible on Google are greatly reduced.
Read about Search intent a Factor in SERPs: What is Search Intent ? A Promising factor for Website Ranking on SERPs
Conclusion
The application of Artificial Intelligence in the fields of SEO is plagued by mysterious benchmarks which are used by search engines to make websites visible on their first few pages of search results. Although still in its prototype form, companies are taking the risk to use AI to increase traffic to their website.
With devices of Artificial Intelligence, SEO content creators will be able to do their content structure, keyword research, outlining of content, and other things more efficiently and also on time.
Frequently Asked Questions
Will SEO be replaced by AI?
Google uses AI to understand the user's demands and intent. Therefore AI is ready to change the view of SEO from 2022 and beyond.
Is Google search engine AI?
Google search engine is powered by AI.
What are the few things AI helps SEO?
SEO-driven AI determines the relationship between pages, content pages, and search engine ranks.
Does AI content rank?
Yes, technically. But Google has openly admitted that word content alone does not give rankings to web pages.
References
PDF | On Sep 1, 2017, Yodhi Yuniarthe published Application of Artificial Intelligence (AI) in Search Engine Optimization (SEO) | Find, read and cite all the research you need on ResearchGate