Communication is the most vital tool to express ourselves. From home to industry communication is the key. Like any other industry, the communication industry has undergone numerous evolution. In the current world, you can communicate with anyone across the globe.
Internet, Social Media and Networks are so powerful communication channels these days. These communication channels have made our life much easier when it comes to interacting with our loved ones. These modes have also created options that can help you to interact with consultants and professionals across the world. This article discusses in depth the best communication channels and how to use them effectively in 2023.
What is a Communication Channel?
A communication channel is a type of media that helps to send and receive messages. Some of the most famous and easy-to-use communication channels are,
Phone calls
Text messages
Emails
Video
Radio
Social media
Any business or brand will need almost all of them to interact with their customers and vendors. They can be used to converse your need to the vendor. To tell the customers about your products. It will also help to communicate within the organisation as well. Communication channels will help any organisation to work smoothly.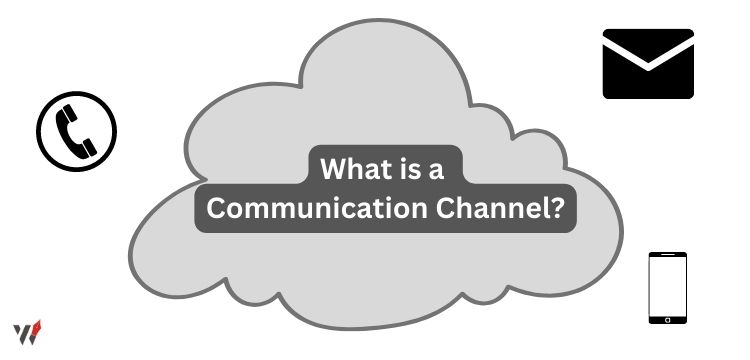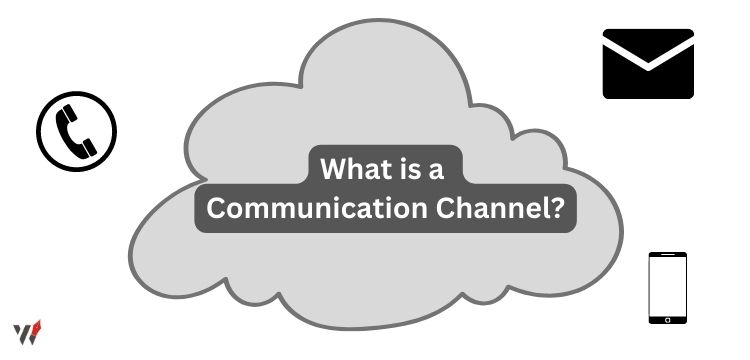 Types of Communication Channels
There are three major types of communication channels. They are as follows,
Formal Communication
Formal communications are the official communication that is made in an organisation. This type of communication will be transmitted from one person to another person that is from higher officials to subordinates. Emails, video calls and phone calls are the usual formal communication channels. The language used and Email formats will have a format that is meant to be followed.
Informal Communication
Informal communications are also a kind of formal communication. But these are a bit easier. Communications made between the team lead and subordinates and between one and the other employees are informal. They do not need to use formats. It can be a little flexible which will concentrate more on clearing subordinates' doubts and guiding them.
Unofficial Communication
This is the most unofficial mode of communication. It is the communication done by the employees. This is not usually about work. It is their free time talking about music, movies, sports and many more.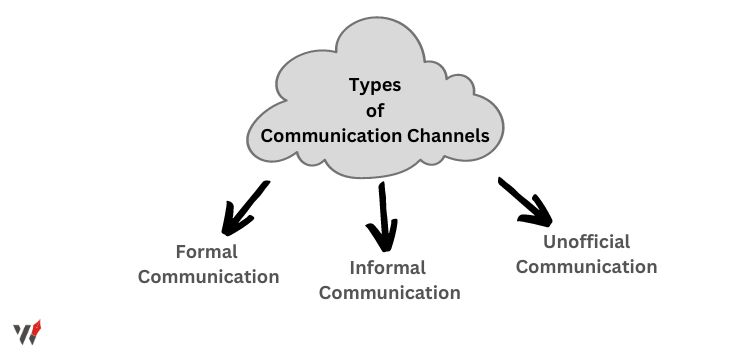 Importance of Communication Channels
Channels of communication are crucial in any organisation. Many corporate companies rely on communication to make their business the best. The major importance is listed below.
Increase Productivity
Teamwork is the key to business. Better communication leads to better work. The more the employees are explained about the work, the more they understand and the outcome will be better. They can also be boosted and encouraged a lot. Employees can also explain their problems and get a solution from the higher officials. This will eventually increase the productivity of the employees and the entire team will work better.
Promote Better Work Culture
Using certain communication channels and certain formats to communicate will improve the overall work culture of the organisation. It will improve the professionalism of the employees. Better work culture will eventually result in better results.
Less Confusion
The reason for any mistakes in work is often confusion. With better communication, people will lead to getting a clear understanding of what they are working on. In case of any problems or doubts, it must be easy to get help.
Strengthening the Bond with Customers & Clients
Interaction with customers and clients will help the organisation to establish a connection between them. You can explain to customers the advantages of buying your products and services. This will improve the ROI of the company. Explaining your work culture and principles will strengthen your bond with clients and vendors.
Increases Retention
In any organisation where communication channels are strong, employees, customers and vendors tend to stay and be loyal. Firms that lack proper communication will have a lot of confusion and miscommunication. This not only will affect the work but also will make the employees, clients and customers irritated. This will make you lose them. Hence, a proper communication channel will help to retain employees, customers and vendors.
You may also read our blog:
COMMUNICATION INDUSTRY DURING CORONA LOCKDOWN – 3 min read
Best Communication Channels
Certain communication channels are a must in an organisation. The below-given are the best channels of communication to use in a business.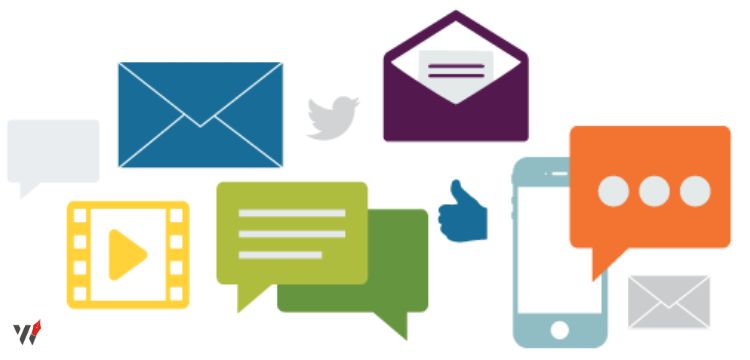 Emails and Newsletters
Emails and Newsletters are the classic communication channels. In most companies, Emails are the formal way of communication. Emails are one of the best internal communication channels. Emails are used to convey work and new information about the companies. Communication between the clients and the organisation is also done through email.
Newsletters are usually shared through Email. It will have information about the company. The information can be about sales or revamping the company's products. This can be sent to customers, clients and employees to make them aware of everything that is happening in the firm.
Instant Messaging Software
There are many instant messaging software like Slack and WhatsApp. WhatsApp is not used for professional purposes. It can be an option for a quick chat. Slack is an app that is said to replace mail in the future according to the New York times. These instant messaging apps will help you to convey messages faster than emails. This will also help the employees to have a quick discussion about the work. Hence it is one of the best digital communication channels to use in a company.
Project Management Tools
This is not a direct way of communication. But this is widely used in many organisations to communicate about the project. A study states that 77% of organisations are using project management tools to work on the project effectively.
In a Project Management Tool, tasks can be assigned with a deadline. Hence employees will know about the tasks that they want to perform and when to submit them. Many project management tools come with chat options where you can communicate further about a particular task. Hence it is one of the best online communication channels that will help to communicate within the team. But these tools may not be able to reach all the employees in an organisation. So Project Management tools need to be chosen keeping this in mind.
Video Conferencing Software
Video conferencing software has got the limelight during the pandemic. Since then, it is recognised as a strong communication channel. Many organisations including educational institutes used video conferencing software for meetings and classes. This is the best of all the communication channels to use in case of remote work. Nearly 90% of the employees feel that it is easy to convey a point in a video call. To start a new project or address something regarding the project, is the best option. Hence it is one of the best communication channels to use.
Internal Social Networking
It is one of the slowly budding communication channels for a brand. In terms of connecting with customers, social networking is the widely used mode. Through social media, customers can speak to the brands directly. They can give their opinion about the product or clear any doubts regarding the product or service. It is one of the fastest and easiest ways of communicating. At an organisational level also it can be used. Quick chats and sharing any content related to work can be done with social networking. Hence it is considered one of the network communication channels to use in 2023.
Survey Platforms
Most of the time, employees do not communicate much about the flaws and goods of an organisation. But it is very important to know to improve the organisation. Survey forms can be created like Google forms and circulated amongst the employees. This will let the employees express their thoughts freely. You can make a form for getting the customer's feedback as well. You can ask questions about products and services. This will let you know about the customers well. And once you know about the customers and employees well. Then you can bring the necessary improvements. This is why survey forms are considered one of the best communication channels.
Document Sharing Software
Document sharing is one of the important communication channels. In any organisation, documents and files have a major role to play. They must be shared between employees or with higher officials. Small files can be shared using email. But larger files cannot be shared via email. Those kinds of files or documents can be shared using document-sharing files. Famous document-sharing platforms are Dropbox, Google Drive, iCloud Drive and so on. Also uploading on this kind of platform will make it easy to find a file when it is needed.
Phone Calls
Phone calls are the most preferred communication channel. It is very easy to use as well. It helps to interact with employees, higher officials or customers personally. Most of the time, sending a message can be tough for some people. Those kinds of people will make a call to explain things in depth. It is one of the convenient communication channels. Despite all the technological advancements, it always comes first in anyone's mind when thinking of communicating.
Chatbots
Chatbots are established as one of the useful communication channels. Its primary role is to chat with website visitors. Visitors can be your vendors or customers. Chatbots help customers to get clarity on their order status and about a certain product or service. The best part is chatbots are available 24/7. Thus they are on the list of best online communication channels.
How to Pick the Most Effective Communication Channel?
An organisation can have many communication channels. Those channels of communication must be chosen based on their need. Here is a three-step process to choose an effective communication channel.
Step 1: Evaluate the type of Communication
Not every organisation will use almost all communication channels. Every firm differs. So take a closer look at what type of communication you do. Whether it is formal, informal or unofficial. To evaluate and see what messages are frequently used by the employees to communicate.
Step 2: Try Some Communication Channels
Do not be constricted. Try some of the available communication channels. While using them, you will come to know whether they will work for your organisation or not. Also, ask for feedback from your employees on whether they find it easy to use or not.
Step 3: Select a few Communication Channels
Once you tried some of the communication channels, you will some insights into what will work for you. Then you can select two or three communication channels. Choose one for formal needs. And choose a few more for informal or unofficial types of communication.
Conclusion
Communication is the key to any organisation. An organisation must communicate with their employees and customers regularly for its success. To satisfy this need there are many communication channels that are online and offline. Due to technological advancement, communication channels are also developed a lot. Communication channels are of three major types. They are formal, informal and unofficial. Formal is official communication about work. Informal communication is between higher officials and employees regarding work-related queries. Unofficial communication is communication between employees in a friendly way.
There are many benefits that an organisation can gain from communication channels. It improves the productivity of the employees. It will also promote better work culture. It will lead to a clear-cut workflow without any confusion or miscommunication. Communication channels will help to strengthen the bond between the customers and vendors. It will also help to retain them. There are many communication channels are available. The best ones are listed in this article.
The article also discusses how to select the right communication channels for your organisation.
FAQs
What is a communication channel?
A communication channel is a medium through which communication is done.
Which is the fastest communication channel?
Phone calls are the fastest communication channel.
What are the types of communication channels?
There are three types of communication channels. They are,
Formal communication channel
Informal communication channel
Unofficial communication channel
What are the benefits of communication channels?
It improves productivity and work culture.
There will be no confusion between the higher officials and employees. Also between the employees.
Increased connection between the customers and vendors.
What is the most effective form of communication?
Video conferencing is the most effective form of communication. As two people meet each other virtually and discuss the topics effectively.
What is the cheapest communication channel?
Social Media is the cheapest communication channel. As internet connection is widely available and affordable as well.
How to choose the right communication channel?
There are 3 steps to choosing the right communication channel. They are,
Recognize the type of communication in the organisation.
Try some communication channels and some software
Then, choose one that fits the most.