In our day-to-day life, we come across various things from multiple brands. We are subconsciously making decisions on what to buy and from which brand. Some brands are so famous that we don't even realize that they're a brand rather than the product; for example – Xerox is a brand while the product is a photocopy. Even to date, people use the term "Xerox" more often than "Photocopy."
People remember the brand after 5 to 7 impressions on average. With so many brands on the market, people need to see the brand's logo at least five times before they can associate it with your company. All of this is the result of brand promotion. So, let's look into it to understand brand promotion definition and its strategies, along with some use cases.
Know more about Branding: What is Branding ? 3 effective ways to build a brand
Brand Promotion Definition
In simpler terms, the brand promotion definition is a method companies use to throw light on their products and services in a persuading and convincing way so that the customers get interested in the brand and try out the services and products.
It is safe to say that a whole new world opens up for the conduction of the process of brand promotion, and we'll explore it bit by bit in the forthcoming paragraphs.
The Necessity of Brand Promotion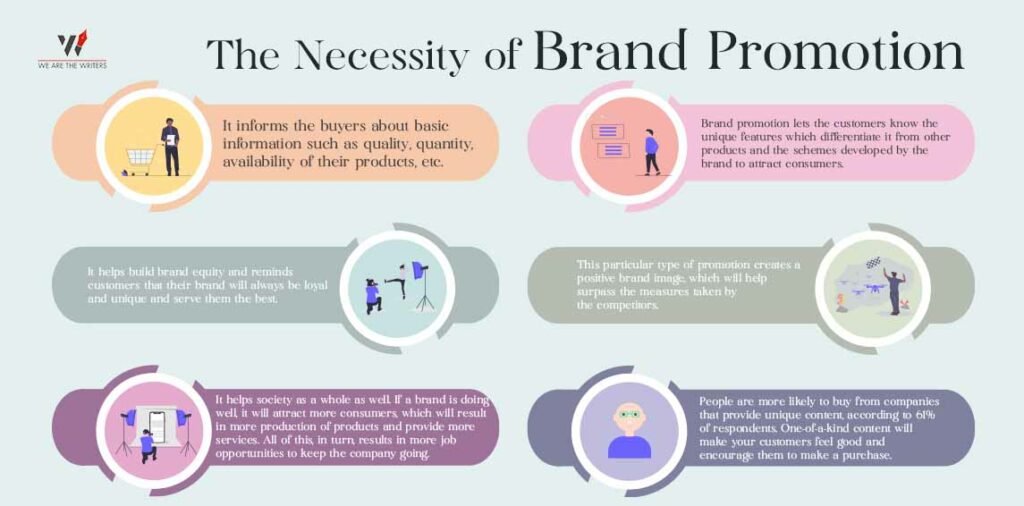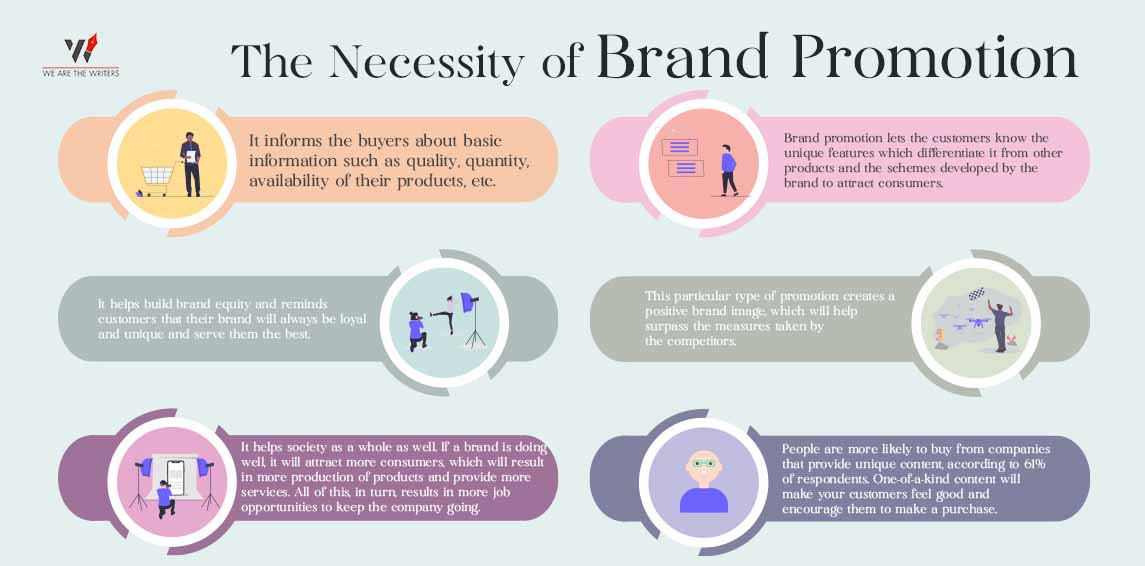 Before we move into the process of brand promotion, i.e., brand promotion ideas, strategies, techniques, etc., let us look at why companies need to promote themselves.
Information
It informs the buyers about basic information such as quality, quantity, availability of their products, etc.
Brand Promotion
Brand promotion lets the customers know the unique features which differentiate it from other products and the schemes developed by the brand to attract consumers.
Build
It helps build brand equity and reminds customers that their brand will always be loyal and unique and serve them the best.
Promotion
This particular type of promotion creates a positive brand image, which will help surpass the measures taken by the competitors.
Job opportunity
It helps society as a whole as well. If a brand is doing well, it will attract more consumers, which will result in more production of products and provide more services. All of this, in turn, results in more job opportunities to keep the company going.
Provide Unique Content
People are more likely to buy from companies that provide unique content, according to 61% of respondents. One-of-a-kind content will make your customers feel good and encourage them to make a purchase.
Build Digital Marketing Strategy for Brand: 8 easy steps to create Digital Marketing Strategy for a brand!
Brand Promotion Ideas
Only from the ideas can we make concrete methods. Therefore, ideas play a crucial role in brand promotion. The thought process for brand promotion ideas starts with the segregation of location, i.e., physical(offline) and online events. Then the companies proceed to implement ideas by using different techniques and strategies.
Before we head out to talk about the brand promotion techniques and strategies used by booming businesses, let us look at how small businesses do the same offline and online events at their scale.
Google Business Profile
One of the most effective free marketing strategies available is a Google Business Profile. Companies use this free listing will to appear on Google Maps, Google Search's local section, and the right-hand Knowledge Panel for branded searches.
Social Media
Using social media to tag their loyal customers and even nearby companies and vendors to expand their organic reach to a new potential audience and potentially gain more clients.
These two are unique ideas compared to what the big brands do—these ideas, when implemented, turn out to be the best brand promotion strategies for small businesses.
Underrated Brand Building Platform you should know: PINTEREST – The Most Underrated Brand Building Platform
Brand Promotion Strategies and Techniques
Big companies' brand promotion techniques are carefully planned events that cater to a larger audience. As mentioned above, we have segregated the events into physical and online. The company's marketing ensures its brand is regarded as the best.
Let us dig deeper to understand the whole concept.
Physical Events
As we now are in a digital era, physical events might not be as common as online ones, but they hold particular importance. Physical events include the following:
Conventions
Brands holding conventions for the public to launch a new product or service.
Trade Shows
Companies attending local trade shows to showcase their brand's distinctive features.
Although these seem pretty straightforward, many are conducted spectacularly, so the physical effort here is comparatively a lot to woo their consumers.
Online Events
A company's online presence plays a huge role in its value as we move forward in this digital era. Companies enhance their brand by adopting many types of online methods such as:
Blogs
Starting a blog to explore different aspects of the brand. The blog will include and show the infographics of the brand.
Social Media Profiles
Creating social media handles on popular sites such as Instagram, Facebook, etc., to use their inbuilt marketing features.
A few brand promotion strategies can be held both offline and online. These play a vital role in the whole process as there cater to bring a wider audience compared to other techniques. They are:
Product Giveaway
Hosting product giveaway competitions offline and online. This technique creates excitement and will bring in new customers.
Brand Ambassadors
By having celebrity brand ambassadors. This strategy gives consumers a sense of faithfulness.
Referrals
By introducing customer referral incentives for existing customers if they bring in new customers. If friends or family recommend a new product, 77% of consumers are more likely to buy it. This scheme enforces the brand's loyalty.
Know tricks for Branding in Linkedin: Learn 15 tricks to Boost Your Branding on LinkedIn
Exquisite Brand Promotion Examples
Here are some brand promotion examples we need to look at as they have set some standards.
Amul
This dairy company is known to each to every person in India. The strategies and techniques used for marketing are still going strong as it has created a sense of familiarity and belongingness among millions of people.
Their catchy ad jingles such as "Amul doodh peetha hai India" and "Amul butter asli butter" have gotten many people hooked to their products. They also run a comic section in newspapers with their mascot giving news updates using various kinds of puns.
These methods were done as their primary target audience was the economic and the middle class. Their products were priced affordably for all, and for products facing heavy competition, they had one-on-one offers to have an advantage against the opponent.
They adopted many new brand promotion strategies as they evolved by retaining standard methods throughout many years. Their creativity, openness, and efforts are why they can be considered a pioneer in brand promotion.
Starbucks
A company started by three college students, Starbucks is now a multimillion-dollar company known globally and is admired by many for its marketing strategies. The company publicly acknowledged that they wanted to create a third place other than homes and workplaces to socialize.
It all started with their redesigning the logo various times to bring in the sense of closeness and relatability for the public. They then used typical mainstream strategies to their advantage by using social media to interact more with the customers and even held public gatherings at local stores.
Starbucks engages in frequent brand communication with everything happening with the company – big or small – thanks to its millions of followers across all social handles, contributing to its steadily increasing online presence.
Their iconic scheme is to write customers' names on the coffee cup they ordered. It brought in a lot of attention on social media, and it still does even now. Although many of the methods seem familiar, the company has put in its very best to present itself as one of the most iconic brands of all time and redefined brand promotion definition.
Nestle
Nestle is one of the most famous international companies known across many age groups. Its marketing techniques are relatively direct and more straightforward than unique. The unforgettable slogan "Nestle – good food good life." has also helped its brand image.
The company's primary methods of product promotion include giveaways, free samples, and discounts when purchasing a certain quantity of its products. In addition, the company runs advertising on selected products to increase long-term sales throughout the year.
The company's primary forms of advertising are the Internet, traditional media, and posters or banners in retail outlets. Product placement in the media and strategic locations, such as inside stores, sporting events, or corporate meetings, are also included.
They have even created regional marketing campaigns in many countries like other brands. In addition, they have taken more personal steps by ensuring that their motto is to create a healthy lifestyle in each stage. Thus, they have set a great brand promotion example.
Brand Promotion Services
Many companies even offer brand promotion services, i.e., marketing agencies. They provide both offline and online brand promotions. In a way, the companies are indirectly creating more job opportunities outside their business.
The brand promotion techniques, as mentioned above, are simplified as their whole package will be much more complex and on a vast scale. Brands use brand promotion services to ensure that all of this goes smoothly.
Best Communication Channels for brand 2022: Best Communication Channels for your brand in 2022
Conclusion
We have gone through the whole procedure of brand promotion, which consisted of ideas, techniques, and strategies, alongside brand promotion services and their importance. Also, we talked about three of the most famous companies.
Thus, we can infer that brand promotion benefits the company and society from all of this. It's a very creative and strategically planned process to ensure all the parties are satisfied in the end.
References