Linkedin is famous for its professionalism. Your modern-day resume is not on a piece of paper, but it's your LinkedIn profile. You can also consider LinkedIn as your Facebook one but with professionalism. But have you ever thought that Linkedin can also be used to build your brand? Your LinkedIn account is a very powerful and excellent tool in this modern technology. You might be using LinkedIn for a very long time, but you mustn't be aware of its secrets. If you wish to build your brand, then you are on the right track. This blog will help you in your LinkedIn learning journey. 
You will get to know about many tips and tricks to boost your branding on LinkedIn. You have noticed many entrepreneurs, marketing professionals, and social media influencers who are branding themselves with the help of LinkedIn. It will help you to discover some of the uncovered secrets of branding on LinkedIn. Fasten your seat belts and be ready to enjoy this beautiful ride of your branding journey. It will take you from all the undiscussed and uncovered secrets of this platform. 
Know how to Build Brand Via Social Media: Thinking of Brand Building ? Social Media is the best way in 2022 !
What is LinkedIn used for?
LinkedIn is a famous social media platform for jobs. If you are a business owner, an entrepreneur, or a freelancer, you could find all your jobs with the help of this website. It not only offers jobs but also has many internship opportunities. You could also join this platform if you are a newbie in the tech world. In terms of layout, LinkedIn is the mirror image of Facebook. As you receive a friend request on Facebook, you receive a connection request on LinkedIn. After accepting that request, you would be able to converse with those people and also work with them. 
According to a research of 12 people, spanning a wide range of industries in South Africa. Semi-structured interviews were conducted and a thematic analysis was utilized to identify themes and subthemes. Despite still utilizing some traditional methods of recruiting, South African recruiters follow their international counterparts, with LinkedIn being central to their respective recruitment processes. The use of Twitter and Facebook for recruitment was found to be substantially lower in South Africa than elsewhere[1].
Know more about LinkedIn Marketing:
LinkedIn's Features:
You could download this app from your google play store or App store. Thus, it's available on both platforms Android and iOS applications.
Home:
After downloading this application, you need to do a LinkedIn sign-in. On the home feed, you will find news, posts, and stories of your connections as well as of other people with whom you would like to connect with. 
Profile:
Your profile contains all relevant information regarding you and your interests. You should always keep your LinkedIn profile up to date. You would be able to upload your CV, resume, and other certificates to your profile. 
My network:
Your network is your net worth. Networking is key to opportunities in today's era. Don't connect with random people who are not from the same job background. Choose your network wisely and accurately. 
Jobs:
Different types of LinkedIn jobs opening, full-time, part-time, internships could be found on this platform. LinkedIn will also recommend you jobs and internships according to your profile, interests, and capability. 
Interests:
You could follow some interesting pages, companies, or groups to follow your interests. It also suggests other profiles based on common interests. 
Search Bar:
Here, you can search various people, leaders, and companies online. This would lead you to a list of pages, posts, people, company pages, and many more. 
Messages:
It is an awesome feature of LinkedIn which allows you to have a conversation with different connections or clients. It also offers you an opportunity to be an extrovert rather than being an introvert. 
Notifications:
With this option, you could receive connection requests, get to know about comments on your posts, or if somebody tags you. It also lets you know if somebody visits your profile, or endorses you. 
Pending Invitations:
You could receive, send, and accept invitations with the help of this option. Approve only those people to your connection who will add some value to your life.
LinkedIn Brand Guidelines:
The LinkedIn website provides you with a variety of features. With your brand being online, you could invest more time in it than being offline. Here are the 15 best ways to expand your brand on Linkedin.
Guide to Branding on LinkedIn: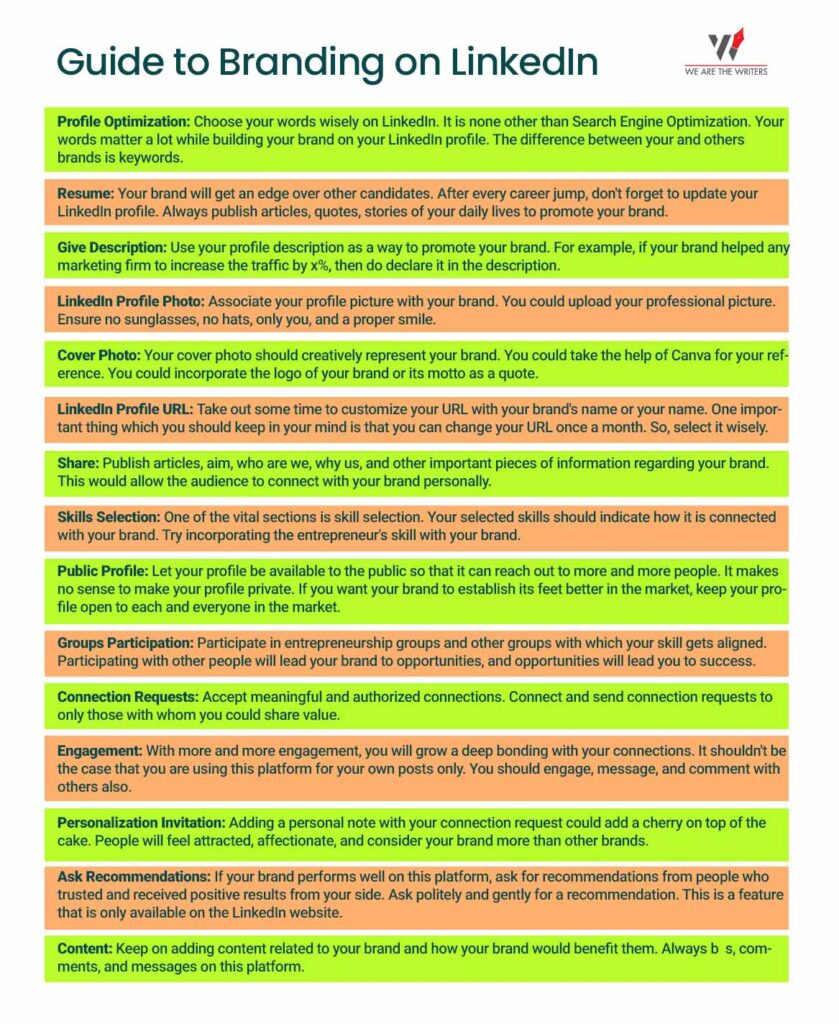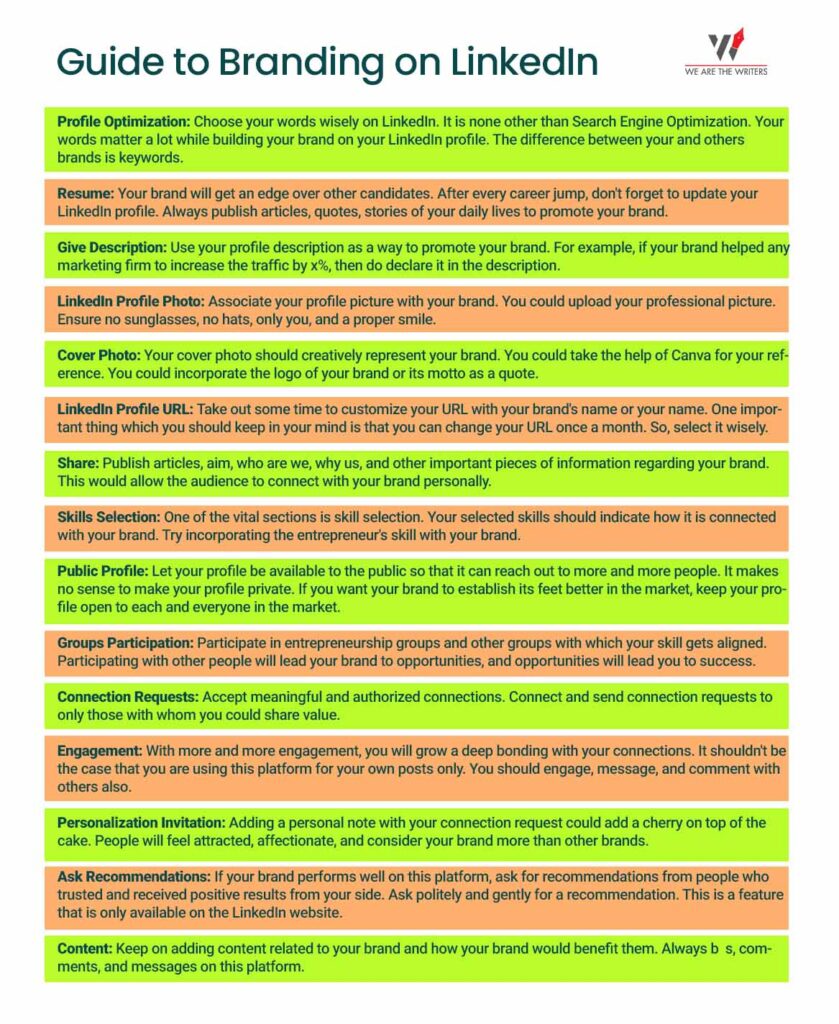 Profile Optimization:
Choose your words wisely on LinkedIn. It is none other than Search Engine Optimization. Your words matter a lot while building your brand on your LinkedIn profile. The difference between your and others brands is keywords. 
Resume:
Your brand will get an edge over other candidates. After every career jump, don't forget to update your LinkedIn profile. Always publish articles, quotes, stories of your daily lives to promote your brand.  
Give Description:
your profile description as a way to promote your brand. For example, if your brand helped any marketing firm to increase the traffic by x%, then do declare it in the description. 
LinkedIn Profile Photo:
Associate your profile picture with your brand. You could upload your professional picture. Ensure no sunglasses, no hats, only you, and a proper smile. 
Cover Photo:
Your cover photo should creatively represent your brand. You could take the help of Canva for your reference. You could incorporate the logo of your brand or its motto as a quote. 
LinkedIn Profile URL:
Take out some time to customize your URL with your brand's name or your name. One important thing which you should keep in your mind is that you can change your URL once a month. So, select it wisely. 
Share:
Publish articles, aim, who are we, why us, and other important pieces of information regarding your brand. This would allow the audience to connect with your brand personally. 
Skills Selection:
One of the vital sections is skill selection. Your selected skills should indicate how it is connected with your brand. Try incorporating the entrepreneur's skill with your brand.
Public Profile:
Let your profile be available to the public so that it can reach out to more and more people. It makes no sense to make your profile private. If you want your brand to establish its feet better in the market, keep your profile open to each and everyone in the market. 
Groups Participation:
Participate in entrepreneurship groups and other groups with which your skill gets aligned. Participating with other people will lead your brand to opportunities, and opportunities will lead you to success. 
Connection Requests:
Accept meaningful and authorized connections. Connect and send connection requests to only those with whom you could share value. 
Engagement:
With more and more engagement, you will grow a deep bonding with your connections. It shouldn't be the case that you are using this platform for your own posts only. You should engage, message, and comment with others also. 
Personalization Invitation:
Adding a personal note with your connection request could add a cherry on top of the cake. People will feel attracted, affectionate, and consider your brand more than other brands. 
Ask Recommendations:
If your brand performs well on this platform, ask for recommendations from people who trusted and received positive results from your side. Ask politely and gently for a recommendation. This is a feature that is only available on the LinkedIn website. 
Content:
Keep on adding content related to your brand and how your brand would benefit them. Always be positive with your thoughts, comments, and messages on this platform.
Steps to Create Digital Marketing Strategy for brand: 8 easy steps to create Digital Marketing Strategy for a brand!
LinkedIn Personal Branding Examples:
There are numerous examples of personal branding through LinkedIn. Many people have invested their time properly in this platform and received the fruits of their hard work.
People with Great Brands:

Dave Gerhardt:
He is currently working as the CMO of Privy and is well known for his B2B marketing on LinkedIn. Along with other activities, he also practices podcasts to promote his brand online. In his podcasts, he interviews other successful CMO's. With the help of LinkedIn only, he gained a profit of 10$. 
Chris Walker:
He is popularly known as CEO of Refine Lab and has a B2B branding agency. His key to success was consistency. At the very beginning, he could hardly manage a few comments and likes on his posts, but with time his brand grew bigger and bigger. He grew his company with inbound leads and now he has been working with more than 20+ companies without any outbound leads. 
Andreas Johnson:
Popularly known as the CEO of Shield. He is leading the industry with his brand, which works on analytics. With his personality and personal branding on LinkedIn, he grew his brand to millions. 
Sho dewan:
He is a multi-tasker. He practices career coaching, talent training and is the founder of Workhap. He used LinkedIn as his main tool to grow his brand and share all his content through this platform. Recently, he started his own personal digital Marketing Course which is taking him to new heights. 
Salina Yeung:
She is the best example of branding as she offers courses on personal branding. She is also the CEO of the [in]academy. She shares her practical knowledge to promote branding on this platform. 
LinkedIn- Door to Wonders:
So, you can find many people who promote their brand with the help of this amazing platform. With the LinkedIn platform, you could do wonders. You can be the next one on the list. The only thing which you should do is to follow the above guidelines by heart. Be consistent and work with enthusiasm. Keep pushing up your standards, never restrict yourself and you will definitely reach great heights.
References:
[1] Koch, T., Gerber, C., & De Klerk, J. J. (2018). The impact of social media on recruitment: Are you LinkedIn?. SA Journal of Human Resource Management, 16(1), 1-14.