Instagram is one of the most used apps all over the world. It never fails to impress anyone. Filled with new trends, songs, and gossip about the celebrity world, it offers many features like Boomerang, timely posts, and a silent new feature. One can increase the follower's rate organically, people engage more with your posts, and also offer huge traffic. Rather than only entertaining you, it can also be used to earn money. Having a branding in Instagram will help you to increase your followers.
Introduced in 2010, it became one of the important sources to connect people all over the world and share pictures and videos. But now, it has also become a source to expand your business. Excited about it? Well, you heard it right, Instagram is a key to earning lacs. If you want to be social media influencer, entrepreneur, or coach, Instagram is definitely gonna help you in your journey. Wanna know how? Just grab a cup of coffee and cookies and give 5 mins for this blog.
What is Instagram?
Instagram is an awesome app that mainly focuses on pictures, videos, posts, and over a billion people are joining this platform every day. It holds a very remarkable place in the heart of social media influencers. This app is present over both Android as well as ios platforms. It works both on phones as well as desktops. However, the desktop version of Instagram offers very few features as compared to phones. Still, every year Instagram is enhancing its features on desktop as well.
Know how to Create Quality Instagram content 2022: How to create quality Instagram content in 2022
What is Instagram Used For?
The profile pages on Instagram are like the resume of your brand. In order to increase reach and followers on Instagram, you should optimize your profile. Just like Instagram brand logo gives the idea of this app in the same way, your profile will give the audience a brief idea of your business. It will help people connect with you and your brand will be able to win their hearts. Thus, leading to more and more followers. Primarily, there are four options available on Instagram.
Instagram Features: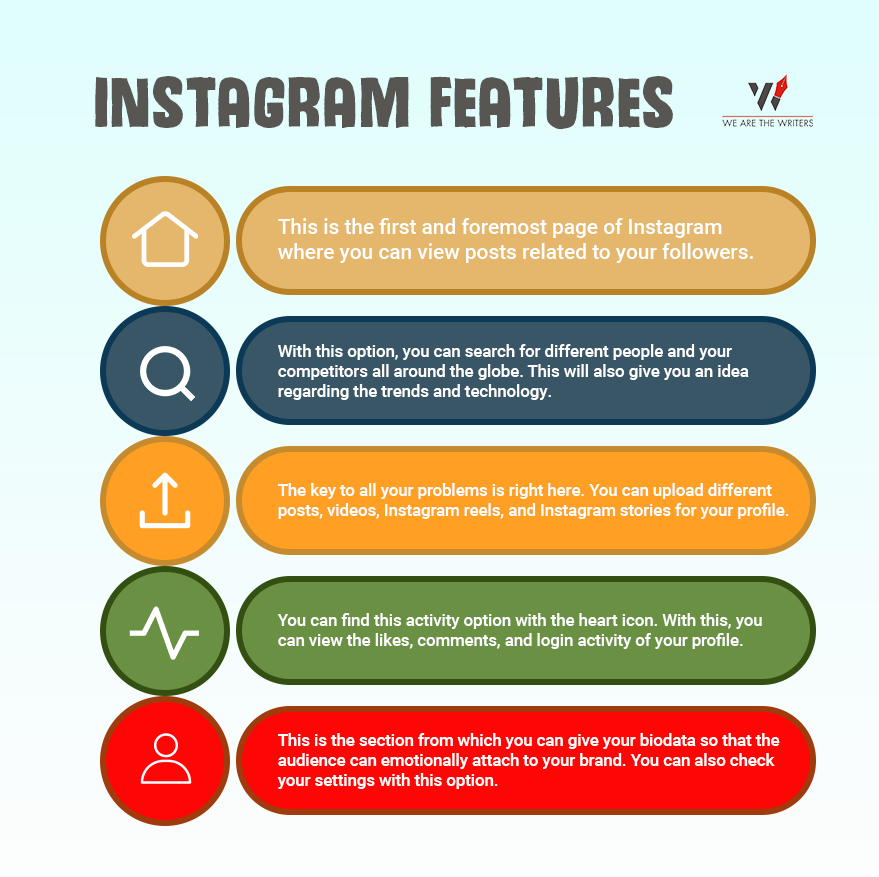 Home
This is the first and foremost page of Instagram where you can view posts related to your followers.
Search
With this option, you can search for different people and your competitors all around the globe. This will also give you an idea regarding the trends and technology.
Upload
The key to all your problems is right here. You can upload different posts, videos, Instagram reels, and Instagram stories for your profile.
Activity
You can find this activity option with the heart icon. With this, you can view the likes, comments, and login activity of your profile.
Profile
This is the section from which you can give your biodata so that the audience can emotionally attach to your brand. You can also check your settings with this option.
How can You Connect Branding with Instagram?
Connecting your brand with Instagram leads you to many benefits. According to research, three business owners were chosen for the survey, they started their business with Instagram, and their initial followers were 1000. After this research was done, all of the owners decided to expand their business offline as they established a good connection online[1]. It helps to connect with more and more people as compared to offline.
Read to Identify the trend on Instagram Marketing in 2022: Identify the trend of Instagram marketing in 2022
Benefits of Branding in Instagram: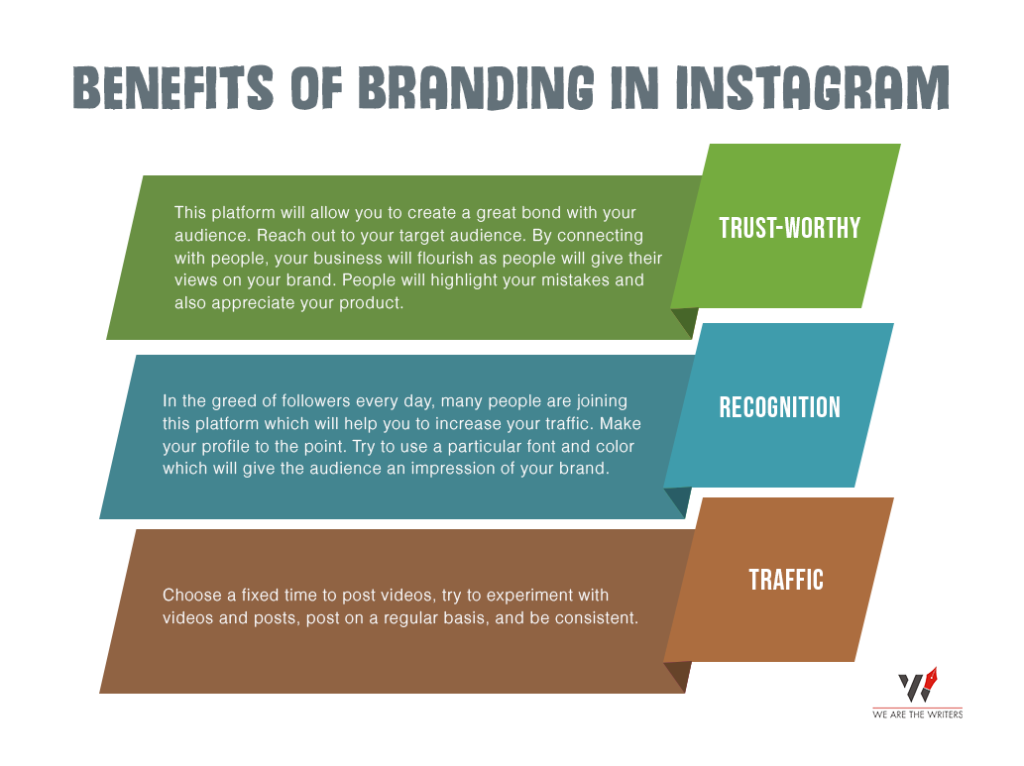 Trust-worthy
This platform will allow you to create a great bond with your audience. Reach out to your target audience. By connecting with people, your business will flourish as people will give their views on your brand. People will highlight your mistakes and also appreciate your product.
Recognition
In the greed of followers every day, many people are joining this platform which will help you to increase your traffic. Make your profile to the point. Try to use a particular font and color which will give the audience an impression of your brand.
Traffic
Choose a fixed time to post videos, try to experiment with videos and posts, post on a regular basis, and be consistent.
All of the above mentioned ways will help you to increase the reach and traffic of your brand. You will be visible to more and more people.
Suggested Read: Best Communication Channels for your brand in 2022
Step by Step Guide for Beginners:
Here are 11 amazing steps which will take you to the rift. The key to branding in Instagram is time. The more time you invest, the better the results will be. Must follow the steps to take your business to another level.
Branding in Instagram:
Define Your Goals
Let people know why you created that brand and why you want to associate that brand with Instagram. Before taking your business online, always remember to use the word 'why'. By declaring why with your business on Instagram, people will get a clear idea regarding your business. The better you define your goals, the better will be the results.
Profile Optimization
There are billions of profiles on Instagram. To declare yourself as the leader, you need to do something better and extra from others. To achieve that, you should be particular with your profile. Be specific with the user name, profile picture, Instagram Bio, and the links which you provide there. For example, if you have a juice business, then give a catchy username like Natural Fruit Juices.
Select a Theme
Whatever you experiment with, your profile will represent your brand. You may find entrepreneurs and social media influencers posting random pictures which do not connect with their business in any way. Posting too many random things will take you nowhere. Instead, focus on those things which are related to your brand. Let's take, for example, you have a clothing brand. To increase the reach of your profile, you should make posts that are related to clothes and dressing styles. If your business is something related to food, post interesting facts or myth busters regarding foods. Don't flood your account with unnecessary posts.
Suggested read: What will Influencer Marketing
Content Creation
Your personal brand will be a copy of your identity. It will be unique. Decorate it with all possible ideas but don't over stuff it with ideas. Like, make a routine to make a post in the morning and a story at night or vice versa. This will instill a sense of punctuality regarding your business in the audience's mind. They will get the instinct that you are serious with your brand. You can also try the Instagram Creator Studio for posting on Instagram.
Act Transformationally
Join this platform to create a great bond and trustful bond with the audience. They should not feel as if they are being deceived. Always focus on encouraging others to do specific things rather than doing things. Be realistic with your brand, don't only think about your profit. Focus more on your followers as they are the ones who can help your brand to climb the walls of success. When your audience will realize that you are delivering the right and value-added content, they will start following your brand without any second thought.
Also Read: Brand Promotion Ideas : 3 Best Brand Promotion Examples
Keep Replying
Always reply to all the comments, tags and messages of your fan followers. In this way, they will get an impression that you are down to earth and will stick to your brand. Never let your ego destroy your brand value. Hire an Instagram social media manager if you are unable to handle so many tasks at once. Having a team is like a blessing. With different views of different people, your brand will grow exponentially. If you won't reply to the comments and DM's of your audience, they will think that you are careless regarding your brand, which will lead to a negative impact on your brand.
Be Consistent with Posts
Being consistent with posts, videos, and stories will engage more people every day. One of the popular Instagram branding examples is John Lee. He never missed posting a single day in years and now has a well-established brand on Instagram.
Keep Tagging
One of the best ways to attract followers is by tagging brands that have a huge fan following on Instagram. Tagging strong Instagram brands would bring you to the limelight. If your posts are up to the mark and the audience are impressed by your posts, then there is a possibility that they would put up their stories with your posts. This would be a win-win opportunity for you and your brand.
User-Generated Content
Be in a hunt for your biggest fan and highlight their posts via your stories but don't forget to tag them. In this way, both would gain benefit. People will feel that you care for them and they will feel special. Be like honey, and your audience will act like bees.
Try Swipe UP
Once you mark 10,000 followers on Instagram, you will get this feature as a reward. You would be able to add links to your Instagram page, which would directly take your audience to the home page. This will lead to huge profits and traffic for your website. This would also encourage your audience to sign up for your websites.
Know more about CTA for business website: Call to Action | CTAs Importance in Business website
Keep an eye on the numbers
Keep an eye on the numbers: Last but not the least, always keep a check on your number of followers. Keep a track of the Instagram algorithm which could lead your brand to strong Instagram Branding. Always keep on updating your profile and bio as per the Instagram trends going on.
Know Best Tips for Instagram Growth: 10 Best Tips For Instagram Growth
Instagram Branding Kit:
After reading this blog, you must be surprised by the secrets of Instagram. Every coin has two phases. In the same way, Instagram also has its two phases. You can either use this to build your career with the help of branding or could just waste your time by scrolling through it. The choice is completely yours. But keep in mind that Rome was not built in a day. To create your brand and take it to the next level will require a great level of dedication and determination.
Read more about Instagram:
References
[1] Latiff, Z. A., & Safiee, N. A. S. (2015). New business set up for branding strategies on social media–Instagram. Procedia Computer Science, 72, 13-23.