E-commerce websites are one of the world's leading platforms for businesses and entrepreneurs to expand their trade. E-commerce has helped eliminate the distance between service providers and customers. Most of the e-commerce websites are run on an electronic network.The internet is a good example of it. And because of this it has become very easy for buyers to get their goods and services reached to their customer without actually going to them in person.
Hence, in today's world with numerous internet and telephone users we can say that most of the people use e-commerce websites. And that they are curious to know which of those websites are the best of them all. In this particular article we'll find out what e-commerce is, and what are the top 10 best websites of 2022. 
Also Read: E-Commerce Business : Promote Entrepreneurship Amazing
What Is An Ecommerce Website?
E-Commerce, even known as electronic business, or e-business, is simply the trading and purchasing of goods and utilities over an electronic medium, for example the Internet.
It confines to electronic changing of data and funds amongst two or more number of parties. In simpler words,the common term used for e-commerce shopping is online shopping.
E-Commerce websites are virtual portals that permit virtual dealings of utilities and services through give and take of information and finance over the internet usage. During the early times, e-commerce was mostly confined to be executed through phones and emails. But now in the present time, we can do anything and everything online with a single e-commerce website.
There are 4 different types of E-commerce websites. They are mentioned down below:-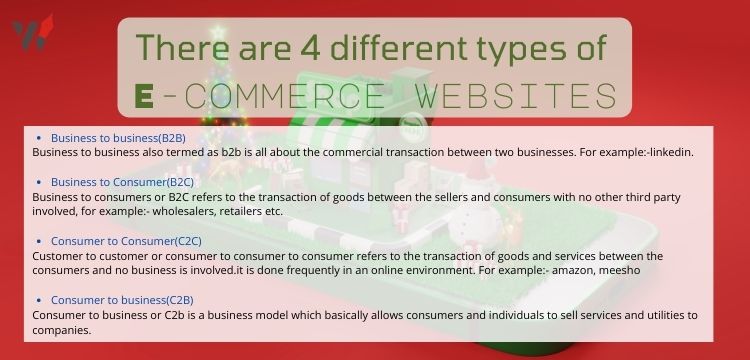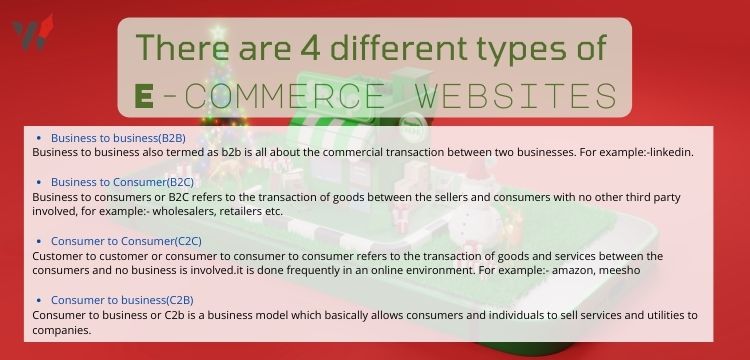 Business to business(B2B)
Business to business also termed as b2b is all about the commercial transaction between two businesses. For example:-linkedin.
Business to Consumer(B2C)
Business to consumers or B2C refers to the transaction of goods between the sellers and consumers with no other third party involved,for example:- wholesalers, retailers etc.
Consumer to Consumer(C2C)
Customer to customer or consumer to consumer to consumer refers to the transaction of goods and services between the consumers and no business is involved.it is done frequently in an online environment. For example:- amazon, meesho
Consumer to business(C2B)
Consumer to business or C2b is a business model which basically allows consumers and individuals to sell services and utilities to companies.
For example:- a makeup blogger who shares an affiliate link to a makeup brand's products to their blog.
Read our blog about Effective Gamification Strategy for business: 4 Effective Gamification Strategies for Business
Top 10 E-commerce Websites of 2022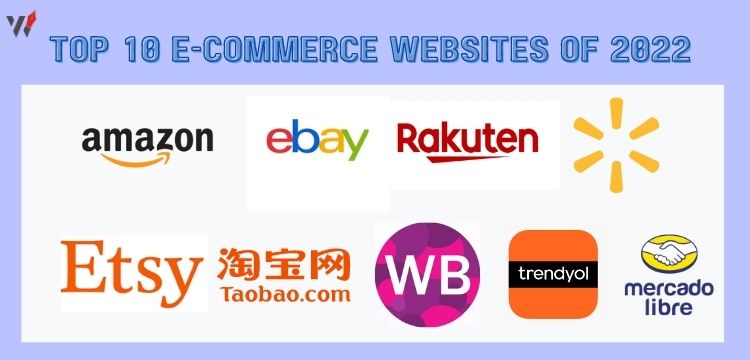 Now that we are clear with the concept of e-commerce and e-commerce website lets see which e-commerce websites are leading in the game:-
Amazon
The success story of Amazon started in July 1995 by Jeff Bezos who is a computer science and electrical engineer. He graduated from Princeton University. He settled in Seattle after his resignation from an investment Bank, and found what is now known as Amazon.(1)
As of now, Amazon's net worth as per the quarterly culmination on Dec. 31, 2021, was $438.118 billion. This has only been possible because of their amazing customer service and product management and fast delivery of goods and services.
Ebay
Ebay was pioneered by Pierre Omidiyar in the year 1995. It is said that he founded this e-commerce website so that his girlfriend could sell pez dispensers. Before founding ebay Pierre used to work for a small startup business called General Magic. In his spare time Pierre managed a small business of consulting which is termed as Echo Bay Technology.(2)
The journey to being a huge e-commerce website was not easy. It had its own difficulties as well. The net worth of ebay as of May 11, 2022 is $27.58B. Ebay has been named as the world's most expanded garage sale.
Rakuten
Hiroshi mikitani is the founder of Rakuten, a Japanese company founded in the year 1997. It is currently based in tokyo. It is the most used and expanded e-commerce website in Japan. The net worth of Rakuten as of may 11, 2022 is $10.31B. It is a leading e-commerce website amongst the Japanese population. It provides the option for basic as well luxurious shopping.
Walmart
Sam Moore Walton was the pioneer of Walmart. He opened his first Walmart on 2nd July 1962 in Rogers, Arkansas . He is also the pioneer of Sam's Market. Later on Walmart grew to be the world's biggest employer as well as largest corporation by revenue. In 2022 walmart u.s had around $47.8b e-commerce sales.
Etsy
Etsy was founded in the year 2005, by entrepreneur Rob Kalin and partner Chris Maguire and Haim Schoppik.It is an American e-commerce company that provides a worldwide internet marketplace for handmade goods and services. The net worth of Etsy as of May 11 2022 is $10.98B.
Taobao
Jack Ma is the founder of Taobao. He founded it in 2003. It is a Chinese online shopping platform.it was the 8th most visited website in the year 2021. It is headquartered in Hangzhou. It is owned by Alibaba.
Wildberries
Wildberries was founded by Tatyana Bakalchuk and her husband Vladislav Bakalchuv. It was founded in 2004. It is one of the largest online retailers of Russia which work with famous brands to offer fashion goods, apparel and electronic items.in the year 2021 the net worth of the CEO of wildberries was estimated to be $13.3B.
Trendyol
Dermet Mutlu is the pioneer of Trendyol. She founded it in 2009 and since then it has become Turkey's largest fashion e-commerce platform. Mutlu dropped out of Harvard Business Schools MBA programme in the year 2009 and founded her own e-commerce website. This famous e-commerce website which is famous all over Turkey is worth $16.5B .
Mercadolivre
Mercadolivre was founded by Stellio Passos Tolda, Herman J. Kazah and Marcos Galperin. Marcos, the CEO of the website, settled the company while he was still pursuing studies at Stanford University. Mercadolibre is the biggest e-commerce and payment ecosystem in Latin America.
These are the best 10 E-commerce websites used in the year 2022 The differentiating factors amongst these e-commerce websites are the use of ideas, need and solution.
Read our blog about Best Social Media Marketing Strategies for Startup Business: Best Social Media Marketing Strategies for Startup Businesses
Takeaway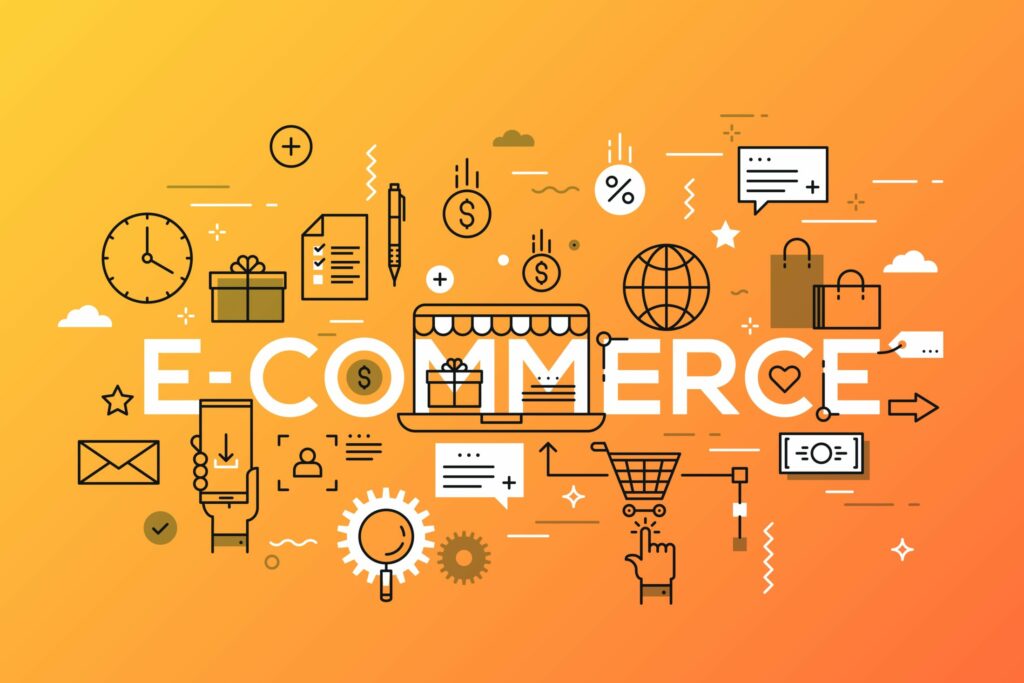 So in the above article we have covered topics like what e-commerce websites are, what are the different forms of e-commerce websites.We even went through the Top 10 e-commerce websites in 2022. The article highlights the best E-commerce websites that are prevalent in 2022. It also examines the sales, and the recognition of these e-commerce websites. It also tried to identify what could have been the possible factor for the the growth of these e-commerce websites.
Read our Blog about Latest Digital Marketing Trends: Latest Digital Marketing Trends
FAQ's:-
What do you mean by e-commerce websites?
Ans:- E-Commerce websites are virtual stores that allow virtual dealings of utilities and services through chains of exchange of information and funds over the internet usage.
What are the most used e-commerce websites of 2022?
Ans:- Some top e-commerce websites of 2022 are:-
Amazon, Ebay, Etsy, Walmart, Rakuten etc.
What are the uses of E-commerce websites?th
The E-commerce websites are used for:
It is used as a medium for virtual shopping
It provides space for new talents
It has wide range of options to choose from
Cited from:-
(1)Sadq, Zana Majed, Hawre Nuraddin Sabir, and Vian Sulaiman Hama Saeed. "Analyzing the Amazon success strategies." Journal of process management and new technologies 6.4 (2018).
(2)Bland, Eugene M., Gregory S. Black, and Kay Lawrimore. "Determinants of effectiveness and success for eBay auctions." The Coastal Business Journal 4.1 (2022): 2.