Reddit, have you heard this term before? Whenever you think of branding, the apps which come to your mind are Instagram, Facebook, and Whatsapp. Reddit is an app with sheer popularity. But when utilized properly, you will find this app very helpful for branding. Ignoring other noises and going the right path is a challenge. That's where Reddit comes to your rescue. If you are a part of the rat race, then you have to struggle a lot to get the piece of cheese. But, if you are out of the rat race, then there's a high possibility that the cheese will be yours. Know how to start branding on Reddit.
Read our blog about Branding Through Social Media 2022: Thinking of Brand Building ? Social Media is the best way in 2022 !
Reddit for Business:
At first, you might ignore Reddit for your branding career. But, with proper ways, this could also generate huge traffic for your brand. It establishes your brand to high authority and adds charm to the name of your brand. If you focus on Reddit investing, it will lead your brand to success. There's a huge amount of social activity going on in the app. Before moving on to the handy ideas for marketing your brand on it. First, let's focus on the importance of this platform.
Importance of Reddit:
"The Front Page of the Internet" is the slogan of the Reddit app. The slogan suits it well. It indicates that it should always be in the headlines and always be a topic for discussion. The users of app love to share information on art, history, social topics, and tech. Users get the freedom to upvote or downvote your content. So, the content shared on the Reddit app should be useful. Whenever a particular post receives more upvotes, then it gets featured on the homepage. This app contains mostly US users. So, you are going to target US markets for your brand.
Like Reddit know Pinterest a Brand Building Platform: What is PINTEREST – The Most Underrated Brand Building Platform
As per Alexa, the USA ranks fifth for being its users with 330 million active users and 21 million users are connecting every day [1]. That's the reason it gives an edge competition to other social media apps. Don't underestimate the power of this platform. It can create wonders for you and your brand. Many users have the habit of posting content from other platforms which seems interesting to them. For example, if a boy finds a garment advertisement on X platforms, there's a very high possibility that he will report it on Reddit.
Reddit, What is it used for?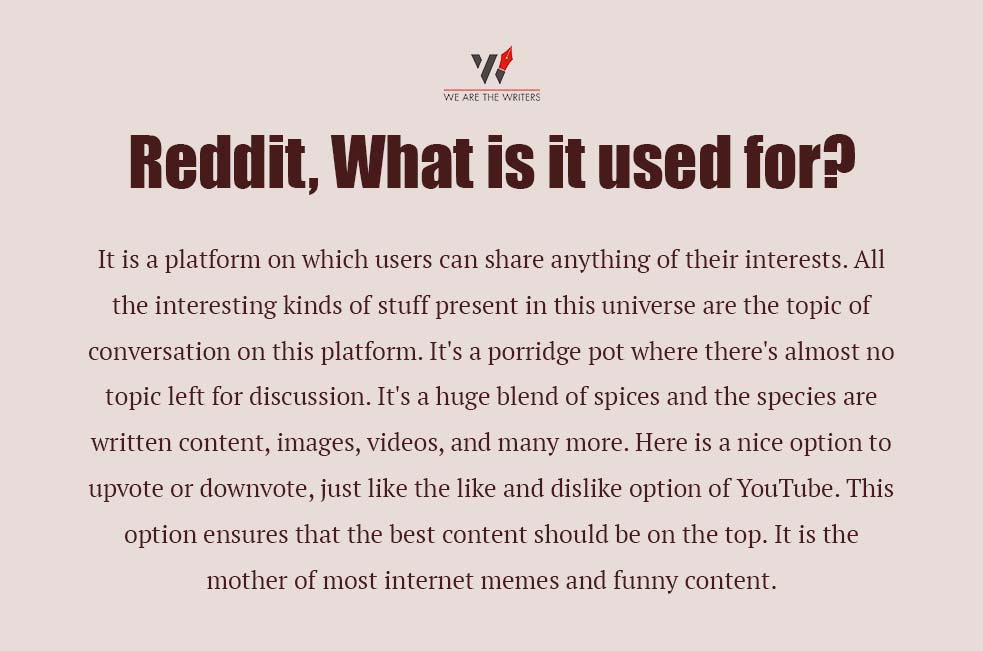 It is a platform on which users can share anything of their interests. All the interesting kinds of stuff present in this universe are the topic of conversation on this platform. It's a porridge pot where there's almost no topic left for discussion. It's a huge blend of spices and the species are written content, images, videos, and many more. Here is a nice option to upvote or downvote, just like the like and dislike option of YouTube. This option ensures that the best content should be on the top. It is the mother of most internet memes and funny content.
How to use Reddit?
You could download this app from the Google Play Store or App store at your convenience. This app is also available on the desktop version. To advertise your brand with the help of this app, follow the steps given below.
Download the Reddit app, and do the sign-up if you don't have an account. Otherwise, go for a login.
Give a proper user name as per your brand name.
Create a strong password for your Reddit account.
Now, you need to opt for the category of your brand.
The last step for your account is to press the Finish button, and that's it.
What is Subreddit?
The subreddits are composed of specific topics like food, technology, or music. The members using app are known as Redditors. Mainly, the subtopics of discussion are referred to as subreddit. Each subreddit contains an up arrow and a down arrow at its side. That implies the more the number of upvotes, the more interesting the content. Currently, there are almost 130,000 active users, and the number is increasing day by day. You can freely participate in subreddits except for private subreddits. To be a part of those private subreddits, you have to go through a specific process.
Boost your Branding in Linkedin: Learn 15 tricks to Boost Your Branding on LinkedIn
How to do Branding on Reddit?
If you want to promote your brand, then this is the time to work upon it. Explore the endless possibilities of the Reddit app. However, to be a successful brand, you need to work with a proper strategy. You will learn the strategy with the help of the 10 tips.
According to a research paper, there were findings suggesting that widespread underprovision of votes is happening on Reddit, arguably the internet's largest social voting community. Notably, Reddit overlooked 52% of the most popular links the first time they were submitted. This suggests that many potentially popular links get ignored, jeopardizing the site's core purpose. We conclude by discussing possible reasons behind it, and suggest future research on social voting sites[2].
Reddit Branding Strategy: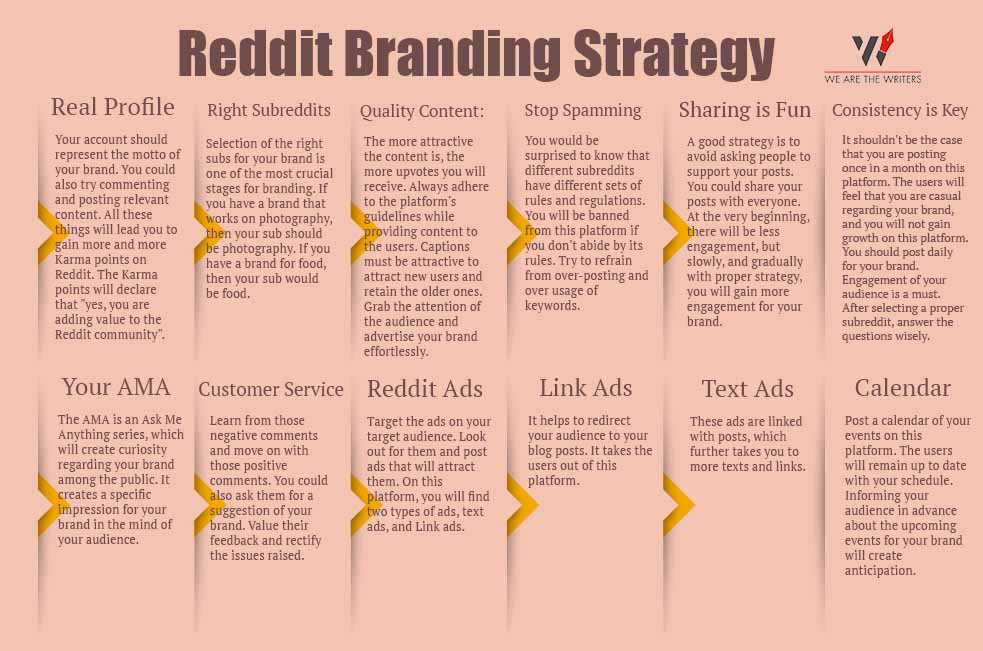 Real Profile
You have completed the first step of creating your account. Creating an impactful profile is the real challenge in the branding game. Your account should represent the motto of your brand. It should be the mirror image of what you are going to deliver to the users? You could also try commenting and posting relevant content. The username should be selected very carefully, as it can't be altered. All these things will lead you to gain more and more Karma points on Reddit. The Karma points will declare that "yes, you are adding value to the Reddit community".
Right Subreddits
Let's take the example of a nation. The whole nation can be referred to as a Reddit account, and the states of the country can be referred to as the Subreddits. Selection of the right subs for your brand is one of the most crucial stages for branding. If you have a brand that works on photography, then your sub should be photography. If you have a brand for food, then your sub would be food.
Quality Content
In the end, the spices won't matter. The major content of the curry matters a lot more than spices. So make sure to provide quality content that is useful to the users and is also informative. The more attractive the content is, the more upvotes you will receive. Always adhere to the platform's guidelines while providing content to the users. Captions must be attractive to attract new users and retain the older ones. Grab the attention of the audience and advertise your brand effortlessly.
Read our blog about Content Writing Services for Quality Content: Effortless With Quality: How Content Writing Services Simply Content Curation
Stop Spamming
You would be surprised to know that different subreddits have different sets of rules and regulations. You will be banned from this platform if you don't abide by its rules. Try to refrain from over-posting and over usage of keywords. Sharing blogs and useful articles will also help to boost your branding. For effective branding, you need to be very conscious of the comments and do not post the same content on every post. That will be referred to as spamming on this platform.
Sharing is Fun
The concept behind branding is to learn and grow. I will provide a key tip, never ask for an upvote on Reddit. This will lead to severe repercussions for your brand. A good strategy is to avoid asking people to support your posts. You could share your posts with everyone. At the very beginning, there will be less engagement, but slowly, and gradually with proper strategy, you will gain more engagement for your brand.
Consistency is Key
It shouldn't be the case that you are posting once in a month on this platform. The users will feel that you are casual regarding your brand, and you will not gain growth on this platform. You should post daily for your brand. Engagement of your audience is a must. After selecting a proper subreddit, answer the questions wisely.
Your AMA
The AMA is an Ask Me Anything series, which will create curiosity regarding your brand among the public. It creates a specific impression for your brand in the mind of your audience.
Customer Service
With this platform, you could directly connect with your customers. There will be cases when someone will comment both positively and negatively on your brand. Learn from those negative comments and move on with those positive comments. You could also ask them for a suggestion of your brand. Value their feedback and rectify the issues raised.
Reddit Ads
Target the ads on your target audience. Look out for them and post ads that will attract them. On this platform, you will find two types of ads, text ads, and Link ads.
Link Ads
It helps to redirect your audience to your blog posts. It takes the users out of this platform.
Text Ads
These ads are linked with posts, which further takes you to more texts and links.
Calendar
Post a calendar of your events on this platform. The users will remain up to date with your schedule. Informing your audience in advance about the upcoming events for your brand will create anticipation.
Digital Marketing Strategy for your brand: 8 easy steps to create Digital Marketing Strategy for a brand!
Building Brands on Reddit:
Reddit might feel it is underrated, but actually, it has many positive sides. Instead of focusing on its negative sides, have a look at its positive side also. I hope that with the help of this blog, you will be able to connect with more and more audiences and expand your brand.
References:
[1] 11 Reddit Marketing Tips You Need to Leverage in 2022
[2] Gilbert, E. (2013, February). Widespread underprovision on reddit. In Proceedings of the 2013 conference on Computer supported cooperative work (pp. 803-808).