Do you want to expand your brand on many social media platforms? Do you want to achieve success in your career? Do you want to know how to invest your time in social media and be productive? The solution to all your questions is right here in this blog. Today, we are going to focus on one of the most used social media apps. Can you guess? Okay, so your wait is over. The social media for today's topic is Twitter. Yes, you heard it right.
It is not only for sharing and connecting with people. It's also about polishing your career and starting your entrepreneurial journey with branding on Twitter and being up to date with Twitter trends.
Your brand could achieve great heights if you invest your time, money, and mind properly in this app. Keep one thing in mind: social media could either destroy your career or build up your career. It all depends upon how you use it? Tie up your hair, take a pencil and paper and be ready to start your branding journey with this app.
Know more about Branding in Social media 2022:
What is Twitter used for?
It offers services to connect with people and friends all over the world. Sharing messages, thoughts, video messages, and pictures is also the prime motto of this app. It was founded by Jack Dorsey in 2006. At first, it was only recognized as a messaging app, but later, it became popular as a medium to share opinions and views of people with one another.
Twitter Logo:
You could find a fluttering hummingbird as the Twitter logo. You can download this app from your respective stores, either Google Play Store or the Apple app store. The Twitter app offers many features and ways to upgrade your branding journey with this app. It holds a record of 175 million active accounts and is thus the most popular social networking site[1].
Twitter Marketing Tools:
If you already have an account in the app, then you need to do Login otherwise, you just need to make Twitter sign up. After doing all this stuff, congratulations buddy. You have created a Twitter account for your brand. According to a survey, 1% of the total US population are Twitter users[2].
Features of Twitter: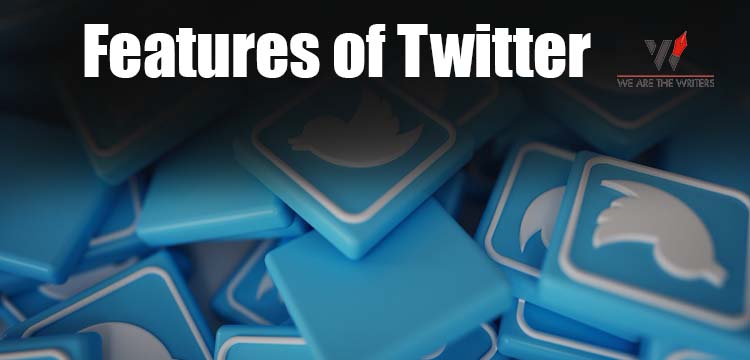 Profile Set up:
Profile Name:
Create your profile name according to the motto of your brand. Make sure that it is short, and that's why it's memorable. Inculcate those letters and special symbols which are catchy and cover fewer characters. Your profile name is also known as a Twitter handle. This is not just the name of your profile, but the feeling of your audience will also be attached to it. So, don't mess with your profile name.
Images:
It allows you to upload two photos, one is the cover photo, and another, one is the profile photo section. For the selection of your cover photo, you could refer to the Canva app. You could also try the logo or your professional pic for your profile photo.
Color Palette:
With a proper selection of colors, you could attract the attention of many. Just click on edit profile and change the theme color.
Bio:
After all these steps, you need to fill in the important details of your brand in the bio of your profile. Your maximum character limit for the bio is 160 characters. Providing your brand's website link would add a cherry to the cake. People will be transferred directly to the website of your brand with the help of this link.
People Following:
Make a Twitter search and follow some people from which you could learn. There should be sharing of knowledge and content between you and your followers. Keep your shyness away from you while following people and interacting with them.
Twitter Lingo:
The Twitter app offers many special elements to upgrade your profile. Let's take a ride of those elements.
To get involved in conversations going on the Twitter app, you could use the pound symbol (#). It helps people to attach to your ideas and follow your brand.
Retweets:
You will find a button below the post for retweeting. Just like we share a post on Facebook, you could share a post on Twitter.
Mentions:
When there's a conversation going on between two people and your brand would be the topic of conversation. Then, people use the mentions option to let you know that they are talking about your brand.
Great content sharing is like a bar of gold for your brand. You will learn by trial and error method. No one becomes a master in any topic in just one day.
Trending Hashtags:
One of the biggest advantages of Twitter apps is that you don't need to invest too much money on this platform. Every minute, there's a trending topic, and you can join the topic by using the hashtag symbol.
Channel Maintenance:
If you buy a car and don't maintain it, then the car is of no use. In the same way, if you have a Twitter account for your brand, then it's vital to maintain it. Make a schedule for tweeting like once in a week and be punctual with this schedule.
Read about Best Communication Channels for brand 2022: Best Communication Channels for your brand in 2022
Marketing Strategy for Twitter:
Using Twitter as your brand tool is a new normal. You will feel comfortable with it, once you start using it. Here, I am providing you with the marketing strategy for your branding career through Twitter. With these 15 strategies, you could ace your career with branding on Twitter.
Twitter Marketing Trends: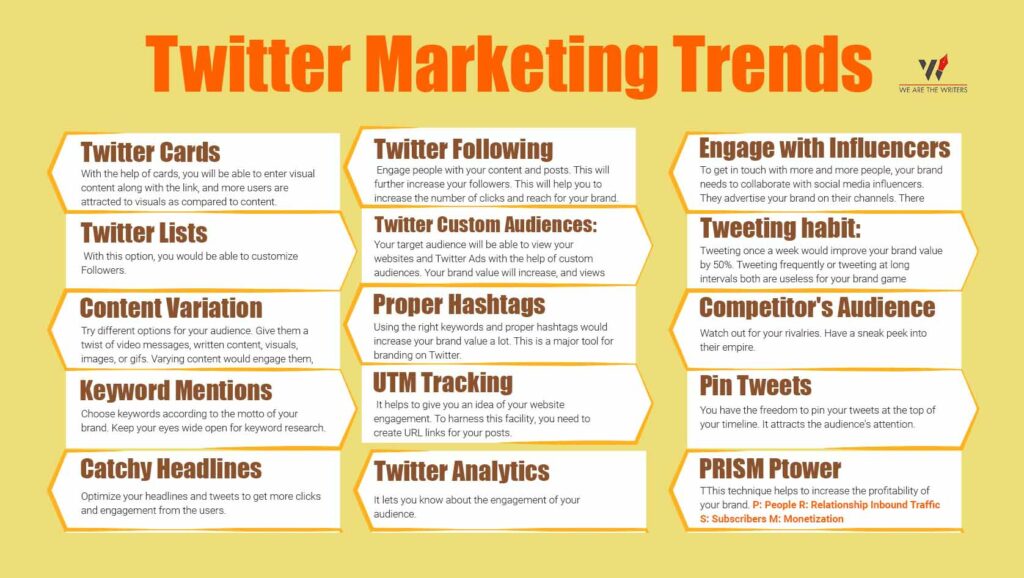 Twitter Cards:
Broadly, you will find 5 types of Twitter cards which are a Summary card, a summary with large image, player card, app card, cards markup. With the help of coding, you could enable these cards for your brand. These cards have proved to be an awesome way to attract customers. With the help of cards, you will be able to enter visual content along with the link, and more users are attracted to visuals as compared to content.
Twitter Following:
Engage people with your content and posts. This will further increase your followers. Be more active on Twitter as compared to before. This will help you to increase the number of clicks and reach for your brand.
Engage with Influencers:
To get in touch with more and more people, your brand needs to collaborate with social media influencers. Social media influencers are those who have a huge following, and people are inspired by their life. People have the habit of copying these influencers. If your brand passes the quality check of these influencers, and they advertise their brand on their channels. There would be an exponential growth of Twitter followers.
Also Read about Branding on Facebook: Branding on Facebook | 10 Easy Steps to use Facebook Branding
Twitter Lists:
With this option, you would be able to customize Followers. To enable the lists option.
Select the Lists tab in your profile.
Tap on Create a List.
Select people which you want to list and press the add to list option.
Twitter Custom Audiences:
Your target audience will be able to view your websites and Twitter Ads with the help of custom audiences. Your brand value will increase, and views will be converted to your profit.
Tweeting habit:
Tweeting once a week would improve your brand value by 50%. Tweeting frequently or tweeting at long intervals both are useless for your brand game.
Content Variation:
Try different options for your audience. Give them a twist of video messages, written content, visuals, images, or gifs. Varying content would engage them, and there will be more views on your posts.
Proper Hashtags:
Using the right keywords and proper hashtags would increase your brand value a lot. This is a major tool for branding on Twitter. Here are the steps to choose hashtags for your post.
Visit an influencer page on the Twitter app.
Search for their tweets and hashtags.
Try to incorporate their tweets and hashtags in your posts. Using their tweets doesn't mean you are supporting plagiarism, you could re-use those hashtags.
Watch out for your rivalries. Have a sneak peek into their empire. Twitonomy is the best way to get details of your competitor's tweeting habits. You just need to enter their name and you can find them on that website.
Keyword Mentions:
Choose keywords according to the motto of your brand. Keep your eyes wide open for keyword research. To reach out to more and more people, keyword research is a very important tool.
UTM Tracking:
It helps to give you an idea of your website engagement. To harness this facility, you need to create URL links for your posts. With the help of a UTM tracking system, you could add more information to your posts.
Pin Tweets:
You have the freedom to pin your tweets at the top of your timeline. It attracts the audience's attention. Whenever a customer visits your Twitter profile, their eyes would first fall on the pinned tweet, which is a profit for you.
Optimize your headlines and tweets to get more clicks and engagement from the users.
Twitter Analytics:
It helps you to know the number of views and clicks your tweets are fetching? It also lets you know about the engagement of your audience.
PRISM Power:
This technique helps to increase the profitability of your brand. PRISM on Twitter represents:
P: People
R: Relationship
I: Inbound Traffic
S: Subscribers
M: Monetization
Read about Branding in Linkedin: Learn 15 tricks to Boost Your Branding on LinkedIn
Thoughts:
Twitter is undoubtedly the best app to advertise your brand and increase your business. Download Twitter today itself and make your online presence through it. Now, you are trained enough to convert your tweets to profit for your brand. So, be ready to enjoy your future ride.
References:
[1] Twitter for Beginners: The Complete Guide
[2] Mislove, A., Lehmann, S., Ahn, Y. Y., Onnela, J. P., & Rosenquist, J. (2011). Understanding the demographics of Twitter users. In Proceedings of the International AAAI Conference on Web and Social Media (Vol. 5, No. 1, pp. 554-557).