WhatsApp is part of the daily life of millions. Without this app, our life seems to be incomplete. As per the census in February 2016, there were over 1 billion active users, and 1 million new users are registering every day on this mammoth app. To enlarge your brand, it's necessary to use social media with a huge audience, and WhatsApp is your right destination. Everyone would love to expand their business on such a platform that has a lot of active users like WhatsApp. In 2016 App introduced their WhatsApp Business app. You can taste the Business account of WhatsApp in various creative ways. But what about, Branding on WhatsApp?
Number of daily active WhatsApp Status users from 1st quarter 2017 to 1st quarter 2019(in millions)

With over 1.5 billion monthly active users, WhatsApp is the most popular mobile messenger app worldwide. As of 2019, the chat app had an estimated 68 million users in the United States, with forecasts projecting an audience size of almost 86 million users in 2023. Despite a sizable app audience, WhatsApp still lags behind competitors Facebook Messenger and Snapchat in terms of U.S. mobile reach and brand awareness. However, according to recent industry data, user engagement with WhatsApp grew 44 percent year-over-year, putting it ahead of other social networks including Facebook, Instagram and Twitter.

Statista
Have you noticed many brands have dedicated a specific number to answer calls and messages through WhatsApp Business? It makes it easy to have one to one conversation with the customers. You can also try this awesome feature of WhatsApp and give a head start to your Branding career. Confused about Branding on WhatsApp? No worries, all your doubts will be cleared with this blog and you will be ready to explore your branding career with WhatsApp.
Read our blog about Branding on Linkedin: Learn 15 tricks to Boost Your Branding on LinkedIn
What is WhatsApp used for? | Branding on WhatsApp
Being a social media platform, it delivers texts, calls and also receives messages. It's a famous app with a huge audience, and its ever-increasing popularity makes it special. You can enjoy this app with the help of an internet connection, and it is available both on the Google store and App store. You can find two types of WhatsApp with different features and applications. To communicate with near and dear ones, It is the perfect choice. But, if you are thinking of starting your brand and promoting your products or services with the help of App, then the Business account of App is also available.
Features of WhatsApp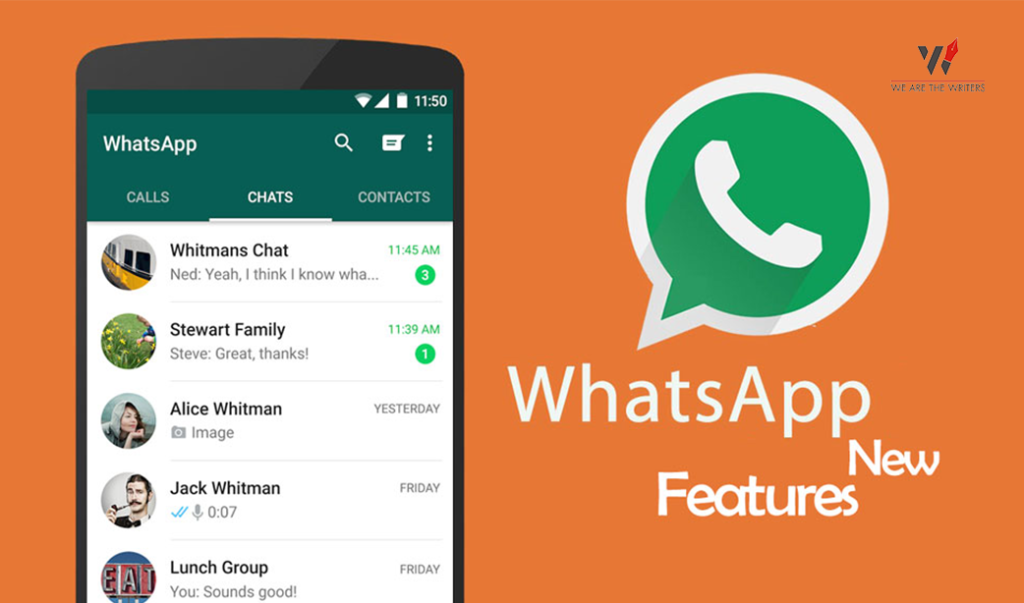 After downloading this app from your respective stores, open the app and complete the process of WhatsApp login.
You will be asked for your name, WhatsApp profile picture, number. App will send you an OTP for your account verification.
Be ready to enjoy this ride as you have completed the first step very nicely.
There are four options at the top, i.e, Camera, Chats, Status, and Calls.
At the topmost portion of the Chats section, you will find three dots that represent all the basic settings of App.
The search option at the head bar of App helps you to search your contacts list.
The WhatsApp status contains the postings of pictures or videos by your contacts.
In the calls section, you will find the history of contacts who have contacted you through WhatsApp calls or WhatsApp video calls.
This is all about App, which is used to connect all over the world with friends and family members.
WhatsApp for Business Communication:
WhatsApp messaging is the most suitable method for connecting with potential customers. That's why its business account has been introduced in the global market. You need to download this app from your respective store according to Android and iOS users. Then, proceed with the WhatsApp business login process. Follow these steps in order to harness this app for your branding career.
Once you read the terms and conditions, click on agree to the terms and conditions options.
You need to register your phone number for your brand on this app. The number for both WhatsApp should be different. However, you can use both through the same device.
For your business account verification, you will receive an OTP.
Submit the name of your brand and the type of your brand. Upload a profile picture associated with your brand.
Tap on the next option, and now clap for yourself. You are now ready to connect with potential customers and enjoy your branding journey.
Know how to create Brand Voice: How to make money blogging? 4 ways blogging can create brand voice
Feature of WhatsApp Business Account: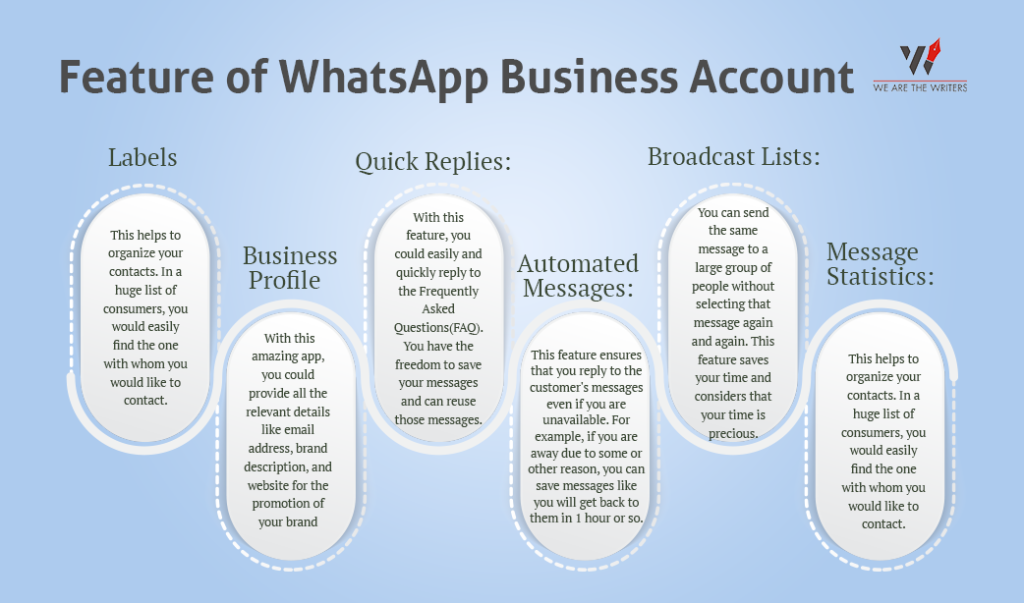 This app is exclusively made to promote your brand online and offers a list of features. Try these features to take your brand to the top notch position of the business industry.
Labels:
This helps to organize your contacts. In a huge list of consumers, you would easily find the one with whom you would like to contact.
Business Profile:
With this amazing app, you could provide all the relevant details like email address, brand description, and website for the promotion of your brand.
Quick Replies:
With this feature, you could easily and quickly reply to the Frequently Asked Questions(FAQ). You have the freedom to save your messages and can reuse those messages.
Automated Messages:
This feature ensures that you reply to the customer's messages even if you are unavailable. For example, if you are away due to some or other reason, you can save messages like you will get back to them in 1 hour or so. You can also try a welcome message for new and potential customers.
Broadcast Lists:
You can send the same message to a large group of people without selecting that message again and again. This feature saves your time and considers that your time is precious.
Message Statistics:
One can access the status of your information sent, received, read, or replied to.
How to Introduce your Business on WhatsApp?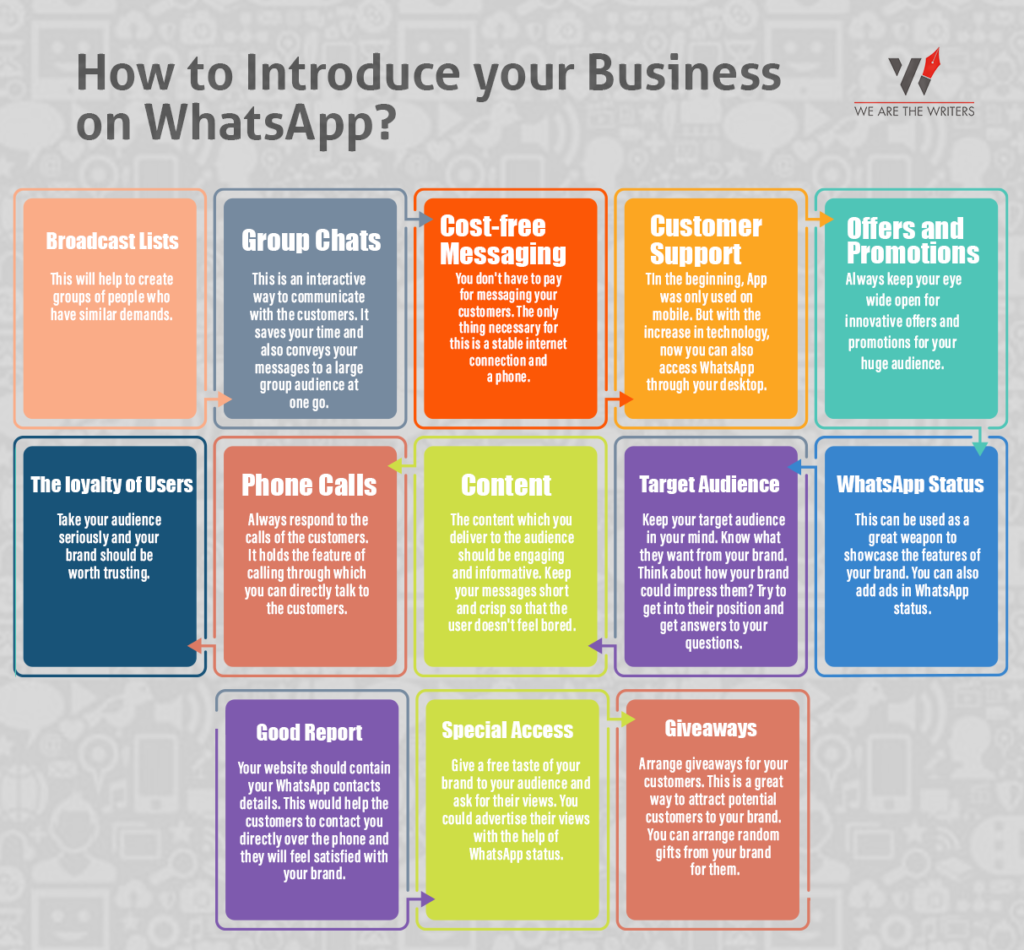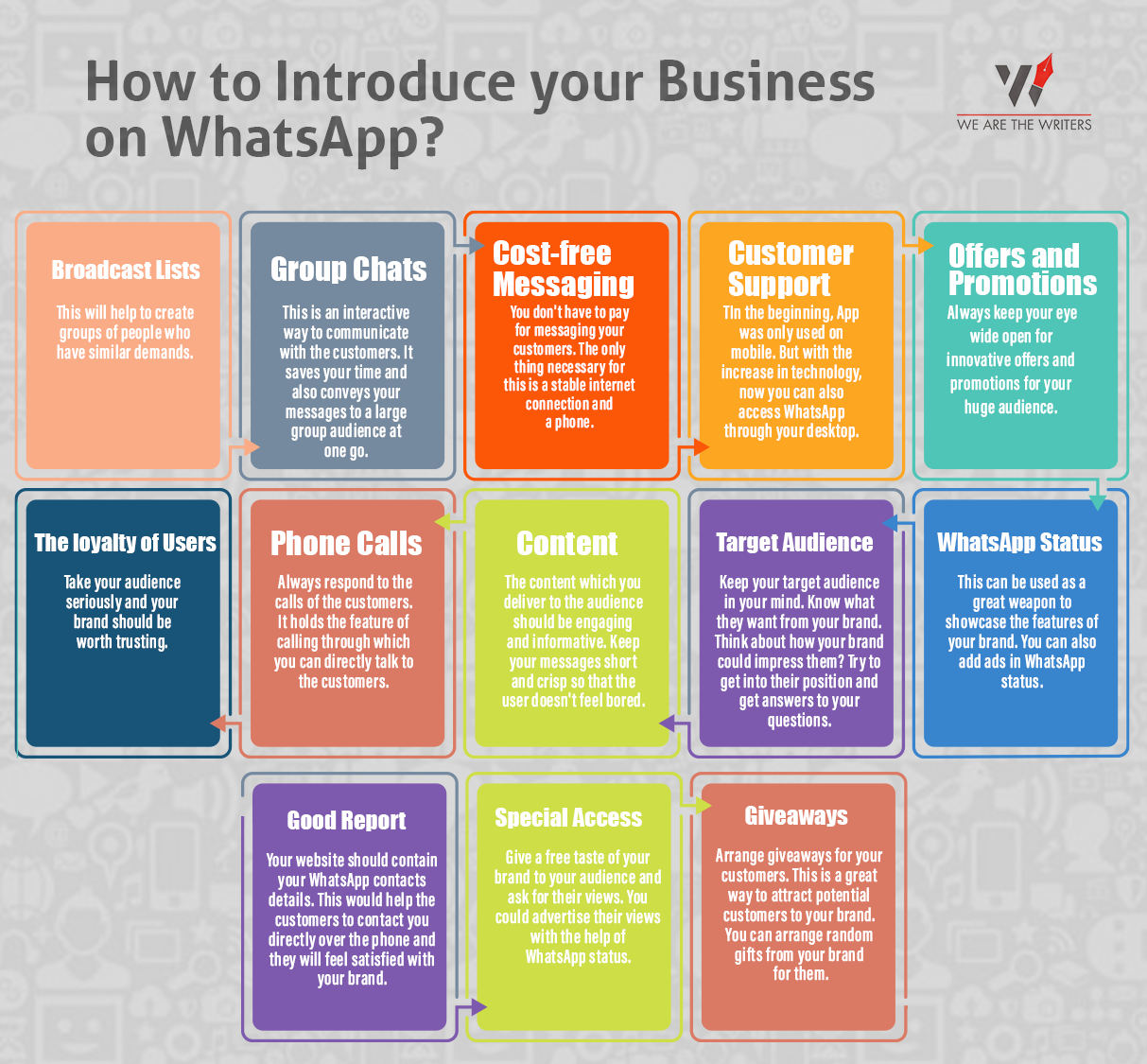 You can easily introduce your brand with the help of the WhatsApp business. But, this is not enough. You have to maintain your business account properly in order to advertise your brand. Now, let us have a look at the best ways for your brand promotion.
Broadcast Lists:
This will help to create groups of people who have similar demands. This would help you to send the same messages at once to a large group of people.
Group Chats:
This is an interactive way to communicate with the customers. It saves your time and also conveys your messages to a large group audience at one go.
Cost-free Messaging
You don't have to pay for messaging your customers. The only thing necessary for this is a stable internet connection and a phone. With this, you can send multiple messages, WhatsApp videos, and WhatsApp ads related to your brand.
Customer Support:
In the beginning, App was only used on mobile. But with the increase in technology, now you can also access WhatsApp through your desktop. You can access the WhatsApp Business Web through your desktop or PC. The only thing which you need to do is to scan the QR for App on your computer.
Offers and Promotions:
Always keep your eye wide open for innovative offers and promotions for your huge audience. There will be many other brands, but why would people use only your brand? For that, you need to do something out of the box which is different from your competitors.
The loyalty of Users:
Take your audience seriously and your brand should be worth trusting. Your brand should be trustworthy and deliver quality content to the public. The audience has many other options other than brands. In order to grow your brand, the loyalty of the users is a must.
Phone Calls:
Always respond to the calls of the customers. It holds the feature of calling through which you can directly talk to the customers.
Content:
The content which you deliver to the audience should be engaging and informative. Keep your messages short and crisp so that the user doesn't feel bored.
Target Audience:
Keep your target audience in your mind. Know what they want from your brand. Think about how your brand could impress them? Try to get into their position and get answers to your questions.
WhatsApp Status:
This can be used as a great weapon to showcase the features of your brand. You can also add ads in WhatsApp status. Post your ads twice daily. Don't post too many ads on the same day. People have the tendency to ignore too many ads.
Good Rapport:
Your website should contain your WhatsApp contacts details. This would help the customers to contact you directly over the phone and they will feel satisfied with your brand. It is a great way to win their trust and establish a nice connection with your audience.
Special Access:
Give a free taste of your brand to your audience and ask for their views. You could advertise their views with the help of WhatsApp status.
Giveaways:
Arrange giveaways for your customers. This is a great way to attract potential customers to your brand. You can arrange random gifts from your brand for them.
Read more about Potential Mobile Apps for Marketing 2022: Discover the Marketing Potential of Mobile Apps in 2022
Your business would receive huge profits and great reach by these ways.
Conclusion:
Instead of randomly scrolling WhatsApp, it can also be used to build your brand and offers you so many advantages. The evolution of App from a chatting tool to a branding tool is worth watching. Never kill the relationship between you and your audience. Always remember that the audience can delete your messages with just one click. To avoid this situation, always be soft and treat them as your god. It is one of the most used social media platforms on a daily basis for your whole branding career. Without a second thought, go grab this opportunity and install WhatsApp Business for your branding journey.