If you are a business person, then you must have come across the term Branding VS advertising. and advertising. But you might be confused between the two. It's important to learn the difference between the two so that you can apply it in your business and earn profits. Once you learn the definition and difference between these two, you would be able to build a good rapport with your customers.
Business is not only about earning profits and selling your products. It's even more than that. You need to be consistent, soft, gentle, and sharp-minded to run your business smoothly. However, ups and downs are a part of the business. Without facing good times and bad times, you won't be able to learn many practical aspects of running a business.
Personal branding is not only for people who own business. It is essential for anyone who wants to showcase their story and ability to the world, Read more about it: What Is Personal Branding ? Brand yourself with 0 investment
What is Branding?
The promise which you make to the customer that you will provide good quality services is known as branding. The people around you will create an image regarding your business in their minds, and that's what is known as branding. Branding is nothing but the name from which you earn respect, profits, and reputation. Your brand deals with lots of other factors. Your brand should influence people around you.
The brand should be a mark of your identity. It should define you and your motto. If you are a business person, then you are nothing without a brand. Your brand will help your customers to differentiate you from others. The path to branding is not that easy. But at the same time, it's not rocket science.
What is Advertising?
Every day, you go through many ads for different products and services. These ads are targeted over specific people, who are known as the target audience. Advertising helps people to know that, yes you exist in the market. They get to know about your products and services. They use and compare your services with other brands. You should always look out for some innovative and creative ways to advertise your products and services. It should be unique and designed in a specific way to attract customers.
Be ready with a binocular to look out for the ways which pull customers towards your brand. Advertising is all about your thinking capabilities and has nothing to do with your products or services. The better you advertise, the more people will pay attention to your business.
According to a book, advertising is an important topic that focuses on issues from a range of disciplines. In keeping with recent developments in the study of language and advertisements, this comprehensive introduction to advertising discourse examines the language of contemporary advertising, seeing it not as an isolated object, but in complex interaction with the texts around it, with music and pictures and, importantly, with the people who make and experience it[1].
Know difference between Paid Ad vs Content Marketing: Paid Advertising vs Content Marketing [ Advantages+Challenges]
Functions of Advertising
To maintain a high position in the market, advertising is a must for your brand. Brand awareness is a vital part of advertising. In order to promote your brand, you need to advertise.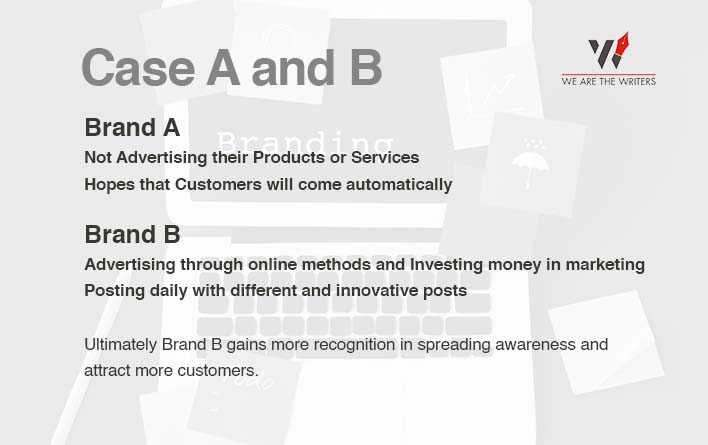 Let us understand it with the help of an example if there are two cloth brands A and B. Two cases are possible. One is brand A is not advertising their services or products and just sitting idle in the hope that customers will automatically come to you. Another case is that brand B is taking their brand online and posting daily with different and innovative posts related to their products.
Brand B is investing money in hoardings and email marketing. Then what do you think? Which brand will gain profit? Obviously, people will be attracted to brand B, and it will earn more power, respect in the market than brand A. Create a strong message for your customers and associate it with your brand.
Types of Advertising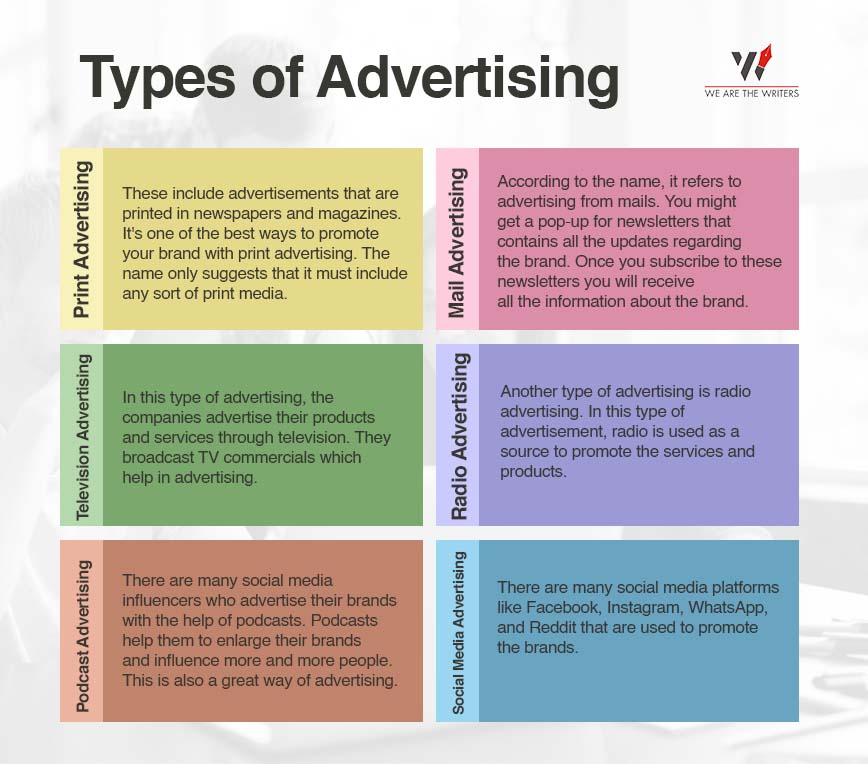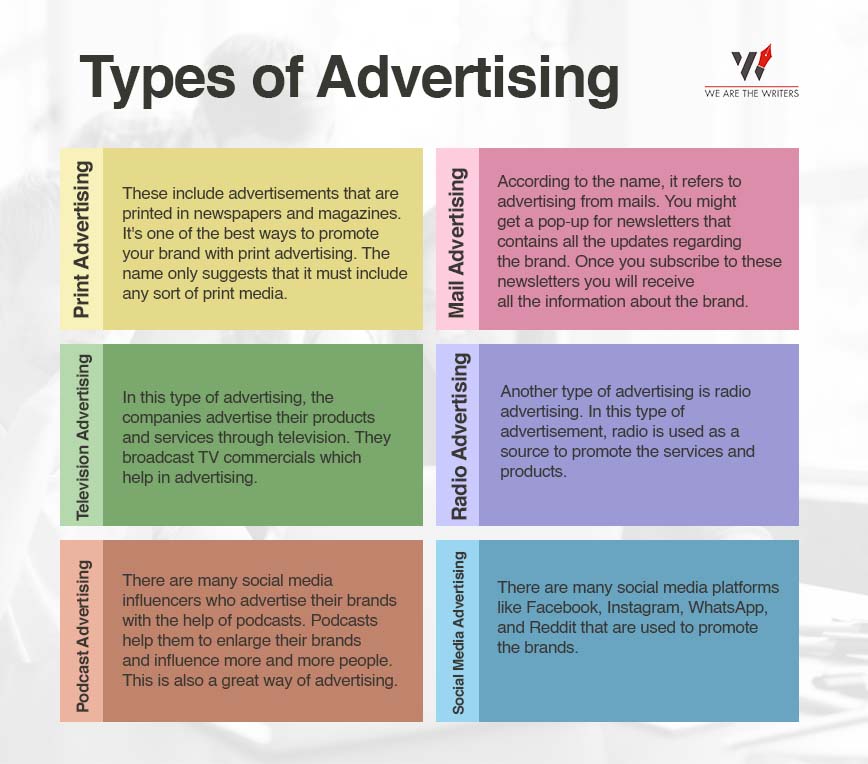 Print Advertising
These include advertisements that are printed in newspapers and magazines. It's one of the best ways to promote your brand with print advertising. The name only suggests that it must include any sort of print media.
Mail Advertising
According to the name, it refers to advertising from mails. You might get a pop-up for newsletters that contains all the updates regarding the brand. Once you subscribe to these newsletters you will receive all the information about the brand.
Also Read about What is Email Marketing?: What Is Email Marketing | Genuine Guide in 5 min
Television Advertising
In this type of advertising, the companies advertise their products and services through television. They broadcast TV commercials which help in advertising.
Radio Advertising
Another type of advertising is radio advertising. In this type of advertisement, radio is used as a source to promote the services and products.
Podcast Advertising
There are many social media influencers who advertise their brands with the help of podcasts. Podcasts help them to enlarge their brands and influence more and more people. This is also a great way of advertising.
Social Media Advertising
There are many social media platforms like Facebook, Instagram, WhatsApp, and Reddit that are used to promote the brands.
Thus advertising and branding go hand in hand. They can't be separated from each other. There's a very thin line between them which I have highlighted in this blog.
Branding Advertising Examples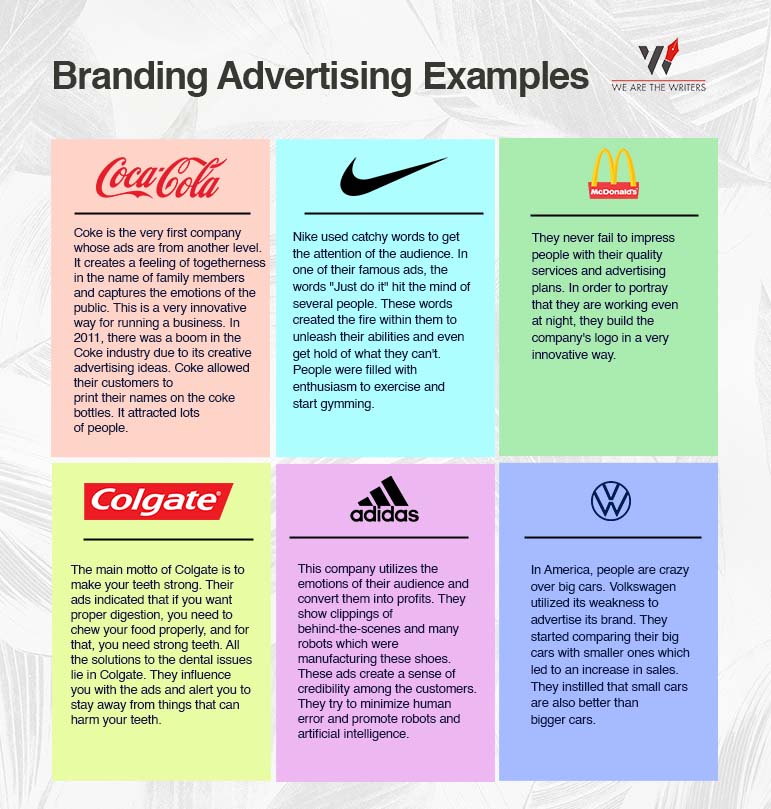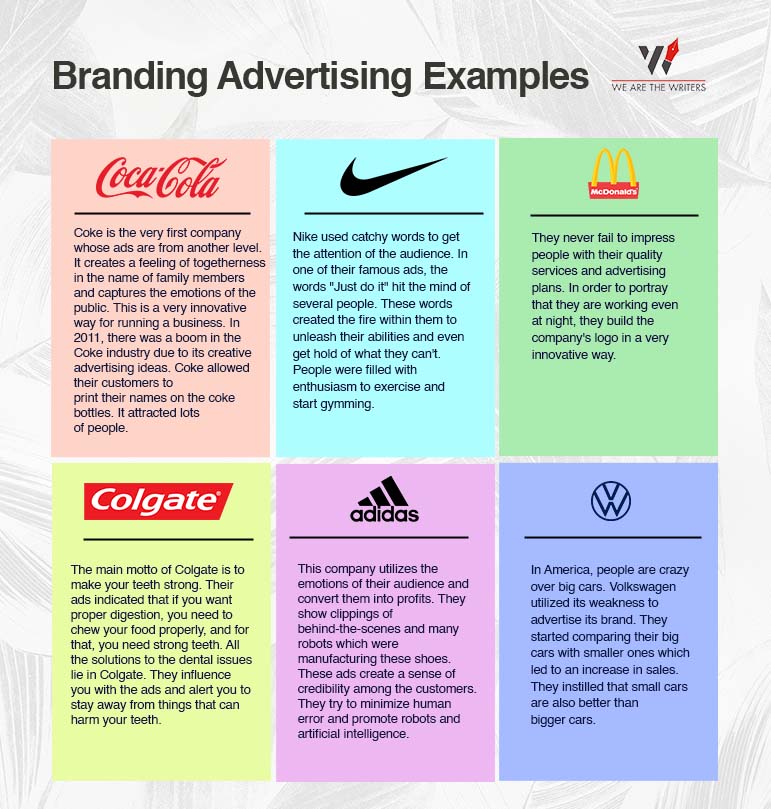 There are a lot of examples of branding advertising. Many popular brands utilize the power of branding and advertising very well. Here are a few such brands and their innovative write-up, which you may find interesting.
Coca-Cola
Coke is the very first company whose ads are from another level. It creates a feeling of togetherness in the name of family members and captures the emotions of the public. This is a very innovative way for running a business. In 2011, there was a boom in the Coke industry due to its creative advertising ideas. Coke allowed their customers to print their names on the coke bottles. It attracted lots of people.
Nike
Nike used catchy words to get the attention of the audience. In one of their famous ads, the words "Just do it" hit the mind of several people. These words created the fire within them to unleash their abilities and even get hold of what they can't. People were filled with enthusiasm to exercise and start gymming. There was a simple hidden meaning behind these words from Nike that avoid procrastination and start working right now. All of these words gathered public attention, and because of which their sales increased by eight million dollars.
McDonald's
They never fail to impress people with their quality services and advertising plans. In order to portray that they are working even at night, they build the company's logo in a very innovative way. There were two lighted lamps that were placed above the billboard. This indicated that they are working even at night and providing the best services.
Colgate
The main motto of Colgate is to make your teeth strong. Their ads indicated that if you want proper digestion, you need to chew your food properly, and for that, you need strong teeth. All the solutions to the dental issues lie in Colgate. They influence you with the ads and alert you to stay away from things that can harm your teeth.
Adidas
This company utilizes the emotions of their audience and convert them into profits. They show clippings of behind-the-scenes and many robots which were manufacturing these shoes. These ads create a sense of credibility among the customers. They try to minimize human error and promote robots and artificial intelligence.
Volkswagen
In America, people are crazy over big cars. Volkswagen utilized its weakness to advertise its brand. They started comparing their big cars with smaller ones which led to an increase in sales. They instilled that small cars are also better than bigger cars. This led to the mindset shift of Americans and forced them to enjoy smaller cars also. Currently, Volkswagen is one of the top companies for buying cars.
Also Read about Branding VS Marketing: Branding VS Marketing : With Best Examples
To Wrap Up
With the help of this blog, you must be clear with the concept of branding VS advertising. Never ever underestimate the power of advertising and branding. They are super powerful when you are a business person. Your business solely and completely depends upon your creativity, innovation, and high order thinking skills, which would further give a boost to your advertising and branding ideas. To establish your business in the market, you should be well familiar with branding and advertising as these are the key aspects of the business. Incorporate these in your branding strategy and see the magic begins. You will be amazed by the results.
References
[1] Cook, G. (2001). The discourse of advertising. Routledge.