Digital marketing is a challenging endeavor. If you have any doubts, just talk to any of the small business owners that gave up on the concept after losing money on web marketing without getting any results.
But there are also a tonne of small companies and online shops that are profiting handsomely from their digital marketing initiatives. The many companies finding considerable success with online marketing campaigns have done so by identifying the most efficient digital marketing strategies, learning all they could about them, putting them into practice, and persevering until they were successful.
What is a Digital Marketing Strategy?
A digital marketing strategy is a data-driven framework that outlines the specific marketing objectives you intend to meet, the online channels you'll use to do so, and, most importantly, a budget that has been allocated for it.
A digital marketing strategy is essential because it gives you a sense of direction, outlines the objectives you've set and want to achieve, and outlines the steps you must take to get there.
You can design effective digital marketing campaigns for your company that get the best results at the lowest cost by combining the correct digital business techniques.
Read out blog about 8 steps to create Digital marketing Strategy: 8 easy steps to create Digital Marketing Strategy for a brand!
Why is a Digital Marketing Strategy important?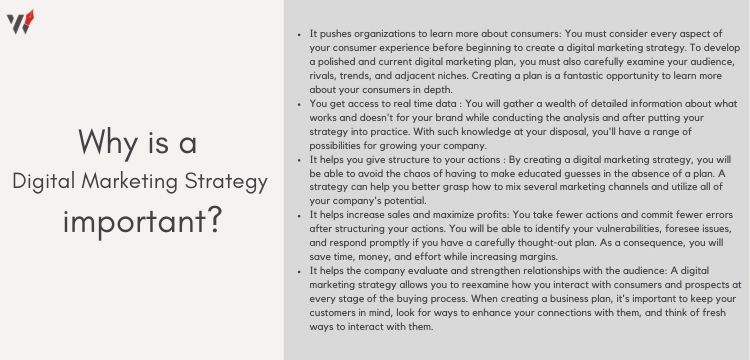 No matter what you do, having a plan of action generally makes you move more deliberately and thus more confidently. The following are some ways that developing a strategy might benefit you when it comes to digital marketing:
It pushes organizations to learn more about consumers: You must consider every aspect of your consumer experience before beginning to create a digital marketing strategy. To develop a polished and current digital marketing plan, you must also carefully examine your audience, rivals, trends, and adjacent niches. Creating a plan is a fantastic opportunity to learn more about your consumers in depth.
You get access to real time data : You will gather a wealth of detailed information about what works and doesn't for your brand while conducting the analysis and after putting your strategy into practice. With such knowledge at your disposal, you'll have a range of possibilities for growing your company.
It helps you give structure to your actions : By creating a digital marketing strategy, you will be able to avoid the chaos of having to make educated guesses in the absence of a plan. A strategy can help you better grasp how to mix several marketing channels and utilize all of your company's potential.
It helps increase sales and maximize profits: You take fewer actions and commit fewer errors after structuring your actions. You will be able to identify your vulnerabilities, foresee issues, and respond promptly if you have a carefully thought-out plan. As a consequence, you will save time, money, and effort while increasing margins.
It helps the company evaluate and strengthen relationships with the audience: A digital marketing strategy allows you to reexamine how you interact with consumers and prospects at every stage of the buying process. When creating a business plan, it's important to keep your customers in mind, look for ways to enhance your connections with them, and think of fresh ways to interact with them.
Read about Gamification Techniques for Digital Marketing: Importance of Digital Marketing in Online Casino Industry and Online Gambling
How is a Digital Marketing Strategy different from Digital Marketing Campaigns
Marketing strategies are the particular procedures or actions required to attain those goals, as opposed to marketing strategy, which entails setting goals. To outline the plan and the timetables, it is vital to develop techniques together with the marketing strategy. Otherwise, effectively implementing a marketing plan and achieving marketing objectives may be challenging, if not impossible.
Evaluation of digital marketing efforts is crucial in this conversation as well. These digital campaigns entail the application of marketing plans over every digital medium used by a firm. These campaigns' marketing strategies frequently change depending on the channel, target market, and other elements. But a successful digital marketing campaign will convey a message that is essentially the same across all mediums.
Read to know difference between Consumer vs Customer vs Buyer: What is Consumer VS Customer VS Buyer? Learn 3 easy differences
Best ways to develop an effective Digital Marketing Strategy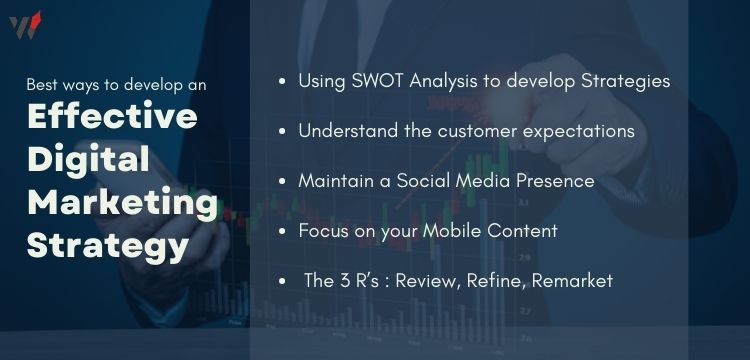 Using SWOT Analysis to develop Strategies
SWOT analysis, which stands for Strengths, Weaknesses, Opportunities, and Threats, is a crucial component of marketing strategy.SWOT Analysis includes internal (strengths/weaknesses) and exterior (opportunities/threats) components as well.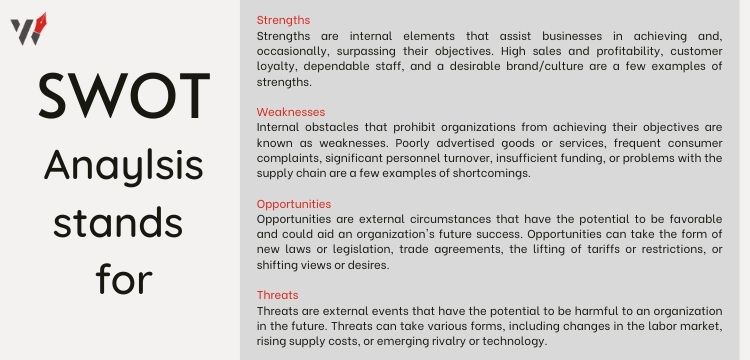 Strengths
Strengths are internal elements that assist businesses in achieving and, occasionally, surpassing their objectives. High sales and profitability, customer loyalty, dependable staff, and a desirable brand/culture are a few examples of strengths.
Weaknesses
Internal obstacles that prohibit organizations from achieving their objectives are known as weaknesses. Poorly advertised goods or services, frequent consumer complaints, significant personnel turnover, insufficient funding, or problems with the supply chain are a few examples of shortcomings.
Opportunities
Opportunities are external circumstances that have the potential to be favorable and could aid an organization's future success. Opportunities can take the form of new laws or legislation, trade agreements, the lifting of tariffs or restrictions, or shifting views or desires.
Threats
Threats are external events that have the potential to be harmful to an organization in the future. Threats can take various forms, including changes in the labor market, rising supply costs, or emerging rivalry or technology.
Understand the customer expectations
If you don't initially have a good grasp of who buys your product and why they buy it, no digital marketing approach will be successful. Additionally, it may or may not matter where and how they purchase it. Investigate and examine different populations in depth to learn not just what they want to buy but also their cultural, social, and political concerns.
Create a thorough profile of your audience to guide your strategy by:
Identifying the channels that best serve important populations
Speaking their language, recognizing that "language" is more than simply words
Knowing where they are struggling and how to activate their emotions
Making helpful personas for each of your demographics will enable you to picture their life and anticipate their purchasing behavior.
Being conscious of cultural differences Thinking of novel relationships, such as with influencers.
Putting less emphasis on the product itself and more on experiences and results that are action-oriented, leveraging sophisticated automation techniques for extremely precise segmentation and targeting
Maintain a Social Media Presence
Even though the majority of small business owners understand the importance of social media, it is all too simple to ignore it when things are busy. One of the keys to maintaining your social media presence is being realistic about the time you have for it.
Customers won't find much utility in a social media profile that is out of current. Choose a platform that works for your business and maintain a posting schedule if you only have time to monitor one account.
Also Read this blog for Digital Marketing Strategy in Social media: What is Social Media Marketing ? Best 6 types Of SMM
To increase audience engagement, you can share memes with humorous subtitles. Posting memes demonstrates your knowledge of current affairs and your awareness of your audience and market. In the end, memes are actually pretty common.
It's crucial to provide consistent, relevant, and interesting material for your audience if you want them to start thinking of your company as a lively and informative source of information.
Focus on your Mobile Content
It is essential to have both high-quality internet and mobile sites in the competitive world of today. Quality also refers to elements like speed, design, user interface, and security.
It is insufficient to have a website that only offers information or promotes a good or service. Given that mobile devices account for 51% of all internet browsing, websites need to be optimized for both PC and mobile usage.
In light of this, here are a few ways you can make sure your mobile marketing strategy doesn't go off course:
Make sure your website is mobile- and desktop-friendly.
Use clickable CTAs (calls to action), addresses, and phone numbers
Make sure a map app has access to your contact information.
Make sure the webpage loads promptly.
Ads for social media or other mobile-friendly sites should always be reviewed.
Read more about Marketing Potential in Mobile: Discover the Marketing Potential of Mobile Apps in 2022
The 3 R's : Review, Refine, Remarket
It is essential that you incorporate key performance indicators (KPIs) that align with important business goals while developing your marketing plan at the outset. To comprehend your goals and objectives, you must have a plan in place. Once you are familiar with these, you can then keep an eye on the metrics that provide information about the important KPIs.
After creating your website and social media profiles, you may employ online advertising that is specifically targeted to draw more people to your site. Create a remarketing campaign utilizing Google Ads and Facebook Ads once you've determined who the potential customers are from these visitors.
To Wrap it up
The main goal of any digital marketing strategy or campaign is to be consistent with your central objective, not only your offering. Pay attention to the benefits, cater to the customers' actual wants, and comprehend their motivations. Additionally, keep track of how specific populations are being impacted by societal trends. Always keep in mind that it is actually your responsibility to "follow" the consumer, not the other way around.
FAQs
What are the 3 R's of digital marketing?
The 3 R's of Digital marketing are Review, Refine, Remarket. It is essential that you review key performance indicators (KPIs) that align with important business goals while developing your marketing plan at the outset. Refine your campaigns to meet your goals and objectives and create a remarketing campaign utilizing Google Ads and Facebook Ads once you've determined who the potential customers are.
What are the 5 most popular types of digital marketing?
The 5 most popular types of Digital Marketing are:
Social Media Marketing (SMM)
Search Engine Optimization (SEO)
Search Engine Marketing
Content Marketing
Email Marketing
Is digital marketing in high demand?
If you have the necessary abilities and skills, you may make a lot of money in the digital marketing sector. When you make your salary proposal, you may always negotiate your price because there is a low supply and strong demand for digital marketers.
What are the 5 ways to develop Digital marketing strategies?
Best ways to develop an effective Digital Marketing Strategy are:
Using SWOT Analysis to develop Strategies
Understand the customer expectations
Maintain a Social Media Presence
Focus on your Mobile Content
Using the 3 R's : Review, Refine, Remarket
What are the benefits of digital marketing?
More precisely, digital marketing may assist companies in achieving any or all of the advantages listed below:
Global Reach
Low Entry Cost
Measurable ROI
Better Targeting
Dynamic Adaptability
Immediate Connection
Relationship Building
Reference