Introduction
The digital market is constantly spreading its boundaries and is bent on eliminating the physical market. It changes with time, and situations like the COVID-19 have enhanced this market to an entirely new level and therefore we need to find digital marketing ideas for small businesses. Small Businesses have started developing their websites and promoting their products digitally.
There are several Benefits of digital marketing that you can implement in your business strategy. They can strengthen their online presence to grab more clients and leads for their business. Digital marketing ideas are the need and demand for every type of business. Think about the number of people you connect with daily via Facebook, Twitter, and even Instagram.
Get know how AI can revolutionize Digital marketing Strategy: Artificial Intelligence: Revolutionize your Digital Marketing Strategy in 2022
Would you be able to make each of them into your loyal customers without Digital marketing business ideas? This is exactly the way that many brands are doing right now. However, the internet is a source of information and competition as well. That means you'll have to compete with several brands for the same audience. With a myriad of Google ranking aspects, it isn't easy to fulfil all the requirements to get the best results on Google without the implementation of digital marketing ideas for small business.
Best digital marketing ideas for small businesses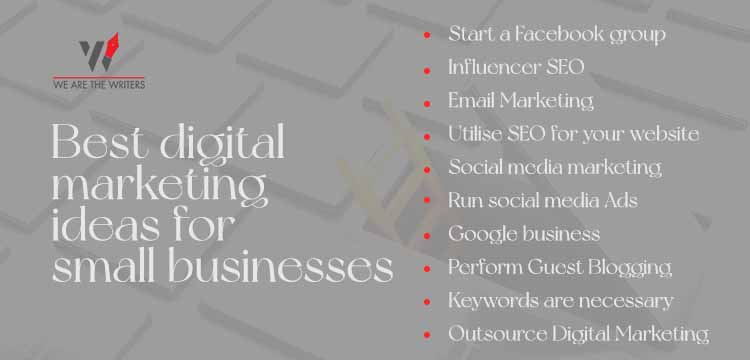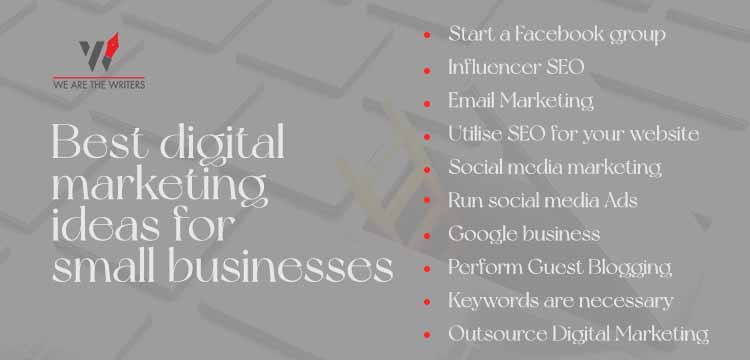 Given below are some tips and best digital marketing ideas that are helpful for every small business:
Start a Facebook group
A Facebook group for brands is quite handy if you wish to promote your product and services efficiently. Besides this, it also allows you to connect and authentically interact with your audience. Additionally, over a while, there can be an increase in your website traffic as well. Define your target audience (depending on varied factors like age, income, location, gender) by conducting surveys and promoting your products accordingly to get magical results for your Digital marketing ideas and efforts.
Influencer SEO
We all know that the influencers have many followers of social media platforms. Such influencers earn the confidence and trust of your target audience. You should be careful while choosing the influencer for your brand and implement your best digital marketing ideas and SEO strategy.
Get know about influencer Marketing: What will Influencer Marketing look like in 2022 ?
Email Marketing
Most businesses and brands are now implementing the concepts of artificial intelligence in personalising their email marketing strategies. Self and Auto-learning concepts and techniques will analyse a large amount of data of customers to generate a perfect and effective email marketing strategy. The components of an effective email marketing strategy include the subject of email, content, title of the email, and the right time to send it. Brands can also use mailchimp, zoho, convertkit , etc to connect with their audience. These Digital marketing ideas will also help you to maintain a database of your customers and contact them when needed.
Tools which are free and must for email marketing, Read this: FREE EMAIL MARKETING TOOLS
Utilise SEO for your website
Like all big businesses having websites as their face and address, small organizations also need to have a user-friendly website for the target audience to get quick answers to their queries through blogs and chats to increase their importance. To increase your ranking on google search and increase the chances of probable users tapping your website, you can utilize SEO (Search Engine Optimization) techniques. The maximum will be the visits on your website, the higher you will rate. SEO is the process of optimizing and structuring the web pages to rank high in the search engine. It is one of the most efficient Digital marketing ideas for small businesses to generate organic traffic for your brand.
Social media marketing
Social media is one of the most trending and great digital marketing ideas for analyzing buyers' persona and buyers' intent, which means with social media, you can get to know what people are searching for and know what kind of service or products are trending. Plus, social networking sites are the amazing business gear to analyze the competitor's behavior and digital marketing approach.
If you're looking to boost the traffic to your website or promote your landing page, you should make sure to encourage your social media followers to come to your website.
To get the best outcomes through social media marketing, you should make use of an image. You can launch your product on social media by taking a photo of it and uploading it with a description and weblink to your website. Social media can also be an excellent platform to promote the blog you run, sales, and other strategies. By implementing these digital marketing ideas for business, you can be certain that a large percentage of leads generated by social media will convert into customers.
Some best social networks for social media marketing and implementing digital marketing ideas for business are:
Run social media Ads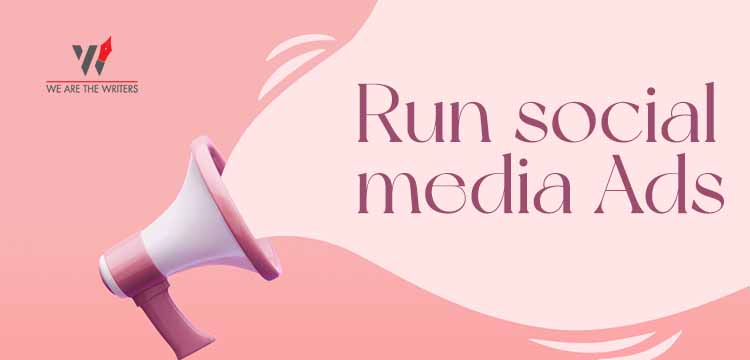 You can gain the most out of social media ads. By choosing the right platform for your promotion, you can run ads and generate customers for your services. For this, you will need to analyse your target audience and the corresponding social media platform. A social media ad should be effective enough that it generates leads for your business. Youtube ads or google ads are also an efficient way to promote and increase the sales of your small business on various platforms where your target audience resides.
Google business
The main aim of optimising your Google my Business is primarily for effective local marketing. Optimization of your Google Business Profile also helps to boost your local rankings far from improving engagement. A fully optimised Google Business Profile will satisfy customers' curiosity, and thus they do not have to move to the website. Thus for quality engagement and conversions, you need to optimise your Google Business profile. This Digital marketing business idea helps you in acquiring customers. An optimised Google profile also grants you the privilege to track clicks to your website, appointment, or menu link using UTMs and Google Analytics.
Perform Guest Blogging
One way your blog can be ranked on Google is to provide blog sites with your link to allow them to external link to your blog. If Google examines the blog and comes across your URL, it signals Google that you're an authoritative website, and they'll give your content a higher ranking. Furthermore, you may make your blog available as an open blog for guest bloggers. Because you've included external links on your website, Google will better understand the subject matter and will be able to determine what to do to rank your site as compared to other competitor websites.
Blog post for increasing ranking, Read our Blog: A Definitive Guide to Writing a Blog Post
Don't forget to link your pages internally
Internal linking means including your own links within your content. Link all your related pages with each other. Your readers will use these links to find more information regarding your business and products. This will help increase visitors; Google will see that the same user visited several other web pages, and Google will likely rank your site higher. Internal linking can also help Google discover your site better and learn how to rate your site better.
Know more about Link Building and advantages in SEO: ALL ABOUT SEO LINK BUILDING -2021
Keywords are necessary
A keyword is a search term on Google. Keywords are referred to the topics or small phrases that a person searches for or types in the search engine search box. The websites that use these keywords will eventually appear on the top of the search results and will get more clicks from the users. You should take your time and do a deep research on the given topic. Write the best post on it.
Know the Art of Keyword Research: THE ARTS OF KEYWORD RESEARCH ? A BEGINNER'S SECRET!
Write more in-depth blog posts that cover all the issues of that category. Research your keywords, update your content and blogs regularly, proofread each blog before it's posted to eliminate spelling errors, personalise your content and share your content on various social media for promoting content in your digital marketing campaigns.
Outsource Digital Marketing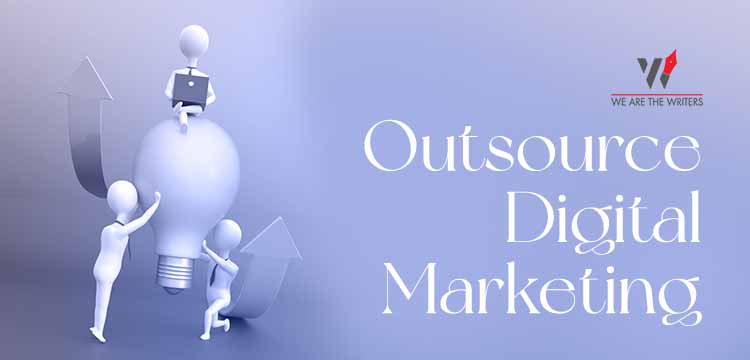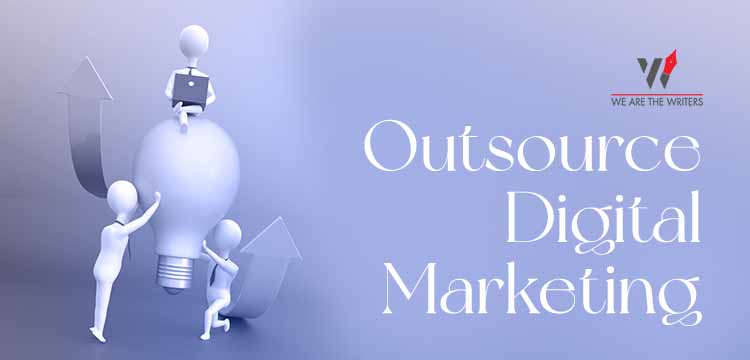 If you've tried all of these digital marketing business ideas and are not getting results, it could be time to outsource your online marketing. It is important to master important skills to become an expert in digital marketing. They are able to take strategies like SEO, pay per click, and social media tools, email marketing and much more to make use of their expertise to make sure you get a high position. After outsourcing your digital marketing project, your website's traffic could be improved to a large extent.
Steps to create Digital Marketing Strategy for brand: 8 easy steps to create Digital Marketing Strategy for a brand!
Conclusion
Digital marketing is always going to stay, and in this highly competitive market, there is no space for marketers making mistakes in this process. These business marketers must be aware of the blunders which should be avoided while making marketing plans to succeed in business. When your marketing strategies are in sync with your audience, they shall reap excellent results by increasing sales and ROI. Keep in mind the above discussed ideas for digital marketing and gain the best outcome out of it.