Who is a Content Creator- The Maker of Content
In the last 5 years, the procedures of content creation and content consumption have changed because of digitalization. A lot of alternatives have surfaced in creating the content. Content sells and it becomes crucial for a business to work on it in this digitally driven world.
Everything that a user sees online has the power to attract them, make them visit your business' online portals or can even turn them into your most loyal clients. The content you display is your first impression on the customer, and it must be striking. Still finding out who is a content creator ?
Suggested Read:
A content creator is someone who creates content for an audience. Creating content is innate in human beings because it can be as simple as sharing an insight, writing a letter or making a video from their phone camera. Though it would not make anyone a good content creator, someone who has an audience. A good content creator is someone who creates entertaining or educational material to be expressed through any medium or channel for an audience. To fully understand what a content creator is and does, it's important to understand what "content" is.
Content can be defined as any type of information such as writing, speech, or other various arts, expressed through a medium to communicate and aims to add value to a consumer. More important for business, content is the entity that users, readers, or viewers consume and derive value from.
At its most basic level, content envisages all the information, experiences and the medium or the channel through which the information propagates and gets delivered. Written content like Articles, Blog Posts, Guides, Reviews, White Papers, E-books, Product Content. Video content like films, Tutorials, Reviews, Unboxing, Vlogs, Behind-the-Scenes, Interviews, Webinars, Presentations, User-Generated Content, Contests/Giveaways, Live Streams, Q&As and Image content like Photos, UGC photos, Infographics, Memes, GIFs, Quotes, Illustrations, etc are all different kinds of content.
A good idea can be powerful to impact an audience positively, generating leads for your business and attracting more customers through the content displayed. Content doesn't just educate us about things but also keeps us entertained while we smile and laugh at the memes we encounter. Your content must fit with your overall brand strategy.
What a content creator does, is what a content creator is Learn it more from Adobe
Content creator as a term has gained a massive popularity among the common public because of the accessibility of smartphones and internet. These two tools have made nearly everyone capable of consuming content. It is about communicating and delivering the content to an audience. That's what caught the brands' eyes. They find it an extremely effective way of mass communication with a target audience. More and more businesses are understanding the value of working with content creators. They see that high-quality content inspires users to take action and can foster community and loyalty through interaction with the brand, its community, or both.
The way these content creators use their ideas to influence the purchasing power of a user is commendable. The content they create can be educational, or can simply be catchy enough to entertain and grab the attention of any visitor who wasn't previously interested in your brand. But after looking at the content, they developed a certain interest and visited your webpage or your social media handles.
Having a good content creator on your team or being one yourself is very important and can be the most vital asset to your company. They are the brains behind making your brand appear appealing through the content that they create. Their brain really does work differently. They link your product with a story and add emotions to your advertisement campaigns. And it is this emotionally appealing content that connects the audience with your brand.
Suggested blog
Does that mean everyone is a content creator ?
It is believed that everyone creates content but the truth is that content creation is not everyone's cup of tea — it's not just about throwing together a pretty quote or sharing your opinions. It's a much more creatively demanding field that requires thorough understanding of communication, audience understanding, storytelling and basic technical skills. However, once you know what makes a successful content creator, you'll be able to follow the path down to the principles of successful content creation.
You know what they say- behind every piece of viral content is not luck, but, rather, a strategic content creator who understands marketing and the brand.
Content creation is the process of producing your own content from the beginning and marketing it to your own followers or subscribers or audience. The content could be a blog, social media post, video, image, etc. Content creation implies the exact same thing as it sounds. It refers to the new content on your site that has been created by you, specifically for your purposes. Content creation involves adding fresh content to your site. This was certainly the original way of thinking when it came to conventional content marketing. Posting unique content worked wonders for the brand, but it also became very challenging to keep up and stay relevant within the brisk -paced world due to social media.
Social media content creation has become extremely popular these days. There are mostly videos and images, reel, story, TikTok video, etc that account as content on social media space. Engagement is the most important thing that fuels social media content creation. Engagement is equivalent to marketing in this sector. Social media has become such a massive market for content because of the fact that it brings content to the customer and not the other way round.
How can a Content Creator benefit the brand
Creating content for a brand is not a spacecake. You require different skills that you can put to use in creating, marketing and promoting that content for the business to earn revenue.
You create the content
Creating content for the brand is like creating an advertisement of the brand. You produce something that is going to get out there with an aim to influence people in taking action because of it. Content is often considered the backbone of a brand. That is so because content is what represents your perspective and outlook in the market and informs about the products and services.
You understand the audience's needs
Being the person who creates content for the audience, you know them the best. People buy experiences, thus they need someone or something to connect to when they are buying something. A content creator provides them with that connection, via the content that he/she creates. You understand the target audience and know who are the people that would actually make a purchase.
You can actually help make a sale
When a content creator includes the product or a service that is being advertised, they use storytelling and other interactive means. This type of advertising and marketing is much better than blatant ads that are there just for the sake of informing. Another factor can be that the audience of that creator immediately consumes the content and might even make a purchase based on the trust garnered by that creator over the years.
Suggested blog
Social Media Content Creators
A social media content creator is a person who creates content for social media platforms. Popularly known as 'influencers', they create content mostly for entertainment purposes. They are highly creative, talented people who gain popularity by entertaining people through various modes of storytelling like dance, lip sync music or dialogue videos, photographs, write-ups and many more. They create general entertainment content that can help them gain a massive audience. Terms like YouTuber, Instagram influencers, TikTokers are specifically given to these types of content creators only.
YouTubers
These are the creators that are most active on YouTube, the largest video streaming platform in the world. They make videos and post them on their YouTube channels. They earn revenue from their videos on the basis of the views it receives. These are generally long duration videos and not just clips lasting for seconds. The creator should have some skills like storytelling and communicating in order to be able to produce and deliver good content on YouTube. YouTube is considered the most credible platform for video creation and distribution. Creators having a strong base on YouTube enjoy eminence, good payment and sometimes a celebrity status as well.
Instagram influencers
Instagram has emerged as one of the biggest apps in use in the last 5 years. It's not just limited to an app it has become a legitimate market for content. There is a massive number of audiences that consume content from Instagram. It has a wide variety of content and offers much more things to a content creator like pre- loaded camera filters, extremely easy interface, humongous connectivity to celebrities and others, direct messaging options, etc. Instagram influencers get a lot of paid partnership collaborations with brands. It is a 2 way process where the brand takes advantage of their popularity and followers and the creator enjoys the credibility of the company along with a pay.
TikTokers
TikTok is an app that became popular really fast because of its never seen before like lip syncing and camera features. It's a short video app, predominantly for making entertainment videos. TikTokers also enjoy fan following and brand collaborations but on a lower scale.
A Content Creator is not just a single person.
Content creation can be a rigorous job based on the type of content being produced. Big length content like films and shows also come under content creation. YouTubers or Instagram influencers create short length content that is mostly infotainment. Content is being produced on large scale as well. Such content consumption has increased exponentially during the COVID-19 pandemic when the world took a rest and had a lot of time to spare. That is what gave rise to the OTT (Over the Top) platforms like Netflix, Amazon Prime Video, Disney+hotstar, ZEE 5 and many many more. Films and shows started to pour on these OTT platforms enormously.
Brands and businesses started collaborating with these video contents to enjoy the popularity of these OTT platforms. Sponsoring and financially backing films, shows and other entertainment content gives them a lot of viewership on their own online and social handles. Content creators collaborate with them to get financial aid and market presence and exposure.
Tools for Content Creation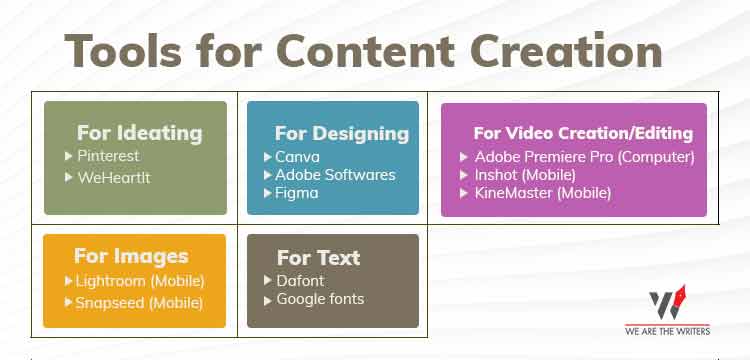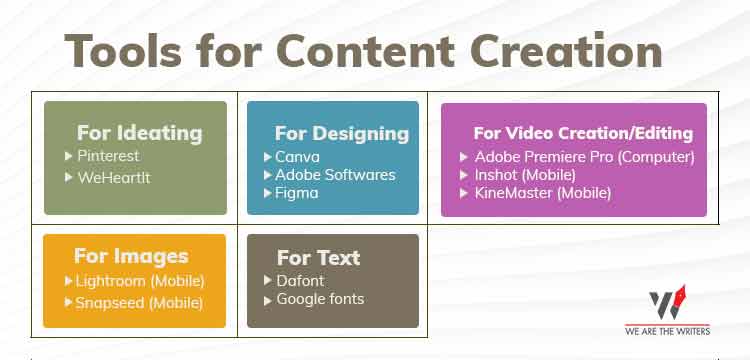 Be it a single creator, a team or even a company, every content creator needs some tools. Technical skills are valued and can prove extremely helpful in making a unique content. Here are some of the tools that can be used for making content that stands out:
For Ideating
Research and inspiration can prove very helpful in creating original content.
Pinterest- Pinterest is a paradise for creative people. It is a massive library of images, poems, write-ups, DIY tutorials, recipes, etc. it provides beautiful and eye-catching content.
WeHeartIt- It is an image based social network app. The images on that platform are beautiful, classy and worth collecting.
For Designing
Designing is one of the most crucial and difficult parts of creating content as it requires sound technical skills.
Canva: Canva is an app that has become popular because of its easy interface and numerous designing options. Videos, images, text, resume, letters, cards, etc can be designed on it quite easily.
Adobe Softwares: Illustrator, Photoshop, Indesign and Spark are some of the most used softwares by Adobe that are used for content designing, mostly images.
Figma: Figma is a free UI designing tool. It can also be used to edit vector graphics and prototyping.
For Video Creation/Editing
Video creation is one of the most popular ways of content creation. There are a number of apps that can facilitate good video creation or editing. Some of them are:
Adobe Premiere Pro (Computer)
Inshot (Mobile)
KineMaster (Mobile)
For Images
Images are rich media sources used to enhance your content. Platforms like Shutterstock, Pexels, Unsplash provide amazing pictures in good quality. Some of the best image editing tools are:
Lightroom (Mobile)
Snapseed (Mobile)
For Text
Tools like Dafont and Google fonts provide a wide range of free text styles.
Wrap up
A business that prioritizes its audiences and wants to establish a connection with them, understands the role and significance of content creation and the ones who create it.
A good content creator can produce amazing content for the brand to attract the target audience, generate leads and be a source of infotainment at the same time. it can be a single person, like YouTubers, Instagram influencers or an OTT platform.