A digital marketing strategy for a brand is considered its key to success. With new technology and the massive digitalization of the world, your business needs a solid plan to run and eventually succeed in the race. Lear about what is the digital marketing strategy and how to create one for your brand.
Digital Marketing Strategy | Create Digital Marketing Strategy for a brand
Like any other strategy, a digital marketing strategy is the blueprint that you follow to grow as a brand in the digital space. Actions that help the brand develop and achieve its goals with the help of various marketing channels constitute the digital marketing strategy. It also enables you to create and constitute your online marketing strategy because of its prevalence in the online world.
The primary objective of a digital marketing strategy is to help your business achieve goals by using selective marketing channels such as email marketing, content marketing, social media marketing and SEO.
SUGGESTED READS:
Artificial Intelligence: Revolutionize your Digital Marketing Strategy in 2022 (wearethewriters.com)
The importance of a Digital Marketing Strategy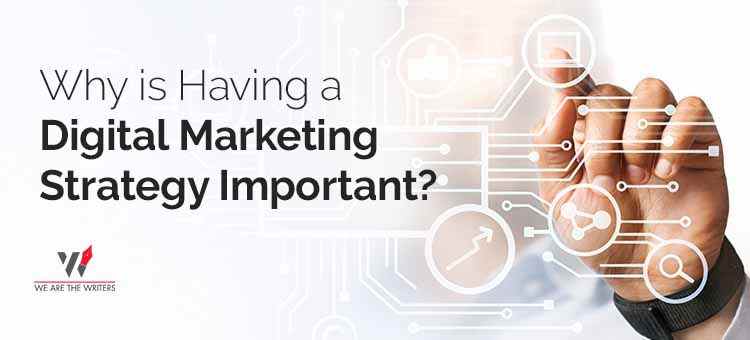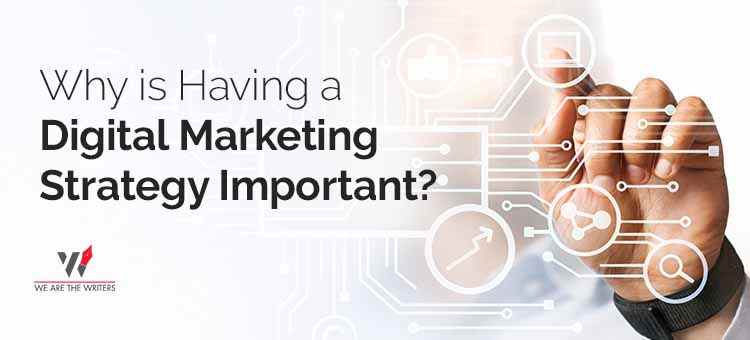 Your digital marketing journey can not be launched without a strategy. Your brand needs it the most because it effectively boosts the workflow. As a result, efficiency increases and you reach closer to your desired goals.
It helps you in understanding your audience and the market share and your presence in the online digital arena. The basic optimization starts with a strategy that strengthens your digital marketing scope. The brand's value proposition becomes easy with a strategy and it also helps in monitoring the usage of paid tools and services.
You gain new customers and strengthen the existing relationships in your business.
Development of a Digital Marketing Strategy | Create Digital Marketing Strategy for a brand
The process of development in a digital marketing strategy is not an easy task. It requires tonnes of research and analysis in order to set marketing objectives and choose the various channels of digital marketing .
Creating brand awareness should be central to your digital marketing strategy when talking about the business' micro objectives. There are various ways to do that including various channels like social media marketing (via Instagram and Facebook), email marketing or content marketing.
1. Define your brand
The first step to creating a strategy for your business in the digital world is to define your brand to the audience. Put out your strong suits, unique selling points and all the reasons that will make the users visit your digital address.
2. Explore the fabric of your idea
An online marketing strategy provides you with a clear idea of what your roadmap will look like. It helps you understand your journey and explore your idea's landscape. The fabric of your idea is completely yours and it helps you craft your strategy better.
• Performance analysis
your previous performance can be your best teacher. Evaluate what worked for you in the past and what failed blatantly in your campaigns. Study the analytics and determine the results according to them.
• Read your Competitors
take time out to analyse your competitor's digital strategy. It's easily accessible to the entire world because it's on the web and you can grab whatever pleases you.
• Understand your customers
It's always beneficial to understand your audience. Knowing about the size, interests and behaviours of the demographic will help you better in developing a strategy and it will be crafted as per your understanding of them. A free tool called Facebook Audience Insights by Facebook can be used to unravel all this information.
3. Plan your strategy
Analyse your goals, both long vision goals and short term goals. The strategy will help you achieve both these goals by providing you a set of guidelines that you need to follow in order to reach your desired aim.
• Objectives
Your objectives are the numbers that you want to work on. Those numbers link to the long term goals of your business.
• Tactics
You need to choose the correct marketing channel or tactic. For example, if you need 300 leads, you can either use social media marketing or a landing page along with a webinar in order to attract new prospects.
4. Create S.M.A.R.T. goals
Use S.M.A.R.T goals technique. It stands for specific, measurable, achievable, realistic, and timely goals. They are the best guides to your online strategy. They always prove useful in fulfilling your long term goals like increasing the company's market share and short term goals like improving customer service and incorporating a new marketing channel.
5. Define your target audience
Craft buyer personas for better understanding of your business' target audience. It will help in targeting your customers precisely and get to know them for real. Skip the conventional ways of reaching out to the target demography.
6. Build your content strategy
You have got the marketing objectives straight and are now well versed with your audience. Based on both the checkpoints, create your content strategy. Analyse the marketing objectives and study your target audience to be able to create a content plan.
Get new content ideas from the most traditional and some new out of the box ways:
• ideate your content strategy by looking at what your customers want and what the competition is upto. .
• look into the search engines to know what are the most trending topics which can be used to create new content.
• you can run through the hashtags and look for new content generating ideas. Social media platforms are highly interactive and visual, so it would be beneficial for creating a content that has creative content and is especially designed for such platforms only.
• you can always look at what the search engine is suggesting you. Look for keywords that are most searched in a particular time period. Correct incorporation of keywords will guarantee more traffic to your website.
7. Choose your channels and tactics.
Once you know the content that your audience can resonate with, opt for the market channels that are promising and can give you the best results on your investments. .
Consider using all the marketing channels that are there in online marketing strategy. Be present on every channel but don't aim to master every one of them because not every channel will promise better results. For example, a video content will not be well received in email marketing, you can either choose social media marketing for promoting it or you can specifically use a video marketing channel as per your wish.
8. Track your progress and results
Always keep a track of how far you've come from where you started and are the decisions you made till now bringing in any good result for the business. Digital marketing has been on every marketer's mind because of one reason, the flexibility that it provides. There is no big commitment that will take years to change. You can always analyse your preferences and adjust according to your desired results.
Your video ad is not delivering your message in the way you intended, take it down from the internet and try creating something else. There are a lot of options that can be used to create new content for your business.
What are the Digital Marketing tactics?
Digital marketing strategy is fuelled by these marketing tactics also called digital marketing channels. All the channels are responsible for the massive prevalence of digital marketing that you are seeing today in the whole world.
All these channels or types of digital marketing will cohesively work to deliver higher results and will prove beneficial in a holistic development of your strategy. 
You can get a detailed read on one of the blog of Hubspot : The Ultimate Guide to Marketing Strategies & How to Improve Your Digital Presence
Also Read:
Best Communication Channels for your brand in 2022
Digital marketing channels you can employ:
Search Engine Optimization (SEO):
SEO is one of the most promising factors in ranking the websites higher and making it credible. More than 90% of the users do not go further than the second or third page of the search engine results page.
Also Read:
HOW SEO STRATEGY BENEFITS SEO MARKETING ?
Pay-Per-Click (PPC) Marketing:
Businesses earn approximately 5 times more than what they spent on google ads. Also, more than 50% of the users that click on an ad buy the product.
Content Marketing:
Companies that create content to deliver their messages and brand voice to their customers are preferred by more than 60% of the users.
More At:
What is content marketing |4 Best Content Marketing Strategy
Email Marketing:
Out of all the other lead generation methods, email marketing has the capacity to generate 50% more leads. It's the most used marketing tactic in the corporate world.
Read more at:
What Is Email Marketing | Genuine Guide in 5 min
Social Media Marketing:
More than 60% of web users use social media and a whopping 75% of social media users are influenced in their purchase decisions by these platforms.
More at:
How to do Social Media Marketing ?
Video content marketing:
Websites facilitating video content along with other content increase your website's chances of getting ranked higher on the search engines. More than 90% of the users are impacted by the video content related to products and services.
Also read:
BEST VIDEO MARKETING STRATEGY FOR 2021
Other digital marketing channels are:
Website Design A/B Testing
Landing Pages
Call-To-Action Strategy
Link Building/Earning
Infographic Designing
Lead Nurturing Strategy
Public Relations
End Note
Without mentioning any of the above specifications, the organisational shift to digital platforms, prevalent in today's time, mandatorily requires your business to have a strategy that smoothens the process and promises best results for the business in the new way of life.