In today's world, attractive content that delivers a valuable piece of message attracts the eyes of the audience. In such a scenario, the marketing of products and content becomes highly essential for any company or blogger to grow.
How good the content is, it doesn't matter; if it doesn't appear attractive to the customers' eyes, it won't gain its audience. Amongst various marketing techniques used for proper branding of the content, email marketing emerges as another crucial step.
What Is Email Marketing?
Today, almost all companies and brands have email marketing campaigns and techniques to make their audience aware of their upcoming products and advancements. The usage of email, as a method of direct marketing, for the promotion of products, generation of sales, and advertising is known as email marketing. According to ROI, about 72% of companies are in favor of email marketing, and thereby they do the market mixing as their part.
Successful and productive email marketing campaigns must have attractive, easy-to-understand, and compelling subject lines. Moreover, these campaigns should target the right audience at the right time with the right goals. Another important aspect of a successful campaign is that it should be compatible with all mobile devices. The email should sound out about the brand with proper organization.
You may also want to read:
Types Of Email Marketing Campaigns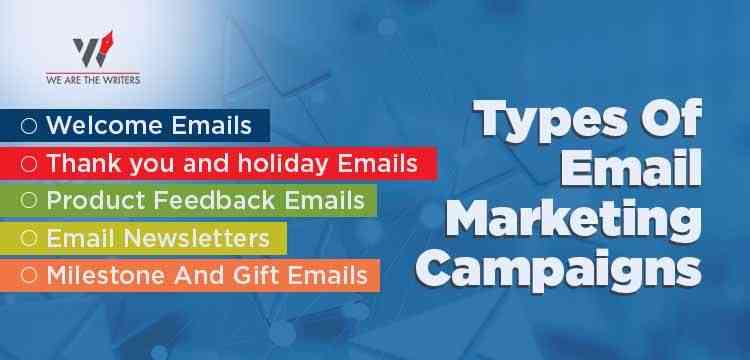 Starting from small to large corporate businesses, most companies prefer email marketing campaigns for increasing their engagement rate and customer retention. Basically, email marketing campaigns are of 5 types.
Welcome Emails
When a new audience reaches out to your website or brand and signs up, a friendly email thanking them for paying attention, letting them know more about your products and services will make the audience feel more comfortable. Sometimes, a freebie can act like a CTA (Call To Action), thereby helping you generate some successful sales. This is what welcome emails are meant for.
Thank You And Holiday Related Emails
A friendly, warm thank you message making your customer realize the importance of a sale will help them come into your family of customers. These "thank you" notes and emails also symbolize the good manners and respect you have for your audience.
Holidays can be the icebreaker between you and your audience. Holiday emails with a cozy, friendly wish can make your audience feel valued. Moreover, offers on holidays can help you increase your sales. These warm wishes, along with holiday deals and offers, smoothen up the communication and engagement between you and your audience.
Product Feedback Emails
Short feedback about your services gives you double benefits. Firstly, it increases the engagement rate of your audience. Secondly, it lets other visiting audiences know about the quality of your services which creates an indirect trust bridge between the audience and your brand. However, make sure to keep long-form questionnaires at bay. Short feedback messages are the key.
Email Newsletters
Email newsletters are the most common method of email marketing campaigns. If you run a small business, an email newsletter helps in providing insightful knowledge to your audience about your upcoming products and services. In addition to that, it also keeps your audience updated with your latest content and helps them check out if they are missing something really important.
Milestone And Gift Emails
No matter how small or large your business is, you must have targets and milestones for a particular period. One can make their customers aware of your business's next milestones through an email. Including the value of their contribution to your efforts will make them conscious of their efforts and responsibility. Moreover, you can also announce assured gifts to win their hearts and efforts. These milestones and gift emails will help you gain your customer's support and help them enjoy some gifts in return.
If you want to read more on email marketing read the blog from Hubspot : The Ultimate Guide to Email Marketing
Advantages Of Email Marketing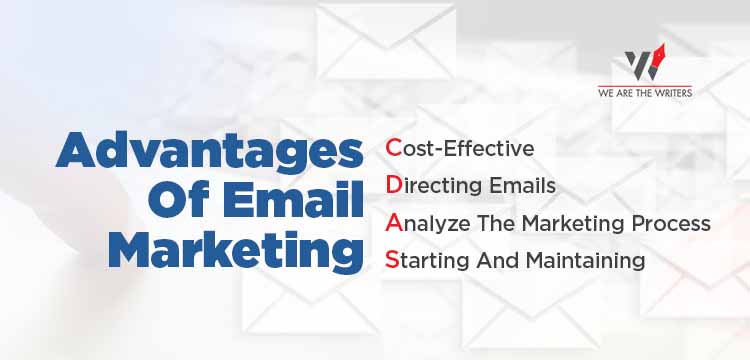 The email marketing strategy has been serving as a loyal influencer for social marketers. However, many effective tools and social media sites have come into the forefront with effective features. But the advantage of email marketing can't be replaced or matched.
Adobe performed a study to justify the statement, representing a surprising outcome. According to that study, millennials consume around 6.4 hours each day browsing their emails and using them for different purposes. Have a look into the power and advantages of using this huge strength.
Cost-Effective: Pocket-friendly Choice
If you consider the mainstream marketing channels and other marketing tools, email marketing will be the most cost-effective marketing strategy. You have a choice of using it in a completely free milestone, unlike the charges that include printing costs and charges for TV and magazines. But if you want more defective results, then you can go for paid protocols put forward by email marketing.
Directing Emails: Selected Readers
Reaching your interested audience and delivering a message they want to read is an effective approach. The mail can be directed to the subscribed readers and specific criteria. The email marketing program can be set according to area-specific goals and can be fixed on interest.
If you have a specific plan and direction, then you can gain more conversation, and the rate of leads will also increase. You can send unsolicited emails, spending time and money on a random email list. But this is no longer effective for gaining productive results.
Analyze The Marketing Process
Without knowing your progress, you cannot conclude any campaign to be a successful one. The ideal marketing strategy includes execution with tracking the record of progress and the scope of improvement. This is supported by email marketing, where you can spot the click-through rate, conversation, and open and unread messages.
You can reset your plan to implement the strategy by judging all these parameters by following which you can establish your perfect email marketing strategy for your selected audience.
Starting And Maintaining: Effortless
A dedicated team, sophisticated tools, and high-profile software– you don't need all these things. This is an effortless marketing technique, with easy starting and maintenance. Setting an email campaign, inserting images, videos, and gifs with a theme-based template is a creative and manageable process.
The new email marketing editor platform also offers a drag & drop option, which makes it way easier to organize and run the campaign.
Suggested Blogs:
Disadvantages Of Email Marketing
Email marketing has some drawbacks along with its advantages. Even all marketing strategies have their drawbacks. But these disadvantages can be eliminated by proper planning and strategy. Have a keen look over the disadvantages of email marketing.
Spamming Exploitation
Unsolicited emails and spamming are the biggest irritations created by emails. The customers can unsubscribe or delete the message if it is directed without the user's interest. Email spamming is so frequent that people have started avoiding real and trusted messages. Send the emails or messages, which are a safety and privacy concern. It will create a trusted base for the customers.
Email List Building
It is not a cakewalk for the new marketer to handle email marketing. Email Marketing is all about target-oriented email lists. It will take time to create your personalized email list. Communicating with your subscribers, building a user base, and increasing your database with trusted members.
Design Problems
You always have to design the mail with a suitable template that will support all devices. Design selection is important, which must be suiting the theme and your marketing plans.
Why Should You Choose Email Marketing?
About 80% of the companies and businesses use email marketing to gain reliable, trustworthy, and long-term customers. This might make you question the importance of email marketing for your business. Here are the reasons why you should choose email marketing for your business.
The number of email users ranks beyond 3.9 billion. Thus, email is convenient for making your content reach a massive audience.
As emails work and function conveniently over the phone, they are flexible and instant methods of communication.
Emails are the perfect choice for convenient, personalized messages which help you target the right audience.
Emails help you in engaging continuously with your audience.
The email marketing metrics are easily measurable in terms of bounce rates, open rates, and click-through rates.
Emails are a cost-effective marketing technique.
It's convenient and flexible.
Email marketing helps build trust and credibility, thereby inspiring the audience to action.
Email marketing helps in proper customer acquisition, which increases its versatility.
Emails help in increasing your contact list. They generate quick and reliable leads.
Tools Needed For Email Marketing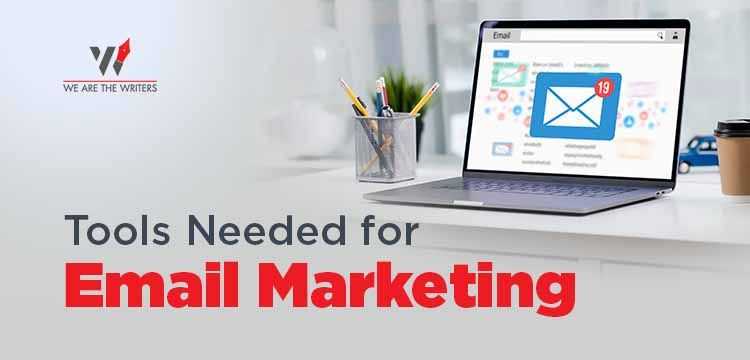 A successful email marketing campaign demands the creation of a call to action, which helps in boosting the engagement of the customers, thereby encouraging them to take a fruitful step. Thus, an effective email should comprise eye-catching designs, compelling and persuading copy. Moreover, the copy should impart value to the customer's time and direct the customers to a valuable landing page.
Thus, you need to curate a CTA email that is easy to see, read, understand and click. In order to promote your products properly and curate such engaging emails, you need the help of some tools. The list of the top 30 best email marketing tools will help you add value to your customer's time and support.
HubSpot Email Marketing
Mad Mimi
Sendinblue
Reach Mail
Omnisend
Zoho
MailGenius
Flashissue
YesWare
Sender
Cake Mail
Infusionsoft
Constant Contact
Target Hero
GetResponse
Campaign Monitor
BenchMark
Litmus
Drip
iContact
SendPulse
ActiveCampaign
Mailjet
LeadPages
Voila Norbert
Mail Chimp
AWeber
ToutApp
Crystal
MailerLite
As some of these tools are free, some have minimal charges. Most tools offer free trials. You can try these tools and check their pricing. Before choosing a tool and investing your time and money in it, make sure to go through its features and pricing well. If the software or tool offers a free trial, don't forget to try it out once.
How To Get Started With Email Marketing?
Constant Contact introduced this first email marketing tool, and this was introduced for small businesses Constant Contact in 1998. Since then, the popularity of email has increased to such an extent that the number of email accounts today is thrice that of the total Twitter and Facebook accounts. This implies that the highest marketing channel to drive most of the audience to customers is email.
But, before getting into email marketing for your business, you need to know the proper steps to start it. The steps to get started with email marketing for your business are:
Set your goals clearly.
Create your email contact list.
Determine the type of email marketing campaign which will suit your needs.
Get started with your amazing catchy content & structure.
Do add some visuals for increasing the engagement rate.
Make your email campaign personalized and make it relevant to every subscriber's needs. Make the copy more valuable than just promotional content.
Start with your first email marketing campaign.
Track the results of your campaign by parameters such as unique opens, bounces, open rate, click-through rate, unsubscribe rate, spam complaints, shares, and emails which went unread. With these parameters, you can keep track of new subscribers and the behavior of old subscribers. These results and further analysis will help you determine the changes or improvements you need to bring out in your strategies and content.
Final Takeaway
The most productive channel for marketing and advertising is where an individual can earn $51 as a return at an investment of just $1. Thus, having a better strategy can make your marketing campaigns more productive and effective. Firstly, make sure to customize and personalize every email. Companies like Amazon always send personalized emails, which makes the customer feel valued. This personalization trick helps in generating an ROI of about $20 for an investment of $1.
Secondly, make sure to break down your audience into segments. Segmentation on the basis of industry, company size, sales cycle helps you identify your audience better, which in turn assists you while sending personalized emails. People generally don't prefer unwanted and irrelevant emails. Thus, segmentation and personalization are one of the most important email marketing strategies.
Thirdly, don't forget to make your emails mobile-friendly as the revenue generated on mobile-friendly platforms is four times that generated on desktop platforms owing to their huge user base. Lastly, design your mail with a proper subject line and some catchy visuals.