On the lookout for the new webseries releasing in March 2021 on OTT platforms? Read on!
After a whirlwind of exciting new contents to kick-start off 2021, it's time for a new round for the upcoming month. There's never a dull moment in your streaming sessions since OTT platforms are always actively churning out contents. As digital media gets gradually energetic, web series has become a foremost source of entertainment. The appeal of these web series rival those of movies these days. We have come a long way since cliché and overused plots and the upcoming web series releasing in March 2021 on OTT platforms are going to prove just that with some pretty interesting premises.
The OTT platforms such as Amazon Prime, Disney+Hotstar, Netflix, Zee5, etc. have some great web series that is worth the watch and is keeping us hooked to the screens. It's time to mark your calendars for the upcoming month as the OTT platforms are promising a lot of excitement in store. Check out this list of webseries releasing in March 2021 on OTT platforms for a memorable March.
Webseries Releasing In March 2021:
THE MARRIED WOMAN – Webseries Releasing In March 2021
Alt Balaji and Zee5, March 8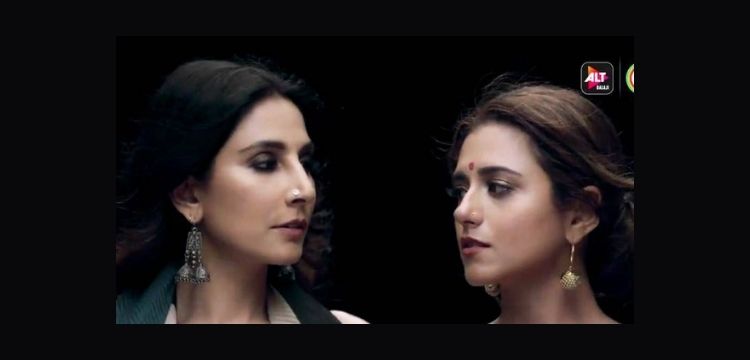 With the increasing acceptance of LGBT depiction in the entertainment industry, we have been seeing a lot of quality contents on OTT platforms. It is honestly quite refreshing. Among the webseries releasing in March 2021, The Married Woman is another such beautiful story of two women on a journey of self-exploration, one which they find themselves, love and more.
Based on the bestselling eponymous novel of the same name by Manju Kapur, The Married Woman is set in the 90s and revolves around Astha, a middle-class Delhi girl, who is a teacher by profession and a painter by passion. She is a good wife, a doting mother and a dutiful daughter but her life decisions are always taken by others. That is, until she meets Peeplika, whose personality is completely the opposite, an artist who's never been interested in anything the least bit conventional. Thus begins Astha's journey to find herself as she blurs the boundaries set by society when she finds an intense connection and love she never knew she longed for.
The Married Woman features Ridhi Dogra and Monica Dogra as the lead characters. The cast includes Imaad Shah, Ayesha Raza, Rahul Vohra, Divya Seth Shah, Nadira Babbar and Suhaas Ahuja, among others.
---
MUMBAI DIARIES 26/11 – Webseries Releasing In March 2021
Amazon Prime Video, March 2021
The grim events of 26/11 shook the whole nation and left everybody reeling from fear and grief. It has been so many years and it is still hard for many of us to digest. But it helps when we learn about all the untold stories from that day. We have seen so many different depictions told from so many different perspectives of those dark times. But we have yet to see one from the point of view of some of the true heroes of that day.
Mumbai Diaries 26/11 brings to the forefront the contribution of the first responders during the attack. It will showcase the untold stories of the doctors, nurses and other medical staff who worked tirelessly for the victims of the Mumbai attacks.
Amazon Prime video dropped the first look of this upcoming webseries releasing in March 2021 in India on the 12th anniversary of 26/11 attacks. The short teaser shows doctors, nurses, paramedics and other hospital staff struggling to keep up as more and more victims keep coming in.
Created by Nikkhil Advani and produced by Emmay Entertainment, Mumbai Diaries 26/11 stars Mohit raina, Konkana Sen Sharma, Tina Desai and Shreya Dhanwanthary. Mohit Raina plays a doctor who has some tough decisions to make.
---
THE IRREGULARS – Webseries Releasing In March 2021
Netflix, March 26
I am sure you are familiar enough with the pair of Sherlock Holmes and John Watson and the famous array of solved cases in their arsenal. But what if there were supernatural entities lurking around in London? Well, they got that covered too, in this new webseries releasing in March 2021!
Enter The Irregulars, a group of misfits in 19th century London, who work to solve supernatural crimes and save London from supernatural elements at the behest of Dr. Watson and his elusive partner, Sherlock Holmes. Based on the works of Sir Arthur Conan Doyle, The Irregulars is an upcoming British crime drama web series created by Tom Bidwell for Netflix. It stars Henry Lloyd Hughes as Sherlock Holmes and Royce Pierreson as John Watson, while The Irregulars are portrayed by Thaddea Graham, Darci Shaw, Jojo Macari, McKell David and Harrison Osterfield.
The 8-episode series follows a group of teenagers living on the streets of Victorian London known as The Irregulars, who are recruited to work for Mr. Watson. It is set in an alternate universe where Sherlock is a drug addict and a delinquent and the Baker Street Irregulars solve the whole case whilst he takes credit.
Sounds interesting, right? Don't forget to catch the premier of this unique spin on a classic tale on Netflix on 26th of March!
---
QUBOOL HAI 2.0 – Webseries Releasing In March 2021
Zee5, March 12
The first season was quite a hit among the audience. Now Qubool Hai is gearing up for a comeback and the second season of the Karan Singh Grover and Surbhi Jyoti-starrer show is all set for a return. A teaser of the show was recently released and the onscreen romance already looks off the charts. So are you ready to relive the same emotions from all those years ago all over again? Then tune into this webseries releasing in March 2021.
In the original show, Zoya was an NRI who had returned to India to know about her father's whereabouts. But in the course of time, she comes across Asad and falls in love with him. In the teaser for the new season, Zoya is seen in a wedding dress running away from the wedding aisle. It is then that she surprisingly collides with Asad. Later, we see the two part ways as they look back and share a tender look.
The TV show broke stereotypes and the web series is here to challenge new ones. The 10 episodes web series is slated for March 12 premier on Zee5 and Karan Singh Grover and Surbhi Jyoti will resume their respective roles from the previous seasons. It is directed by Ankush Mohla and Glen Barretto and will also star Arif Zakaria and Mandira Bedi in key roles.
---
PACIFIC RIM: THE BLACK (Season 1) – Webseries Releasing In March 2021
Netflix, March 4
The Pacific Rim movie series were quite sensational. The setup was such that it could spurn many other interesting storylines. Netflix took one such opportunity and is now ready to release a brand new anime spin-off among webseries releasing in March 2021. It is based on the first two live action films.
Set in the Legendary Pacific Rim franchise, Pacific Rim: The Black is an American anime-style web series, and is created by Greg Johnson and Craig Kyle. It is voiced by Yui Shimodaya, Yūsuke Kobayashi and Iku Minase. Set in a post-apocalyptic Australia overwhelmed by the Kaiju, the plot follows twin siblings Hayley and Taylor, who pilot an abandoned Jaeger in search of their parents, encountering new creatures, seedy characters and chance allies.
There was a time when Kaiju rose from the Pacific Rim only to encounter gigantic robots, Jaegers, built to fight them back. That time has passed. Now, Australia has been overrun by Kaiju, forcing the evacuation of an entire continent. Left behind, teenage siblings Taylor and Hayley embark on a desperate search for their missing parents, teaching themselves to pilot a battered, long-abandoned Jaeger to help in their quest and give them even the slightest hope of surviving.
If you were a huge fanatic of the film series like me, don't forget to tune into the premier on March 4!
---
LOVE ALARM (Season 2) – Webseries Releasing In March 2021
Netflix, March 12
The incredibly popular K-drama returns for its second season on Netflix and the love triangle seems to be even more intense than before. Prepare for more heart fluttering moments, and perhaps even more heartbreaks, as we follow along JoJo and her quest to figure out just who she likes.
The first season saw the creation of the Love Alarm that set off the chain of events that led two best friends to pursue after the same girl. After an angsty round of misunderstanding, we were finally satisfied when our leads got together, only to be devastated at the end when they broke up. The new season will follow the aftermath as they move on with their lives. Now that JoJo is no longer with Sun-Oh, Hye-Young decides to pursue her with renewed determination. Even their Love Alarms are syncing. But Sun-Oh is not ready to let go of JoJo yet. He is convinced of her feelings and he is equally determined to win her back.
But who is in JoJo's heart? Who will she end up choosing? You can find out on March 12 when you catch up on this latest webseries releasing in March 2021.
---
Summary of list of Exciting New Webseries Releasing In March 2021:
| | | |
| --- | --- | --- |
| TITLE | PLATFORM | RELEASE DATE |
| The Married Woman | Alt Balaji | March 8, 2021 |
| Mumbai Diaries 26/11 | Amazon Prime Video | March 2021 |
| The Irregular | Netflix | March 26, 2021 |
| Qubool Hai 2.0 | Zee5 | March 12, 2021 |
| Pacific Rim: The Black | Netflix | March 4, 2021 |
| Love Alarm (Season 2) | Netflix | March 12, 2021 |
Exciting New Webseries Releasing In March 2021
Well, that should be enough to keep you going throughout the month of March. But in case you are not quite satisfied with this list of webseries releasing in March 2021 on OTT platforms, we have other lists for you as well. Ranging from movies to TV shows, we have compiled them all. Be sure to check them out and leave your comments!