Are you an expert in designing? Are you interested in the arts? Do colors attract you? Then, you are on the right path. You can collaborate with different designers or directly with clients to start your future journey. All you will need is willpower, dedication, and great enthusiasm. So, How to Become a Graphic Designer? If your mind is full of innovation and new ideas, this field is right for you. Join us and enjoy the ride of graphic designing, as we will give you a detailed view of graphic designing for your career. Read this blog to get a deep understanding of a graphic designer.
Perks of being a Graphic Designer
Graphic designers are entitled to provide visual representations to communicate with the users. They provide vital messages with the help of art forms. The acronym for their job can be online arts. They use different shapes, sizes, and figures to communicate with the users. They usually work for a brand and help brands enhance their brand name. Every art contains a specific message intended for the target audience.
Read our Blog about Infographic and its use in 2022: What is an Infographic ? Rich Media to use in 2022
To pursue graphic designing as a career, one can find two options, one as freelancing and the other one as a certified graphic designer. To be a freelancer, you can learn this skill online from free tools available on the web. However, in this field, the thing which matters the most is skill.
Qualifications for a Certified Graphic Designer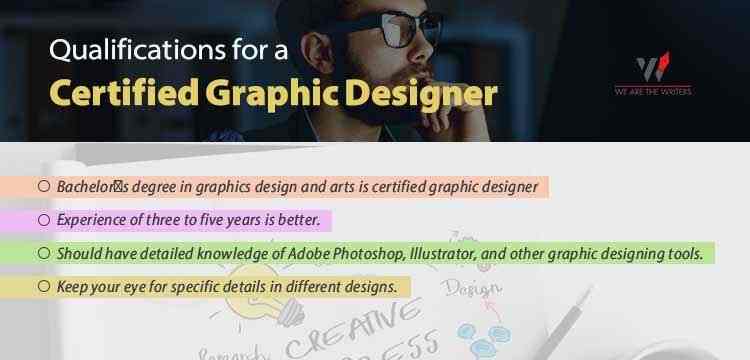 Bachelor's degree in graphics design and arts is a must to be a certified graphic designer. It will act as a cherry on top of the cake.
Experience of three to five years is better.
You need to have a detailed knowledge of Adobe Photoshop, Illustrator, and other graphic designing tools.
Keep your eye for specific details in different designs.
What is a Graphic Designer?
A graphic designer showcases his creativity and skills to develop an art form that conveys a message to the public. They combine arts and technology to communicate ideas and increase branding. Their main task is to advertise their company with the help of visuals. They are sensitive and expressive by their personality. They have the power to convey any message through their arts.
Also read : Facebook Post Writing
How do Industries define Graphic Designers?
Big companies and industries hire graphic designers to advertise their products and promote their businesses. Graphic design lies in every corner of your life. At every stage of your life, you need graphic designers. They play a vital role in every phase right, from businesses to designing your houses. Industries look for those who are a pro in this field. They want the company's name and fame to be at the top.
How to Become a Graphic Designer?
Graphic Designer is one of the most commendable fields in today's world. There's a huge demand for graphic designers in every sphere of life. Being a graphic designer is not a child's play. You could also refer to some free graphic designing courses from Coursera, Udemy, Alison, Shaw Academy. Here we provide you an idea to pursue graphic designing as your career:
Step by Step Guide to Being a Graphic Designer | What does a Graphic Designer do
STEP 1
Learn the Basics: Basics are the fundamental building blocks of graphic design. Your basics should be crystal clear. Learning basics properly play a vital role in your successful career in graphic designing.
STEP 2
Try online courses: Always choose a guide with immense knowledge of graphic designing and its tools. Follow them until you retire from your career. Choose the graphic designers with maximum years of experience as they would be able to impart their knowledge to you.
STEP 3
Proper Setup: Graphic designers do earn well, but they also need to spend a lot on software to try their art. The set up usually expensive, but it's worth it if you are willing to work hard for graphic design.
STEP 4
Portfolio: This is the thing that plays a main role in the career of a graphic designer. Consider portfolio as your resume. A portfolio is a website that contains to the point and crisp matter regarding you and your work.
STEP 5
Work Experience Matters: Try to gain as much work experience as possible. Apply for entry-level jobs as it will also help you polish your skills. Experienced graphic designers get an edge over other graphic designers.
STEP 6
Trends are a must. Always keep in touch with the upcoming trends. You should be aware of new trends and technologies. Always try to upskill yourselves.
STEP 7
Niche selection: A niche is a specific topic in which you are an expert. Choose a niche that suits you and your skill. It will make you a master in that specific field only.
STEP 8
Learn: Always keep on learning new tools. Stick to the industry and keep an eye on what customers demand. Last but not the least, never stop learning.
Read our Blog about Best Graphic Design Software you should know: 26 Best Graphic Design Software
Salary of a Graphic Designer:
The salary of a graphic designer varies from experience to experience. It depends on various factors like location, employment sector, and your reputation. A graphic designer in India earns 90k to 525k. An entry-level graphic designer usually earns around 236k per annum. While an experienced graphic designer with six to seven years of work experience earns about 495k per annum.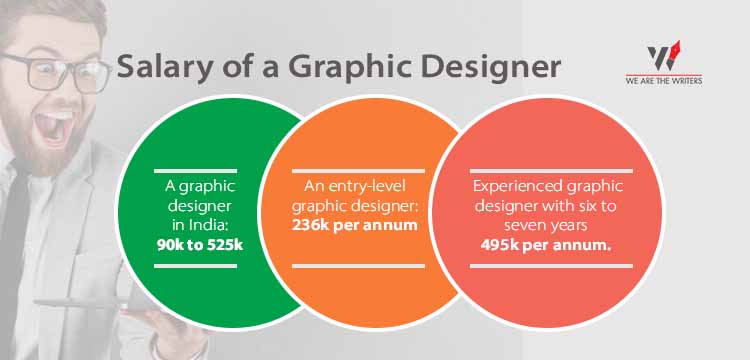 You might get paid less at the beginning of your career, but don't lose your heart in the beginning. As you become an experienced graphic designer, your pay will increase exponentially. Some specific cities around the world have a huge demand for graphic designers. These cities include London, Sydney, Los Angeles, and many more.
Also read our blog : BROCHURE DESIGN | SOFTWARE AND FREE TEMPLATES
Graphic Designer(Job Description):
There are three types of work environments for a graphic designer.
In-House Graphic Designer:
It means that a specific brand has hired you, and you have to work day and night for that brand. These types of graphic designers have all general skills to meet the company's demand. Here, graphic designers are assigned to a long-term project.
Agency Graphic Designer:
Clients hire these types of graphic designers for short-term projects. The assignments are specifically based on a certain topic.
Freelance Graphic Designer:
This is wholly a business that is run by the graphic designer itself. They are responsible for their loss and gain in this field. They work according to their needs and have flexible time hours. Freelancing can be done by some specific sites like LinkedIn, Fiverr, Upwork, and many others.
Responsibilities of a Graphic Designer:
Create posts according to the target audience.
Select proper color combinations, logos, and layout to display their arts.
Get in touch with new technologies like Canva, Behance, GraphicBurner, DevianArt, and many more.
Encourage the sales and leads by their creativity.
Work according to the client's demands and rectify them as per their demand.
Keep in touch with the clients and fulfill their demands with their skills.
Their main aim is to create posts, choose appropriate colors, make logos, selecting the proper interface. According to a study, employers seek a varied skillset from graphic designers, and the relevance of different skills partly depends on the position advertised[1].
Graphic Designer Jobs Scenario:
Graphic designing is a very vast field and has many other trending jobs in its field. Many types of graphic designers vary from industry to industry. According to facts and figures, there will be a three percent increase in graphic designing jobs from 2020 to 2030[2]. With the emergence of new technologies, there is a boom in the market which led to the increased demands of graphic designers.
Different Fields in Graphic Designing and their Roles:
Multimedia Designer: They are responsible for creating tools related to multimedia and promoting their business brands. Multimedia Designers earn around 356k in a year.
Art Director: They practice designing commercials and websites. They possess expertise in Adobe photoshop. The average salary of an art director is 650k per year.
User Experience Designer: They practice designing websites to make better user experiences on a platform. The UI/UX has huge demands in the global market.
Logo Designers: Here, the designer needs to design a logo for the company as per the company's motto and demand. Logo designers are favored a lot in the global market.
Conclusion:
With the increased demands of websites and businesses, there has been an immense demand for graphic designers. Use this blog as a tool to fulfill your desire of being a graphic designer and take the best out of it. This blog will help you achieve your goal of being a graphic designer. Designing and work related to art never leave a chance to impress us. All through the years, markets have evolved a lot.
Now, markets focus more on the online world rather than offline. There is a huge amount of people that are available online instead of offline. To attract this huge mass towards your business and jobs, it's necessary to set up your feet in the online world. For being a part of this online world you need to hire professionals who are well familiar with all modern trends and activities.
Also read our blog : 15 BEST CONTENT CREATION TOOLS
References
[1] Dziobczenski, P. R. N., & Person, O. (2017). Graphic designer wanted: A document analysis of the described skill set of graphic designers in job advertisements from the United Kingdom. International Journal of Design, 11(2), 41.
[2] Graphic Designers https://www.bls.gov/ooh/arts-and-design/graphic-designers.htm