A press release is a short, gripping news story created by a public and media relations expert and then distributed to the target member from the media. They are also deemed to be news releases, on a smaller scale. It is an immensely strong tool to communicate with the public and media and enhance relations with them as well. There are professionals for the job and it takes practice and creativity to understand how to write a Press Release.
The constituents of a good press release are a headline, opening sentence, body and contact details of the concerned people. Its main purpose is informing and public announcement, catching media's attention and stirring their interest in it. It is an important way of communication with the media and publications. These documents can affect public and media relations. Keeping its prominence in mind, here are the rules and tips:
Rules- How to write a Press Release
A successful press release is an amalgamation of facts or news and good writing. As it is more inclined towards stating the news, it becomes imperative to follow these rules:
Rule 1- Have a newsworthy story
The first and foremost thing to abide by is that you must have newsworthy content. It should be something people want to know and can also benefit from.
Rule 2- Inform- Write it like a reporter
While writing a press release, the main purpose should be to inform. The written content should only disseminate information about what is being shared. Though it is fine to make offers and present schemes it should not compel, persuade or display any extreme emotion via its message.
Rule 3- Make space for positive content (quotes/sayings)
A press release should provide some positive, insightful information so that it is fun to read it and establishes a connection. a great option can be a some insightful words by the company.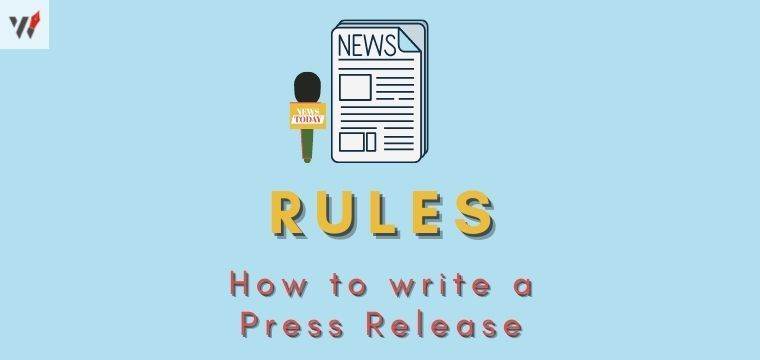 Rule 4- Use it like a sales tool
The idea of a press release is to communicate an announcement by a business. It is used to strengthen the process of marketing the product or service. As effectively it will be received by the media and publications, it will have more chances of getting sales increment.
Rule 5- Personalize for your top clients
You should accompany your press release with a personalised approach when sending it to people you really think would give importance to it. It accounts for a nice gesture, strengthens connections and won't end up in spam content.
Rule 6- Write it in an Inverted Pyramid Structure
The inverted pyramid manner of presenting information is always well received by the media. The structure answers the most important questions , what, when, who, where, why and how. The purpose of informing will be fulfilled along with creative writing.
Format – How to write a Press Release
Logo
The logo has to go on the top right corner. Every single time. It is a dedicated place for your brand. your brand should shine in the content displayed.
Release date
Put the date of release along with the heading ' Press Release'. Make sure you pay extra attention if there is an embargo on the date. There should be a fresh date in case of an embargo.
Contact information
Provide contact details of the correct person who enjoys good camaraderie with the media. It should include their full name, e-mail and phone number.
Headline
Media loves headlines. Provide a stellar headline which is newsworthy and interesting. It should be a striking and memorable.
Dateline
Do mention the date from when the news is happening or the product/service is available.
Intro paragraph
This is what will sell your press release. Make sure you place all your strong suits in here very strategically, in one line.
Body
Now is the time to mention the details. Make sure you don't repeat yourself and also, are not missing any information.
Brand Boilerplate
Provide the journalist with some details about your business. It is needed for carrying out a background check. By not doing so, you will give him the liberty to use data as per his understanding and convenience.
Sign-off
Include a section which bifurcates the information that has to be published by the one that doesn't. Do it efficiently by signing-off.
Types of Press Release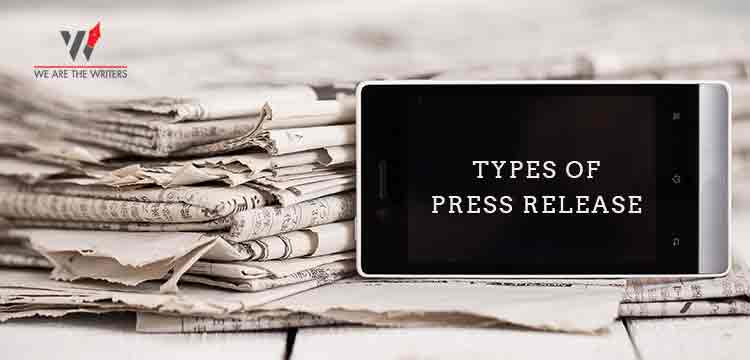 There are several types of Press Release based on the information they disseminate. It could be about an event, product, launch etc.
There is a different approach on how to write one for different purposes by Forbes.
For an Event
If you want to announce as well as create a buzz about your event in the public and media , a press release is a good option. Though the main pointers remain the same, details differ.
Important details to mention:
Date of the event
Location/venue of the event
Timings
For a Product
A press release of a product increases its trustworthiness. Getting backed up by the media becomes a strong tool at the company's disposal.
Important details you should not miss:
Features of the product
Unique selling points of the product
Price of the product
For a Launch
A launch press release is one of the most common types of press release. It can work wonders for a launch because it can strengthen the brand and attract customers.
Important details to mention:
Niche of the brand (if new)
About the brand
A small story behind the idea
For a New Partnership or Acquisition
The inclination of the purpose of this kind is towards informing rather than selling. This is the most detailed of all.
Important details to go without fail:
Name of both the companies, acquiring company first if its an acquisition press release.
Important people in both the companies.
Contact of concerned people
Date of Effect.
For Rebranding
A rebranding press release has to be very descriptive and insightful. It should display a difference in the perspective of your brand. there should be data which can help the audience figure out the difference in the previous brand outlook with that of the new one.
Important details to mention:
Existing brand identity
Brand Changeover announcement
New practices
Addressal by top executives
Contact information
A press release is more than just a public and media relations and announcement. If done correctly, it can boost sales and increase credibility. A strong PR team and Media Relations can be very helpful in achieving the desired results.