We commemorate the occasions over which great events occurred to commemorate their significance. Aside from that, specific occasions are observed to raise public attention regarding major issues in the globe, such as health awareness, famine awareness, and so on. These occurrences, as well as their Important Days and Dates list in 2022, are particularly relevant for individuals studying for entrance exams.
Applicants can benefit from maintaining a list of crucial events and days in 2022 while they prepare for upcoming examinations. This section compiles a comprehensive overview of all significant occasions and their schedules in one spot.
Read this blog for Stock market holidays list 2022: Stock Market Holidays 2022 | Complete List of NSE and BSE Holidays 2022
The month-by-month information for important Days and Dates list in the calendar year 2022 are listed here. There are many holidays and celebrations commemorated in India, and a collection of these events can be found here. Individuals have diverse ethnicities, customs, lifestyles, cuisine, and other vital aspects in every kilometer throughout India, according to a popular statement.
Together with notable dates, national and international holidays, the nation also hosts a variety of religious events. According to India's topographical position, the country is wealthy in beliefs and heritage, and festivities are held around the year.
Read out the interesting facts about important days and dates in the year 2022. Now, we'll provide readers lists of the significant events and holiday list of this year to consider. We'll begin in January and go through December, including both national and international holidays. [Holiday List february]
Important Days, Dates and holiday list of January 2022 | Important Days and Dates list in 2022
1 January: Global Family Day, Army Medical Corps Establishment Day
4 January: World Braille Day
6 January: National Technology Day, World War Orphans Day
9 January: NRI (Non-Resident Indian) Day or Pravasi Bharatiya Divas
12 January: National Youth Day
13-14th January: Makar Sankranti or Lohri, Guru Govind Singh Jayanti
15 January: Indian Army Day
18 January: National Immunization Day (Polio Day)
23 January: Netaji Subhas Chandra Bose Jayanti
24 January: National Girl Child Day
25 January: National Voters Day, National Tourism Day
26 January: Republic Day of India, International Customs Day
27 January: International Day of Commemoration
28 January: Birth Anniversary of Lala Lajpat Rai
30 January: Martyrs Day or Shaheed Diwas
31 January: World Leprosy Eradication Day
Read all about Republic Day: Happy Republic Day – All About 72nd Republic Day of India
Important Days, Dates and holiday list of February 2022
1st February: Indian Coast Guard Day
2 February: World Wetlands Day
4 February: World Cancer Day
6 February: International Day of Zero Tolerance of Female Genital Mutilation
11 February: International Day of Women and Girls in Science
12 February: National Productivity Day
13 February: National Women's Day (Birth Date of Sarojini Naidu), World Radio Day
14 February: Valentine Day
15 February: International Childhood Cancer Day
20 February: World Day of Social Justice
21 February: International Mother Language Day
24 February: Central Excise Day
27 February: World NGO Day
28 February: National Science Day
Important Days, Dates and holiday list of March 2022
1 March: Zero Discrimination Day, World Civil Defence Day
2 March: Employee Appreciation Day
3 March: World Hearing Day, World Wildlife Day
4 March: National Security Day
8 March: International Women's Day
10 March: CISF Raising Day, No Smoking Day (Second Wednesday of March)
13 March: World Sleep Day
14 March: International Day of Action for Rivers, Pi Day
15 March: World Consumer Rights Day
16 March: National Vaccination Day
18 March: Ordnance Factories Day (India)
20 March: World Sparrow Day, International Day of Happiness
21 March: World Forestry Day, World Poetry Day, World Down Syndrome Day
22 March: World Water Day, Bihar Day
24 March: World Tuberculosis (TB) Day
27 March: World Theater Day
Important Days, Dates and holiday list of April 2022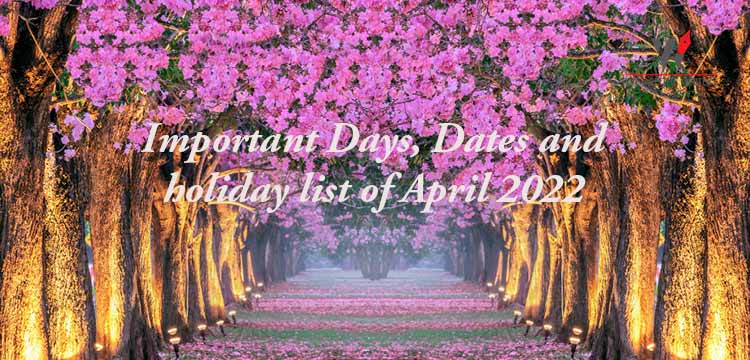 1 April: Odisha Day
2 April: World Autism Awareness Day, International Children's Book Day
4 April: International Day for Mine Awareness
5 April: National Maritime Day
7 April: World Health Day
10 April: World Homeopathy Day (WHD)
11 April: National Safe Motherhood Day, National Pet Day
13 April: Jallianwala Bagh Massacre
17 April: World Hemophilia Day
18 April: World Heritage Day
19 April: World Liver Day
21 April: National Civil Service Day
22 April: World Earth Day
23 April: World Book and Copyright Day
24 April: National Panchayati Raj Day
25 April: World Malaria Day
26 April: World Intellectual Property Day
27 April: World Veterinary Day
28 April: World Day for Safety and Health at Work
29 April: International Dance Day
30 April: Ayushman Bharat Diwas
Important Days, Dates and holiday list of May 2022
1 May: International Labor Day or May Day, Maharashtra Day
3 May: Press Freedom Day, World Laughter Day (first Sunday of May)
4 May: International Firefighters Day, Coal Miners Day
5 May: World Asthma Day (First Tuesday of May)
7 May: World Athletics Day, Rabindranath Tagore Jayanti
8 May: World Red Cross Day, World Thalassaemia Day
10 May: Mother's Day (Second Sunday of May)
11 May: National Technology Day
12 May: International Nurses Day
15 May: International Day of Family
16 May: Armed Forces Day (Third Saturday of May)
17 May: World Hypertension Day, World Telecommunication Day
18 May: World AIDS Vaccine Day, International Museum Day
21 May: National Anti-Terrorism Day
22 May: International Day for Biological Diversity
24 May: Commonwealth Day
31 May: Anti-Tobacco Day
Important Days, Dates and holiday list of June 2022
1 June: World Milk Day, Global Day of Parents
2 June: Telangana Formation Day, International Sex Workers Day
3 June: World Bicycle Day
4 June: International Day of Innocent Children Victims of Aggression
5 June: World Environment day
7 June: World Food Safety Day
8 June: World Brain Tumour Day, World Oceans Day
12 June: Anti Child Labour day
13 June: International Albinism Awareness Day
14 June: World Blood Donor Day
15 June: World Wind Day
17 June: World Day to Combat Desertification and Drought (International)
20 June: World Refugee Day, Father's Day (3rd Sunday)
21 June: International Day of Yoga, World Hydrography Day, World Music Day
23 June: International Olympic Day, United Nations Public Service Day, International Widows Day
26 June: International Day against Drug Abuse and Illicit Trafficking
Important Days, Dates and holiday list of July 2022
1 July: National Doctor's Day, Chartered Accountant's Day (India), National Postal Worker Day,
2 July: World UFO Day, National Anisette Day
4 July: Independence Day USA
6 July: World Zoonoses day,
11 July: World Population Day
12 July: Paper Bag Day, National Simplicity Day
15 July: World Youth Skills Day
17 July: World Day for International Justice
18 July: Nelson Mandela Day
22 July: Pi Approximation Day
26 July: Kargil Vijay Diwas (Kargil Victory Day)
28 July: World Hepatitis Day, World Nature Conservation Day
29 July: International Tiger Day
30 July: International Friendship Day
Important Days, Dates and holiday list of August 2022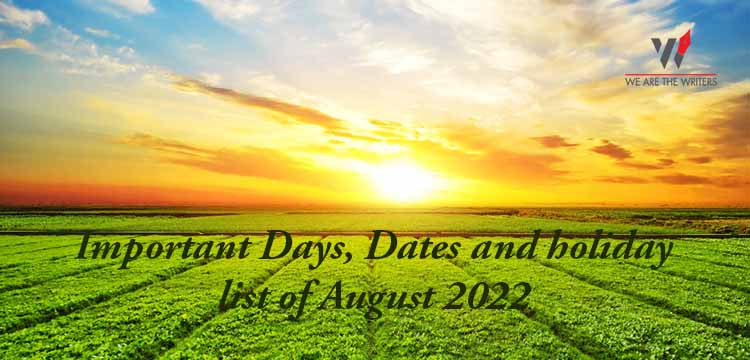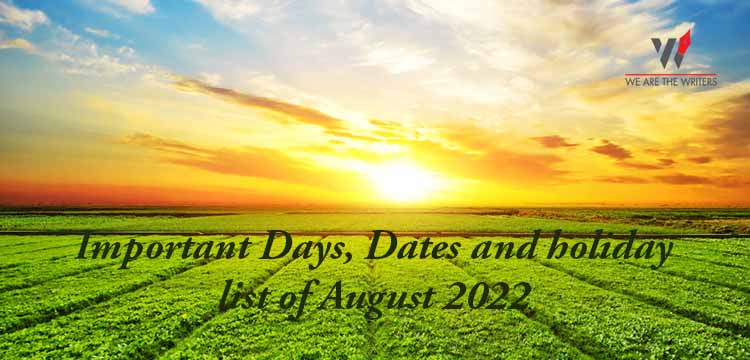 6 August: Hiroshima Day
7 August: National Handloom Day
8 August: Friendship Day
9 August: Quit India Movement Day, Nagasaki Day
12 August: International Youth Day
14 August: Youm-e-Azadi (Pakistan's Independence Day)
13 August: World Organ Donation Day
15 August: Independence Day of India
16 August: Bennington Battle Day
17 August: Indonesian Independence Day
19 August: World Photography Day, World Humanitarian Day, Krishna Janmashtami
20 August: Sadbhavna Divas
22 August: Raksha Bandhan
26 August: Women's Equality Day
29 August: National Sports Day
30 August: Small Industry Day
Important Days, Dates and holiday list of September 2022
2 September: World Coconut Day, Victory over Japan Day (USA)
3 September: Skyscraper Day
5 September: Teachers' Day (India), International Day of Charity
7 September: Brazilian Independence Day, Forgiveness Day
8 September: International Literacy Day
10 September: World Suicide Prevention Day
14 September: Hindi Diwas, World First Aid Day
15 September: International Day of Democracy, Engineer's Day (India)
16 September: World Ozone Day, Malaysia Day, International day of Preservation
21 September: World Alzheimer's Day, International Day of Peace and Non-Violence
22 September: Rose Day (Welfare of Cancer patients)
23 September: International Day of Sign Languages
26 September: World Contraception Day, European Day of Languages, World Maritime Day
27 September: World Tourism Day
28 September: World Rabies Day
29 September: World Heart Day
30 September: International Translation Day
Important Days, Dates and holiday list of October 2022
1 October: International Day for the Elderly, World Vegetarian Day, International Coffee Day
2 October: Gandhi Jayanti, International Day of Non-Violence
3 October: German Unity Day
4 October: World Habitat Day (First Monday), World Animal Welfare Day
5 October: World Teachers' Day
8 October: Indian Air Force Day
9 October: World Post Office Day
10 October: World Mental Health Day, National Post Day
11 October: International Girl Child Day
13 October: UN International Day for Natural Disaster Reduction
14 October: World Standard Day
15 October: World Students Day, Global Handwashing Day, Pregnancy and Infant Loss Remembrance Day, World White Cane Day (guiding the blind)
16 October: World Food Day
17 October: International Poverty Eradication Day
20 October: National Solidarity Day (China attacked India on this day)
24 October: United Nations Day, World Development Information Day
30 October: World Thrift Day
31 October: Ekta Diwas (National Unity Day), Halloween
Know more about Remember Day: Remembrance Day – All you Need to Know
Important Days, Dates and holiday list of November 2022
1 November: World Vegan Day, All Saints' Day
5 November: World Tsunami Day
7 November: National Cancer Awareness day, Infant Protection Day
9 November: National Legal Service Day
10 November: Transport Day
12 November: Guru Nanak Dev's Birth Anniversary, World Pneumonia Day
13 November: World Kindness Day
14 November: Children's Day, World Diabetes Day
17 November: National Epilepsy Day
19 November: World Toilet Day, International Men's Day
20 November: Africa Industrialization Day, Universal Children's Day
21 November: World Television Day
25 November: International Day for the Elimination of Violence against Women
26 November: Law Day (India)
29 November: International Day of Solidarity with Palestinian People
Read more about:
Important Days, Dates and holiday list of December 2022 | Important Days and Dates list in 2022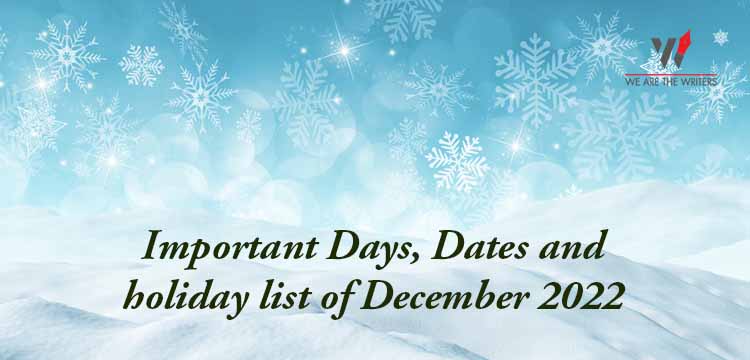 1 December: World AIDS Day
2 December: National Pollution Control Day
3 December: World Day of the Handicapped
4 December: Indian Navy Day
5 December: World Soil Day, International Volunteer Day
7 December: Indian Armed Forces Flag Day, International Civil Aviation Day
9 December: International Anti-Corruption Day
10 December: Human Rights Day
11 December: UNICEF Day, International Mountain Day
14 December: World Energy Conservation Day
15 December: International Tea Day
Read more about: International Tea Day
16 December: Vijay Diwas
18 December: Minorities Rights Day (India), International Migrants Day
19 December: Goa's Liberation Day
20 December: International Human Solidarity Day
22 December: National Mathematics Day
23 December: Kisan Divas (Farmer's Day in India)
24 December: National Consumer Rights Day
25 December: Christmas Day, Good Governance Day (India)
31 December: New Year's Eve
Read more about:
Refer to this site for more Careerinfo India