What do you think is the most effective way to get noticed on Instagram?Captions? Content? Frequency? Trending content? All are important but the most significant one is Instagram hashtags. Trust me when I say this. The more suitable and good hashtags you use the more chances are that you will get noticed.
Hashtags you use can either make or break your profile image. It's like a do-and-die situation. Therefore it's very important to get your hashtags game right. To utilize hashtags effectively on Instagram, you must first grasp how they function and then devise a strategy.
Before we move into how to use Instagram hashtags for likes, let's first understand their importance.
What are hashtags?
On social media networks, a hashtag is a designation that makes it simpler to identify posts or data that has a specific theme or has specific content. It's made by putting the symbol "#" in front of a word or a group of words that aren't separated by spaces.
Hashtags are often used by a greater number of platforms, which has an effect on the amount of information that is directly shown to people on social media. They make it much easier for social media users to gather data. Users that find the hashtag useful will notice your message if it has a distinctive hashtag.
Suggested Blogs:
Significance of Instagram hashtags in business
As a platform, Instagram has restricted search functions, so using hashtags is one of the easiest methods to be noticed and gain more eyes on your material. They help consumers find more of your content by allowing you to appear in various queries for your intended demographic.
Trending Instagram hashtags can help you develop a community and encourage people to interact with your business. When you include a hashtag in your story, it may appear in the related hashtag story, which is also displayed on the hashtag tab.
Hashtagged content, especially content with a famous #, has a short life span. Your content may only be included at the front of the query for a few minutes or hours if the topic is trending or famous. Experiment with both popular and less popular hashtags to determine which ones generate the greatest interest.
To know more about content : A well described guide to Social Media Content – 7 minutes read
Hashtags are an excellent SEO strategy to be used on wide social media platforms. Be it a small business or an already established one, hashtags are mandatory for everyone.
Best Instagram hashtags for small business
Are you a small business owner looking for appropriate hashtags to use? This is the place for you! We have listed the 20 best hashtags for small business that have a high reach and can maximize your engagement.
#smallbusiness
#smallbusinessowner
#smallbusinesssupport
#smallbusinesssaturday
#smallbusinesstips
#smallbusinesses
#smallbusinessmarketing
#smallbusinessgrowth
#supportsmallbusiness
#smallbusinesslife
#smallbusinesswomen
#smallbusinessowners
#smallbusinesshelp
#smallbusinessadvice
#smallbusinessideas
#smallbusinessquotes
#smallbusinesssupportingsmallbusiness
#smallbusinessstartup
#smallbusinessstartup
#smallbusinessstrategy
Related useful blogs:
Trending Instagram hashtags
Using hashtags related to your niche is ofcourse the best way to grow your page. However, the trending Instagram hashtags for likes should also be among your 30 or fewer hashtags in a post.
The following are well-researched trending Instagram hashtags you can use for your brand page.
#likesforlikes
#instalikes
#followforfollowback
#marketing
#instagram
#instagood
#instadaily
#likeforfollow
#comment
#likesforlike
The volume of trending hashtags keeps changing. Therefore keep yourself updated with the latest hashtags trending on the platform.
Types of hashtags
Industry hashtags
A lot of people use such hashtags. Adding a few industry hashtags will help Instagram know what you are into and that will help you appear on the Search or Explore page.
Example: #writer
#weddingplanner
Product hashtags
These are basic hashtags. Whatever product or service your brand offers can be used as a hashtag for your posts and stories.
Example: #cosmetics
#digitalmarketingservices
Special event hashtags
These could be used to refer to actual events or seasons or they can be used to allude to all of the National holidays.
Example: #summerdays
#nationalscienceday
Daily hashtags
Every day has its own set of hashtags. They're a terrific resource of content ideas, and when used correctly, they may increase engagement rates.
Example: #mondayblues
#tuesdatmotivation
Suggested Blogs:
Tips for using Instagram hashtags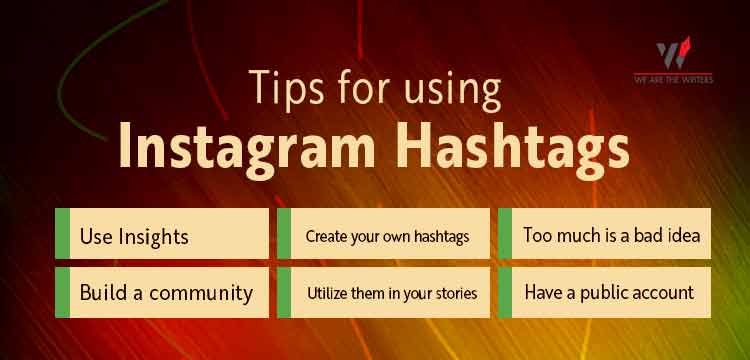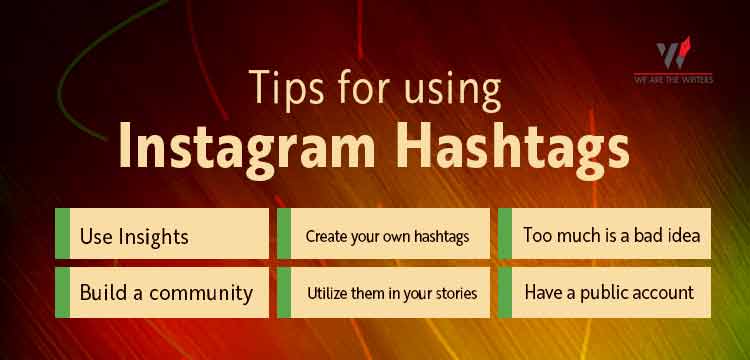 Use Insights
Since if you have a business profile, you have access to use the Insights feature. With that, you can easily track how your posts and hashtags are doing. Use different hashtags and compare their progress. Make a list of ones that performed really well, start using them regularly.
Create your own hashtags
Make a hashtag that is appropriate for your brand and share it with your audience. They now utilize your brand's hashtag if they use your product or participate in a connected activity, increasing your visibility and encouraging others to do the same. You can be creative and create a strategy within your own customized hashtag. If executed in a unique and interactive way, this can take your brand to a whole new level.
Too much is a bad idea
We understand you want your page to really perform well. But overusing hashtags makes your post look messy. Although your post now appears in a variety of queries, most visitors prefer to look at photographs that are less crowded. Though Instagram enables you to use up to 30 hashtags per post, it's preferable to spend your time discovering and using a small number of highly effective hashtags instead of hoarding a large number of tags.
Build a community
One amazing feature of hashtags is that they allow you to build connections and form communities. Following trending hashtags might help you find new collaborators and connect with folks in your target audience. Creating an Instagram marketing strategy based on a hashtag can also be a great approach to collaborating with a relevant brand. So this partner brand will be posting about your company to their whole audience and you will earn far more visibility.
Utilize them in your stories
While the IG stories feature is an amazing tool to enhance visibility, adding hashtags to them makes it more powerful. Include hashtags relevant to your post and ensure more exposure. Try keeping your brand hashtags consistent in each story.
Have a public account
Private accounts should not be used by brands because they limit the brand's audience: Only users with access to the account can see hashtags. If you have a private account with 50 followers, it is possible that only 50 individuals will see it. If your account is public, your photo could be seen by hundreds, if not thousands, of people.
Conclusion
To sum up, Instagram hashtags are important to boost your brand's growth and digital presence. However, using too many and too random hashtags might not give you the desired results. There are plenty of hashtag generator tools that you can use for good and effective tags for your post. Sometimes low-density hashtags do work as they have less competition which increases your chances to be THERE!