Plagiarism checking is a must-have task that every writer should have to do before work submission. The best way in this regard is by using a plagiarism checker. Do you want to know how this tool works and helps in plagiarism detection? One should always look out for any Plagiarism in Content.
Let's explore this section together in this blog. Here we are going to show you how this tool can help the writers in duplication finding. We will also show you a detailed overview of different types of plagiarism.
What is A Plagiarism checker? – Find Plagiarism in Content
It is a specific tool that has an advanced algorithm with a vast database. The main purpose of a plagiarism detector is to compare your given text with already published content. In the end, it will show you whether it has found matches of your content on the internet or not.
Every writer desires to write unique content to avoid any unexpected conditions like contract cancellation with the buyer. The main reason why people take plagiarism seriously is that it is considered a type of stealing.
Almost every person hates duplication because of its harmful impacts. Does not matter whether you are a student or a freelance writer, you will face the consequences of duplicate text.
This is where you will find a plagiarism checker reliable tool to compare your text and show your report. In this way, you can claim that your content is unique and plagiarism free.
Why Plagiarism checker is Getting Popular?
In recent years, the internet has become a hub for searching for anything. Here, you will find multiple web pages discussing the same topic but in different dimensions. According to stats, more than 600 million blogs were live by the end of 2021.
Similarly, more than 7.7 million blog posts are written daily as per stats of the Internet Live Stats. It makes difficult to be unique in writing on any topic. This is why it is compulsory to get a plagiarism report using a duplication checker. 
As mentioned above, plagiarism is considered the most threatening factor for your work. Does not matter whether you are a writer or a webmaster, you should have to avoid plagiarism. The main reason is that search engine hates duplication and can push your website lower in case of a copyright strike.
Due to all such reasons, plagiarism checkers have become common in every field of writing. You should have to keep it in your tool list if you want to work as a long-term writer with success.
How Does a Plagiarism checker Work?
Every plagiarism checker has a specific database where it keeps adding all published blogs, webpages, and books. Whenever you will insert text in this tool, it will compare your text with documents available in its database.
At the end of the comparison, it will show you whether your text is unique or plagiarized. Here are the steps that you need to follow while using almost any plagiarism detector.
Go to a plagiarism checker
Paste the text in which you want to check plagiarism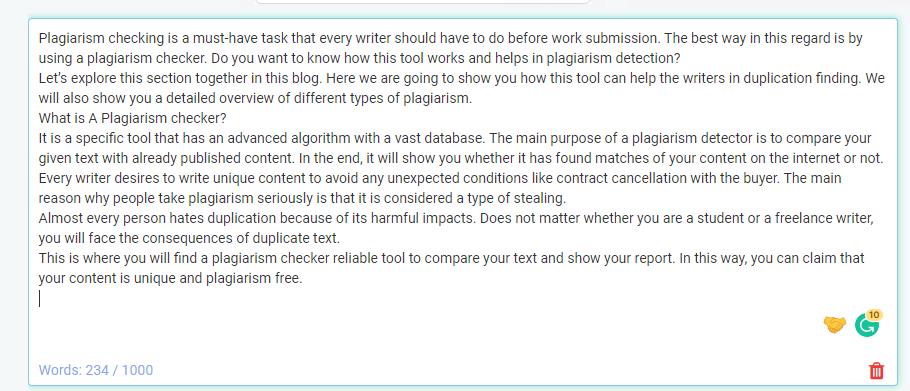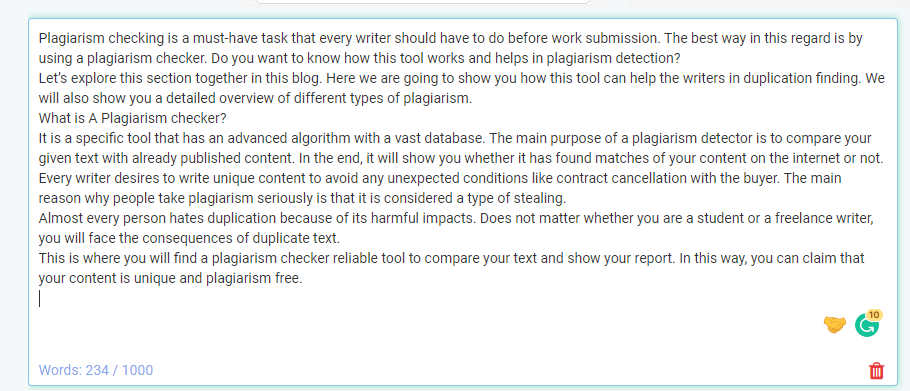 Click on the "Check Plagiarism" button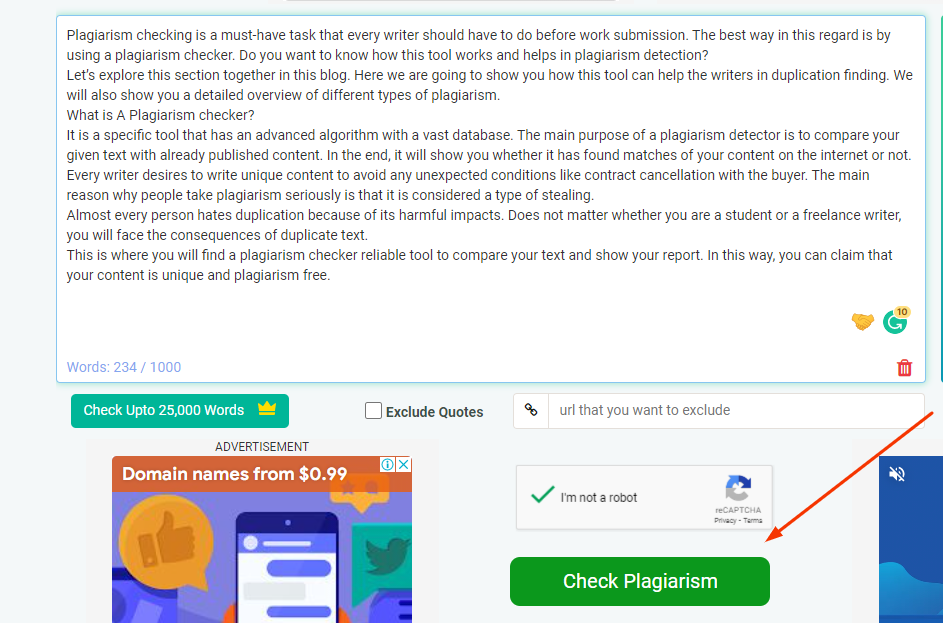 Wait for a few seconds
The tool will display the plagiarism report on your computer's screen

You can easily check which lines are copied and which are unique
By getting a plagiarism report from a tool, you can easily make your content unique. You only need to rewrite those lines carefully without changing the meanings. It will be pretty simple to do this if you are proficient in the concerned language or subject.
Can A Plagiarism checker Detect All Types of Plagiarism?
No doubt, a plagiarism checker has an advanced algorithm for the comparison of text. But it is unable to find "Paraphrasing Plagiarism". It is a specific type of plagiarism in which the writer has changed the words of the author.
In simple words, it means rewriting the original idea as it is in new words. You can't find this type of plagiarism using a tool. The reason is this tool will compare the words with the documents available in its database.
With the involvement of new words, it will never be able to get an idea that the text is plagiarized.
Final Wrapped – Plagiarism in Content
With the above discussion, you must have got an idea of how a plagiarism checker can help you in plagiarism detection. It is compulsory to use a tool and attach the plagiarism report with your content for surety.
By doing this, the receiver will come to know that you are confident about your work and writing unique content. In this way, you will be able to secure a successful career in this field.