Writing a blog is something that is very prevalent in today's age. One aspect of all successful blogs is the content promotion strategy. Be it content writing blogs on different topics, academic blogs, fashion or food blogs, content is king. Therefore, one of the important responsibilities of content writers or copywriters is to produce high-quality content.
Blogging requires discipline and constantly being active about the latest updates on different topics. In order to promote a blog, one needs to adopt certain strategies which will help them streamline their success.
In this blog, we have highlighted the techniques of writing a high-quality blog. There are certain ways and means to promote a blog, which you will find mentioned below. Furthermore, you will also learn about the benefits of writing and promoting a blog. Read on to find out.
---
WHAT IS A BLOG?
What do we mean by blogging? A blog is simply an article on the internet, which one uses to share his/her thoughts, opinions or views about a certain topic. Blogs also help writers to educate the readers with factual information, help businesses grow website traffic, convert leads, etc. Many a time bloggers collab with other blogs or opt for LinkedIn Syndication to promote a blog. Guest posting is another prevalent form of content promotion.
Successful bloggers invest in blog marketing, guest posting and collab with other blogs often. It is all part of their content promotion strategy. Some of the best blog writing services or good blogging websites are mentioned below.
Wistia
Evernote
Moz
Business Insider
Mashable
Gawker
The Daily Beast
TechCrunch
First Round Review
Zappos
HubSpot
Buffer
These platforms are some of the most widely visited in 2021. You will find guest posts on most of them and they have a well-planned content promotion strategy. When you advertise your blogs or engage in guest posting, the chances of your blog ranking increase automatically.
---
STRUCTURE OF A BLOG
Let us see the basic structure that one must follow to help his/her blog to rank on google. Visit our blog "How To Rank on Google" to know more.
HEADLINE
We often make the mistake of keeping the most important part of our blogs for the end. We often view headlines as an afterthought, but they should be given far more importance. In fact, the headline of the blog may be more significant than the content of your piece. You need a compelling, catchy headline to make readers attracted to your writing. Use numbers, odd digits and adjectives in the headline of your blog to make it catchy.
The headline is the introduction of the blog. Introduction may contain some facts and figures relating to the topic you are writing. It should basically justify the outline of your blog.
BODY
The integral part of your blog is the main body of what you are writing. It defines the main purpose of your blogging. Hence, focus on answering the five questions as to who, what, when, where and why in the body of your blog. The main body must contain the important data/factual information that is necessary for the blog. This enhances the quality of your blog.
Sometimes, data that is taken from an authentic source is considered as a well researched article. Providing backlinks (outgoing links) in your blog will help your website increase the PA, which acts as an added advantage.
Make a single version of the entire blog first, making an outline of the topics. Wherever possible, add the next subsection or highlights and facts. If you want to excite and engage your readers, add a generous amount of personal anecdotes in your writing. This always helps to amuse the readers. Most importantly, get rid of any terms that are not necessary. Remember, 'writing too much' is not equal to 'writing well'.
ADDITIONAL INFORMATION
This is an important section of your blog. Additional information in the blog help readers to have a detailed understanding of the topic. An informative blog is the need of the hour. This will hook the readers in your website.
CONCLUSION
"All's well that ends well". I think this quote is self explanatory. Therefore, the conclusion should be written in such a way that makes the readers come back to your page. This helps is solving two factors
Dwell Time
Returning Visitor
A proper conclusion has to be a summary of all the important points that you have put forward in your blog. According to writerscookbook a conclusion "may be the only part people read so that they can get the TL;DR version of your post".
---
TIPS TO WRITE A BLOG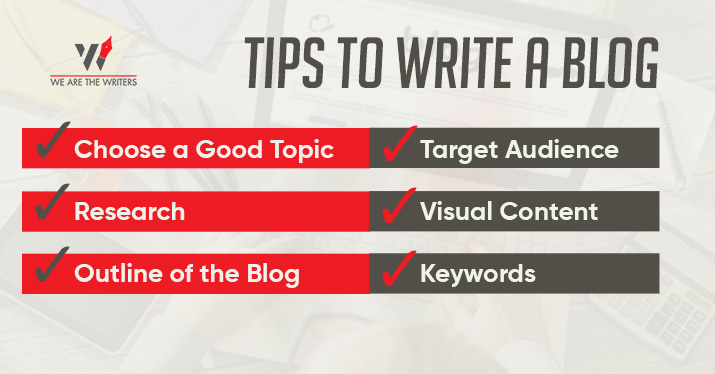 The content writers or copywriters who write blogs, we call them 'bloggers'. The main job of bloggers is to find out relevant topics and write on them for the target audience. They also plan out the content promotion and marketing strategy and collab with other blogs. Here are some tips to write a high-quality blog.
CHOOSE A GOOD TOPIC

When it comes to blogging, you cannot afford to write what everyone else is writing. You have to choose a topic which both you and your readers will be interested in. Check out Google Trends or BuzzSumo to find out which are the trending topics. Use SEO tools to optimize and promote a blog.
RESEARCH
There is nothing called 'too much research'. The more you research about a topic, the more you will learn about it and it will reflect in your blogs. Advertise your blogs not only with paid marketing but with good content as well. Make it a trademark or signature style to offer unique, well-researched content to your readers. You need not be an expert in the field. However, having the necessary knowledge to write on a particular topic is always a good way to start.
OUTLINE OF THE BLOG
In order to write and promote a blog, you need to have an idea of what you will write in advance. You will also need a clear idea of who your target audience is. This is the strategic plan, or you can say, the structure and foundation of the blog. You can use a notepad to describe the key points and to describe your topic during your researches. In any case, if you are serious about blogging and want to turn it into your full-time career, you need to prepare a proper outline for your blog.

TARGET AUDIENCE
In any business or practice of generating revenue, one must define the target audience. How do we do that? The target audience is the set of people who are most likely to want your product or service. They are the ones you create content for or promote a blog through blog marketing. As a result, you should take special care of your advertising campaigns with respect to their interests. Age, gender, earnings, location, desires and countless other factors may define target audiences.
VISUAL CONTENT
People will read your blog more and share them if you post photographs on your website or social media platforms. Another advantage is that it is simpler to produce in a blog, rather than writing a wall of text. Be it photos, videos, graphics – visual material is more interactive and engaging than textual content. This allows you to deliver your brand message in a clear and appealing manner.
USE KEYWORDS FOR SEO OPTIMIZATION
Use the blog subject keywords in your heading to improve your blog post and rank higher on Google. This will make it obvious to the readers what you will be talking about in your piece. Instead of stuffing keywords into blog pieces, they should always appear consistent and well distributed. Your blog article should always answer the question of the user. In your blog post, always employ long-tail keywords (comparatively unpopular searches with high variation). These are the keywords that will help you get high-quality traffic. Use SEO tools like SEMrush, Moz, Ahrefs, etc. to create high-quality SEO writing.
---
BENEFITS OF WRITING A BLOG
There are several benefits of writing a blog. When you write a blog independently, you can take control of your online persona and establish trust through your knowledge. Your writing skills are bound to increase with constant practice of blogging.
You might be able to learn a new language or improve an old one. You can learn technical skills while writing blogs. You will build a network of like-minded people, connections, which is a great benefit of writing a blog.
People will consider you as an expert in the field or niche of your blog. Blogs help attract higher website traffic. You can use blog content on social media by simply repurposing it, depending on the type of social media platform.
Blogs help you in link building. According to experts, blogs are responsible for long-term outcomes. Blogs help in the conversion of traffic into leads. Through blogs, you can help in disseminating corporate news about your business.
Go through our blog on "BLOGGING: THE BEST TECHNIQUES OF 2021" to have a vivid idea about how to start about blogging. We have made your life easy.
---
30 DIFFERENT WAYS TO PROMOTE A BLOG
Let's say you have written an exceptional blog. Your research and writing skills are top-notch, but still, you aren't gathering that many blog views or readers. You must be wondering, where did I go wrong?
The question isn't where you went wrong, the real question is: is your blog highly visible to your readers? Are they seeing your blog at the top of search engine results? When they type in a similar search query related to the topic of your blog, are they seeing yours first? If not, it's time to change that. The only way to achieve that is to promote a blog.
Here are some fool-proof methods that will help you promote a blog and reach the maximum audience.
RUN FACEBOOK ADS
To promote a blog, use Facebook ads. First, create a Facebook page exclusively for your business. Facebook pages can be a very effective way to advertise your blog and website. Decide on your content promotion and blog marketing goals. Set a budget and target audience. Create an ad copy with a proper tagline and images. Make a catchy headline.
WATW provides various social media post writing that will help you promote your blog on Facebook. Use our "Facebook Post Writing Service" to see the change that you want for your website.
PROMOTE A BLOG TO YOUR CURRENT AUDIENCE
After building a loyal base of followers who read your blogs and engages with them, promote a blog to them. Every new blog post should be promoted to your existing audience. Some of your followers will also share your blogs on their social media.
PROMOTE A BLOG ON QUORA
Another way to generate traffic to your blog is to participate in online forums. Share and upload useful content, along with suitable links in order to establish your influence in these online groups. Quora is a well-known Q&A platform that can provide a lot of traffic to your website.
TURN BLOGS INTO YOUTUBE VIDEOS
YouTube has over a billion users worldwide. This figure alone should amaze you, as YouTube videos are a great way to promote a blog and reach a wider audience. You can effortlessly convert your blogs into videos on YouTube. First, start a YouTube channel and begin linking videos into your existing blog posts.
SOCIAL MEDIA MARKETING
In the age of social media, advertise your blog on social media platforms to stay ahead of the game. Building an active following on social media is a terrific method to do so. It makes it easier for new readers to connect with you and find your blog.
It's a great opportunity to communicate with others who are also interested in your blog topic. Our blog on "Social Media Marketing Tips" will help you know more about the tips and tricks of social media marketing.
LINKEDIN SYNDICATION
LinkedIn syndication is an excellent way to get your blog posts in front of new readers. It's a terrific method to build brand awareness, increase your presence on social media. You can generate social shares, followers in addition to improving user engagement with LinkedIn syndication.
CREATE SHARE-WORTHY CONTENT
Impress your readers, provide them with value through your blogs. Create share-worthy high-quality content with excellent graphics to promote a blog.
VISUAL CONTENT IN BLOGS
Visual storytelling can help to liven up your blogs. When you advertise your blog material on social media sites, include images, videos, infographics, etc. Research shows that graphics increase engagement, which is an important factor to promote a blog. Adding more and more visual elements will increase your content promotion game drastically.
GET GOOGLE TRAFFIC BY UPDATING YOUR BLOGS
The more frequently you update your blog, the more visitors it will attract. Google prioritizes websites with new information. So update your blog frequently if you want to receive more attention from the search engines.
REACH OUT TO PEOPLE IN THE SAME NICHE
Once you publish great pieces of content, reach out to people who share common interests in your blog topics. Build a network of like-minded people by sharing their blogs as well as encouraging them to share your blogs.
CONTENT AGGREGATORS
Content aggregators gather content from various websites and "aggregate" or collect it into a single, easily accessible area. All of the content is available in one location for visitors. Creators are able to reach a broader audience with their work. Some popular content aggregators are:
BE ACTIVE ON RELEVANT NETWORK
People join online communities to have meaningful discussions about a specific topic and to assist one another with related difficulties. You can either go for Facebook or Reddit forums or just Google your "niche_forum" to find relevant online communities.
RE-PURPOSE CONTENT FOR VARIOUS PLATFORMS
Turn your original blog article into another format. Transforming blogs into an infographic, a video, a podcast, etc. is what content repurposing is all about. The original blog content should be truly exceptional and highly distinctive in the first place. This is a must in order to be successful with repurposing and republishing your material on numerous platforms.
GUEST POSTING
One of the most successful strategies to promote your blog is by guest posting. Writing your most valuable material on relevant blogs in your niche is a terrific way to promote a blog. Share links to your own blog and website. Collab with other blogs with a large number of followers and subscribers. It is the key to making it work with your content promotion strategy.
ADVERTISE YOUR BLOG ON PINTEREST
Advertise your blogs using Pinterest ads to gain awareness and visibility from Pinterest's 250 million users. Bloggers can use Pinterest to promote referral traffic and increase audience engagement.
QUOTE INFLUENCERS AND EXPERTS
Quoting influencers and your blog's niche experts is a great way to promote a blog. You are encouraging influencers and experts to read your post by quoting them. They'll frequently share your article with their followers, resulting in increased traffic for your blogs.
BLOG MARKETING THROUGH INSTAGRAM
Instagram is one of the most widely used social media platforms on the planet. It is a great platform to promote a blog by publishing links on Instagram. To advertise your blog post and get direct traffic to your website, use Instagram Stories. For more knowledge go through our blog on "Amazon Influencer Program".
IGTV MARKETING
IGTV or Instagram TV is the ideal platform for repurposing and repurposing your popular video content. Horizontal videos from YouTube and Facebook, as well as live-stream recordings, can be repurposed using IGTV.
INSTAGRAM REELS
Instagram Reels are one of the latest, easiest ways to promote a blog. Be it lists of items, short topics, etc., make 15 or 30-second videos and upload them to Reels on Instagram. Reels allows you to share content with your followers and promote a blog. Reels appear on Instagram's Explore page and the large, diversified Instagram community can discover your blogs through them.
BLOG MARKETING THROUGH REDDIT
Reddit is the world's largest online community, with subcategories dedicated to practically any topic you can think of. You will be able to drop your blog links where appropriate, on Reddit. You can also attract extraordinary numbers of website visitors if you are an active user of Reddit. Focus on delivering value first, in order to successfully promote a blog using Reddit.
BLOG MARKETING THROUGH FACEBOOK GROUPS
Facebook groups are a superb way to start your community by asking a core audience open questions. You can start getting feedback on projects you're working on and occasionally promote a blog post. Promote a blog that is relevant to your Facebook group's demography, the ones your group inspires. Your participants will most certainly wait to read your most recent posts if you promote them. Once your organization has a few members, this is a great approach to attract some immediate traffic.
EMAIL YOUR LIST
Work on developing your email list so you can promote a blog to thousands of new people. Send an email to your list of contacts, notifying them about your new blog. It is one of the most effective strategies to begin driving traffic to your most recent blog article. Request that they leave a comment, like it, and share the link so that you can reach a broader audience.
EMAIL SIGNATURE
Email signatures are one of the most robust and effective ways to promote a blog. In your email signature, include a link to your most recent blog article. This will give your emails a professional appearance and improve brand recognition. Your contact information is easily accessible this way.
REPLY TO COMMENTS ON YOUR BLOG
You must follow this if you want to promote a blog and yourself as a go-to expert in your niche. Reply to each comment on your blogs. You appear more "authentic" and as someone who genuinely cares about your followers. This adds value to both you and your blogs.
COMMENT ON OTHER BLOGS
Commenting on blogs is a great way to promote a blog as it helps in the creation of backlinks. This, in turn, generates visitors. Although the majority of these links are no-follow and hence of little value, the technique is still beneficial. Commenting on fresher blogs will aid in the indexing of your blog.
COLLAB WITH OTHER BLOGS
Collaborating with other blogs is a definitive way to succeed in order to promote a blog. Combining two or more audiences or blogs in a multi-blogger will potentially boost the number of readers. When you collab with other blogs, their readers will also discover your blog and thus see the content you publish. You can collab with other blogs through Facebook groups as well.
INVEST IN SEARCH ENGINE BLOG MARKETING ADS
Post relevant content regularly and update them as well, in order to feed new content to the search engines. Use Google Adwords or Bing Ads to promote a blog in this method. On search engines like Google and Bing, advertisements in the form of text or graphics are presented. These advertising are then extensively shown in the SERPs.
The blog on "Why Brands should Invest in Digital Marketing?" will give you a positive insight about the relevance of marketing in this digital age.
SEO OPTIMIZATION

To help your content appear in search engine result pages (SERPs), use on-page and off-page search engine optimization (SEO) techniques. Blog posts become an excellent tool for obtaining great visibility for your company. Promote a blog by using SEO methods like keywords, titles, meta descriptions, etc.
KEYWORD RESEARCH
Research 1-2 focus keywords that are related or relevant to your niche and include them in your blog post. Your blog will have a greater chance of ranking higher in search results pages that are associated to your blog material. Especially, bloggers in 2021 often opt for keyword research and subsequent modification of content in order to promote a blog.
SEO TOOLS
Using SEO tools, you can monitor which keywords your competitors are ranking. After that, you can add these key phrases to your own list. Search engine optimization using SEO tools is a unique way to promote a blog successfully. Use SEO tools to find comparable keywords in your market niche.
SEMrush and other SEO tools like Ahrefs can provide thousands of keyword ideas at once. Blog marketing through SEO optimization can promote your website as an accurate result to your readers' queries. WATW can guide you with the amazing SEO Tools that you can use to optimize content. Refer our blog "Best SEO Tools to Optimize Content in 2021" to know more.
---
WHY IS IT NECESSARY TO PROMOTE A BLOG ?
Blogging is one of the simplest and least expensive ways for a company when it comes to content promotion. When a company writes blog articles on a regular basis, Google, Bing and other search engines have new content to assess. Blogging allows you to communicate with your current and potential customers in a distinct and polite way.
Your potential consumers will be able to recognize the expertise and experience you have obtained in your field of knowledge. That is if you provide material that is viewed as significant, professional information. When you promote a blog, it also helps in the improvement of lead conversions.
---
WRAPPING UP
The excitement doesn't stop once you have hit on the 'publish' button on your blog post. In fact, it is just the beginning. To get your website traffic flowing and to let your readers know about your amazing material, start promoting it. Visit different social media platforms, collab with other blogs and start blog marketing. Advertise your blogs through LinkedIn syndication (which, by the way, is one of the emerging trends in blog marketing).
Write comprehensive, relevant blog posts as it is a stepping stone to success in order to promote a blog. Last but not the least, let the content speak for itself.