SEO content writing in the simplest of words is described as the task of planning a structure, creating as well as optimizing content. The primary goal for any professional indulged in this task is too optimize the content so that it reaches maximum people and attracts heavy web traffic to their website.
Furthermore, this activity requires a professional who can master the creative section of the content as well as manage the hardcore technical part. It is thus, one of the most interesting and satisfactory professions and a lot of young individuals invest their time in this.
Here we analyse certain aspects that fall under the category of SEO writing. Hence the aspects are; What is SEO Content ? SEO Content Writing Course, SEO Content Writing Tools, SEO Content Writing Services, Types of SEO Content, SEO Content Strategy.
More detailed read: SEO Content: Complete Beginner's Guide by backlinko
Suggested Blog:
---
WHAT IS SEO CONTENT ?
Many viewers or daily internet users who are integral part of the SEO system often question, what is SEO content ?. Well, the answer to this is fairly simple. Let's break the two words
SEO refers to Search engine optimization
Content refers to any piece of information that is available on the web.
Thus, the answer to What is SEO content ?, is found by joining the two words
It is the procedure of attracting a heavy amount of web traffic by optimizing the content on web.
---
SEO CONTENT WRITING COURSE
SEO is a field in which success is more related to skills rather than a degree. However, to attain these skills one has to be accustomed to the basics or fundamentals of SEO. Therefore, there are a number of SEO content writing course that help an individual develop the knack and relevant skills. Here's a list of some brilliant SEO content writing course:
SEO CONTENT TRAINING (YOAST)
COST- $499
Yoast is unquestionably the leader in the world of SEO, a certificate of SEO content writing course from this reputable academy will train the individual to face the tough competition and help him or her to gain confidence.
---
CONTENT MARKETING TRAINING (RELIABLESOFT)
COST- $119
The reliablesoft academy offers this SEO content writing course which help the individual gain expertise in the field. It will focus on the small technicalities such as keyword search and others. FUrthermore, it is a step-by-step guide for gaining excellence.
---
SEO COPYWRITING (UDEMY)
COST- $94.99
This SEO content writing course focuses on the ways of writing content that will be picked up by search engines. Moreover, the course is an all round package which teaches the technical guidelines as well as a simple method to optimize the content.
---
THE ACCELERATED PROGRAM FOR SIX FIGURE WRITING (AWAI)
COST- $497
This unique course is specifically meant to teach the essentials of content writing and copywriting. It mainly focuses on generating revenue by creatively writing a piece.
---
THE EXPERT SEO CONTENT WRITER COURSE (SEO WRITING COURSE)
COST- $379
The course is carefully crafted for catering the aspiring content writers in mind. It specially focuses on the beginners and provides him or her an industry like experience.
---
ROLE OF CONTENT COURSE WITH ERIC ENGE (SEMRUSH)
COST- FREE
This unique course is crafted for young individuals to directly seek relevant advice from industry experts such as Eric Enge. It also provides a range of free resources on the site through which one can gain meaningful insights and seek perfection in the field.
Suggested blog
---
SEO CONTENT WRITING TOOLS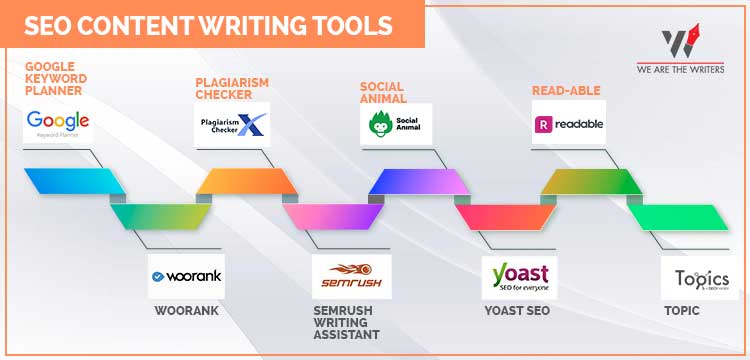 As the world transitions to online pursuits of content creation and distribution, one needs to equip themselves with the relevant SEO content writing tools. Hence, here's a list of the SEO content writing tools which are used in the modern world.
GOOGLE KEYWORD PLANNER
This is the primary SEO content writing tools used for optimizing content. It is used for researching the trending keywords which may be related to the topic of your choice. Furthermore, it is a very reliable tool and lists the most popular keywords to be used. This is also very user friendly and relevant. 
---
WOORANK
After searching the trending keywords, the professional will also need to have a structure in place to ensure the success of those keywords. Woorank is one of the SEO content writing tools which helps with planning this step. It thus, helps in analyzing SEO strategy and provides useful feedback for improvement. Moreover, this tool also helps in drafting the social media strategy.
---
PLAGIARISM CHECKER
Once the planning is over, one will need to be sure that their website deliver 100% unique and authentic content. This is especially important when you have a number of writers working under you. Thus, a plagiarism checker will help in ensuring the sanctity and originality of a writeup.
---
SEMRUSH WRITING ASSISTANT
The quality of a writeup is what the google search engine picks up. Thus, a tool which considers a variety of factors for quality check will improve the content and attract a heavy amount of traffic on web. Such a complete and beautiful writeup will also be favoured by the search engines.
---
SOCIAL ANIMAL
The selection of the right topic can be a difficult task. Thus, tools such as social animal aid the process of topic selection. Once the target audience is established, this tool will help in determining focus for content writing.
---
YOAST SEO
This tool is recognized for being efficient and convenient. It is a WordPress plugin which helps in giving the correct feedback for the writeup. It analyses the readability as well as the SEO for the blog.
---
READ-ABLE
This tool helps in the section where one needs to use the correct algorithm to understand one's target audience. Therefore, it helps with analyzing the likes and dislikes of the viewers.
---
TOPIC
This marvellous tool is much loved by content writers all over the world. It is known to draw organic traffic to your website by increasing the content quality. Furthermore, the key feature of this tool is to present a competitor outline analysis through which the professional can create an outline for any keyword in a short span of time.
---
SEO CONTENT WRITING SERVICES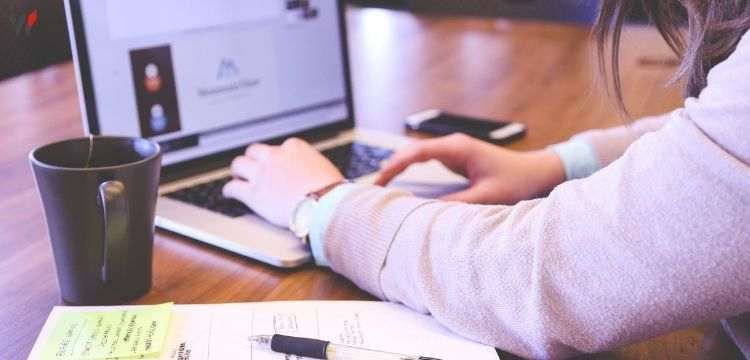 The SEO content writing services provide a variety of indispensible features which help in accomplishing the task of the digital world. Furthermore, SEO content writing services are taught to the freshers who step in the world of content writing. These SEO content writing services make it possible for the online businesses to thrive and succeed. Hence, here's a list of SEO content writing services:
There exist several types of SEO content. Therefore on the digital landscape these types of SEO content wage a full fledged war against the competitors. Furthermore, the types of SEO content are available in a variety of features which can be modified according to the will of the consumer or reader. Hence, here we list the various types of SEO content:
Blog posts
Infographics
Images
Videos
Articles
Trending content
Listicles
How-to guides
Case studies
Podcasts
---
SEO CONTENT STRATEGY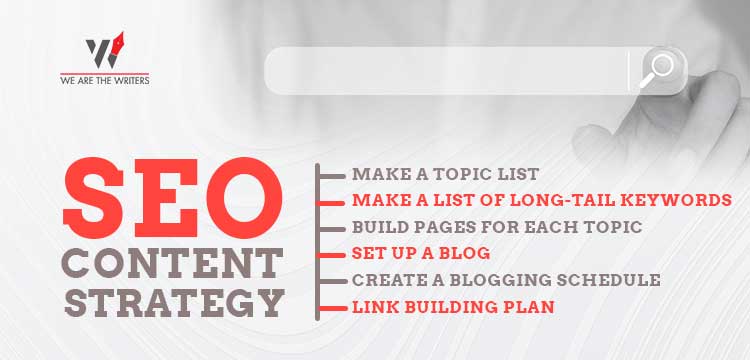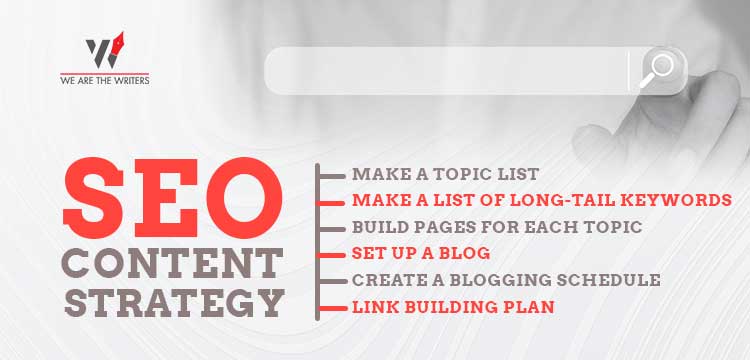 We already learnt what is SEO content ?, now we shift our radar to another important topic which is vital for the functioning of the digital landscape. Here we list the various SEO content strategy.
MAKE A TOPIC LIST
As it is already made clear that keywords are the heart of any content that goes online. However, keywords are important for achieving a great SEO analysis but may not be as vital for attracting organic traffic. This is when making a list of topics comes into picture. Thus, it is the foirst step for drafting a good SEO content strategy.
---
MAKE A LIST OF LONG-TAIL KEYWORDS
After the topic is sorted, create a list of long-tail keywords which will discuss the selected topic in-depth. Hence, it will help in attracting people who are interested in various sub topics and will generate a greater organic traffic.
---
BUILD PAGES FOR EACH TOPIC
Stuffing all the keywords in one page can appear to be very confusing. Thus, the professional must create pages for the pillar topics which will provide a clear overview of the topic. This will also make it easier for the search engines to locate your blogs.
---
SET UP A BLOG
This is the most obvious step within the SEO content strategy. Blogging is the most convenient way to rank your write ups online and situate your business on a global platform.
---
CREATE A BLOGGING SCHEDULE
You must remain consistent with blogging schedule and make sure that you are constantly uploading or posting new topics for blogs. Thus, researching, market study, audience study, and keyword research help in refining the blog and maintaining a schedule.
LINK BUILDING PLAN
This is the process of establishing in-bound and out-bound links which give your blog a world-wide presence. SEO analysis results will improve with these links.
---
THE FINAL WORD
Hence, these strategies will positively impact your business only if you are updated with the type of topics that need to go on your website. The blogger should also understand that tracing and tracking your success provides you with a better vision for future actions. The SEO for content writing is thus one of the most important functions of the digital world.