Social media is a means of communication where people interact with each other over the web, in a virtual world. The communication does not only propagate via blogs, articles and other written content. There are other forms of media as well, such as images, videos, audios, etc. All those forms of media constitute what is called social media content.
What is Social Media Content ?
Content is created by individuals or brands for social media platforms such as Facebook, Instagram, Twitter, etc. These platforms are eyed by the companies because they permit a much more easy and direct interaction with users than typical marketing measures.
Social media content is easily accessible to the audience, the algorithms of these platforms are designed in such a manner that it makes these content visible to almost everyone in the virtual space. Some might get to see it earlier than the others based on their preference of content but it sure does reach everybody.
Billions of people have now given a place in their daily lives to social media platforms, such as Facebook, Instagram, Twitter or YouTube. They create, use, and even share different forms of social media content like images, videos, etc on their handles.
Social media and its content are also a great source of information, and have even started to replace traditional media such as television and newspapers. Its reach, credibility, quickness and creativity have made social media and its content an overall content marketing strategy.
Content on social media channels can have a far better reach than classic advertising because it is specifically custom made for its target audience.
Social media content has rules of its own, and therefore requires its own handcrafted strategy. The high level of interaction or one-on-one communication is a special feature of social media using which users can give direct feedback or comment on specific content by clicking on a "Like" button, or by reacting in other expressions. They can also comment on it, overtly sharing their views and opinions on the content. In addition, they can also share the content in their circle and followers and might affect its engagement and visits, positively as well as negatively.
More social media content ideas read also : 29 Creative Social Media Content Ideas You Should Try
Social Media Management
Social media management is the process of creating, scheduling, studying, listening and engaging with content posted on social media platforms, like Facebook, Instagram, and Twitter.
There are two options when it comes to social media management:
Tools and Services
Social media management tools, like Hootsuite and Sprout Social, ensure a smooth run for your strategy, allowing you to schedule posts, engage with the users, and analyze trends. On the other hand, social media management services just do all the work for you, but they'll cost you much more than the tools.
Social media plays a crucial part in the business spectrum. About 3.2 billion people are using social media at this very moment around the world, and 10 new users every second. The massive population that uses it has made it turn into a global entity having global standards of that level. This is what social media takes most advantage of, the humongous volume. It connects such a big group of people in one web and all the content passes through it.
Some of the best social media management tools are:
Buffer
Buffer is an instinctive, smooth running social media management platform trusted by brands, businesses, agencies, and individuals to help drive fruitful engagement and results on social media.
There are products for publishing, engagement, analytics and team collaboration. The products are carefully crafted and highly refined with a purpose to help social media marketers and teams work more efficiently and effectively.
The USP of this platform is its clean and intuitive tools, friendly and timely customer support and helpful content.
Prices: Forever free plan, $15, $99, $199, and $399 per month (with a 14-day free trial)
Hootsuite
Hootsuite is probably the biggest social media management tool. It is used by over 15 million people and more than 800 of the listed Fortune 1000 companies.
And it's not just a company that rose to fame without a reason. It's an all-in-one platform that allows you to curate and schedule content, calculate your social ROI, run social media ads, and many more features take big credit for its success.
What's unique is that Hootsuite is a very comprehensive platform, there are several things that people absolutely love about Hootsuite, like being able to monitor multiple accounts and keywords, connect with over 35 social networks, bulk-schedule social media posts, etc.
Prices: Free plan, $29, $129, $599 per month, and enterprise pricing (with a 30-day free trial)
Sprout Social
Sprout Social combines several social media tools into one platform performing actions like social media scheduling to monitoring to reporting, similar to Hootsuite.
Sprout Social is one of the few social media management tools that provides features like customer relationship management (CRM). It helps serve them better and build stronger relationships with them as well.
The USP is actually something amazing it's amazing reports. Many social media managers found the reports so trustworthy and useful that they would download and send them across without even editing according to them. .
Prices: $99, $149, and $249 per user per month (with a 30-day free trial)
SocialBee
SocialBee is a social media management tool that can be the most wholesome of all. It promises to bring you more leads with less effort. It allows its users to add, organize, and share content across several social channels like Facebook pages, profiles, groups, Twitter handles, LinkedIn pages and profile, Pinterest boards, Instagram profiles, and even on Google My Business.
One of SocialBee's most-loved features is the possibility to recycle evergreen content while keeping it fresh by using post variations. You can use SocialBee to post consistently, while having an overall balanced mix of content in each category.
Prices: $19/ $39/ $79 per month (with a 14-day free trial)
Social media content creator
A social media content creator is someone who creates entertaining and educational content for social media. It is a legitimate job which has been high in demand lately, all thanks to our shift to the digital world. Platforms like Facebook, Instagram and Twitter are most used in social media for the purpose of creating content.
Content creation especially caters to digital content, since that's where the majority of content is consumed. All the content that appears on the social media platforms, be it videos, images, graphics, audios or written text, everything is created by a social media content creator only.
Many of these creators gain high popularity by producing top notch content. So much so that they start influencing their audience. The audience starts copying or taking ideas from their content, style, mannerisms, appearance etc.
Social Media Influencers
When a creator's content starts to get popular and a sense of credibility starts to surface resulting in increased engagement, followers and verifications, a social media content creator becomes a social media influencer.
A social media influencer has a lot more followers than the other content creators in their niche. They have the best communication and presentation skills. Their relationship with the audience is very close despite having millions of them.
According to the definition, an influencer has:
– the power to affect the purchasing decisions because of their content, knowledge, position, or relationship with their audience.
– a dedicated audience in a niche, with whom they actively engage.
Influencers in social media have built a reputation for their knowledge and expertise on a specific topic or a niche. The size of the audience depends on the popularity of their niche.
Earlier, celebrities were the original influencers, because of the recognition they had. They had the influence because of the status they were in, not necessarily because of their content. Now the influencer bandwagon has grown out of celebrity endorsement.
There are still many companies, particularly high-end brands, using celebrities as influencers, but the ones that are not on such a level opt for these social media content creators. This action works in their favour as they collaborate with someone who has a much more interactive audience than celebrities. They work with someone who has made a place for themselves only with the help of the content. That content resonates with the audience, way more than a film or a tv show.
How to become a social media influencer ?
'Social Media Influencer' as a concept is one of the hot topics. Everyone is talking about it and most of the people seem to be wanting to become one. We all post on our social media handles, try to stay relevant on those platforms but why is the profile of a social media influencer so different from yours?
Suggested read : What will Influencer Marketing look like in 2022 ?
Here's how to become a social media influencer :
Select Your Niche
Working under a specific niche is always beneficial. It makes the area of work more compact and suited to your needs and at the same time gives your content a distinct area to perform and flourish. Your content would not be lost in the haystack of the internet. The best thing that comes out of working in a niche is that you get a target audience, who are the real consumers of your content.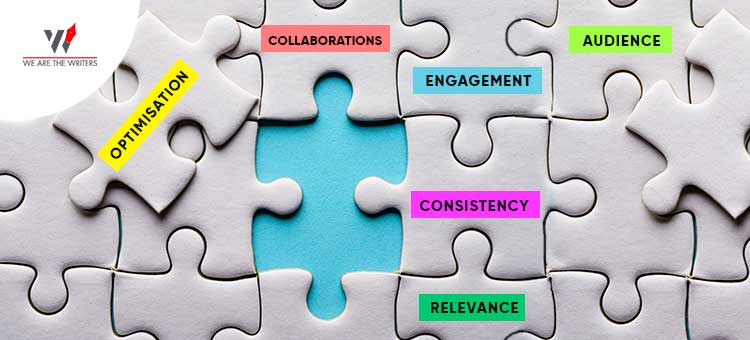 Optimise Your Social Media Profiles
Social media will be your playground, that is the place where your brand will be situated. Your social media presence should be impeccable. Figure out what will be the best platform for the content that you want to produce. What will be the best suited place to display your perspective and what is the platform that can give the best target audience according to your niche.
Switch to a Business Account
Switching to a business account opens many more possibilities for your account. It gives more credibility, collaborations and features to the account.
Use pictures and an engaging bio
For your audience to know more about you, create a good, engaging bio. It is one of the first things your visitor would notice and it tells them your brand's perspective.
Also use your pictures to give your profile a more real, personal and authentic look.
Understand Your Audience
Having just an audience will not guarantee the success of your profile. You will need to understand them as well, in order to be able to provide consistent and good content. Being the creator of the content, you need to ensure that whatever you are supplying to the audience is also in demand. Despite having a large number of options, your audience will eventually search for what they signed up for.
Create and Post Relevant Content
Everyone likes a creator that makes relevant content. In the fast-paced world, people have a little time to spare. They would want to give this time to something that has a value attached to it. Make sure that you provide our audience with the content that they don't think of as a waste of time.
Consistency
Keep providing your audience with your content if you want to stay fresh in their memory lane. There is a huge number of people that are doing the same thing as yours. Make sure you give your audience something to hold on.
Engage With Your Audience
All relationships are two way streets. What you give is what you get. If you will be just posting content and not having real conversations then that is what your audience will give you back. They will opt for third party communications and engagements rather than having real and direct conversions with you.
Be Discoverable
You will have to be discoverable to be able to grow. Make sure the brands know that you are open to collaborations and willing to work with them.
Social Media Aesthetic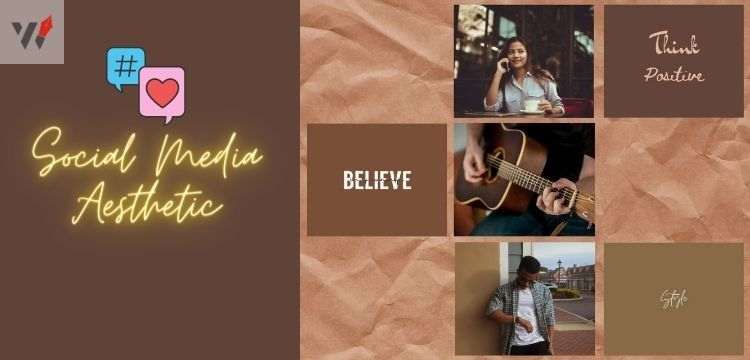 In the world of social media, your appearance is vital. Like it or not, you will go through a scanner that will analyse how you are presenting your content more than what you are presenting.
As the definition goes, Social media aesthetic is the overall look and the visual theme of your social media account.
Aesthetics can be a game changer for your profile. If curated efficiently, it can be a great way to present your content. The word pertains more to Instagram, where you can use it to showcase your content in a very creative manner and aesthetics will help you in that.
Social media aesthetic is categorized by
Color scheme
Filters
Content type, i.e., images or videos
Fonts or text and
Emojis
The hashtag '#aesthetic' has been used over 47 million times on instagram. That makes it extremely important for a social media content creator.
Summing Up
The term "social media content" envisages all types of content which is created for and posted on social media. Authentic content which is created for fun and entertainment and not just purely for marketing purposes can also offer users real added value. The content just needs to be relevant, engaging and aesthetically pleasing as well.