Social media users spend between 1 to 2 hours each day on average. Whether it is to establish a trend or market a product online, social media platforms help each brand an opportunity to monetize and grow their businesses. Instagram and Facebook are two important social media platforms that help you get traffic and visitors to your website. It helps to start at the ground level as social media marketing strategies are inexpensive and require less management power.
There are various tools and software that help to automate the posts and updates on social media. Startups have a different set of goals than other well-established businesses. Starting a business with the same marketing strategies as a big brand can be counter-productive. Learn how to make a social media audit and some social media marketing strategies to use in your social media campaigns.
Read about Social Media Marketing and 6 Types of SMM: What is Social Media Marketing ? Best 6 types Of SMM
How to perform a Social Media audit?
A social media audit is the assessment of your online presence and identifying the gaps and opportunities to explore. The metrics and data generated after a Social Media audit help in understanding the competitors' online strategy and also helps you to use the data to develop a unique strategy for your start-up.
So, How is a Social Media audit? Where do you begin?
Step 1
Categorize all your social media accounts as unnecessary and necessary and make a list for future reference.
Step 2
Once you have listed all the accounts, eliminate or deactivate the unnecessary ones. Unnecessary social media accounts do not align with the brand voice. For example, a fashion brand might not find growth on a Linkedin account as much as on Instagram.
Step 3
Once you have selected the necessary social media accounts, create a unique tagline and brand voice to post on social media. Remember to be consistent on all the platforms as the brand image should be the same no matter where the users read about you. After finalizing the tagline and the brand image, include links on all social media accounts. These links should either reach your website or should be targeted to other social media accounts.
Step 4
Posting regularly is important but posting monotonous and generic content is not going to help you engage with the audience. So, develop a creative and unique colour theme for your posts and focus on posting engaging content. Keep on updating pinned posts, as they are the first thing a visitor sees on your Social Media account. And do not provide the same information in the image and the caption as this can come out as repetitive and boring to the viewers.
Step 5
After a week or a month, track all your posts and list the top 5 posts that have performed well through the insights available on each social media platform. Use the same style as these 5 posts, in your future posts to generate greater traffic.
Step 6
The last step in your Social media audit is to use analytics tools to compare your metrics with the other brands in the same niche and strategize the social media content accordingly.
Read about Brand Building through Social Media Marketing Strategies: Thinking of Brand Building ? Social Media is the best way in 2022
How to make a social media content calendar?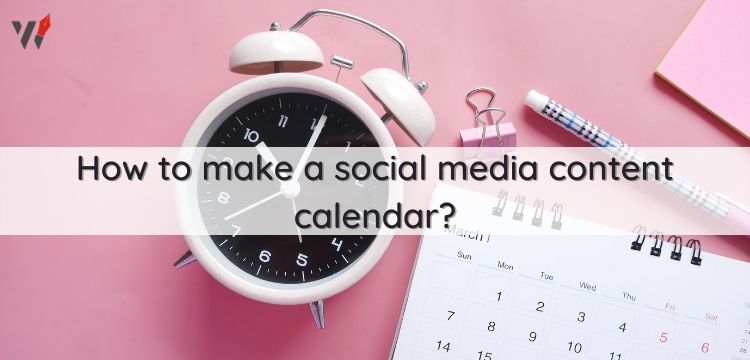 Social media marketers are often busy curating and strategizing online campaigns. And posting on multiple social media platforms can be difficult to manage. Sometimes, there are even time boundaries. So, using Social media calendars can help you with all the above problems and also create an automated posting calendar for the brand.
A social media calendar requires you to input information related to the time and date of posting and the copy and image content of the post along with details about the social media account.
In this way, you can automate what needs to be automated and focus on important brand plans like campaign strategies and content ideation.
3 social media marketing strategies for Start-up businesses
Develop a Buyer Persona
Before developing a marketing strategy, a marketer or an entrepreneur should know everything about his target audience. From the monthly salary to the interests of the audience, every bit of information about the target customers helps in personalizing the social media strategies and retaining the customers.
So, what is a Buyer Persona? And how do you develop one?
A buyer persona is as the standard definition says, a researched persona you give to your target audience. This well-researched persona is studied several times with a prime focus on locality, social interests, daily expenditure and similar characteristics that are related to the product or service you are offering.
But a buyer persona should not have standard factors as each factor differs based on the brand and company. So, create factors that seem valuable to you.
You can conduct interviews with people you want to target and use the collected data in developing the Buyer persona. Here are some questions to ask in the Buyer Persona interview-
What is your age, background and profession?
What does your daily schedule look like?
Do you use services like ours?
How do you find out about the services? And do you research well before buying?
What do you think the product or service needs to improve on?
After conducting interviews, you can create a spreadsheet or represent the data in a way you find easy to comprehend. This representation will help you mark gaps in the customer demographics, interests and other relevant factors. Once these gaps are studied, develop a buyer persona that substitutes these gaps and uses all the information gathered from the interviews.
Relatable content over monotonous content
Relatable content is for the people and not created to appeal to the unwanted audience. Exactly opposite to relatable content is monotonous content, content that looks like and reads like every other piece of content on Social Media. Monotonous content is created by first copying something online and then changing it just for the sake of avoiding copy labels online.
To create original and relatable content, think first about your target audience, and then you need to include branding fundamental principles in your social media strategy. These principles focus on persuasion, exclusivity and perception. Creating a post by implementing these three principles will be beneficial as it eliminates the ambiguity in the content as well as the design and helps in brand building.
Less of copy jacking more of original wordplaying
Instagram and Facebook mainly focus on images, but words serve a purpose that images can never replace. Words are more influential than images and are supposed to represent facts. When creating a copy for social media, do not use copyjacking as it does not spark an interest in the audience. Original content works because it cannot be created without understanding the audience better. And content ideation that is performed after audience understanding, is proved to work better than superficial copy jacking.
Wordplay works if you invest in thinking about it first.
Wordplay is defined as "playing with words". But marketers or experts call it the funny and witty exploitation of the meanings of words. Use wordplay in your social media captions to attract the audience and retain them by entertaining as well as making a mark in their mind.
Read more about Social Media Marketing: How to do Social Media Marketing ?
Conclusion | Best Social Media Marketing Strategies
Start-ups formed out of bootstrap or with low investment, have difficulty planning for expensive marketing strategies and campaigns. This is why using Social Media for branding and advertising is valuable. It does not require much investment and directly reaches the audience. A marketer should also focus on the latest updates and trends in the industry and use them in their campaigns.
FAQS
How should start-ups create a social media strategy?
A start-up must perform a social media audit and then conduct interviews to understand the buyer persona. In addition, a start-up business needs to focus on content ideation and creative campaign development.
Is social media marketing helpful for a start-up?
Social media marketing is helpful for a start-up because it is the most affordable way of reaching your audience. A start-up business formed from bootstrap must focus on social media platforms and create a unique brand voice.
A start-up should focus on which of the top 5 social media platforms?
The Top 5 social media platforms for a start-up to reach their target audience are-
Twitter
References
[1] Virtanen, H., Björk, P. and Sjöström, E. (2017), Follow for follow: marketing of a start-up company on Instagram, Journal of Small Business and Enterprise Development.
[2] Kim, J., & Choi, H. (2019). Value co-creation through social media: a case study of a start-up company. Journal of Business Economics and Management.
[3] Brooks, G., Heffner, A., & Henderson, D. (2014). A SWOT Analysis Of Competitive Knowledge From Social Media For A Small Start-Up Business. Review of Business Information Systems (RBIS).