I am sure there are many online personalities you genuinely like. Sometimes you wish you could meet them. Moreover, you also want to know how they are so perfect and what goes on in their day-to-day lives. There are times you must also have been influenced by their actions or words. Well, who are "THEY"?
Instagram Influencers. Here's a list of top Instagram influencers who enjoy a high fan following on the platform. Continue reading to know who they are!
Instagram Influencer marketing is at its peak and it nowhere appears to slow down in India. Every business today wishes to get any of the top influencers to get on board and market for their product or service. Wondering why? Because this brings engagement to online businesses.
Before we have a look at top instagram influencers let's know a bit about who social media influencers are, how business benefits from an instagram influencer, and much more.
Continue reading to know top influencers who have been and will continue ruling Instagram with their amazing content delivery!
Suggested Blog :
Who are THEY exactly? – Top Instagram Influencers we all know!
You and I follow a lot of great people on Instagram who bless our feeds with amazing content. But is there any parameter of an instagram influencer? Are there any particular criteria in which they should fit? How they can help you in your business?
Instagram influencers are ordinary individuals with a special power to affect others, proven credibility, and a sizable following. An influencer is indeed someone who has the capacity to persuade potential buyers of a service or product from a marketing point of view.
A huge amount of supporters and strong interaction rates are characteristics of an Instagram influencer. Due to their genuineness and integrity, they can encourage others to buy anything. Their participation on numerous social media platforms has a market influence.
Learn to make quality content : How to create quality Instagram content in 2022
How top instagram influencers can benefit your business?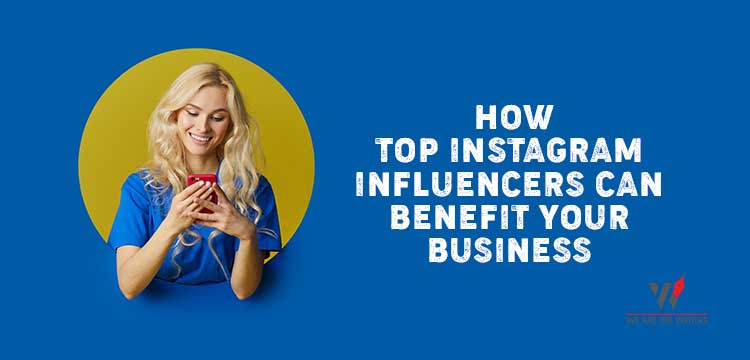 Influencer marketing broadens your exposure and strengthens your market dominance. Users can discover more about your business, your narrative, and the products or services you provide by following you on social media. Social media influencers play a vital role in brand awareness. Collaborating with an influencer sends a message to your target audience that your company is a leader in your field.
Sales are driven by influencers who promote your company on social media. Customers are actively turning to influencers or content creators for advice on the products or services they should buy. As social media has grown in popularity, so has its ability to reach your intended audience.
Learn to use social media usage for business : SOCIAL MEDIA FOR BUSINESS IN 4 EFFECTIVE WAYS
An Instagram influencer can increase sales figures for you. Social media content creators are go-to experts for fresh product knowledge in their field. Audiences appreciate and frequently worship the perspectives of the influencers they follow, whether it's in fashion, gaming, beauty, or fitness.
Points to consider while selecting instagram influencers for your brand:
Are they a perfect match for your brand? Be careful that their niche and products are similar, if not the same!
Numbers in their followers' section.
How each of their posts performs.
Check other businesses they have collaborated with.
Lastly, analyze whether your goals will be accomplished by them?
Read more about branding : Identify the trend of Instagram marketing in 2022
Once you've successfully answered these questions, you can finally sign the ONE for your brand.
Top Instagram influencers – The best 20!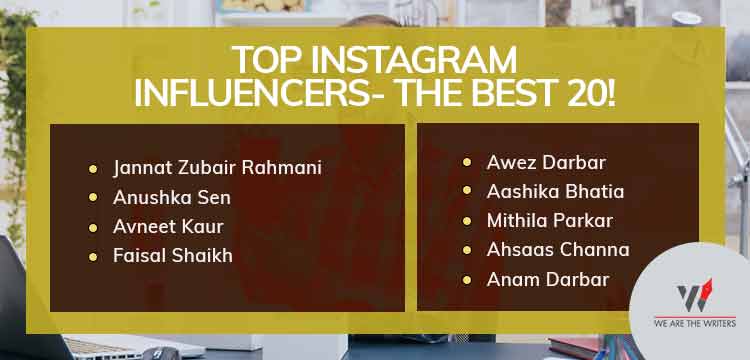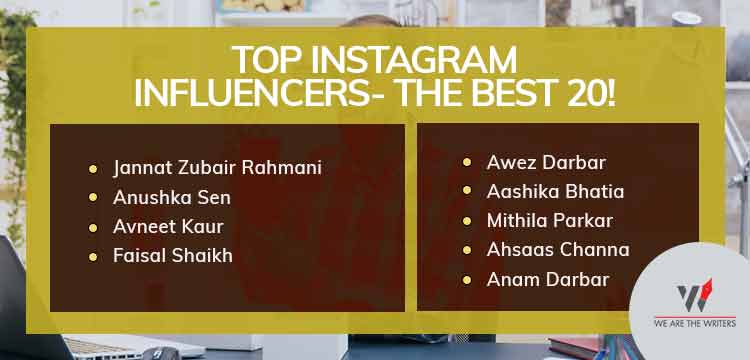 Jannat Zubair Rahmani
Followers- 37.6M
With her intense acting, amazing TikTok videos, and a good number of music albums, Jannat tops the list of influencers on Instagram. She has her own YouTube channel named Complete Styling With Jannat where she shares her styling tips. She is ready to debut on the big screen with Kulche Chole releasing in 2022.
Anushka Sen
Followers- 28.2M
Kolkata's little princess Ms. Sen is a perfect blend of simplicity and intelligence. Know for her role in Sab Tv's BaalVeer, today she stands strong among the top 10 social media influencers. Anushka is also an amazing dancer with proficient acting skills. Her recent works include Crashh- Alt Balaji Web Series, Music video co-starring Himansh Kohli which gained immense popularity soon after its release. She has quite a number of upcoming projects which are not been disclosed yet.
Avneet Kaur
Followers – 26.4M
Started off with Dance India Dance Lil Master's, Avneet Kaur is ruling the entertainment industry. With her bold dance moves and amazing fashion sense, she influences a lot of young girls. She has been a part of many tv serials and movies, but the most recent and famous is her role in Sab Tv's popular show Aladdin- Naam Toh Suna Hoga opposite Siddharth Nigam. Be it any platform, Avneet never lags behind in entertaining her fans.
Faisal Shaikh
Followers- 24.7M
Gained popularity from his unique content on TikTok, Faisal Shaikh a.ka. Mr. Faisu is the heartthrob of social media today. He along with his friends began their journey together from their college days. Seen in an Alt Balaji series recently, Mr. Faisu's career is at its peak.
Know how to make content : Instagram Reels – Make Super Viral Content in 15 seconds !
Awez Darbar
Followers- 12.3M
Awez Darbar is a social media star, choreographer, and dancer from Mumbai. The dancer began his TikTok career when he was young, and one of his emotional videos went viral in 2018. After that he got recognition and there was no turning back. He has also worked as a choreographer and dancing teacher at Shiamak Dawar Dance Institute since his undergraduate days. He also has his own dance channel on YouTube where he posts his unique choreography on trending dance numbers.
Nagma Mirajkar
Followers- 5.8M
Popular for her dancing and fashion sense, Nagma Mirajkar is a big sensation on Instagram. She has been a part of many fanfests, music videos and worked as a fashion model for a number of brands. Her videos with Awez Darbar are loved by #NAVEZ fans. She has many upcoming projects lined up and claims to give lots of surprises to her fans.
Aashika Bhatia
Followers- 5.5M
Aashika Bhatia is a young actress and social media sensation who has appeared in television shows such as "Meera," "Found a Treasure Called Love," and "Kuch Rang Pyar Ke Aise Bhi." Many of her films and television shows have been huge hits, establishing her as a well-known actress. On her TikTok days, she was the most followed star on the platform.
Mithila Parkar
Followers- 3.2M
Mithila is known for her parts in "Girl In The City" on the web and "Little Things" on Netflix. She made her acting debut in the Marathi film Majha Honeymoon, and her first Bollywood film was Katti Batti, in which she played Imran Khan's sister. She also has amazing singing skills with a melodious voice. She was awarded Best Actor (Female) for her popular show Little Things at Filmfare OTT Award 2020. Mithila is just any girl next door, ruling hearts with her elegance. 
Ahsaas Channa
Followers- 2.8M
She performed in Hindi films such as Vaastu Shastra, Kabhi Alvida Naa Kehna, My Friend Ganesha, Phoonk, and others as a kid actor. She has appeared in television shows such as Devon Ke Dev…Mahadev, Oye Jassie, and MTV Fanaah as a teenager. She has made a name for herself and has worked on a number of films during her career. Fully focused on her career since childhood, Ahsaas is winning hearts with her authentic acting in Girliyappa's original series The Interns season 2.
Anam Darbar
Followers- 2.5 M
Anam Darbar is one of the best content creators of the present time. She has her self title youtube channels where she is super active and posts interesting content regularly. Sister of famous influencer, Awez Darbar, she has some amazing dancing skills and has featured with many Bollywood dancers. A bubbly personality who always brings a smile to her viewer's faces.
See these Blogs:
Some other top instagram influencers
Kusha Kapila
Followers- 2M
Manav Chabra a.k.a Mr. MNV
Followers- 1.7M
Ranveer Allahbadia a.k.a beerbiceps
Followers- 1.6M
Dolly Singh
Followers- 1.4M
Kritika Khurana
Followers- 1.4M
Aashna Hegde
Followers- 1M
Mallika Dua
Followers- 943k
Aashna Shroff
Followers- 904k
Ankush Bahugana
Followers- 797k
Srishti Dixit
Followers- 738k
Top dance influencers on Instagram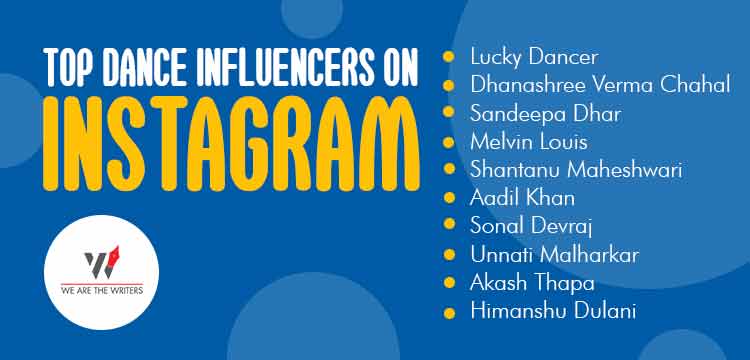 Lucky Dancer
Followers- 5.5M
Dhanashree Verma Chahal
Followers- 4.3M
Sandeepa Dhar
Followers- 2M
Melvin Louis
Followers- 1.9M
Shantanu Maheshwari
Followers- 1.3M
Aadil Khan
Followers- 1.1M
Sonal Devraj
Followers- 861K
Unnati Malharkar
Followers- 821K
Akash Thapa
Followers- 750K
Himanshu Dulani
Followers- 506K
Top influencers in travel industry
Gaurav Taneja
Followers- 2.8M
Diipa Buller- Khosla
Followers- 1.5M
Nitibha Kaul
Followers- 915K
Siddhartha Joshi
Followers- 126K
Aakriti Rana
Followers- 816K
Conclusion
Buyers pay more attention to those they trust and follow. Instagram influencers are high in demand as they can really help brands increase their sales and reach online. The rankings may differ, there might be some other entries too in the upcoming years. But what remains constant is the way content creators are influencing consumers today.
For regular story update follow us on We Are The Writers instagram account