Have you been thinking of doing content creation or are doing it already, but have no roadmap to it?
You are probably lacking a Content Strategy, which has the power to amplify your content and support your brand. Read about what is content strategy and its importance further in the blog.
What is Content Strategy ?
The process of developing, planning, creating, delivering and managing the content is called Content Strategy. You can think of it as a map that guides you on your journey of content marketing.
You can think of it as a guide that encompasses whom your content will impact, how your content will pave through all the noise, and produce desired outcomes. In addition, it involves defining the success of your content.
Your strategy has vast implications and impact on several attributes of content marketing. For example, your content strategy defines:
The goal you're trying to accomplish
Your target audience
What types of content you'll publish
How your content will support the brand
How you will promote and amplify your content
The metrics (KPIs) that define success
Simply put together, the purpose of content strategy is to create meaningful, cohesive, engaging, and sustainable content that attracts the company's target audience.
Content is not only limited to words and text but also has images and other multimedia that are used. Ensuring that you have useful and usable content that is well structured, and easily found is vital to improving the user experience of a website.
Suggested Blogs:
Here is what content strategy can do for you?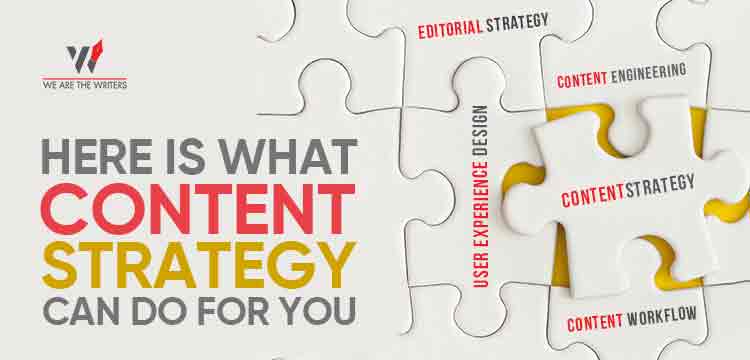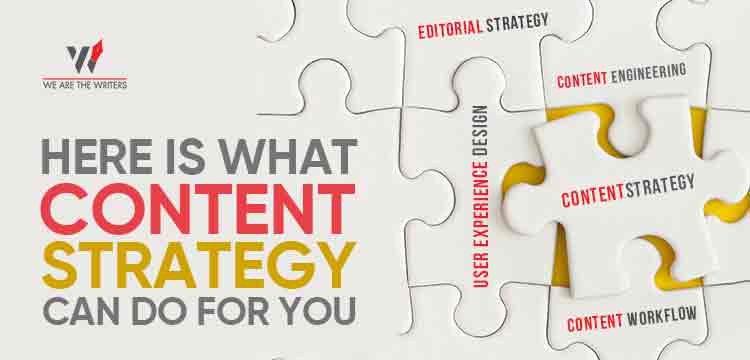 A content strategy created carefully according to your content can surely take it a long way. Find out what it can do that can make your content top notch and well received by the audience.
It connects your organization's content creation and content development efforts with the goals of your brand and user needs. Everything you do as a brand that comes under creating and developing content should cater to the audience's requirements.
Second, it creates a link among four separate-but-related areas of activity that have an impact on your content product. It acts as a thread that sews these business functions.
User experience design: A strategy helps you understand your users. What are their needs and preferences regarding your content and what can you do to make it useful and usable for them.
Editorial strategy: It helps with the editorial section as well as it defines your content's point of view. You understand the topics that you should address in the upcoming content.
Content engineering: The crafting of content is one thing and the technicalities are another. Content engineering becomes easier when you do it with the help of a strategy. Your content needs to be structured in a manner that it is easy for the users to find and access it. You need a functional content management system (CMS) in order to deliver the content
Content workflow and administration: It helps you understand the policies to abide, standards to meet, and guidelines that observe your content's characteristics.
You must've understood by far that content strategy guides the processes of creation, delivery and management of content.
The most well crafted definition of content strategy is, "an integrated set of user-centred, goal-driven choices about content throughout its lifecycle"
SEO Strategy
Content strategy and SEO are complementary in nature. They work best with each other. Content has emerged as the most of any SEO strategy. More so, content acts as a fuel for any SEO strategy. 
As search engines are evolving, they're emphasizing more on serving users quality content that satisfies their varied search intent. the curiosity of a user can lead him/her to ask unimaginable questions. though there is no definite benchmark to satisfying the search intent, try to showcase the most that has been already researched and talked about.
A content cluster, or topic cluster, is a way of organizing content on a website into related 'clusters'. For example a cluster related to Digital marketing will comprise of Brand building, Brand strategy, Audience engagement, etc. 
there is a main topic, called the Pillar content. it is a powerful and big topic that comprises of new prospective topics. those topics will then become the cluster of that pillar content. The pillar content should be connecting to the cluster pages. similarly, the cluster content should connect back to the pillar pages. . A content cluster should cover a topic across all phases of the buyer's/user's search intent.
A content cluster also shows that your website is great at researching, hence has all the main as well as related data. So, using content clusters is a strategy that you can take notes from to succeed.
Suggested Blogs:
Importance of a Content Strategy
The most blatant, short answer to this question is that you'll be directionless without a strategy, pointlessly chasing whatever new shiny object enters your line of sight.
You can't start the content strategy process without knowing what you want to accomplish. As you study further the content lifecycle, you will be able to understand the audience's connection to your content and what works well for your content.  
The most challenging and fun attribute of content strategy is that it requires constant work done on it. Its not an annual or quarterly regime. You constantly need to adapt and explore new ways to keep the cycle of strategizing and its execution running with improvements than the last time. 
Steps to Build a Content Strategy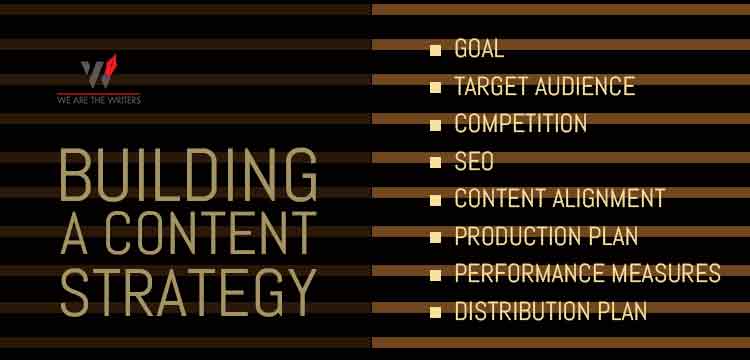 After understanding the meaning of content strategy and what are its uses and importance, here is how to make use of it.  
If you are a beginner who is starting just now, a Content Strategy Course would definitely prove helpful in understanding the steps of building a content strategy.
Here are seven steps that are crucial in developing an effective Content Strategy:
Your content strategy largely depends on what type your content is. It can be very different from any other content. But, here are some generic steps to take while developing a content.
Set Your Goal(s) :
Know what you have to hit. Strategize according to that target. Keep multiple options to work on. Run surveys and find out the audience's perspective on them. Move forward with the one that you and the audience share common interest in.
Learn who is your Target Audience:
Based on the data collected, determine your brand's target audience. The audience that really likes and wants more content. Look for the factor of audience engagement when determining your target audience.
Analyse your Competition:
Analyse the attributes and credentials of your competitors to make a differentiated strategy that works specifically for you.
Hone your SEO skills:
It's really important to hone your SEO skills if you wish to develop a good content strategy that eventually impacts your brand strategy. Search intent, keywords research, linking, etc are the things to look out for when you are working on SEO.
Suggested Blogs:
Create Content for Customer's deep Search Intent:
Create content clusters in order to provide your audience with a more varied and in-depth knowledge. The last thing you want to do is pique interest in your audience with incomplete content and not be able to satisfy their search intent.
Develop an Editorial Calendar:
You must be regular in providing content to your audience. Do it strategically with the niche you are working on, the audience demands and external factors like trending topics. For instance, provide content related to holidays or festivals when it's the holiday season to get traffic easier because most people will be looking for it.
Choose Your Distribution Channels:
Choosing the content distribution channels or media is a very crucial element of a content or brand strategy. It is literally the road that will transport your content from the source (content creation) to the destination (target audience).
Wrapping Up
The main objective of your content strategy is to help you create significant, informative, engaging, and long-term content. Your strategy helps you to identify what already exists, what should be created and, more importantly, why it should be created.
It will help you find ways to optimize your workflows. You'll get feedback from customers, prospects, partners, and the public about your content that can help you refine your overall strategy.
Want to read more about it : Usability.gov has well describe blog about Content Strategy Basics for you