The answer to "What is Technical Writing ?" can be described as a writing on a subject that requires guidance, explanation or interpretation. Some examples of technical write ups are user manuals, instruction manuals, reports of analysis, etc. We will discuss them in this blog, along with a clearer explanation of what is technical writing. There are some lucrative technical writing jobs one can opt for if he or she has the necessary skills. In this blog, we will talk about the importance of technical writing and the types of technical writing we come across.
According US Bureau of Labor Statistics, the median pay in the year 2020 was $74650 per year and $35.89 per hour. At the same time, the job outlook for technical writers is 7% from 2019-2029, which is faster than average.
Do read our blogs on :
• TOP CONTENT CREATION IDEAS IN 2021
• Content Creation: All You Need to Know
---
WHAT IS TECHNICAL WRITING?
If you're someone who is looking for technical writing jobs, you will first need to understand what it is all about. There are certain features and types of technical writing. The main goal of this form of writing is to explain a complex topic in simple ways. Technical writing examples include user manuals, instructions or how-to manuals, etc.
Technical writing jobs, while dealing with the complexities of technical jargon, have to serve a simple purpose. Technical writers must deliver reports written in precise formats and using simple language to the public. He or she must communicate available and accessible information to the reader.
This also shows that the technical writer knows, respects and acknowledges the value of time in effective and efficient communication. In turn, the reader thoroughly perceives the content to respond constructively and give honest feedback. In short, what is technical writing if not conveying complex technical terms in simple, easily understandable language!
---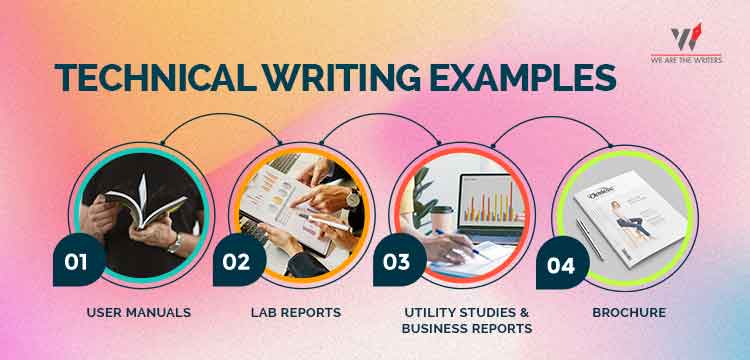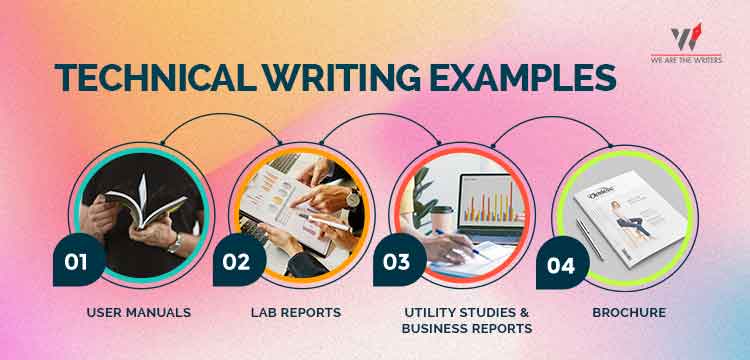 TYPES OF TECHNICAL WRITING
Types of technical writing in this modern scientific age are ample in number. They comprise a huge umbrella of technical writing examples. However, they can be broadly classified into 5 different types of technical writing. You can also make careers in technical writing jobs out of these. They are listed below.
TECHNICAL REVIEWS AND REPORTS OF ANALYSIS
These types of technical writing include feasibility reports, primary research reports, etc. When we come across certain business plans, brochures, short-form proposals, these are also technical writing examples. Even some press releases, case studies and other types of technical writings are possible. Many technical products offer information on the product's history, evolution, or structural or operational alterations.
This comes in addition to instructions and directions on using that product or gadget. Technical writers organise and edit information for clarity and crispness. The importance of technical writing in writing reports and reviews is unparalleled. Graphs and charts in the fields of economics, chronology and social or business practicality are there in these technical reports. As well as narratives to explain the infographics are typically included in these reports of analysis.
USER MANUALS
When you buy any kind of software, install a computer application, and get some instructions or user manuals. When you acquire a technology gadget or consumer appliance, it usually comes with an electronic or printed user handbook. This handbook or manual explains how to use it. These are called user manuals. Writers of these user manuals must interpret highly technical facts. These types of technical writing jobs also require you to convey the information in a user-friendly style. Such that a wide audience can understand complex directions.
Troubleshooting instructions, assembly instructions, lists of dos and don'ts, warranty explanations, and legal disclaimers are all included in this field. Photographs, disclaimers, numbered illustrations, sequential directions, flow charts, a troubleshooting guide, the warranty, etc. Even the contact information for the Help Desk or Customer Support is typically included in user manuals.
ASSEMBLY MANUALS
Assembly manuals are some of the most common types of technical writing. In assembly manuals, we find the instructions for the process of putting together previously manufactured components in different technological gadgets. It may also include subparts of different assemblies into a finished product or unit of a product. This is something that is mostly done by humans using their natural skill, ability and judgement.
Writing assembly manuals requires the technical abilities of a person required to discern a machine or equipment's dismantling and reassembly procedure. The majority of common maintenance manuals include a variety of assembly manuals for different types of appliances. Assembly manuals are distinct from other forms of technical communication. This is because most employers, if not all of them, expect you to be able to dismantle items.
WHITE PAPERS AND CASE STUDIES
White papers are documents that a company creates for an external audience to help them make choices and solve challenges. They delve into specific issues and offer dependable solutions that readers are encouraged to implement. White papers are used to address a problem and suggest a specific solution. This solution may be in the form of a product, an innovative technology, or an approach in a variety of industries and business types.
On the other hand, case studies are textual assessments of actual events in the real world. They can be on people, groups, organisations, decisions, or events that reflect a period of study on the issue. These types of technical writing are usually done to try and find patterns in certain data. The data about such issues are used to draw specific conclusions and detect trends if any. Case studies are commonly found in scientific journals, but they can also be found in business and industry.
SOP OR STANDARD OPERATING PROCEDURES
Most organisations complete routine tasks using the well-defined procedure of working. A standard operating procedure or SOP might be used to document how to handle the salary of the employees. It may also dictate the policies of hiring a new employee or estimating vacation time.
The importance of technical writing in writing SOPs is enormous. SOPs ensure that multiple people within the business may accomplish the same duties in the same way. This helps in ensuring consistency in quality. Thus, SOPs help in the elimination of partiality and inconsistencies. SOPs also ensure that coworkers can take over the duties of an absentee, or terminated employee with minimum performance inequality and time lag.
Suggested Blog:
---
IMPORTANCE OF TECHNICAL WRITING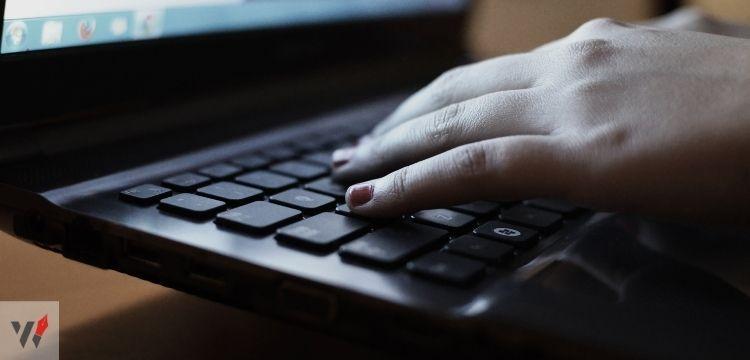 Living in an age of technology, we can say without a doubt that the importance of technical writing is huge. Technical writing is a valuable tool for communicating one's thoughts, opinions, observations, instructions logically and technically. Technical suggestions and reviews are also factors that determine the importance of technical writing. To prepare reports, presentations, and documentation, professionals must have strong technical writing skills.
Technical writing not only helps us understand complex ideas in easy ways but also guide us through new technological advancements. The importance of technical writing is paramount as it educates the consumers or readers about certain topics.
---
Read our blog on
• WHAT IS MARKETING IN DIGITAL WORLD ?
• WHAT IS WEBSITE CONTENT WRITING IN 2021?
TECHNICAL WRITING EXAMPLES
There are different technical writing styles used in a variety of fields. We have highlighted some of the most common technical writing examples in the list below.
USER MANUALS
Instructional documents, such as user manuals, are an excellent example of technical writing. When people open a user manual, they want to learn everything they can about the technology so they can use it effectively and efficiently.
LAB REPORTS
Another type of technical writing is lab reports. The fundamental goal of a lab report is to explain what happened in the lab so that others can learn about it.
UTILITY STUDIES AND BUSINESS REPORTS
When searching for the answer to the question of what is technical writing, you must also have come across certain examples. In those, there is something called 'business reports'. For example, yearly financial reports also come under the purview of technical writing examples.
BROCHURES
Brochures in technical publications are more than just attractive photographs of any ordinary magazine. Technical brochures use precise descriptions, functions, and uses of a product. This is used to lead users to a deeper level of comprehension and appeal. They also serve the purpose of attracting these prospective customers to invest in the products or services.
---
TECHNICAL WRITING JOBS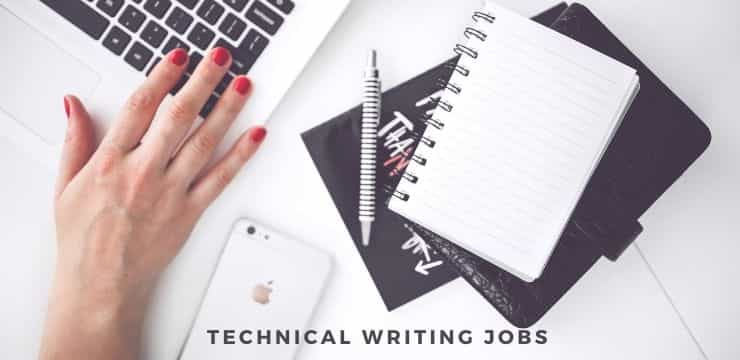 Technical writing jobs are typically where you have to provide product manuals, how-to tutorials, online help pages, research papers, etc. Some other technical writing examples in these jobs are the kind of content that simplifies and clarifies technical information. First, you need to grasp what is technical writing.
Technical writings are the ones in which you have to describe how to use a certain object or complete a task or project. These articles are intended for readers who are looking for precise information, such as how to operate a computer. The readers may also be interested in the technical details of a certain drug or medicine.
---
SOME PLATFORMS FOR TECHNICAL WRITING JOBS
There are many companies that are actively hiring technical writers. They need quality work within fixed deadlines. We have listed some of the best platforms for technical writing jobs online.
Upwork
Code Flow Tech
Workana
PeoplePerHour
SimplyHired
WeWorkRemotely
JustTechJobs
Collabera
Technical writing must be straightforward, simple, and easy to follow, understand, and act upon by readers in the core demographic. These are essential elements of good technical writing which will land you great technical writing jobs.
Also read about
---
ENDING NOTE
From this blog, we have got a clear picture of what technical writing is. Technical writing, regardless of the type of material, demands the writer's understanding of their audience. They must be written in a clear, non-personal style, and conduct a considerable study on the subject. Also, be sure that this type of content appeals to you as a writer. If you have understood what technical writing is and are willing to learn more about it, then make it your career. These aforementioned technical writing skills will aid you in your professional endeavours.