We come across different types of website content every day. Some of them are unique whereas some are merely ordinary in nature. But, what makes the website content unique? Is it the home page, about us page or is it something more than that? According to the latest update of google, it is the page experience and user experience.
Here comes website content. If the content of your website is user friendly, google starts ranking your website. The content of a website is very important as this is the first thing that readers look into. If your website is attractive, informative then it will attract more traffic.
Now let us start our blog on "What is Website Content Writing in 2021" to get an insight to this topic. Want to get the best website content writing services? Visit our website www.wearethewriters.com.
Read more blogs
---
WHAT IS WEBSITE CONTENT WRITING?
A website content writer or anyone who engages in website content writing has a lot of responsibilities. Each website has a distinct target demographic or target audience that one must keep in mind. These readers need the most appropriate web content material in order to stay engaged with the website. This is how website content writing helps to attract visitors and generate revenue for any particular business.
You will find in all website content writing examples that keywords receive utmost importance. Keywords should be included in content to help a website's SEO or search engine rankings. There are other types of website content ideas which we will discuss shortly.
---
WEBSITE CONTENT
While website content writing caters to only the writing element of a website, web content refers to all the components of a website. There are different types of website content that makes a website enriched. They may be written, visual, or musical (auditory) content that is encountered as part of the user experience on websites. All of these are collectively referred to as web content, which is the key to generating traffic to websites. Website content may contain text, graphics, audio, movies, and animations, among other things. In the points below, we have illustrated a few elements of website content.
---
TYPES OF WEBSITE CONTENT | WEBSITE CONTENT IDEAS
While website content writing is one of the most important types of website content, there are some other elements that will add bling to your website. Web content helps in providing information to the readers. It can also be utilised to direct search engines to find out about your website and make them more visible to the readers.
Read this blog to find out great website content ideas. A good website content writing format needs to integrate various types of website content, not just monotonous walls of text. Always consider how your website appears to search engines and whether it accurately communicates the objective of your website. Only having a wall of text as website content will not help in this case. You need to add visual, auditory and animated web content for that matter.
VISUAL WEBSITE CONTENT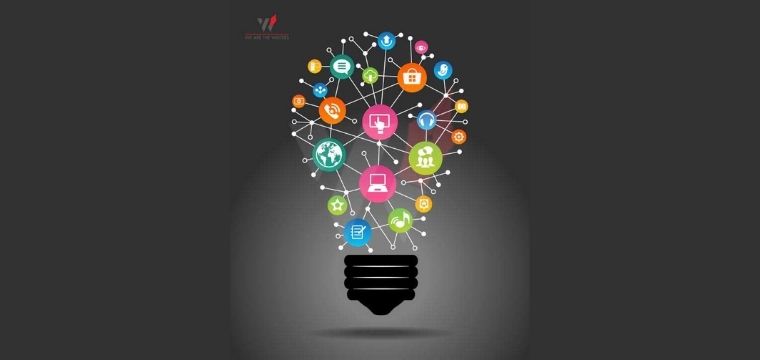 Any website's visual content is critical for keeping clients engaged. This also orchestrates their decision and drives them through the purchasing process on your website. In a matter of seconds, the readers decide whether or not to read or act on your content. Good website content writing services always stress on visual types of website content. Hence, visually appealing images, videos, infographics are necessary to capture their attention quickly. It also requires staying relevant with your website content.
IMAGES
Images are the most often used method of incorporating multimedia into web pages. A scanner or a graphics editor can be used to produce clip art, images, or even drawings. The photos should be optimised so that users can download them quickly, or the website may load faster. Images play an important part in web content.
These explain the subject matter through visual means, hence readers love seeing pictures more often in websites. Images comprise of excellent website content ideas. The best website content writing services are the ones who include images as part of their website content writing format.
ANIMATED WEB CONTENT
The main goal of integrating web animations is to make your website feel more responsive and intuitive to your visitors. Animations may be a strong tool for helping your audience achieve their goals. Readers also feel connected with your content if these animated types of website content are cleverly designed.
All good website content writing services have animated content in their writings. These animations are instrumental in helping you with great website content ideas. You can use Flash, Ajax, GIF pictures, and other animation tools to create animations as part of your website content.
VIDEOS
Without a doubt, we can say that video is the most popular form of multimedia content right now. Marketers across the globe are stressing on visual types of web content, especially videos. Nevertheless, when you are including video files, you must ensure that they work properly across a variety of browsers.
Video content is good for your website because regardless of your product or service, videos always keep the audience engaged. Website content writing services are indulging in more and more video content nowadays. This is because videos are quick and easy to access. Videos not only explain a subject in a manner that words often can't, but they also improve a website's SEO ranking. This, in turn, increases conversions. Because of these features, videos are at the top of the list for all successful website content ideas.
AUDIO WEB CONTENT
The importance of audio web content is immense when it comes to engaging with the website visitors. One can include various sorts of audio files as part of the web content to improve the overall appeal of the website. Audio has transformed how we connect with and consume content. Auditory types of website content allow audiences to interact with it in more ways than ever before.
There is no way you can exclude audios from the list of good website content ideas! Even if you have a few pages of website content writing material, you can add audio to your web content writing. These might help the web content writing by making it more accessible and appealing. Even if one doesn't want to go through the entire web content writing, he or she can simply listen to the audio. That way, the visitors will get the most out of the website.
---
WEBSITE CONTENT WRITING FORMAT | HOW TO WRITE WEBSITE CONTENT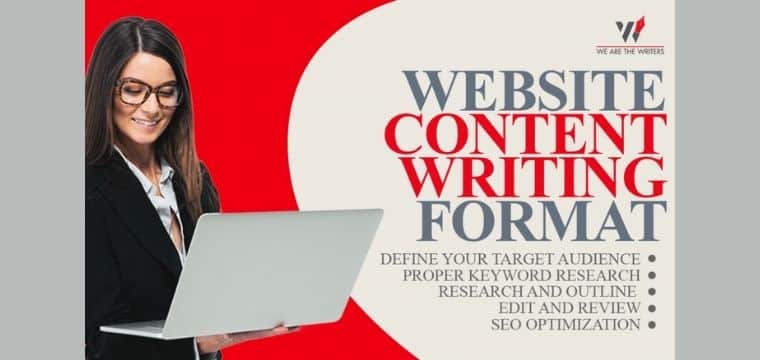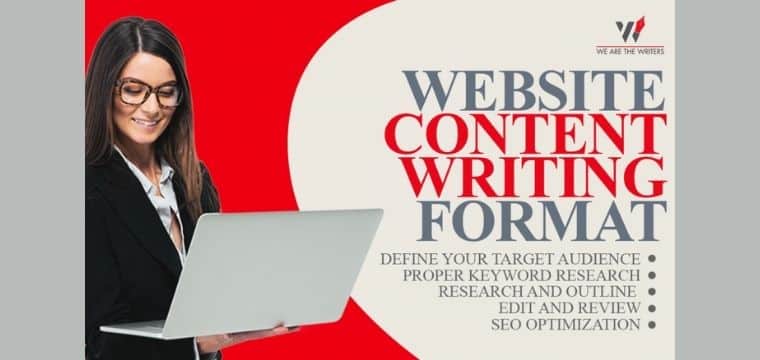 According to SEMrush there are three intrinsic details when you write a website content. They are "Define your purpose", "Know your audience" and "Research your competitors". Let us see some more important factors that are required to be followed while writing a website content.
There are plenty of elements that help to build a perfect website content writing format. If you follow these tips, your website will look appealing to the readers. Following a well-defined website content writing format will also increase your chances of ranking on the top of search results. You will learn more about this when you take a look at the website content writing examples in this blog.
DEFINE YOUR TARGET AUDIENCE

Firstly, you need to define your target audience. Understand the demography of your readers and then keep in mind the subject of your web content. Work on increasing the relevance of the topics with your readers. Before writing anything, know your audience well. You have to foresee what they are expecting to learn after going through your website.
Determine the purpose of your web content writing. If you offer content writing services, think about how you can offer your website content writing services to their benefit. This is the first step to be on the right track for creating a good website content writing format.
PROPER KEYWORD RESEARCH

The second step is to do proper keyword research use keyword research tools such as Moz, Google Trends, Ahrefs, etc. Keywords relevant to your website topic will help you gain more visibility on search engines such as Google and Bing. They also help you make your material more enriched, quickly readable, and easily searchable. This is why a good website content writing format should include keywords as part of the content writing strategy. Keywords enable you to optimise individual articles as well as your overall content strategy to increase traffic.
A well versed content writing tips is the need of the hour. Have a read of our article on "Start Content Writing with these Pro-Tips", to have an idea of content writing.

RESEARCH AND OUTLINE
The next step in creating an exceptional website content writing format is research. First, make a list of the resources and write an outline of the content. Begin by creating proper headings and subheadings for your website's content. Write clear, concise sentences that will help the readers to easily grasp the content of your website. Write in short paragraphs, short sentences, and bulleted lists.
These help to increase the readability and overall structure of your website content. Distribute your writing material into separate paragraphs for each website content idea. Place the images, videos, audios and animation at proper intervals for maximum readability. A well-defined structure is a must-have for any website content writing format. All the website content writing examples included in this blog adhere to proper website content writing formats.
EDIT AND REVIEW
After you've finished your first draft, think about how you can improve the rough edges of your writing. Even when it has been drafted by skilled content writers, there may be a few mistakes. The writing usually improves after a few rounds of revisions. Make any necessary corrections in your content while reviewing.
Improve your word selections and write in a clear, concise format. Too many complicated words will dissuade the reader from reading your content. You may come across some sections in your web content that are unclear. Rewrite these parts using simple sentences. Brainstorm catchy headlines and make them more capable of grabbing the readers' attention.
SEO OPTIMIZATION
After completing the writing part of your content, revise it again to make sure you have used enough keywords throughout the material. A keyword density (KD) of 1-2 is good for the focus keyword. This is because it tells search engines what the website is about.
Don't overuse the same word, as it might decrease your website's chances of ranking in search engine results. Use good SEO tools like Google Analytics, Moz, Ahrefs, Bing Webmaster Tools, Google Search Console, SEMrush, etc. These SEO Tools will provide you with proper insights into your website's traffic and rankings.
To know more go through our blog on "Best SEO Tools to Optimize Content in 2021".
---
WEBSITE CONTENT WRITING EXAMPLES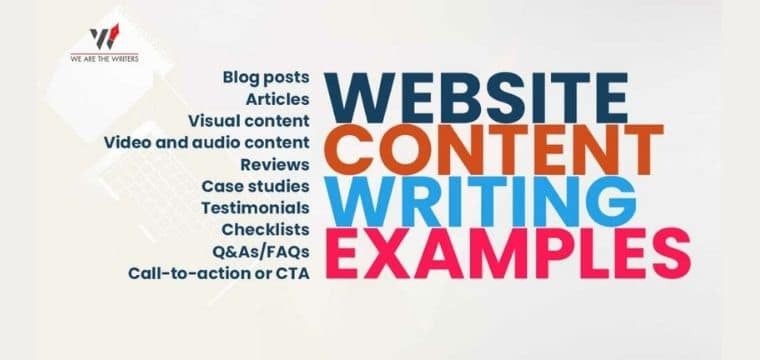 There are different website content writing examples you will find on the Internet. However, only a few will guarantee you the most number of visitors. We have highlighted the best content writing examples for you below. These tips will help you make your website more enticing to read.
According to demandjump.com, website content writing examples are as follows. These are some good website content ideas you can include in your website today to increase your webpage's ranking chances.
Blog posts
Articles
Visual content
Video and audio content
Reviews
Case studies
Testimonials
Checklists
Q&As/FAQs
Call-to-action or CTA
We have discussed in detail some of the website content writing examples in the list below.
BLOG POSTS
Blogs are widely popular when it comes to website content writing examples. These are an integral part of content marketing strategy for any business. A blog post should include keywords and a noteworthy title for people to click on. The blog's contents should appeal to the target audience en masse. It should also be edited wisely to make it easier to read.
If you want to start your career in this industry of Blogging, then you must go through the article "Blogging:The Best Techniques of 2021" to know more about it. Get an idea with our blog.
ARTICLES
Articles are instructional posts on websites that offer insights into various topics. They have the sole purpose of instructing the readers or educating them about certain subjects. Web content writing benefits from well-structured articles immensely.
VISUAL CONTENT
Visual content always works like magic with the readers. According to reports, 65% of people are visual learners. You can also include graphic designs, animations, etc. that help to communicate your brand taste and purpose. Break the monotonous nature of the content and improve the text, using images. Create and try to communicate your messages using videos.
REVIEWS
Write reviews about evergreen topics like food, fashion, OTT content like movies, etc. They help your readers to learn about these subjects from your website and builds trust when they act upon your reviews. Reviews are great web content writing examples.
WATW, an established name in the world of content marketing provides various services, amongst which Products Review is one. Visit our website's services page to know more.
CASE STUDIES
Case studies are an integral part of website content writing examples. A case study is a means to show how your company served a client in overcoming a specific challenge. It explains how your products or services were used to address a problem, as well as the outcomes. To demonstrate the effectiveness of your products or services, use relevant figures and metrics. Present them in a way that your target audience can understand and rely on your services in a trustworthy way.
TESTIMONIALS
Testimonials are essentially one of the most important features that a website must have. Relatable success stories from a colleague are one of the best methods to appeal to prospective clients and develop credibility. Customer testimonials are extremely useful web material because of this.
CHECKLISTS
Checklists are a comprehensive way to write content for a website. They mainly come in bullet points or short paragraphs. Checklists help summarize an entire piece of long-form content in short, easily readable points. Make it a point to include checklists in your web content writing for better engagement.
Q&AS/FAQS
When you answer FAQs (frequently asked questions) on your website, it helps your prospects understand your products/services in a better way. They may have some questions regarding your services which they might find the answer to, in the FAQs themselves. Q&As also help in showing your clients that you are knowledgeable and trustworthy in your particular area of expertise.
CALL-TO-ACTION OR CTA
A call to action (CTA) is a prompt on your website that encourages visitors to take immediate action. These may be actions such as making a purchase or requesting additional information. Invoke urgency in your customers with exciting opportunities as part of your call-to-action. Use magnetic verbs like Sign up, Earn, Buy Now, Order Today, Add to Cart, etc. that will draw your customers to buy your product.
---
WEBSITE CONTENT WRITING SERVICES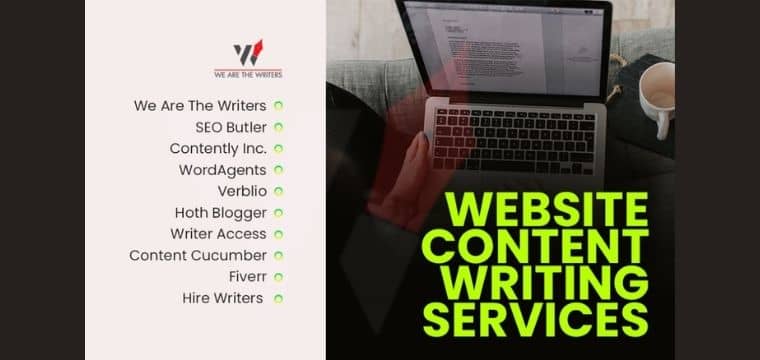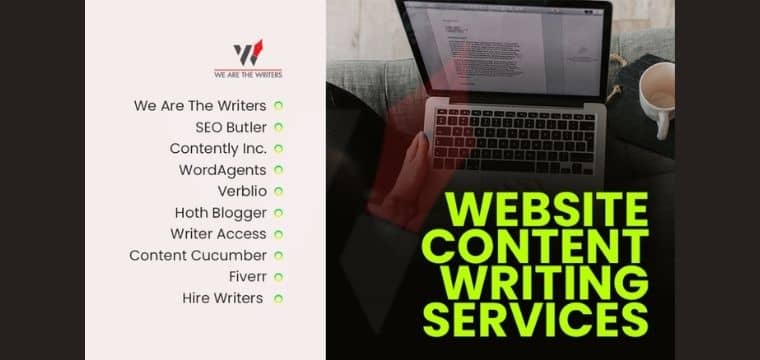 When it comes to website content writing services, there are several companies that are at the top of their game. These websites are ranked according to their pricing, SEO writing, content writing quality, CRO optimization etc. Some of the best website content writing services are listed below.
SEO Butler
Contently Inc.
WordAgents
Verblio
Hoth Blogger
Writer Access
Content Cucumber
Fiverr
Hire Writers
The main aspect of all good website content writing services lies in the content strategy. Well-researched web content writing is always a winner. The next important factor we must take into account is the way the content is SEO optimized.
---
FINAL THOUGHTS
A website runs on content. Be it in written format or visual graphics, web content should be made both informative and attractive at the same time. From this blog, we know that video content, articles, SEO writing, testimonials, etc. are fundamental components of a website. Also, the usage of the right keywords in your web content writing will help you in the long run. Hope these tips helped!