A content management system or more commonly known as CMS, refers to a platform that helps users create, manage, and update the digital content on their website without any coding or technical skills. A CMS also allows a person to change the appearance and customize its website or online store by changing the layout, navigations, dropdowns, adding banners, and much more.
Know how to create Digital marketing Strategy : 8 easy steps to create Digital Marketing Strategy for a brand!
Features of a content management system
The key features of a content management system are:
1. Creating and editing content
Your CMS should allow you to create, edit easily, and publish content as a minimum requirement. The CMS platform should be easy to use so that the user can focus more on its marketing strategy.
2. Workflow, reporting, and content planning
An efficient content management system should allow a user to follow and keep a track of all the details of the content on the website. You should be able to track the authorization, process of publication, advertising, and promotions.
3. User management and role
A CMS platform also includes features that can restrict or allow a user to access a particular content. Therefore, you should opt for a content management system that allows you to follow custom user management.
4. Multichannel diversity
A content management system allows you to share your content to different social media channels and networks. Thus, it makes a hectic task very easy for us.
Get know what are the best communication channel in 2022 : Best Communication Channels for your brand in 2022
5. Multiple language content capabilities
An effective content marketing allows you to cross your work limits and broaden your loyal customer base easily.
6. Flexibility and performance
Your Content Management System should be a long-term investment, and make sure your CMS is spread out enough to grow your business.
7. Customization and analysis
The future of an effective content marketing lies in creating a personal, personalised experience for your clients and customers.
Know about User Experience and its Importance in 2022 : Why is User Experience an important Ranking Factor in 2022 ?
8. Integration of content and marketing
With customers expecting a lot from their online experience, it is almost impossible to do e-commerce without linking it to attractive content. Some organizations also use CMS for digital and email marketing. These kind of CMS platforms include a whole collection of extensive features.
How to choose the right CMS platform?
You must keep the below written points while choosing an appropriate CMS platform for your business:
1 It should be easy to use
This is obvious, but users, whether employees, managers, or students, should navigate the system accurately. This will encourage users to make more use of the portal and help reduce training costs to a minimum.
2 It should be easy to install
The best CMS solutions should not require much technical help to set up. The average user should get up and work without much effort.
3 You must be protected
You should never compromise on any random content management system and expose your site to an external hacker.
4 You must have an accurate guide.
A quick and accurate catalog containing all relevant information such as contact details and photos can help employees connect and build their network. Just make sure your guide automatically syncs with the HR key and contact data.
5 You should have an advanced search feature.
Providing your users with the right search tools will enable them to find what they need quickly and effectively. This ensures that employees do not waste their time on unsuccessful searches.
Know more about Search intent for website : What is Search Intent ? A Promising factor for Website Ranking on SERPs
6 Must be omnichannel
It is a feature of CMS that allows more than one user to access the platform and easily work on it simultaneously.
7 Compatible workflow
In addition to having an easy-to-use editor, a well-organized workflow system can ensure that content is approved on time and ensure that the content maintain its consistency.
8 Social involvement and social factors
A CMS platform should have a feature that allows a user to share, rate, and comment.
Read this about CTA and importance in Business website : Call to Action | CTAs Importance in Business website -2022
9 Development tools
Most employees want to improve their company. The CMS also allows a user to promote upcoming job opportunities and the steps to success in the future. Large organisations can host webinars to improve performance and technological advancement.
10 Statistics
Tracking the performance of your CMS can help you monitor areas that need to be improved. These tweaks help us to improve and generate user engagement, website visits, and google searches.
Why do you need a CMS?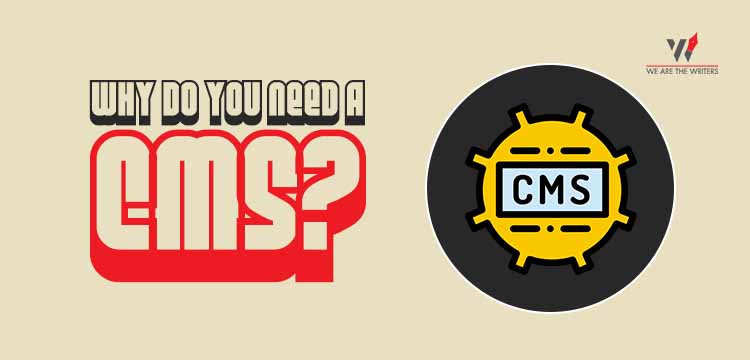 Content Marketing has always been considered as one of the most effective techniques for brand growth. It has the supreme power of increasing your brand's online visibility that any other marketing tactic cannot do. Also, it is pretty notable that content marketing is known to be 62% lesser in cost than any other traditional marketing activity. It can generate three times a better number of leads than other marketing activities.
Learn what are the best Content Marketing Ideas : 25 Best Content Marketing Ideas
Irrespective of the brand you have, whether big or small, you cannot imagine its marketing without content. Thus, you need to ensure that this content is the best, and also, it should hail with the finest quality. We have come up with a list of top CMS platforms that can save your time and energy.
Some famous CMS platforms
On mentioning the most demanded and used content management system all across the globe, it's none other than WordPress. It is a powerful tool that can help you build up your own blog/website with no hassle. You won't have to be a pro in website designing and development for using this CRM. It's because the dashboard of WordPress is highly easy-to-use and so, you won't feel any hassle in setting up your website via the same. It is quite helpful in growing your overall content marketing program and self-hosting your site.
It has got a plethora of attractive themes carved for almost every niche. No matter what level of coding skill you possess, WordPress will not discourage you from developing your very first website hassle-free. All the fundamental aspects required to create a WordPress website, whether creating pages and posts, adding categories, updating the current website setting, etc., are as easy as pie.
Best WordPress Plugins which will help you to make your website better : 8 Best WordPress Plugins And Tools
Are you thinking of staying organised for your upcoming content? If yes, then Evernote would serve as a preferable choice for you. It is a content marketing tool that would allow you to put up your ideas and let your entire team know about them by having access to it. Also, it gives you a space to collaborate and share thoughts whenever you feel like it. Evernote acts as the finest platform for all the required information you might have attained after a lot of research. Since it helps you get all of your thoughts in a single place, you can now focus on boosting your brand's online visibility.
HubSpot is considered to be a one-stop solution for many content marketing tools. Many tools out of them are free of cost as well. They are the powerful form builder, popup tools, live chats and chatbots and the WordPress marketing plugin. Apart from the notable content marketing tools, you can also use the content management system provided by HubSpot. You could easily centralise the stuff to a notably free CRM with it. HubSpot is also known to curate and formulate products meant for the service and sales teams. This tool can control your whole business and manage it seamlessly.
Read more about Content Writing Tools in 2022 : Creating With Computerization: The Top AI Content Writing Tools In 2022
Drupal is an open-source as well as free project. It is founded on values such as teamwork, globalization, and innovation. Drupal is a famous content management platform and supports several websites of our daily use. It powers the backend foundation for 13% of the leading 10,000 websites on the market. Drupal is widely utilised by organisations, governments, and enterprises seeking a quick and seamless website user experience. It will provide an upgraded and integrated user interaction experience.
It includes outstanding basic features such as dependable performance, simple content authoring, and solid security. Drupal Can Assist You in Developing Your Online Presence. Drupal is the best choice of content management system for companies, educational institutions, governments, and various other organisations wishing to establish a digital presence. It enables you to manage and govern your content in one location.
WooCommerce is an open-source framework powered by the WordPress platform. There are millions of WooCommerce websites operating in the world today as it is economical, user-friendly, and supports quick installation. It has been the preferred choice for small-scale business owners and start-ups for its benefits: It's FREE, flexible, free payment gateways, easy reports, secure & smooth user experience, and many more.
Learn How AI will help in Digital Marketing in 2022? : How AI in Digital marketing is an absolute game-changer in 2022 ?
More about content management software read the blog : 15 Best and Most Popular CMS Platforms in 2022 (Compared)
Conclusion
There are various content marketing tools that you can introduce to your brand. Each of them can help you produce better content that could generate more leads and gain access to your target audience. As you already know, for running your business smoothly, you need to ensure that your sites appear at the top and reach optimum traffic. If your site lacks and does not accomplish the requirements of the trends, Google algorithms, these issues or insufficiency obstruct the growth of your business. Follow the above steps and information and choose an effective content management platform for your business.