Video games follow specific rules and reward systems. These rules and rewards keep the video game players engaged and further increase the profits. Businesses can also benefit from the designs and principles of these games. The basic principles which trigger a human transactional response in marketing depend on these reward systems. A powerful way to promote engagement with the audience is to use gamification. The article describes the benefits of gamification and how to apply the strategies to your business.
Read about Best Social Media Strategy for Startup Business: Best Social Media Marketing Strategies for Startup Businesses
What is Gamification?
The advent of gamification has increased productivity from employees, further increasing engagement with leads. It uses game-like mechanics in your business to drive profits by proper and consistent customer engagement. It provides incentives at every step for creating interest and promoting positive reinforcement behavior in the user.
Have you ever heard of the employee of the month or the writer of the month awards?
These are standard gamification techniques used in workplaces. Through this the company benefits from employee performance and the employee gets one step ahead of the game.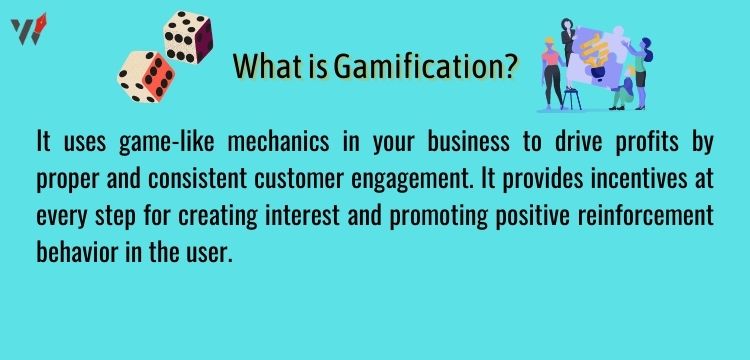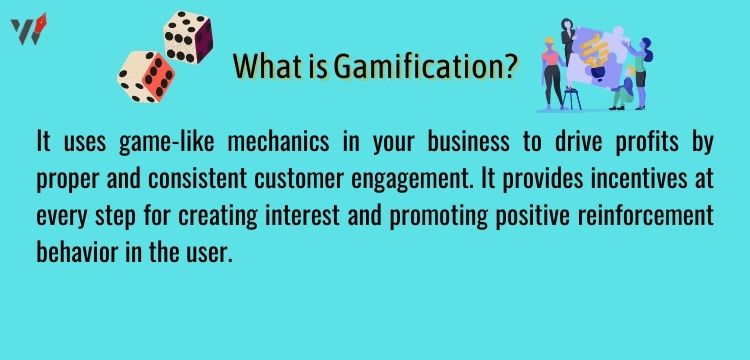 It is observed that a gamified task keeps the employee motivated and makes working easier. The constant reminders and realistic target needs encourage the employee to perform better every day.
It acts as a recharge system to keep competitiveness alive!
In a gamification system, the rewards are strategized for every level so that it leads to conversion.
Gamification has various benefits from increased profits to a long-lasting customer base. It gives data about the customers or employers that are not available through online software. When does a customer feel motivated? At what time does he engage with the brand gamification system? What are his desires? Does he participate in the reward? You get the answers to all these questions. In short, you get to know better about a player than he knows himself.
Know about Branding and Advertising – 6 Techniques to grow your Brand: Branding VS Advertising: 6 Amazing Techniques to Grow your Brand
4 Gamification tips for your businesses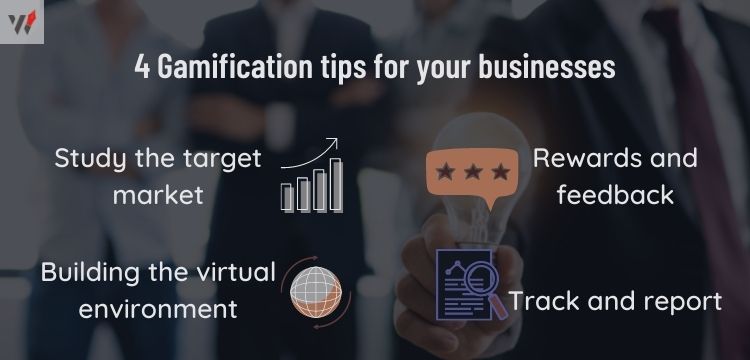 Study the target market
Before planning an engagement strategy with your customers, you need to understand them. Finding a gamification method that suits your target customers is not a one-time play. But you will have to make changes multiple times based on the results you obtain from the previous plan. Each age group reacts differently to these strategies. It is the cause why it is difficult to detect a system that works initially. To combat that, you can start researching gamified solutions to develop a relationship with the customer. Once done, you can focus on building the relationship further through greater rewards and better solutions.
Rewards and feedback
Customers are not attracted to huge rewards and exaggerated feedback. But they need the service they were looking for when they engage with you. Using unrelated rewards or expensive rewards for the customer can result in bankruptcy one day.
It should not be forgotten that a rewards system is part of a marketing campaign. Gamification is not different from business. If 200$ is the rewards budget for the campaign, then the return should be higher than 200$. Apart from the business aspect, rules and regulations for the game must be public and open to the players. A sense of trust must be set up in the minds of the players.
Track and report
A participant needs constant updates about the systems he is working with. Even a marketer needs to track and report the impact and results of the campaign. Push notification, for example, does two things: reminds the player or customer about the brand and guides them about their relationship with the brand so far. Businesses use email newsletters and tracking software to get insightful data about the brand.
Did you ever brag about winning a social media or an online contest?
Most people do. It proves their significance and importance in your marketing strategy.
Know about Marketing in Business: What is Marketing in Business ? 6 Best Types of Marketing Explained
Building the virtual environment
A clear and well-thought gamification design needs to focus on one thing- that brand services align with and stimulate a profitable response in the customer or the employee. The business and the customer both win in gamification systems. There is the involvement of emotions like desire, motivation and competitiveness.
A virtual environment that brings results is not a one-time thing. It needs to change with every insightful data about the customers or the employers.
The levels created in a gamification design need to change the achievements regularly. Track the enjoyment levels of the customer at every stage and build on that. Are they competitive? Do they participate for the rewards or fun? What motivates them to keep participating?
Conclusion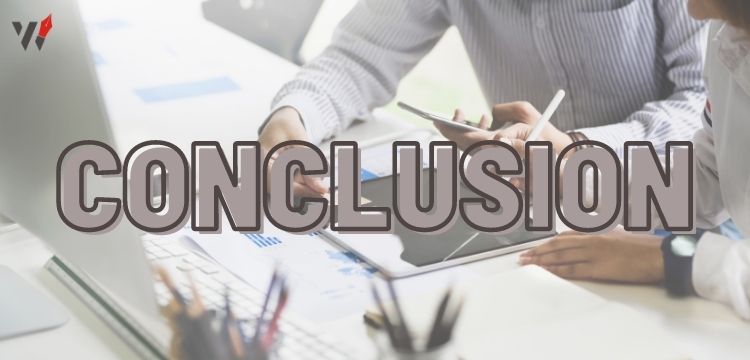 Experiences play a significant role in gamification. All the decisions are taken based on the experience of the user. A level is crossed based on the rewards the customer desires to achieve. So, this systems need a lot of time and attention to monetize from them. An important aspect of creating a gamification system is research. Researching the customer's dislikes needs and changing intent patterns.
Increased attention in gamification systems means you can put less attention into advertising and expensive paid campaigning. It is based on emotions and human interactions so it works better than any other marketing tactic. Not only does it improve the marketing returns it also decreases the expenditure. The only drawback is that it requires experts for the development process and needs to be updated from time to time.
Read about Modern Trends and Technologies 2022: Modern Digital Marketing Trends and Technologies 2022
FAQS
How to implement gamification in your business?
Here are steps to use gamification in your business-
Plan before you share the game
Establish clear rules and regulations
Provide rewards at the right time
Track and improvise regularly
Change or re-gamify if required
What are some benefits of gamification?
It has various benefits- from increased profits to long-term returns. Here are 10 reasons why gamification works-
Clear goals and clear reports
Change the system while the customer is involved in the game
Know the desires and wants of the customer or an employee
Long-lasting returns
Constant engagement with the brand
Brand publicity through competitive virtual environments
Providing rewards is better than giving discounts
Customers fulfill your business goals
Data underpins every action of your business
What is workplace gamification?
Workplace gamification is the integration of gamifying systems in the working environment. Gamification gives rewards and growth to an employee. It promotes a competitive culture in the workplace by organizing games or systems that reward the winners. Here are some examples of workplace gamification-
The employee of the month award
Whiteboard usage for displaying every employee's work status
Giving bonuses to employees that have brought results
Creating a competitive environment in the office to finish the goals
Offer rewards like- a vacation to the Maldives that is desirable by an employee
Why is gamification important?
Gamification is important because it makes every interaction interesting. It has the power to make a boring CRM platform interesting and competitive. Even businesses are implementing gamified systems for their customers. It helps everyone from the boss to the salesperson to increase conversion by knowing the customer's interests and desires. Offering incentives and appraisals at the optimum time is possible using these systems.
How to do gamification in marketing?
It in marketing is the addition of game-like systems to your marketing strategies. It works by adding fun goals or tasks and rewards your marketing strategy. The customer interaction with the gamified systems guides you towards the development of better and more optimized gamification designs. A competitive environment is created which gives long-term returns and retains customers in the transaction cycle.
Is gamification rewarding in business?
It techniques help you to understand the customer's needs and requirements better. By using gamified systems, you can get insights into the customer's desires and wants. These insights help you to develop a strategy to get leads for your business.
References
[1] Huotari, K., & Hamari, J. (2012, October). Defining gamification: a service marketing perspective. In Proceedings of the 16th international academic MindTrek conference (pp. 17-22).
[2] Vinichenko, Mikhail Vasilievich, Alexander Vasilievich Melnichuk, Andrei Vladimirovich Kirillov, Sergey Anatolyevich Makushkin, and Yulyia Alexandrovna Melnichuk. "Modern views on the gamification of business." The Journal of Internet Banking and Commerce (1970).
[3] Wünderlich, Nancy V., Anders Gustafsson, Juho Hamari, Petri Parvinen, and André Haff. "The great game of business: Advancing knowledge on gamification in business contexts." Journal of Business Research 106 (2020): 273-276.
[4] Park, H. J., & Bae, J. H. (2014). Study and research of gamification design. International Journal of Software Engineering and Its Applications, 8(8), 19-28.