As the world is entering into the universe of digitalization in this new decade and slowly making way out of the pandemic, a lot of things are changing. With the help of Science and innovation we have managed to achieve something called Virtual Presence. As a practice, it is not only flourishing but is becoming the norm.
Starting a new podcast is not a laborious task. It only requires consistency in following the steps and being aware of the content. The podcast realm works predominantly in having conversations about things that matter. Steps to make a podcast are simple to comprehend and provide a clear path if followed efficiently. The trend of podcasting is becoming extremely popular now, given that it is a medium of infotainment and a new approach of having meaningful conversations. There are several steps to go by if you want to learn How to make a Podcast.
Also read :
Step 1: Developing a concept for your podcast – HOW TO MAKE A PODCAST
Everyone wants to indulge into conversations that actually matter. There can be an endless number of podcast concepts that can be worked upon. But podcasting is not all fun and games only. Its actually an art.
Read more here on How Podcasting Works.
The first step to make a podcast is deciding the niche of the podcast. Most of the the top podcasts cater to a niche. this gives them a dedicated audience, backstory and a library of content on a specific topic.
Concept
Developing a podcast concept is the foremost of all. Though it can still operate without catering to any niche at all and can be conducted on any of the topics. Having a niche is considered better from a listener's perspective because it provides a detailed conversation about the topics. It also helps in maintaining a dedicated audience that looks forward to consuming the upcoming content. A niche tells the consumer about the things you as a creator are passionate about and give importance to.
Target of the podcast
As a creator, you should estimate the lengths your podcast can go. The scope of a podcast is vast and if created efficiently, it has the caliber to reach places. The top podcasts always sort their target audiences first in order to capture their minds as soon as the podcast releases. You should have your targets in mind that you wish to achieve.
Some common goals in podcasting can be:
To gain credibility
To contribute in the narrative
To grow in the business
Theme
Researching about the theme and topic of the podcast is considered extremely important. It helps in keeping the hosts and the guests of the podcast on the same page. The topic can be as broad and public like environmental issues and as specific as opinions on mental health.
Name of the Podcast
The name of your podcast should be grabbing. It should draw attention and pull the listeners towards it. That is the first thing that the audience notices about it. Some existing names which are good eye-catchers are Conan O'Brien Needs A Friend, Super Soul by Oprah and Figuring Out by Raj Shamani. These names create a connection between the listeners and the content offered in the podcast.
---
Step 2: Format of the Podcast
There are several types of podcasts that can be conducted. The format is related to the niche that you've chosen for your podcast and the content you offer.
Solo podcasts
These are the types of podcasts where only one person creates and delivers the content. The person should have the skills to carry the podcast entirely on their shoulders. From good voice modulation to storytelling skills, it requires them to single-handedly support the content.
Co-hosted podcasts
These types of podcasts are basically the conversations between 2 or among more people.The participants are called co-hosts as they all share the responsibility to carry forward the podcast. Organic conversations occur among all the participants in delivering content.
Panel Shows
Panel shows, as suggested by the name, has a panel delivering the content. It could be news, views and opinions. This type is great if you want to cover a topic in detail along with providing a great length of data from different perspectives.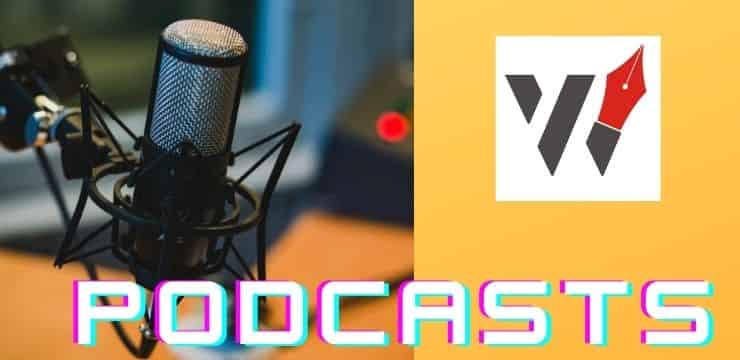 Interview
An interview format is most suited for the type when you're making an opinion podcast. There are hosts and guests asking questions and giving answers respectively. This format requires the host to have excellent interview and improvisation skills along with great listening skills to make the guests feel heard.
Fiction & Non-fiction Narrative Storytelling
If storytelling is your calling and you believe people listen to your content, then this is your best match. Be it fiction or nonfiction, if you can play with the words, and can get the story to move forward, narrative storytelling can be your niche. These have gained a lot of popularity lately. The pandemic has made storytelling bloom exponentially. For the listeners, consuming such content became a leisure activity with enhanced options like sound effects and portability that offer a better experience than reading books.
Repurposed Content
These types of podcasts that is not entirely an original work. It is just an enhanced version of some other kind of content such as a blog or a vlog that has already been published by the same creator. The creator just uses the audio of the same content with certain enhancements for an altogether different purpose and platform.
There are several other types of podcasts based on different genres, like:
Comedy podcasts
Crime podcasts
Musical podcasts
Political podcasts
Entertainment podcasts
Science & Technology
Suggested blog
---
Step 3: Equipment and Software for Recording – HOW TO MAKE A PODCAST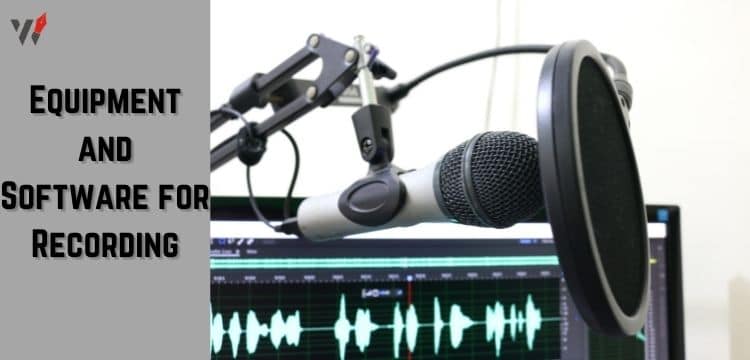 Equipment
Equipment and software for podcasting are extremely important. While making a podcast from the start, choosing what equipment to use can be confusing. The type and quality of equipment needed depends upon the format of the podcast as well. Here is a list of equipment that you need for podcasting :
Microphone
The podcasting microphone is most important for good audio quality. Though you should get a good quality mic, it doesn't need to be an expensive purchase. In podcasting microphones , the first thing to know is that there are 2 ways to connect them to a computer, USB & XLR. Starting a podcast can be done efficiently with mics, like Audio-Technica ATR2100x-USB which is the most recommended mic for podcasting. Its Cardioid pattern has a range of 120 degree angle that accepts sound from peripheral directions, USB and XLR outputs for easy connectivity to a computer and sound systems.
Some more podcasting microphone types are:
Samson Q2U
Shure MV7
Blue Microphones Yeti USB
Rode Procaster
Audio-Technica AT2035PK
Sontronics Podcast Pro
Blue Microphones Snowball
Audio Interface
Audio interfaces are the bridge between the input (microphone) and the destination (computer). It converts the analog signals (sound/voice) from the mic to digital signals that the computer can use. Many audio devices are available online that one may choose from.
The best recommended audio interface is Focusrite Scarlett 2i2 (3rd Gen). some other great alternatives are:
1 XLR: M-Audio M-Track 2×2
2 XLR: Focusrite Scarlett 2i2 (3rd Gen)
2 XLR (w/ MIDI): PreSonus STUDIO 26
4 XLR: Steinberg UR44
8 XLR: MOTU 8pre USB
Pop filter
Pop filters are very useful in eliminating the sound of air that is made when you say certain letters, like "p" and "q". The air that comes along in the pronunciation of these letters acts as noise, can disturb the recording and degrade the audio.
Headphones
In order to have great audio recorded, live listening is a must. Listening to the voice while recording it negates the chances of post recording hustle in editing. Wired headphones are recommended more than Bluetooth ones as the latter can lag due to connectivity issues.
Software
Podcast software are used to edit and enhance the recorded content. Since it is created, delivered and recorded by humans, it is natural to have imperfections and a scope of improvement. The software are specially designed for editing sound and are capable of transforming the audio into sounding like professional content.
Here are some of the best podcasting software:
Garageband
Garageband is a software for macOS and iOS devices, it comes pre-installed in those devices. It is a fully equipped music creation studio with a sound library that has several presets and features, much more than what you will need in the beginning!
Audacity
Audacity is a free, opensource, cross platform audio software. It is easy to use and has a multi track audio audio editor and recorder. But there's something even better, it runs on any computer system!
Adobe Audition
Adobe Audition is an audio workstation which offers unique features for a wide variety of users, beginners and professionals both. It has better customer support, is amazingly scalable and with a feature like batch processing, it really saves time.
Some other software for podcasting are:
Suggested blog
---
Step 4: Getting yourself listen on a podcast directory
Distribution and releasing the content is as important as any of the above mentioned steps. The marketing of your content will only be complete when it reaches the people. People will get the podcast in one of these podcast directories, where all the top podcasts are:
Apple podcasts
Spotify
Google Podcast
TuneIn
iHeartRadio
Summing Up
Making a podcast that too without any prior experience is a task to work hard on. It requires a lot of research and consistency in putting efforts. You will be required to develop a good understanding of your content, choose correct equipment used to create the content and the software used to enhance the content for making it ready to get published and all of that at a beginner level.
You may read more about it on How to Start a Podcast.
A well researched approach will help greatly in the process that can make yours one of the top podcasts as well. Happy Podcasting!