Are you ecstatic to share your travel experiences? Or are you looking to read about new places? With human minds and lots of changes, the content writing world is modifying too. Today, we have expanded to documenting our travel journeys as well. These journeys are written as travel blogs. Different perceptions curate unique travel blogs. We get to read all of these with the help of the internet, technology, and websites.
Once you search for travel blogs, you will come across varied travel blog examples. Every travel blog that you read or frame will be classified under preset types of travel blogs. Before diving into the types and examples, let us know travel blogs in detail. 
What Are Travel Blogs ?
Travel blogs are curated and written by travel bloggers or writers. These blogs are devised out of the experiences and materials collected by the travel blogger or writer. It includes the information gained about certain places. It also comprises its history, heritage, and many other instances. Travel blogs are the best mediums to know the world through words. It introduces both the curator and reader to fresh pieces of information and unknown facts. 
Today, in the blogging industry, opportunities for travel bloggers are increasing. People are opting to be travel bloggers and travel the world to bring in blogs with first-hand experiences. Apart from freedom and flexibility as a travel blogger, there is a lot more which awaits. Writing travel blogs makes the blogger peculiar about the tiniest of details.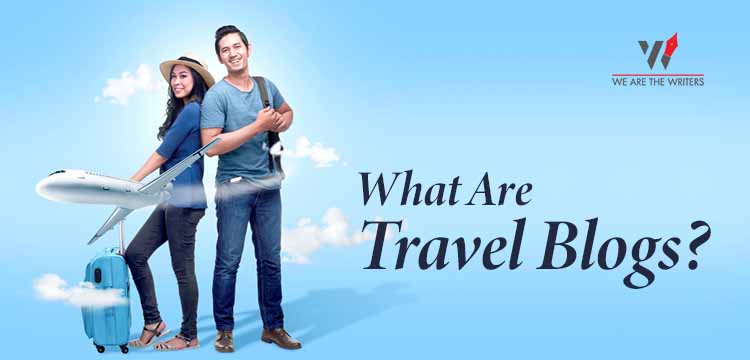 Travel bloggers provide new experiences to people and inspire new bloggers too. They strive to create unique travel blogs that could make the readers read it till the end. This highly motivates them to keep looking out for new information or an unknown discovery.
Related Blog : Traveling – Not Known to Everyone
Travel blogs have also become an increasing means for income. Writing travel blogs requires you to travel. The catch is, getting in touch with travel companies lets your trips be paid for. Also, it includes all free trials such as scuba diving, paragliding, and things that are associated with the traveling place. You can write your travel blogs from anywhere in the world with the basic requirements. Writing travel blogs are included in businesses, so it's legitimate and you get paid with all procedures.
Lastly, unique travel blogs open to you an abundance of experience in other fields. You develop various skills. It can be public relations, communication, teamwork, and presentation skills. Travel blogs also increase your knowledge about photography, marketing, and strategizing businesses. Furnishing these skills would help you find a better full-time work opportunity.
Suggested Read : What can traveling teach us about the world ?
Types Of Travel Blogs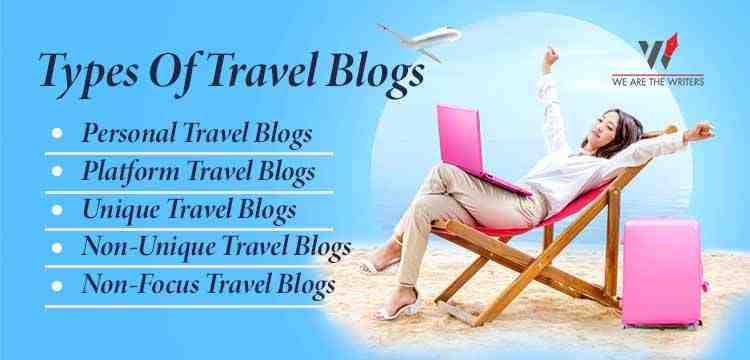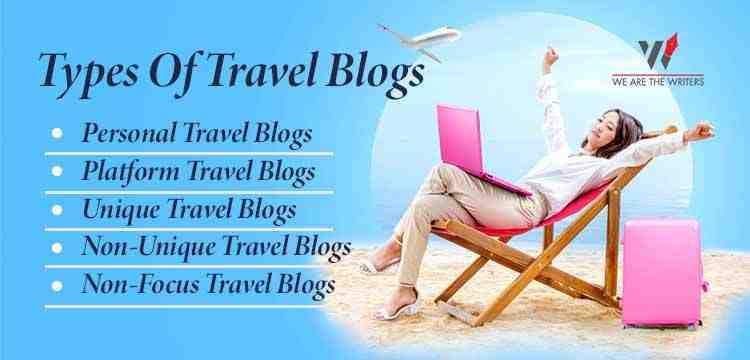 We like to classify our choices into types and categories. Be it our clothing or food, everything has a type. Similarly, there are also types of travel blogs. Knowing these types of travel blogs is very essential. It will offer an insight into the travel blogging industry. You will also find the right type to curate the best and unique travel blogs. Below are the types of travel blogs that you must know.
Personal Travel Blogs
For fresh travel bloggers, personal travel blogs should be an ideal choice. Personal travel blogs are similar to writing personal accounts in a diary. These types of blogs are ideal when you are on a trip for a long period. It must be written in chronological order and should be based on regularity. If you are someone who has some followers on social media, starting with these blogs would do great. It will work as a new entry for you to begin with travel blogs.
To create these travel  blogs as unique travel blogs is tough. With growing competitors, personal travel blogs do not work efficiently. It might be a handy task to get a high SEO ranking. Also, unless these blogs are very unique, they would not show up in search engines. However, for those who look beyond monetizing, personal travel blogs can be a very ideal start. 
Know how to travel with budget : HOW TO TRAVEL ON A BUDGET: 13 BEST TRAVEL TIPS
Platform Travel Blogs
Platform travel blogs are created with clusters of writers. They are the blogs that are curated at a platform having a group of travel writers or bloggers. Some platform travel blogs are only written by a specific group of paid writers. On the contrary, some platforms invite a similar community to be guests and write travel blogs. These types of blogs may also begin individually. It may then have a host of writers to frame it more and well.
Platform travel blogs may be hard, to begin with. A beginner may require some kind of financial investment to write these blogs. Also, you might have to curate the content before different writers join you. Once they become a group, the travel content creation could be distributed.
Unique Travel Blogs
Unique travel blogs are travel blogs written with first-hand experiences. Amongst all types of travel blogs, this type is more user-efficient. It provides details, prismatic perceptions, and experiences of the blogger or writer. These types of blogs are very intricate with information and can be useful for research purposes. Usually, there might be guest blogs through collaboration, however, dominant blogs are by the sole travel bloggers or writers.
In this type of travel blog, there are minimal writers involved. The maximum number is two or three writers. This type of travel blog focuses on both information and providing some life advice. Also, there is a requirement for more time to curate unique travel blogs. Repetition of the same niche might dip the SEO ranking for unique travel blogs.
Due to Covid Pandemic, there are many speculation about travelling, Read "The Future of Traveling" to find out.
Non-Unique Travel Blogs
Non-unique travel blogs are the contrast of unique travel blogs. These travel blogs are a summary of the inclusion of all the information that is already available. These types of blogs do not require you to have any travel experiences. In other words, non-unique travel blogs are writing about travel places without visiting them. All you have to do is search about the places, and curate your travel blog out of it. This type of travel blog takes up relatively less amount than the unique travel blogs. These travel blogs are in various forms and are comparatively easy to identify.
To frame non-unique travel blogs, there are some limitations too. Your non-unique travel blog might be uninteresting as the same information has been there previously too. Further, there are very high chances for plagiarism in such travel content. Also, rating such travel blogs will be of no use. Since you are only framing available information with a twist, it would be hard to say whether it is good or bad.
Non-Focus Travel Blogs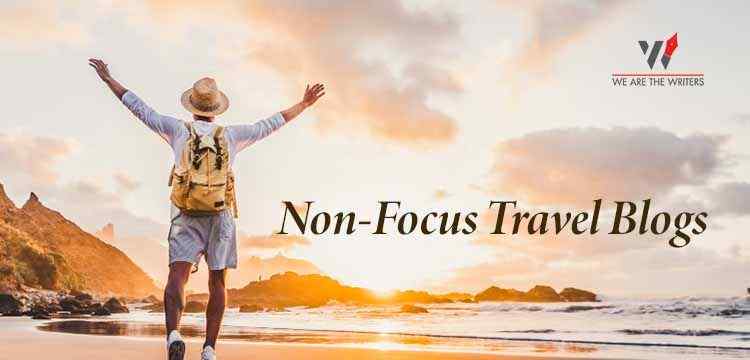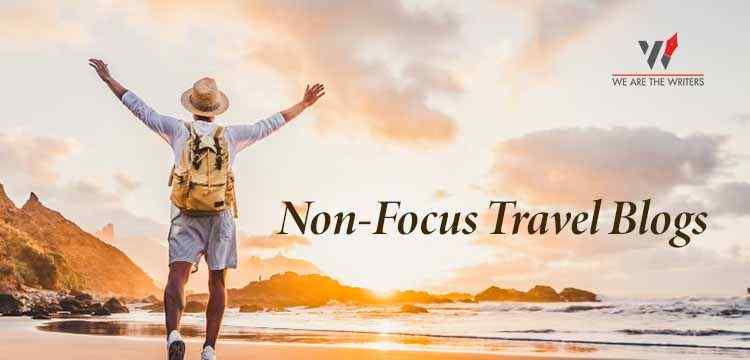 Non-focus travel blogs are travel blogs created out of purpose for higher achievements. These travel blogs are usually begun later by travel companies. The websites go on to create a blog section for such travel blogs. This is done to increase the traffic for the travel websites. This is why these travel blogs are not the primary goal. They have precise information and act as an add-on to the website.
Non-focus travel blogs may lack research. They are only created for the purpose to increase the traffic towards a different goal. This is why a minimal and informative travel blog would do fine. However, non-focus travel blogs can be a good strategy to sell related products or packages. Over time, they can also be converted and added amongst the prime goals of the websites.
Tips you should know before travelling : TIPS BEFORE TRAVELLING ABROAD ?
These are the types of travel blogs. Once you come across different travel blogs examples, it is important to realize their type. This will further elongate your perception of travel blogs and how they can serve differently.
Conclusion
Travel blogs are the extra information about places that you would not find in the mainstream media or any news. They bring to you a world that is scantily discovered. Every unique travel blog opens to you a new perspective about different destinations. They work as your airplane and make you travel the world by sitting at home.
Knowing the types of travel blogs adds the cherry on top. you can analyze all travel blogs examples and their categories. They also familiarize you with different kinds of writing that can be used for travel blogs. They also stretch the horizon of adding creativity to your travel blogs.
Travel blogs are becoming integral with time. They are used for promoting marketing, boosting tourism, and expanding travel businesses. Further, they educate about the diversities within countries and around the world. Right from a forgotten historic event to a recent change, travel blogs leave no stone unturned for you.
Becoming a travel blogger gives personal achievements too. You not only experience a place personally but also share it through your travel blogs. It also gives you a source of income and gets you a broad work opportunity. They enhance your experiences in ambivalent fields and can generate more working fields for you. Travel blogs pave the way for you to generate communication around the world.
In a nutshell, travel blogs are the best way to experience the world and share it in phrases. It is the right opportunity to explore and create something good out of your travel passion.
Refer To this for more about travel Blogs : Travel blogger